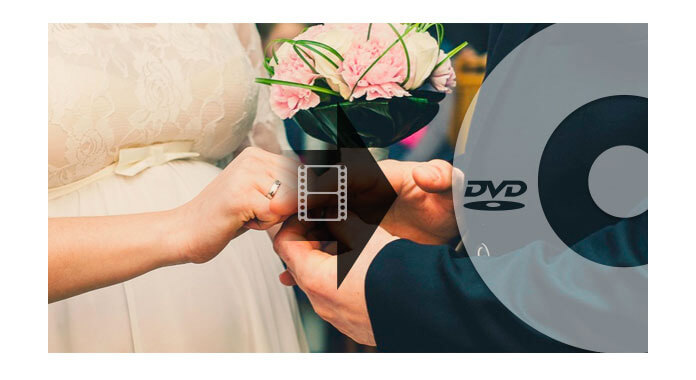 I have burned some videos in my DV tapes to DVD. When playing back, the video quality on my home DVD player was acceptable. Recently I recorded some videos with Sony HD camcorder. When I burned them to DVD, the image quality is even worse than previous DV tapes. Does anyone know the reason and have any good solution to this?
- Johnson
Like the problem mentioned by Johnson, many users may be caught by this problem when using DVD Creator program to make DVD copies. With the popularity of HD camcorders, people tend to use them to record wonderful moments in life, like party, celebration, meeting, wedding etc. After recording, we also like editing them by ourselves. Popular video editing software like Adobe Premiere, iMovie, Final Cut Pro series gives us more freedom customizing the video. The last step is to share. The most stable and cost-efficient way to share HD videos is to burn them into DVD. For example, after taking family videos with HD camcorder, you can burn them into DVD and make a copy for every other family member. That would be the most valuable gift.
When using DVD Creator, you may be bothered by the quality loss when burning HD video to DVD. In fact, the resolution of Mini-DV is 720x480 pixels, which is similar to the resolution of common DVD videos. So there is no need to re-render or scale the Mini-DV video to a DVD. But if you convert a 1920x1080 pixel HD video to fit on a DVD, it must be re-rendered, which means the image quality will be degraded substantially.
To keep the high image quality, you can adjust the preference settings before creating.
Load the video file to Aiseesoft DVD Creator.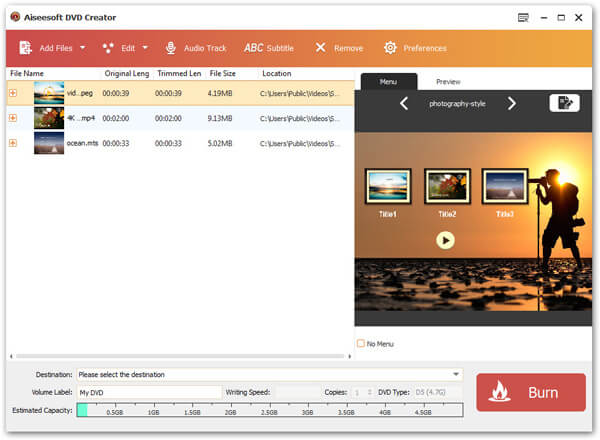 Check the video file and click Preferences.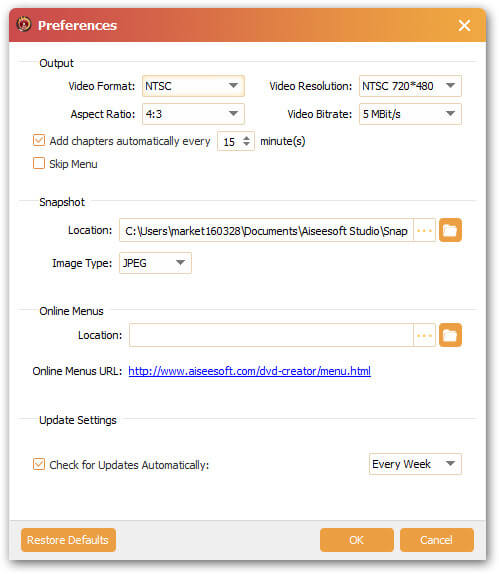 In the preference setting window, choose PAL Video Format. Because theoretically speaking, PAL has better image quality than NTSC.
Choose the Aspect Ratio that fit your screen.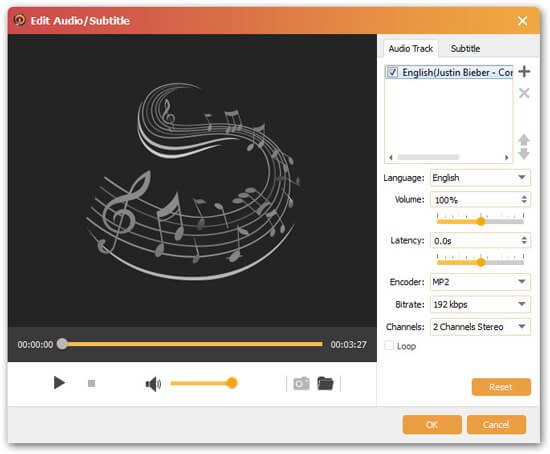 Click Video Bitrate. Generally speaking, the higher Video Bitrate will bring higher image quality. But the video size will be higher too. Choose the largest video bitrate within the capacity of the DVD disc.
Click OK and view the capacity. If it's smaller than the Estimated Capacity, you can burn the disc now.
To burn the HD video to a disc without any quality loss, we highly recommend you choose Blu-ray Creator which allows you to burn your recorded HD video to a Blu-ray disc.