How to transfer DVD movie to iPhone
How to transfer DVD to iPhone format? We all know DVD can't be put on iPhone directly. We need to transfer DVD to iPhone supported format first. This step by step guide will show you how to transfer DVD to iPhone format.

Aiseesoft DVD to iPhone Converter, professional and Powerful software to transfer DVD to iPhone(MPEG-4,H.264), Transfer DVD to iPhone music MP3, WAV, put DVD on iPhone with great quality and super fast transfer speed.

1: Supported default settings or customizing settings with parameters of the video and audio codec.
2: Support Convert any clip or segment by setting the start point and duration as you like.
3: Allow you to select target subtitle, audio track.


Step by step Guide: How to transfer DVD movies to iPhone format

This step by step guide will show you how to use Aiseesoft DVD to iPhone Converter to put DVD on iPhone.

Instruction: Install and run Aiseesoft DVD to iPhone Converter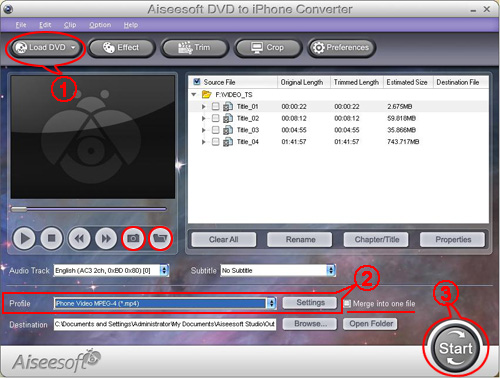 Step 1: Import DVD
Place the DVD into your DVD drive and click the "Load DVD" button to load DVD.

Step 2: Video settings
Select the output video format you need from the "Profile" drop-down list. Click "Settings" button to set your video and audio parameters.

Step 3: Start Conversion
Click "Start" button to start your conversion and it will be finished in a short while.

Tips:
1: You can also select Audio Track and Subtitle from their respectively drop-down list.
2: If you like the current image of the video you can use the "Snapshot" opinion. Just click the "Snapshot" button the image will be saved and you can click the "File" next to "Snapshot" button to open your picture. You can select the destination of the picture by clicking the "Preference" button. As default the captured image will be saved at: your \My Documents\Aiseesoft Studio\Snapshot
3: If you want to merge the selected titles of chapters into one output file you can check the "merge into one file" option. As default the merged file is named after the first selected file (either a title or a chapter)

More tips:

1: Trim Movie
If you just want to convert a clip from your DVD movie, you can click the "Trim" button to open the Trim dialog, you can trim a duration of the selected title or chapter by either dragging the Start Time and End Time sliders or setting the time parameters in each corresponding field.

After you set the trimming time, the length of the captured clip will be shown in the Select Length box for your reference.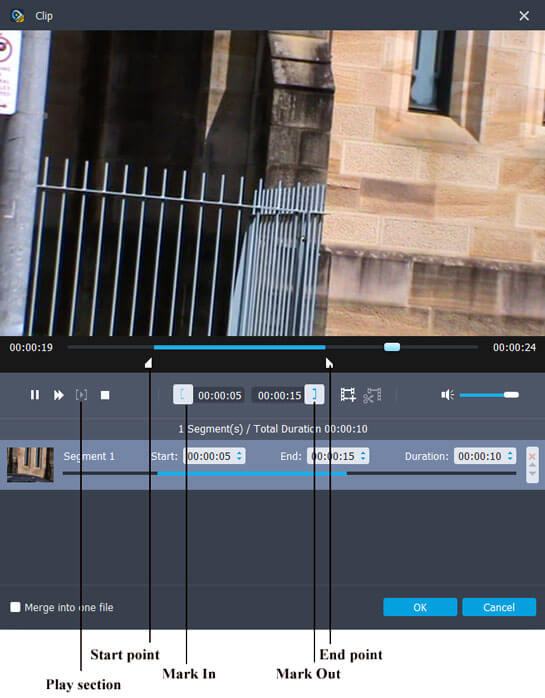 2. Movie Effect
If you want to change the original video effect, you can click the Effect icon to set the video brightness, contrast, saturation, etc. You can also set the special effect for your movie to cater to your need.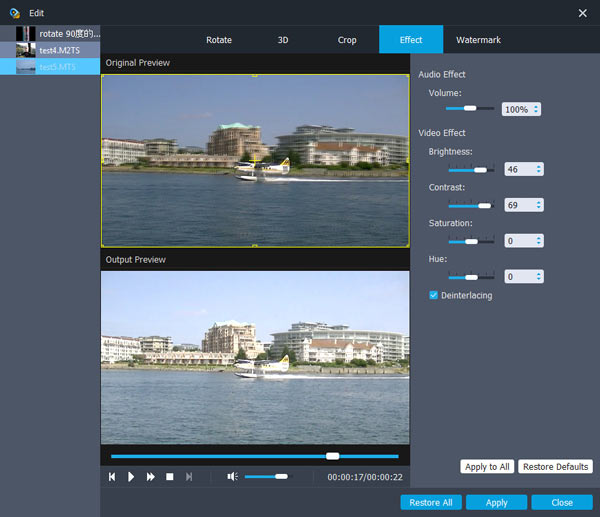 3. Video Crop
With Aiseesoft DVD to iPhone Converter you can remove the black edges around your movie video by checking the "Crop" option and customize your movie.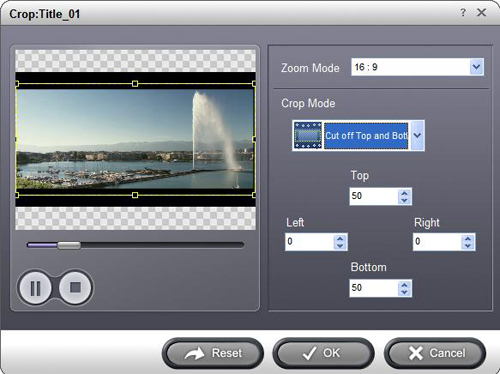 There are three methods available to crop your video:
Method 1: Crop by selecting a crop mode
Select a crop mode in the crop mode drop-down list and click OK to save the crop. There are three pre-set crop modes
for your choice: No Crop, Cut off top and bottom black edges, Cut off top black edge.
Method 2: Crop by adjusting the crop frame
The crop frame is the dashed line around the movie video. There are four adjustment lines on the crop frame. Each line allows you to crop the movie video from a different position.
To crop your movie video, you can just move your mouse cursor to an adjustment box and drag the crop frame.
Method 3: Crop by setting the crop values
There are four crop values on the lower left part of the crop window: Up, Down, Left and right. You can set each value to crop your movie video, and the crop frame will move accordingly.

Before you start to crop your movie video, you can select an output aspect ratio from the Zoom list. There are four choices available: Full screen, Keep original, 16:9 and 4:3. After you select an output aspect ratio and finish the crop, the result can be previewed in the Preview window of the program main interface.