Useful Ways to Put Music on iPod without iTunes
Most iPod users may have the same feeling like you when using the iTunes. It is hard to handle and difficult to use especially for the new iTunes users. What's more, if you have songs that are not from Apple store, you cannot transfer your music back to your computer with iTunes when your computer crashed down. Apple does that for preventing pirate of iTunes songs. Then, how to put music on iPod without iTunes? At this point, you have to admit iTunes is not an ideal option for you to sync your iPod in your computer or Mac. So you may want to find an iTunes alternative app.
Part 1. Transfer music to iPod without iTunes
Mac FoneTrans is one of the best apps to put music to iPod without iTunes. It helps you back up your iPod songs, videos and photos on your Mac easily, and amazingly you will find that it can also help you import local files from Mac to iPod conveniently. How can you put music on your iPod without iTunes? Keep reading this article. This article aims to show all Mac users how to import files to iPod without iTunes. Please follow the steps below if you have the need to add music to your iPod without iTunes.
Download and run Mac Fonetrans on your Mac.
Plug your iPod to your Mac before downloading music to iPod.
Mac FoneTrans can detect your iPod automatically. If you are the first time to connect your iPod with Mac, please make sure that your iPod trust your Mac by tapping "Trust" on your iPod.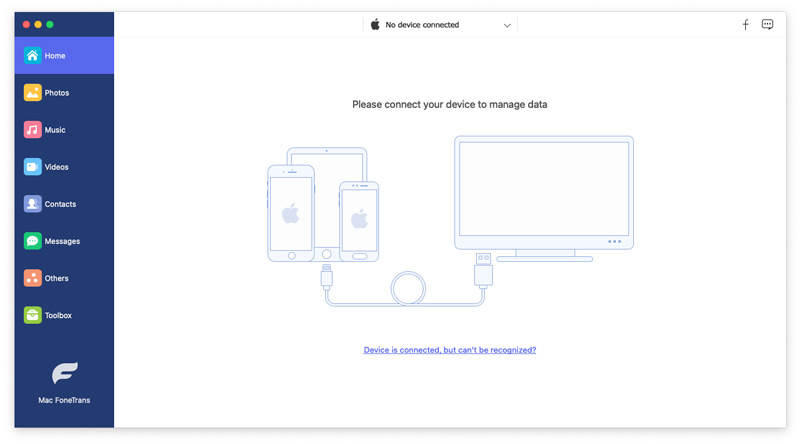 Transfer music from Mac to iPod
Click "Media" > "Music" > "Add" > "Add File(s)/Folder" to pick up the songs you want to put in your Mac and click "Open" to add the music to iPod.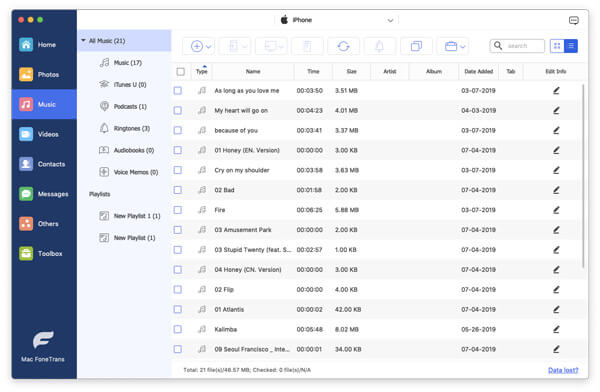 Send music from iPod to Mac
Click "Media" > "Music" > Select musci files that you want to put on Mac > "Export to" > "Export to Mac" to transfer music from ipod to Mac.
In this way, you can add music in your Mac to your iPod easily and also import music from iPod to Mac without iTunes. In addition, if you want to back up otehr data like videos, photos, contacts, SMS from iPad to Mac, you coudl also do it easily. See how to transfer iPad videos to Mac without iTunes.
Part 2. Put music to iPod with MediaMonkey
Another iTunes alternativeis MediaMonkey. Actually, it features more than a media manager and player, but a iPod transfer. It enables users to copy MP3 songs to iPod. MdiaMonkey is able to sync music and video to your iPod, iPhone, iPad, Android device, or most any other MP3 player. It also enables you to convert unsupported formats. When you connect your iPod with your computer via a USB cable, MediaMonkey will read data on your iPod.