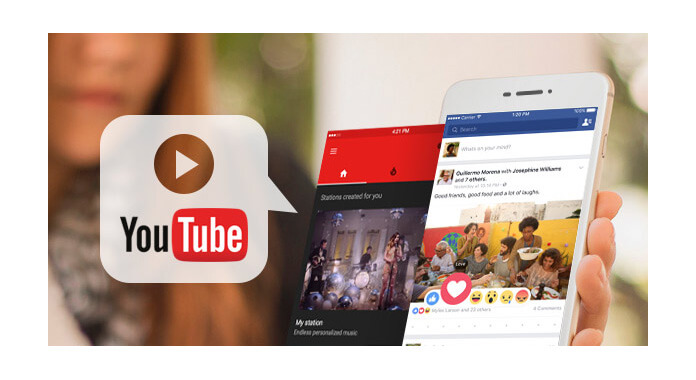 No doubt that YouTube are becoming increasingly popular. With more than 4 billion viewers each day, YouTube provides successful online service of video streaming for users to enjoy videos, music, radios shows and so on with their computers, smart mobile phones and tablets.
Want to lie in bed and listen to a YouTube radio or music with your iPhone or Android smartphone locked? Wanner switch to another app like Mail or Messages with keeping YouTube video/music playing in background? Some of us prefer to listen to YouTube music, podcasts, radio shows, audiobooks. However, complaints arise that YouTube doesn't allow you to minimize the YouTube Window and leave it playing in background. Then how can you play YouTube in background on Android/iOS devcie? You will appreciate the YouTube background playback after reading this article.
Part 1. Play YouTube in background on Android/iOS by YouTube Red subscription
YouTube provides a paid streaming subscription service called YouTube Red in United States, Mexico, Australia and New Zealand, which provides all non-ad streaming videos offered by YouTube, advertising-free music streaming provided by Google Play Music, offline and background video playback on mobile devices. As long as you subscribe YouTube Red for $10 per month, you are able to listen to YouTube with playing YouTube video/audio in background on Android phone or iPhone. Follow the steps to enable YouTube background playback.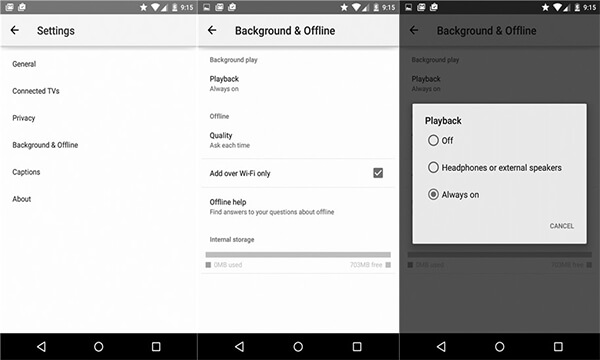 Download and launch YouTube Red app on your Android smartphone or iPhone. Sign into YouTube Red membership with your Google account. Navigate to "Menu" > "Settings".
Choose the option of "Background & Offine".
Tap on "Playback" and then choose "Always on".
Notes:
Always on: Videos will always play in the background.
Off: Videos will never play in the background.
Headphones or external speakers: Videos will only play in the background when your device is connected to speakers, headphones, or an external audio output.
That' it. Now you can play YouTube videos, songs or radios in background on your Android phone or iPhone.
Part 2. How to enable YouTube background playback without YouTube Red
Not everyone want to pay $10 monthly for YouTube Red. Then how can you keep playing YouTube in background and multitask on Android or iPhone without YouTube Red subscription? If you'd rather find a simpler way to enable YouTube video/audio playback in background, keep reading this part and find an easy way.
Play YouTube in background on iPhone/iPad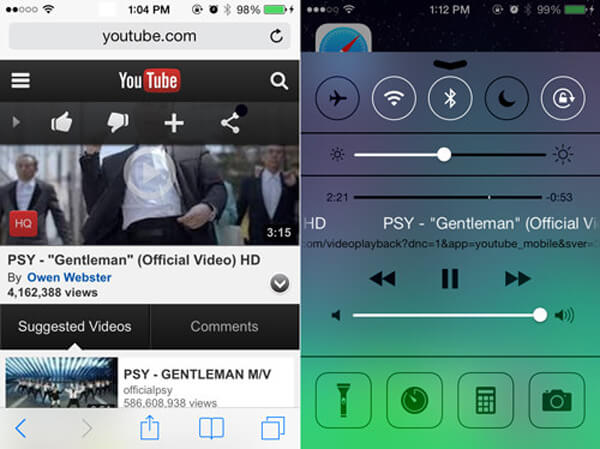 Launch Chrome or Safari on iPhone or iPad and visit YouTube website. Your browser will prompt you of a window asking whether you'd prefer to open your video in the YouTube app if you already have it on your device. Ignore it and choose "Continue in browser".
Search for your preferred YouTube video or music that you want to play, and play it in browser.
Press down your iPhone/iPad "Home" button and return to home screen. You can notice the YouTube playback will pause. Swipe up the screen and launch the control center. You'll find the YouTube video's name, track playback length.
Tap the "Play "button. The YouTube video should continue to play and you can now listen to YouTube playing in background. Freely launch whichever app you like or lock your screen and YouTube video/audio will never pause.
Minimize YouTube Window in foreground on Android phone/tablet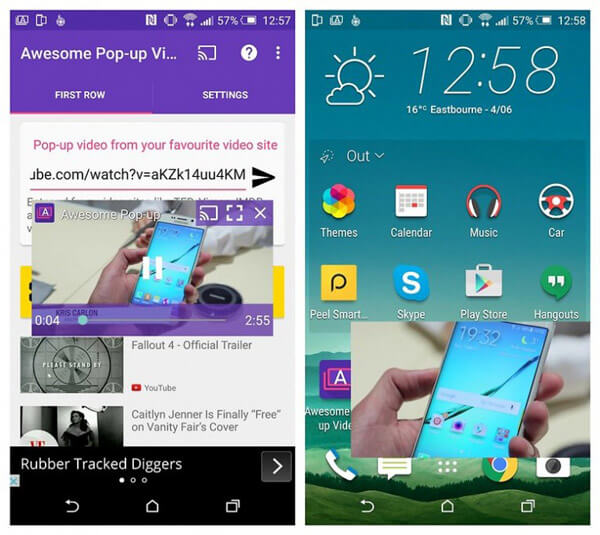 Open Mozilla Firefox or Chrome on Android device and navigate to YouTube site. Choose "Continue in browser" if you're asked to open YouTube video on YouTube app.
Search for YouTube video/music you like and play it. Find the browser settings by tapping either the three-line or the three-dot button in the YouTube video window.
Scroll down the screen and find an option of "request desktop version". The YouTube playback page should reload to the desktop version. Tap on "Play" and play YouTube video in a foreground minimized window. Now you can lock the screen or multitask, whatever.
Notes: If you want to stop it, you'll need to return to where you open the YouTube video as Android has no control center. This method might not manage to help you for reasons of Android version, browser or others.
Part 3. Top 3 best YouTube background playback app for Android phone/iPhone
Actually, you can use some YouTube background playback applications to help you play YouTube video/music in background. And in this part, we will introduce 3 great apps to you and let you listen to YouTube.
Tubex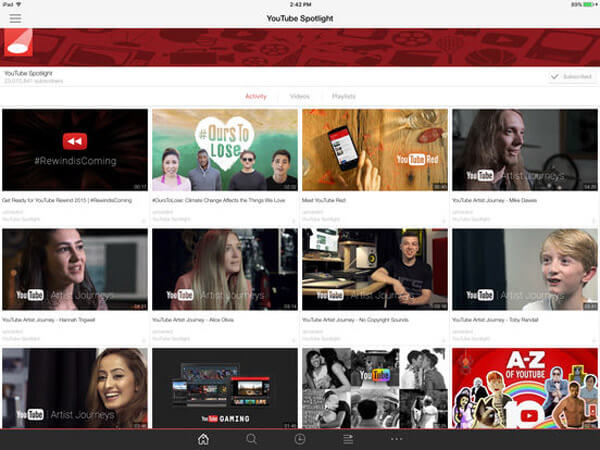 The Tubex app is simple to use and has basic features in place. It lets you search for the different YouTube videos and playlists on play YouTube in background. However, Tubex only can be avaiable for iOS device.
Awesome Pop-up Video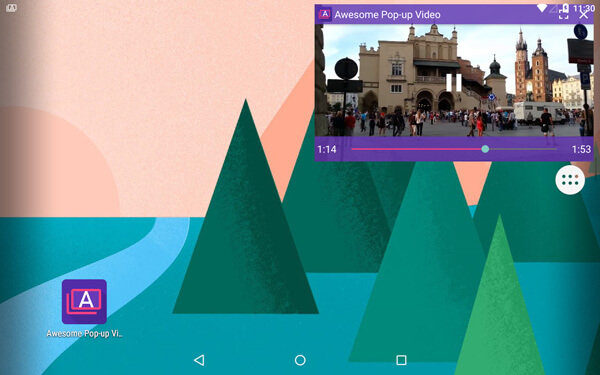 Awesome Pop-up Video is available on Google Play store. It enables you to search for YouTube video and play it in background while you keep working on anything else on Android device.
FireTube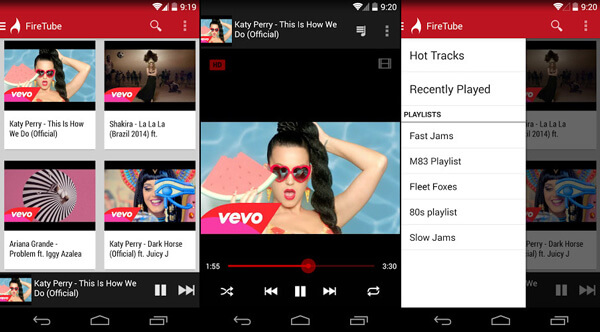 FireTube is a great-looking app that enables you to search for and listen to YouTube video you want. Whether you stay inside the app or not, this app allows you to leave YouTube playing in background or with your screen locked. And it supports iOS and Android devices.
There are other YouTube apps like Video Tube, Floating Tube, Tubee for YouTube, mTuber, Music Tube, which can help you realize YouTube background playback.
Part 4. Best YouTube video downloader for iPhone and Android smartphone
Why not download YouTube video/audio to iPhone or Android smartphone if you to play YouTube in background? With YouTube downloaded on the device, you need not consider about any network issue, advertisement and so on during the playback. You can freely to listen to YouTube when you multitask or lock your screen. And in this part, a reputable and reliable YouTube Video Downloader is recommended. With the program, you are able to access online videos from YouTube, Facebook, Vimeo, Dailymotion and other video-sharing sites and download them to your iPhone or Android phone.
First, download the software on your Windows PC or Mac.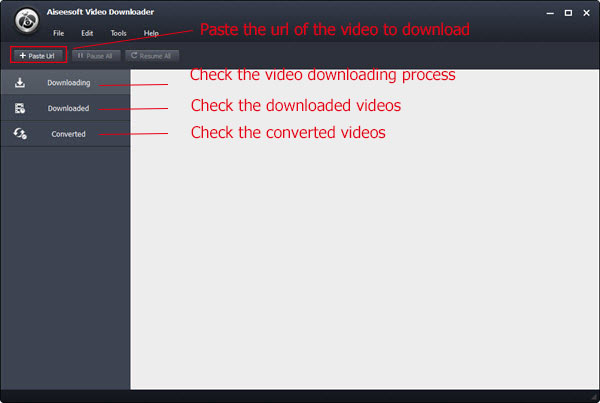 Visit YouTube and find your favorite YouTube video. Copy its video URL. Besides YouTube, this program also supports other video-sharing sites like Vimeo, Facebook, TED, CBS and so on.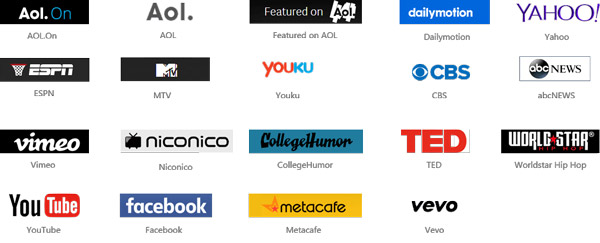 Click "Paste URL" button. The smart program will automatically paste the YouTube URL. Click "Analyze" button to analyze the video source. You are able to directly convert YouTube to video format you like from the option of " Automatically Convert to". After that, click "OK" button and wait for the downloading process to finish.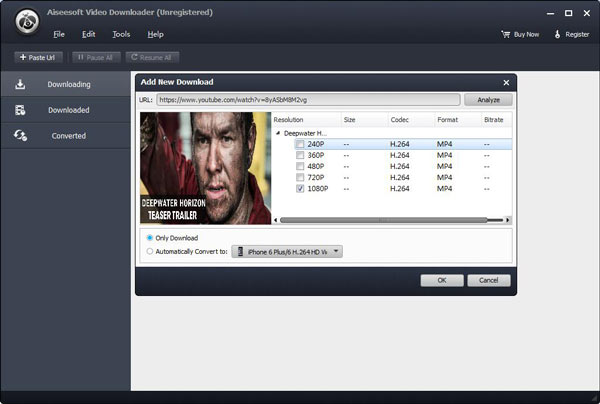 DON'T MISS: Get to know everything about YouTube
In this article, we mainly show you how to play YouTube in background on iPhone or Android phone. Have you managed to enable YouTube background playback now? If you have any other better idea, welcome to tell us.