iPhone 3G S Reviews



10th June 2009



Aiseesoft News - The new model of iPhone, the iPhone 3G S is Apple's biggest unveiling at its annual conference for software developers after co-founder and CEO Steve Jobs absent until his medical leave.
Learn More>>

iPod nano updated, elongated, and nano-chromatic
26th September 2008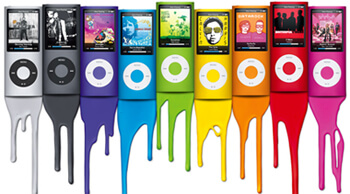 The worst-kept secret of today's Apple Let's Rock iPod event was the newly updated iPod nano. Apple officially let the cat out of the bag today, sharing all the details. The new iPod nano is taller, and also turns out to be the thinnest iPod ever made. It's available in a record nine colors, and you get two models to choose from - an 8GB version for $149, and a 16GB version for $199. The battery will hook you up with 24 hours of music or 4 hours of video. The nano now has an included accelerometer, which allows it to sense if you are holding it in portrait or landscape mode, so it can then change the screen orientation accordingly. That same accelerometer also gives rise to a new "Shake to Shuffle" feature. It's exactly what it sounds like. If you don't like what you are listening to, shake the nano, and you get a new random track. You can order the new iPod nano now at the online Apple Store, or pick one up at a physical location as they arrive over the next few days.


Apple iPod touch 2G
26th September 2008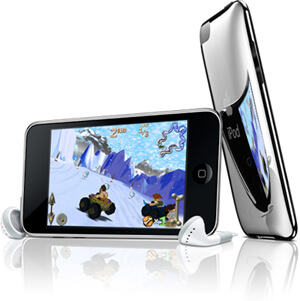 The iPod touch used to be the second fiddle device to the iPhone. It looked like an iPhone, only a bit goofier, like it was made with leftover parts. With the new generation, however, Apple has staked a new flag in the sand and declared the Apple iPod touch 2G it's own distinct device, with its own benefits and shortcomings. Foremost among these, the new iPod touch 2G is maniacally thin, much thinner than the Apple iPhone 3G. The entire body seems more polished, with a more definite sharpness and steep curve to the edges. It's taken the new iPod nano aesthetic to the larger touchscreen form.
Best of all, it does almost everything the iPhone 3G can do. There's no cellular radio and no GPS sensor, no Bluetooth for handsfree, but that's about it. Most of the games and apps, and all of the e-mail and productivity tools work great on the iPod touch 2G, and because you're relying on Wi-Fi for browsing, it feels even faster than its cellular cousin. The iPod touch looks great playing movies, and handles just as smoothly as the iPhone does on its best days.


RealDVD rips DVDs just like you do, only legally
18th September 2008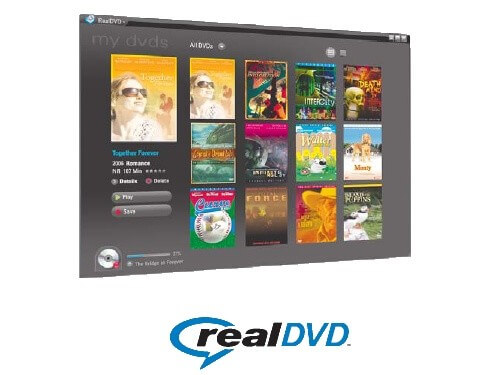 RealNetworks, the company you love to hate, is back with a new product sure to capture the attention of Hollywood and its MPAA thugs. For $30, RealDVD plans to do what DVD Jon enabled years ago -- namely, making digital copies of your DVDs. Unlike Jon's illegal DRM stripping software, RealNetworks' approach lays on additional DRM allowing you to make a single copy, only, playable on the machine doing the rip -- up to five additional Windows PCs can be authorized at a cost of $20 per.

Real thinks that the use of the additional DRM coupled with Kaleidescape's legal victory -- a ruling that seemingly authorizes users to copy DVDs for their own personal use -- will help it escape the wrath of the MPAA. Not that RealNetworks has ever been afraid of a fight as demonstrated by its 2004 scuffle with Apple when it began offering software that allowed iPods to play Real's DRM'd content. Good thing too because we're pretty sure that shutting down the planned start of RealDVD's sales at the end of this month is the number one topic around the bunny-juice dispensers at the MPAA offices this morning.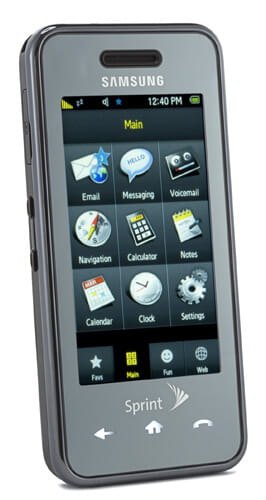 Sprint's Samsung Instinct: At Last, a Decent iPhone Competitor




17th September 2008



Samsung's Instinct may be the best stab at the coveted title of iPhone killah this CTIA. The 3.1-inch touchscreen phone has localized haptic feedback, plus three hard navigation keys. If it sounds familiar, it's because we've seen versions of it before, but only in Korea. Mind you, this is not the LG Prada-ripoff Samsung F480, which had a much smaller touchscreen.

The Instinct rocks EV-DO Rev A and GPS, in both cases besting what's in the fruit phone. And then content and app wise, Sprint's own wares are basically swapped in for Apple's: Sprint Music Store, Navigation, TV, Visual Voicemail and a full HTML web browser—everything except a la carte music included in the $100 monthly subscription fee. EVERYTHING. On top of that, its customizable homescreen is amazing (and actually customizable, unlike other similar phones). You can check out all of the iPhone-like attributes in our 20-screenshot gallery. We'll be getting our fingerprints on one shortly, but in the meantime, there are more pics and hard data after the jump, uhhhh, fool.


02 launch the first pay-as-you-go iPhone 3G
1st September 2008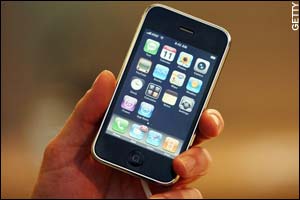 A pay-as-you-go iPhone 3G will be launched later this month, allowing customers to use the device without subscribing to a long-term contract for the first time.
The prepay handset will be available from September 16, priced at an eye-watering £349.99 for the 8 gigabyte version and £399.99 for 16 gigabytes.
Although the initial outlay is steep, analysts say it will appeal to customers who want to stay in control of their spending, and those who make few phone calls.
They have also predicted that it will top the Christmas best-seller lists as teenagers clamour to have the latest technology now they, or their parents, are not required to sign-up to a contract.
It will also suit those who are reluctant to lock themselves into an expensive 18-month deal when the economic future is so uncertain.
Ben Wood, head of research at technology analysts CCS Insight, said: "This is huge. I think we'll see people queuing up outside the stores for it. People are increasingly nervous about locking themselves into long term commitments especially in the light of the current economic downturn.


Apple, O2 to release PAYG iPhones this month
1st September 2008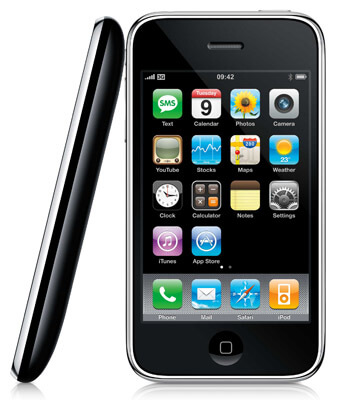 O2 will release the iPhone 3G on a pay-as-you-go tariff on 16 September, the carrier has just announced.
The 8GB version of the phone will cost £350 - just £50 less than the 16GB model. It'll be sold by O2, Carphone Warehouse and Apple.
O2 said that the purchase price includes a year's unlimited browsing - an "excessive usage" policy still applies - after which buyers will have to cough up £10 a month for it. Or upgrade to the next iPhone, if the line continues to be refreshed annually.

Apple's iPhone 3G: on PAYG next month
Unlimited Wi-Fi is included for the first 12 months after activation too.
The handset will come with a SIM initially linked to O2's Favourite Place tariff, which is pitched at callers using their mobile from a given location - they get free calls to other O2 mobiles and UK landlines.
O2 said buyers will be able to switch tariffs - if they don't, their call time will depend on how much they top up their account each month: 500 minutes if they pay £10-14; £15-29 a month yields 1000 minutes; spending more than £30 gives unlimited minutes.
4th Generation iPod Nano Case 'In the Wild'
1st September 2008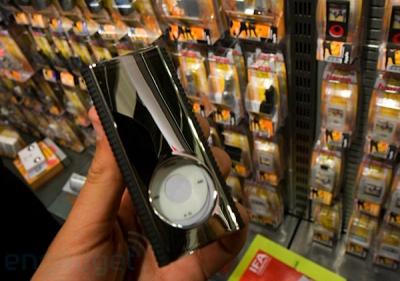 Engadget Spanish has found an actual case for the unreleased 4th Generation iPod Nano at the IFA 2008 expo. The case resembles the circulating rumors of the taller/rounded iPod Nano that is expected for release in September.
The case is by Hama and is a Sport Case specifically labeled "for iPod nano 4G".
Word of a taller case were first reported by iLounge. Kevin Rose later added a more details including a mockup photo. Other 4G iPod Nano cases have been seen online but this is the first time it has been physically spotted in the wild.