Top 10+ Music Recorders to Record Music Files on PC or Mac
I find many of my favorite music videos on YouTube, and want to get the music from the music video. The most recommended way is to record music off YouTube. But my bulit-in microphone on my laptop fails to do that. Is there good music recording software for my laptop? My laptop is Dell 5000 Series. Thx in advance.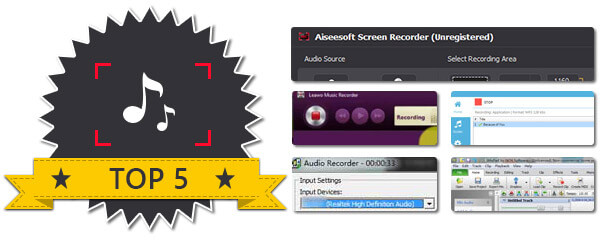 Some of you may want to download free songs from online music sites for offline listening or portable pleasure. But you are always impeded by the rules from those sites. For instance, SoundCloud only allows users to get 100 downloads per track. YouTube does not let you download music video from its sites legally. You need to pay money to download music from Ganna.
Various problems similar will attack you when you are interested in some songs online and want to get them in your player for an offline listening. Under such circumstances, one way can help your dilemma. Recording music from YouTube, Vevo, etc. to MP3, download music from SoundCloud, Pandora, Spotify, and more music sites, or recording your own voice as the song. In the following parts, we will describe the best music recorders for you one by one.
Part 1: How to record music from YouTube, SoundCloud, etc. on PC/Mac
After learning the good music recording software mentioned before, you must have known every music recorder has its specialties, you can choose the best music recording app according to your need. Here, if you want to record all music or audio book for a portable listening, you can try Screen Recorder, it is the best choice. Firstly, you need to download this music recorder to your PC or laptop, then double click it to install and run it after the installation.
Find music source
You can search the song form the music site, or open it on your music player. You can play it for confirming if the song is the exact one you want.
Run Screen Recorder
After launching this music recording software, choose "Audio Recorder", click the system audio to the tick, and meanwhile, turn off the audio from microphone for avoiding any noise around.
Record music
Play the song, and click the "REC" button to start to capture the audio file, and then save it to your PC.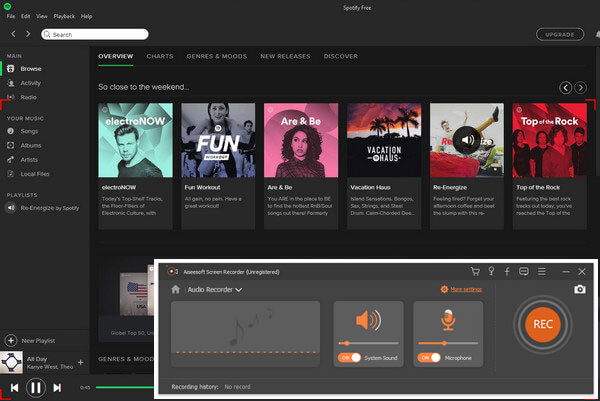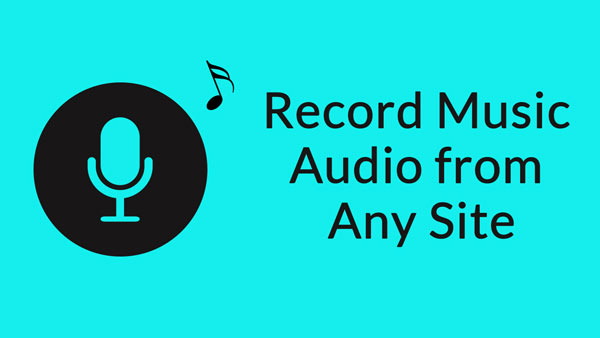 Easy, right? After you download SoundCloud music, you can also learn how to convert SoundCloud songs within simple steps.
Part 2. Top 8 popular music rerecording software online
Voice Recorder
Link: https://online-voice-recorder.com/
Record online audio and crop the audio recording with this software.

Free Online Audio Recorder
Link: https://www.apowersoft.com/free-audio-recorder-online
Record high quality audio from computer sound card and microphone and edit ID3 tag.

Soundation
Link: https://soundation.com/
Online music recording software with professional features like recording, effects, virtual instruments and over 700 free loops and sounds.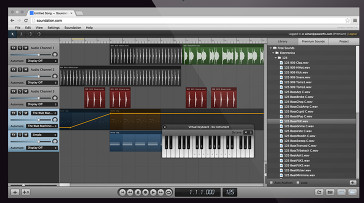 Record MP3 Online
Link: http://recordmp3online.com/
Record your voice and download the file, or upload it to your dropbox account, and convert the music recording to MP3.

UJAM
Link: https://www.ujam.com/ujamstudio
Create your own song, send musical greetings or remix songs.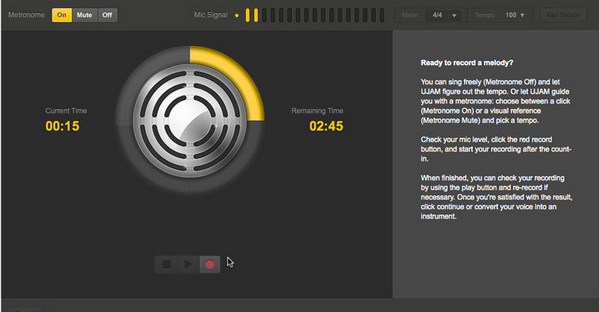 SpeakPipe voice recorder
Link: https://www.speakpipe.com/voice-recorder
Create an audio recording directly from a browser by using your microphone, and save your recording on the SpeakPipe server and get a link to it.

Vacaroo
Link: http://vocaroo.com/
The easy and simple to use music recording tool online.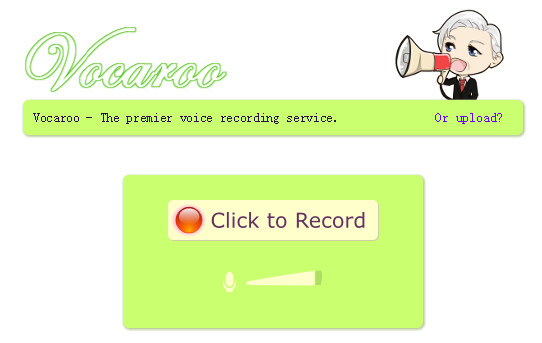 Soundtrap
Link: https://www.soundtrap.com/
Professional music recording program, and save your recording project on this web to create your own page.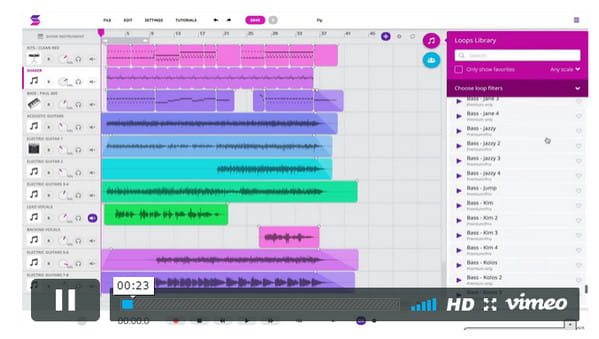 Part 3: Top 5 music recorders to record music from YouTube, SoundCloud, Microphone and more
In this part, top 5 music recording software for PC or Mac will be shared here. You could select the best one to record your own music by itself based on your situations.
➤ Screen Recorder, as its name states, this software is the screen capture to record all audio (like songs, audio book, etc.) and video.
➤ Whether the audio is from your online sites like YouTube, Vevo, SoundCloud, Pandora, Spotify, Last.fm, Ganna, or the songs are from your friends in a webcam video, even the music is from your own voice by microphone, you could record those sounds with this sound recorder.
➤ Even if you are first to use this program, its simple interface enables you to record music files easily as a music recording beginner.
➤ You can adjust the audio option to record from microphone or system to record audio from YouTube or your own sound in front of computer.
➤ You can set starting or ending time to record various songs at home while you are busy outside.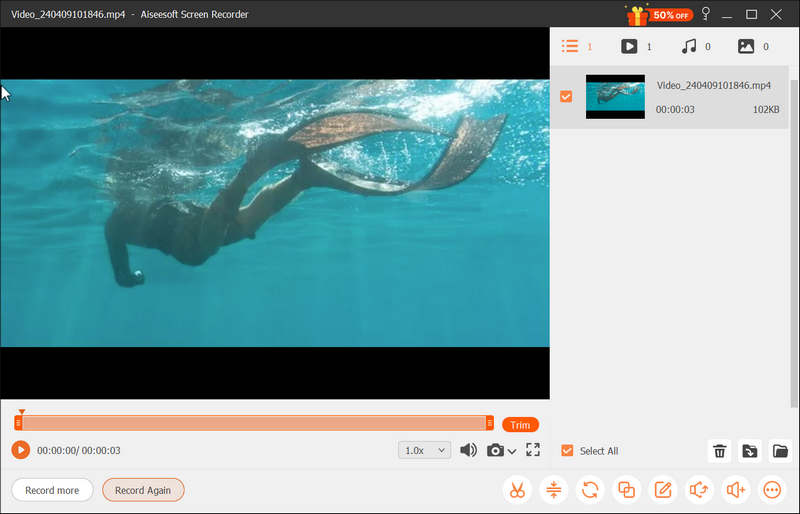 Pros

1. It records any streaming audio from all online sites like YouTube, Vivo, SoundCloud, Spotify, Pandora, Last.fm and more.
2. It lets you record music video for your watching on your device.
3. It saves music in various formats like MP3, WMA, AAC, etc. to play on your device easily. If you need other formats, you can use a free video converter to convert the audio formats.

Cons

1. This music recording software is now available for users on Windows 10/8/7/Vista/XP. If you need a music recording program for Mac, then keep reading.
Music Recorder
➤ Music Recorder is the music recording helper to capture streaming music and audio from line-in and microphone.
➤ Like Screen Recorder, you are able to set the task schedule to record songs when you are busy in other things.
➤ After downloading this recorder musical instrument, you need to download a plug-in to start to record audio from any source, and save the recorded sheet music, like "My heart will go on" or "Let it go" as MP3 or WAV.
➤ Most attracting feature is that this music reorder instrument will keep your history of recording music files and create music recording playlist, so that you could play the music recordings conveniently on your computer.
➤ This music recorder is compatible with Windows XP/Vista/7/8/10.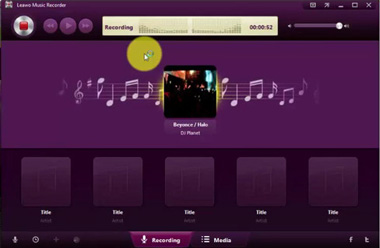 Pros

1. It keeps your recoding history and lets you create your own playlist easily.
2. It has its Mac version, and you can download this music recording software for Mac.

Cons

1. It only supports limited online music recording from YouTube, Last.FM, Pandora, Napster, Spotify, GUBA, NPC, MySpace, archive.org, BBC Radio Audio, iTunes Radio, RTVE, Sirius Radio, Radio Blog Club, XM Radio Online, AOL Music, etc.
2. This music recoding on a Mac will be saved as M4A. If you need other audio formats like MP3, AAC, etc. you need to convert it.
➤ >Replay Music is the voice recording software for Windows users.
➤ It is designed for PC user to record streaming music from some online sites and any player.
➤ You can also find songs for recording with its built-In media Guides for online songs sites like Last.fm, Pandora, SoundCloud, Spotify, etc.
➤ The recording settings enable you to get MP3/M4A/OGG/WAV/WMA/FLAC music file with this program, and you could add music tags, create your own music recording history to play, remove/delete music recordings, and replay the music recording with this recorder box.
➤ What's more, you can import the recorded music to iTunes directly for sharing to iOS devices. Free trial mode only lets you record music 7 days with the total 25 demos.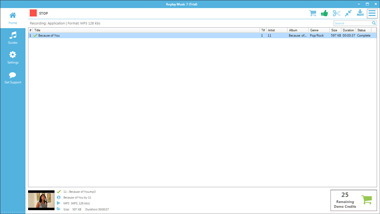 Pros

1. This application for recording music enables you to import music recordings to iTunes/Windows Media Player.
2. This app for recording music can also get the lyrics information.

Cons

1. This music recorder fails to record voice for a singing practice with your microphone from computer.
2. It only records streaming music from limited sites like Pandora, Spotify, Google Play, SoundCloud etc.
➤ Blaze Media Pro is the most powerful audio and video manager.
➤ Among, this music recorder can record from any source available on your system, such as line-in for cassette or LP recording, "Wave" or "What You Hear" for recording streaming audio/media, etc.
➤ After launching this recording software, you need to click "More Audio Options" to run its audio recorder, choose MP3/WAV/WMA/OGG to save "Ode to Joy" from media player or online music site.
➤ Its attractive feature is to let you import local music file or recorded audio file for editing.
➤ You can set music file with the effects of fade-in/fade-out, silence, flanger, chorus, compressor, distortion, echo, etc. (Check how to fix iPhone echo here.)
➤ Free trial enables you to capture audio from Harry Potter with this music recorder within 15 days.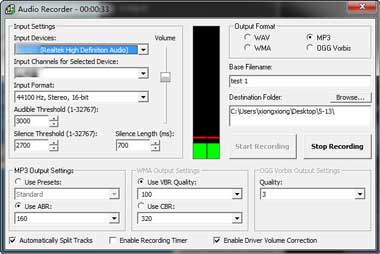 Pros

1. Besides audio recorder, it can be as the music editing software to create your own music specially.

Cons

1. This recorder fro music disables you to playback music, sound or voice recorded. You need to import this recording to this app for replaying the music.
2. This music recorder for beginners is not ideal to perform it.
MixPad Multitrack Recording Software
➤ MixPad multi-track recording and mixing software is the one of the most powerful music recording and editing software for Windows and Mac, even the best portable recorder for live music for iPad, Android and Kindle.
➤ It features music, audio or sound recording and recording editing.
➤ It captures 12 audio tracks that can be detected by its microphone at one time, and export your recorded music to your device in MP3, WMA, AIFC, AAC, FLAC, AMR, M4R, M4R, etc.
➤ Alternatively, you are allowed to use its music editor to delete tracks, trim unwanted music recording, split clips, stretch/shrink and add effects (surround sound, pitch correction, high pass, equalizer, crossfade, etc.) for your music, which provides more editing functions for your music recording compared with Blaze Media Pro.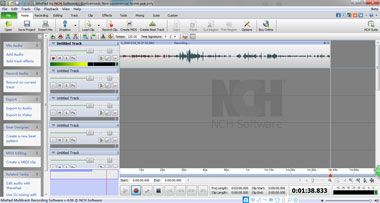 Pros

1. It lets you edit your music recording with its professional editing software.
2. This music recorder saves in any file type you need, from studio quality WAV files to high compression formats for sharing online.

Cons

1. It requires you to get the internet connection to save your music recording.
2. The multi-tracks will puzzle beginners with this music recorder.
We mainly talked about how to capture online music in this page. First, we show you the best way record to music from YouTube, SoundCloud, etc. on PC/Mac. Then we show you 10 more powerful online and professional MP3 music recorder apps for you to choose from. You can pick your preferred one to capture music.
Part 4. FAQs about recording music with top music recorder
1. Can you record Amazon music?
Yes. You can record Amazon music with music recorder like Aiseesoft Screen Recorder. Just run Screen Recorder on your computer and select Audio Recorder. Keep System Sound option on and turn off Microphone option. Then, play the Amazon music and click REC to start recording.
2. How to record music with Audacity?
Assuming that you have installed Audacity on your computer. Click on the Microphone icon and select Stereo Mix option from the drop down list. Then, click the red Recording button to initiate the recording process.