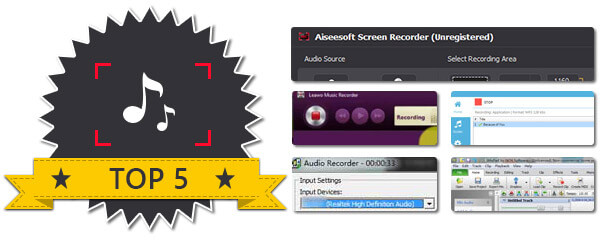 "I find many of my favorite music videos on YouTube, and want to get the music from the music video. The most recommended way is to record music off YouTube. But my bulit-in microphone on my laptop fails to do that. Is there good music recording software for my laptop? My laptop is Dell 5000 Series. Thx in advance."
The above question is from a forum. As Friedrich Nietzsche has ever said, "Without Music, life would be a mistake." Music plays an important role in your life. Enjoy online music is a good thing. However, some of you may want to download free songs from online music sites for offline listening or portable pleasure. But you are always impeded by the rules from those sites. For example, SoundCloud only allows users to get only 100 downloads per track; YouTube does not let you download music video from its sites legally; You need to pay money to download music from Ganna. Various problems similar will attack you when you are interested in some songs online and want to get them in your player for an offline listening. Under such circumstances, one way can help your dilemma. Recording music from YouTube, Vevo, etc. to MP3; download music from SoundCloud, Pandora, Spotify, and more music sites; recording your own voice as the song. But another question comes to you: Which one is the best music recorder? In the following parts, we will describe them one by one.
Popular music rerecording software online
Voice Recorder
Link: https://online-voice-recorder.com/
Record online audio and crop the audio recording with this software.

Free Online Audio Recorder
Link: https://www.apowersoft.com/free-audio-recorder-online
Record high quality audio from computer sound card and microphone and edit ID3 tag.

Soundation
Link: https://soundation.com/
Online music recording software with professional features like recording, effects, virtual instruments and over 700 free loops and sounds.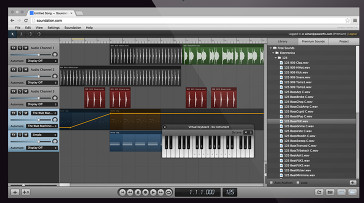 Record MP3 Online
Link: http://recordmp3online.com/
Record your voice and download the file, or upload it to your dropbox account, and convert the music recording to MP3.

UJAM
Link: https://www.ujam.com/ujamstudio
Create your own song, send musical greetings or remix songs.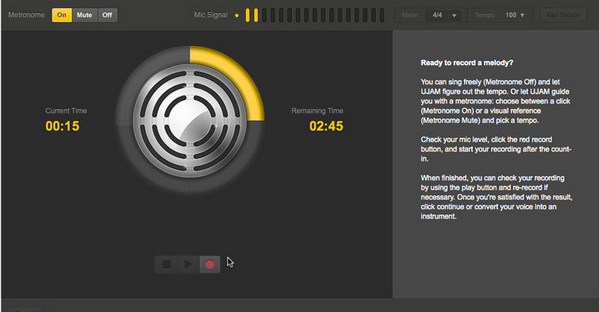 SpeakPipe voice recorder
Link: https://www.speakpipe.com/voice-recorder
Create an audio recording directly from a browser by using your microphone, and save your recording on the SpeakPipe server and get a link to it.

Vacaroo
Link: http://vocaroo.com/
The easy and simple to use music recording tool online.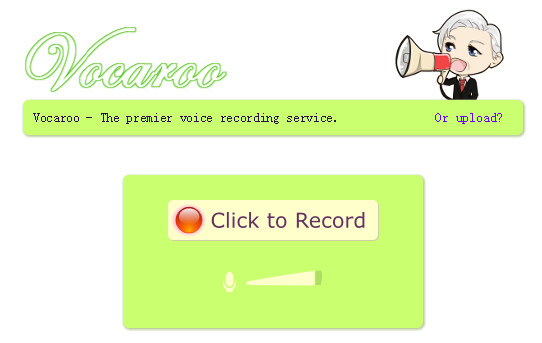 Soundtrap
Link: https://www.soundtrap.com/
Professional music recording program, and save your recording project on this web to create your own page.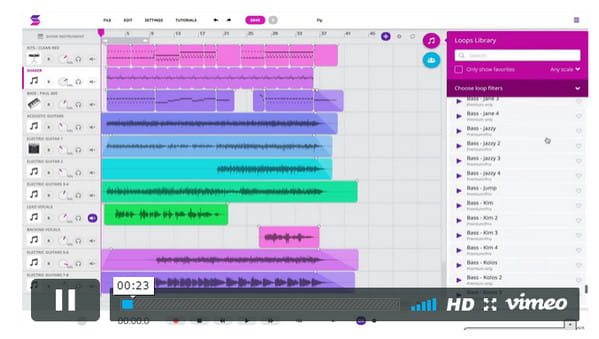 Part two: Top 5 music recorders to record music from YouTube, SoundCloud, Microphone and more
In this part, top 5 music recording software for PC or Mac will be shared here. You could select the best one to record your own music by itself based on your situations.
Pros

1. It records any streaming audio from all online sites like YouTube, Vivo, SoundCloud, Spotify, Pandora, Last.fm and more.
2. It lets you record music video for your watching on your device.
3. It saves music in various formats like MP3, WMA, AAC, etc. to play on your device easily. If you need other formats, you can use a free video converter to convert the audio formats.

Cons

1. This music recording software is now available for users on Windows 10/8/7/Vista/XP. If you need a music recording program for Mac, then keep reading.
Pros

1. It keeps your recoding history and lets you create your own playlist easily.
2. It has its Mac version, and you can download this music recording software for Mac.

Cons

1. It only supports limited online music recording from YouTube, Last.FM, Pandora, Napster, Spotify, GUBA, NPC, MySpace, archive.org, BBC Radio Audio, iTunes Radio, RTVE, Sirius Radio, Radio Blog Club, XM Radio Online, AOL Music, etc.
2. This music recoding on a Mac will be saved as M4A. If you need other audio formats like MP3, AAC, etc. you need to convert it.
Pros

1. This application for recording music enables you to import music recordings to iTunes/Windows Media Player.
2. This app for recording music can also get the lyrics information.

Cons

1. This music recorder fails to record voice for a singing practice with your microphone from computer.
2. It only records streaming music from limited sites like Pandora, Spotify, Google Play, SoundCloud etc.
Pros

1. Besides audio recorder, it can be as the music editing software to create your own music specially.

Cons

1. This recorder fro music disables you to playback music, sound or voice recorded. You need to import this recording to this app for replaying the music.
2. This music recorder for beginners is not ideal to perform it.
Pros

1. It lets you edit your music recording with its professional editing software.
2. This music recorder saves in any file type you need, from studio quality WAV files to high compression formats for sharing online.

Cons

1. It requires you to get the internet connection to save your music recording.
2. The multi-tracks will puzzle beginners with this music recorder.
Part three: How to record music from YouTube, SoundCloud, etc. on PC
After learning the good music recording software mentioned before, you must have known every music recorder has its specialties, you can choose the best music recording app according to your need. Here, if you want to record all music or audio book for a portable listening, you can try Screen Recorder, it is the best choice. Firstly, you need to download this music recorder to your PC or laptop, then double click it to install and run it after the installation.
Easy, right? After you download SoundCloud music, you can also learn how to convert SoundCloud songs within simple steps.
You can learn the steps from the video below: