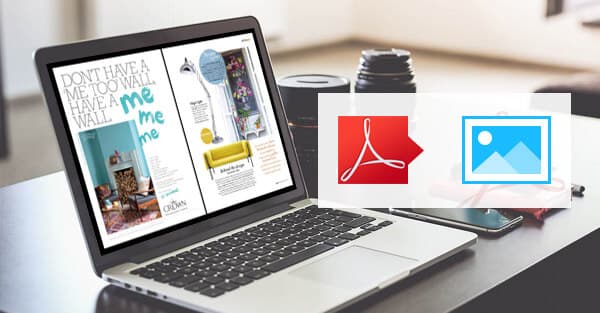 There are so many times a full PDF document is not going to work. It might be more than you need, or you might need just a couple images from the PDF file. Maybe you want to embed a PDF into a webpage, or insert the PDF content to a PowerPoint presentation file. Converting your PDF documents into an image format like JPG, PNG or GIF could be the solution you are looking for.
Which Format is the Best for Your Documents?
Image formats have their own pros and cons. Before converting a PDF to an image, let's have a look at what's the difference between the most popular formats and when it's appropriate to use them. JPEG, PNG and GIF are the three most common image formats for the web and computer graphics.
JPEG
Compared to GIF, JPEG is less grainy. When you save an image in JPEG (.jpg) format, much information will be lost from the original image to keep the image file size small, which means some degree of quality is also lost. Generally, the image compression is not that evident at first glance. Because JPEG is smaller, it takes up less room and requires less time to transfer to a site like Facebook. JPEG is not only a free standard and ubiquitous, but also efficient. The quicker users can find and view images, the more images they will see and share and so the more data points the relationship engine has. The engine needs efficiency and JPEG is efficient. That's why Facebook uses JPEG. So if you have the similar requirement, then just convert your PDF to JPEG format.
Pros of JPEG:
* 24-bit color, with up to 16 million colors
* Rich colors, great for photographs that needs fine attention to color detail
* Most used and most widely accepted image format
* Compatible in most OS (Mac, PC, Linux)
Cons of JPEG:
* They tend to discard a lot of data
* After compression, JPEG tends to create artifacts
* Cannot be animated
* Does not support transparency
GIF
Pros of GIF:
* Support transparency
* Do small animation effects
* 'Lossless' quality – they contain the same amount of quality as the original, except of course it now only has 256 colors
* Great for images with limited colors, or with flat regions of color
Cons of GIF:
* Only supports 256 colors
* Sometimes, the file size is larger than PNG
PNG
PNG is an image format specially designed for the web. Just like the GIF format, the PNG is saved with 256 colors maximum but it saves the color information more efficiently. It also supports an 8 bit transparency.
Pros of PNG:
* It does not lose quality and detail after image compression
* PNG often creates smaller file sizes than GIF
* Supports transparency better than GIF
Cons of PNG:
* Not good for large images because they tend to generate a very large file, sometimes creating larger files than JPEG.
* Unlike GIF however, it cannot be animated
* Not all web browsers can support PNG
Convert PDF to Image on Mac
To convert PDF to PNG, GIF, JPG or any other format, a PDF to image converter is necessary. Aiseesoft Mac PDF to Image Converter is one of the most professional PDF to picture converting software that lets you convert any PDF file to popular image formats including TIFF, JPEG, PNG, GIF, BMP, TGA, PPM and JPEG2000. You are allowed to set pixel size and image color for all output images, choose "multi-page" option for the GIF and TIFF formats, and even set quality for JPEG format and compression for TIFF format.
1. Download PDF to Image Converter for Mac
Download convert PDF to Excel on Mac. If you are running a PC, just download the Win Vision. Double-click the quick start icon on the desktop to launch this application. Drag and drop PDF files to it.
2. Select the output format
This PDF to Image Converter for Mac allows you to convert multiple PDF files to different image formats at the same time. Select a PDF file, click the output format drop-down button and choose the output format you want. You can click "Preferences" button to set your preference for the output images.
3. Convert a PDF to an image format
Now click "PDF" button to start the PDF to image conversion. It's very easy and fast, right? When it is complete, click "Open" button to get your image files. You may also want to know how to convert PDF to Excel on Mac.