Video DownloadHelper Not Working? The Easiest Ways to Fix It
Video DownloadHelper is a must-have Firefox add-on for web content extraction. It is able to detect videos playing in your browser and provides simple browser toolbar/menu user interface to download the video directly to your local disk. This extension can also bulk download gallery of images. However, it may not work at all for some sites if the video server you are consulting implements an uncommon technical method for displaying the video. Also it might stop working due to incompatibility with your Firefox browser. As you know, Firefox updates frequently. So you can fix the "DownloadHelper Not Working" issue by reinstalling DownloadHelper or turn to an alternative to Video DownloadHelper.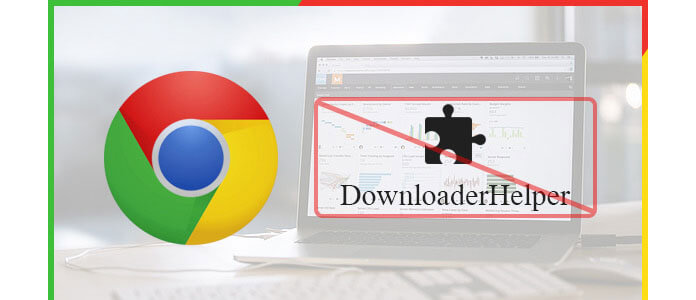 DownloadHelper Not Working
DownloadHelper Not Working? Fix it Right Now!
f DownloadHelper doesn't work properly with the new version of Firefox, try to overwrite the current version with an older version. You can get an older version of DownloadHelper from https://addons.mozilla.org/en-US/firefox/addon/video-downloadhelper/versions/.
However, this Firefox extension might also not work if your Firefox version is too old. So another solution is to use the latest Firefox and disable the auto-addon-update feature of it at the same time. Go to Tools > Add-ons > Tools for All Add-ons.

And then turn Update Add-ons Automatically off.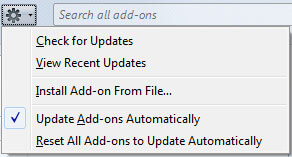 Video DownloadHelper Alternative
Aiseesoft Video Converter Ultimate is the best video downloadhelper alternative that lets you easily download video files from YouTube, Vimeo, Metacafe, Facebook, Dailymotion, Vevo, and Yahoo. It also allows you to convert the downloaded video files to any video/audio format as you like. And there is no browser limitation since Video Downloader is a standalone program.
Aiseesoft Video Converter Ultimate
For Mac
Download YouTube videos and online videos from other popular sites like Facebook, Twitter, Instagram, DailyMotion, Vimeo, TED, Yahoo, etc on Mac.
Convert YouTube videos to MP4, MOV, AVI, MKV, MP3, FLAC, and other video/audio formats you need.
Support 1080p HD/4K UHD video downloads and conversion from YouTube.
Add new subtitle/audio track to YouTube, remove original audio track.
Support any popular format, Windows/Mac version, iOS/Android device.
Step 1First download the DownloadHelper Alternative by clicking the button below.
Step 2Find the video you want to download in your browser. Copy the URL of the video and go to this software. Click the "Download" button, the URL you copied has been pasted automatically. Then click "Analyze" and choose the video resolution you need. At last click "OK", you can start download the video.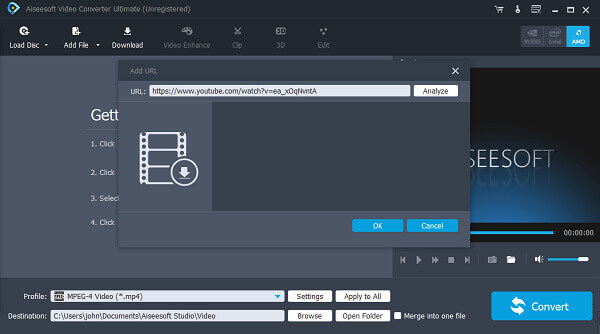 For steps in detail, please visit: How to Download Vimeo Video to MP3.