The Easiest Way to Record Streaming Audio
What is streaming audio? As for this question, you may say you don't know. But if I tell you, when you enjoy songs on SoundCloud, Pandora or Spotify, or listen to talks, news, books, etc. from TuneIn radio, the sound you can hear is streaming audio. You will say "Ah ha! That is streaming audio!"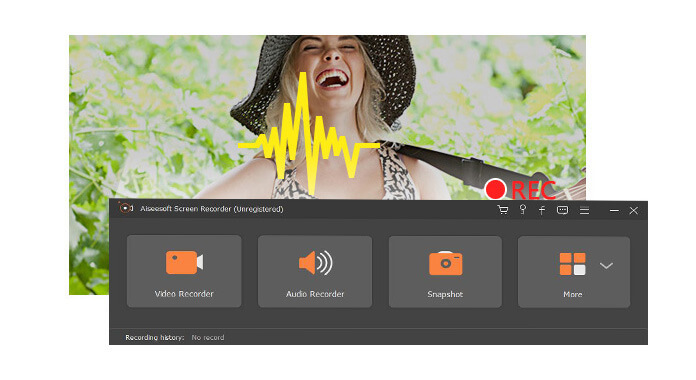 Record Streaming Audio
Streaming media is multimedia that is constantly received by and presented to an end-user while being delivered by a provider. Traditionally, if you want to play audio or music clips from a website, you had to download the entire file to your computer first and then play the file. That is time-consuming and a pain to wait for it. However, streaming audio is real time. When you click the play button, the audio will be compressed to play in your computer instantly.
Part 1: Why record streaming audio
Streaming audio gains a great reputation around the world for its advantages. And many streaming audio platforms provide the free listening for users. You are allowed to enjoy free songs on Spotify or Pandora, but you have to get your computer with connecting internet. Once you are in a remote county with poor internet, you will be crazy for no companion of music. At this point, you may want to download favorite music, or audio books from TuneIn radio, but the top streaming audio platforms say no. With copyright limitations, you can only enjoy free streaming sound online, but no permit of downloading them. Even if some streaming audio apps like SoundCloud allow you to get 100 downloads per track, you will feel disappointed by missing other beautiful audio. Certainly, still some online websites, like http://www.theyoump3.com/, claim they can help you download music from those platforms that do not support downloading. But the downloading quality will let you down. And you can only save them in MP3 format, which is not enough for you to get a high quality of WMA or RA for streaming audio.

But fortunately, still some platforms like TuneIn radio give you a way to record streaming audio on your Windows, if you pay $9.9 to get TuneIn Radio Pro. At this point, you may want to find the best way to record streaming audio from all different audio platforms with a streaming audio recorder. Keep reading to learn how to record streaming audio on PC.
Part 2: How to record streaming audio on PC or Mac
Record streaming audio with free Audacity
In this way, you could record any streaming audio with Audacity, a popular freeware for editing audio. What you need is to free download this streaming audio recording software and get computer cables. Follow the steps to record streaming audio.
Step 1 Get the software cables
You need to prepare a pair of headphones, a stereo audio cable (3.5mm male to male) and a jail splitter (3.5mm male to two 3.5mm female).
Step 2 Connect cables to computer
Connect the male of splitter to the audio output of the computer. Let the end of the cable into the jack splitter, and the other side into the line-in port of the computer. Finally, plug your microphone jack into the other vacant of the female of the splitter. If you get a Mac without the audio input port, you still can use Audacity to record streaming audio without any cables.
Step 3 Start to record streaming audio
Run Audacity on your computer, choose "Built-in Input" from "Preferences" > Play media files or music on a streaming site > Hit the "Record" button on Audacity. After you finishing recording streaming audio files, click the stop button and export the audio as a WAV file. Optionally you are allowed to download the LAME encoder to save the audio in MP3.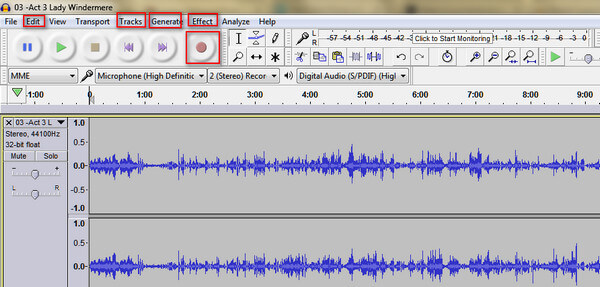 This way is free to help you record live streaming audio to MP3 or WAV, but it is also criticized by many users. Some complain that not every computer has Stereo Mix/Wave Out or Soundflower support, and sometimes when you try to record those streams they just end up getting garbled up for some reason. And some think that is not a fool-proof solution. It might work if you have a high-end sound card, but on lower-end sound cards, it's likely going to end up causing a feedback loop. And the recording quality is MP3 or WMV, which is superior to streaming audio quality of RA, WMA and MOV. Still some fresh hands find that is not easy to use the streaming audio recorder app to record audio.
Record streaming audio to PC with Audio Streaming Recorder
For the disadvantages with Audacity to record audio, we share you a simple way to record streaming audio with audio recording software, Audio Streaming Recorder. It can record your online screen with visual image and audio. Whether you want to record Skype audio calls from both sides, or record 8track radio, or download SoundCloud music, you are able to download this streaming audio recorder to record online audio (including live streaming audio).
The detailed steps of recording streaming audio from Windows 10/8/7/Vista computer are as the following:
Step 1 Install Audio Streaming Recorder and launch it on your Windows computer. Choose "Audio Recorder".

Step 2 Turn on "System Audio", and turn off "Microphone Device" on this audio recorder before recording streaming audio.

Step 3 Make audio recording settings. Here you could get audio output format settings and audio codec as you wish. And the shorcut keys are also available to you.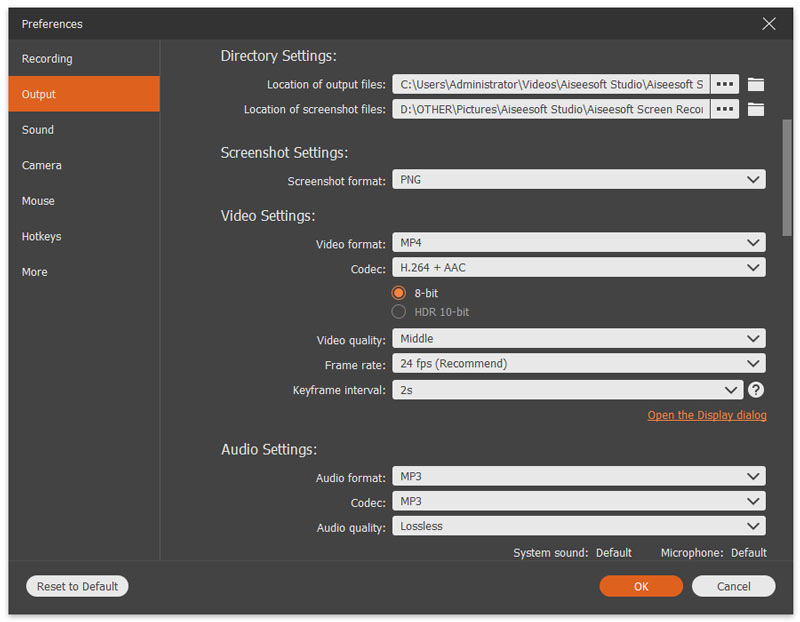 Step 4 Play streaming audio file on the online browser, and then click "REC" to record streaming audio.
Step 5 After recording streaming audio file, click "Stop" button to preview and save the recorded streaming audio. You can play it directly with your Windows player.
You can also use this powerful software to record streaming video.
This streaming audio recording software enables you to record lossless sound from any streaming audio platforms, like record internet radio. You do not need to pay extra money for each platform, like TuneIn Radio with $9.90. And you are capable of extracting favorite background music from popular games. Just like what Nietzsche says, "Nothing is worth living for without music." Get your life alive from now on.
You can learn the steps from the video below: