How Do You Cut YouTube Videos or Cut a Video on YouTube
Summary: Want to edit video or just cut video to only upload valuable clips to YouTube? Which YouTube video editing tool you should choose? This post shows you how to cut YouTube videos and how to cut a video on YouTube with online, free and professional ways.
Before sharing a video on YouTube, you will definitely edit it to make it look better. Actually, even just use the online video editor YouTube offered, you can easily cut video to only save the necessary parts. But do you know how to cut YouTube videos, or cut a video on YouTube?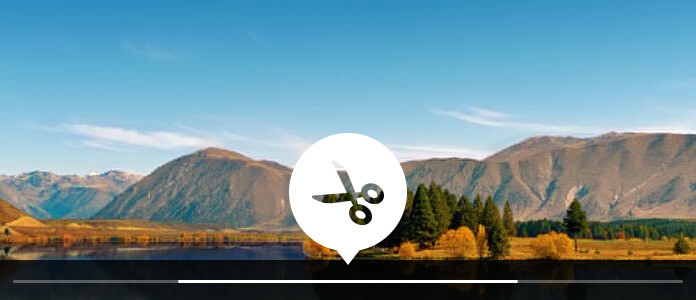 How to cut YouTube videos? There are many ways for you to cut YouTube videos. You are able to download a freeware for cutting YouTube videos or non-free software to cut YouTube videos with high quality. In addition, you can use a online YouTube cutter to cut YouTube videos online. This article is prepared for you.
Part 1. How to free cut YouTube videos for uploading (Best way)
Aiseesoft Video Editor
Aiseesoft Video Editor is the best free YouTube video editing software to rotate, clip, crop, watermark and convert video and audio files on your Mac and Windows computer. This video freeware enables you to cut videos for YouTube uploading with ease.
This free video editing software lets you edit MP4, MOV, MKV, AVI, MTS, M2TS, MP3, AAC, WAV, etc.
Free edit your YouTube video like clip, crop, rotate, watermark, add effects, etc.
Free convert video and audio formats to your preferred output formats.
How to free cut YouTube videos
Step 1 Download Free YouTube Video Editor
Download and install this free YouTube video editing software. This video freeware has both windows and Mac versions.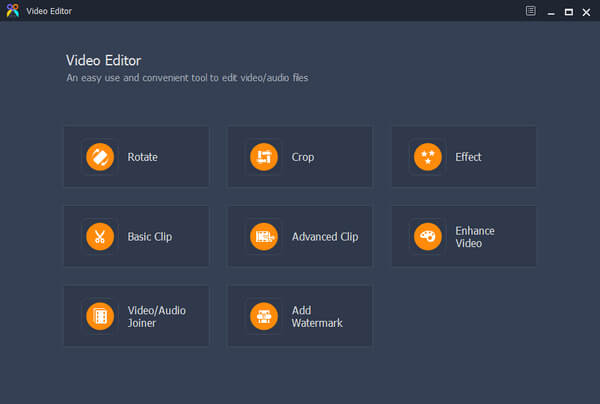 Step 2 Choose video cutting feature
This free YouTube video cutter provides you with "Basic Clip" as well as "Advanced Clip" for you to cut videos for YouTube.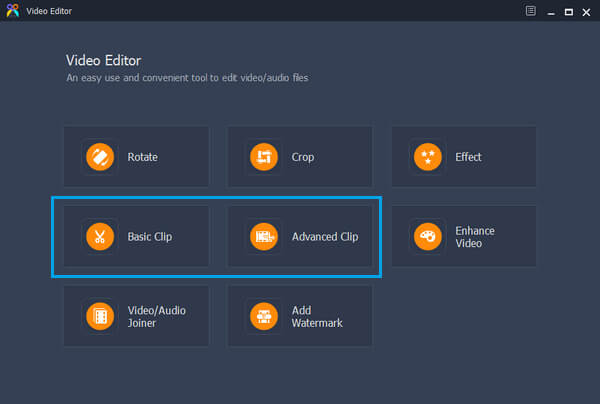 Click on "Basic Clip", and you will soon enter its video cutting window. Click the button of "Add File" to add the video file, or just directly drag and drop the video file into the interface. Slide the bar to cut the video. You can decide to remain the selected video clip or remove the selected video clip. Preview the cut video for YouTube.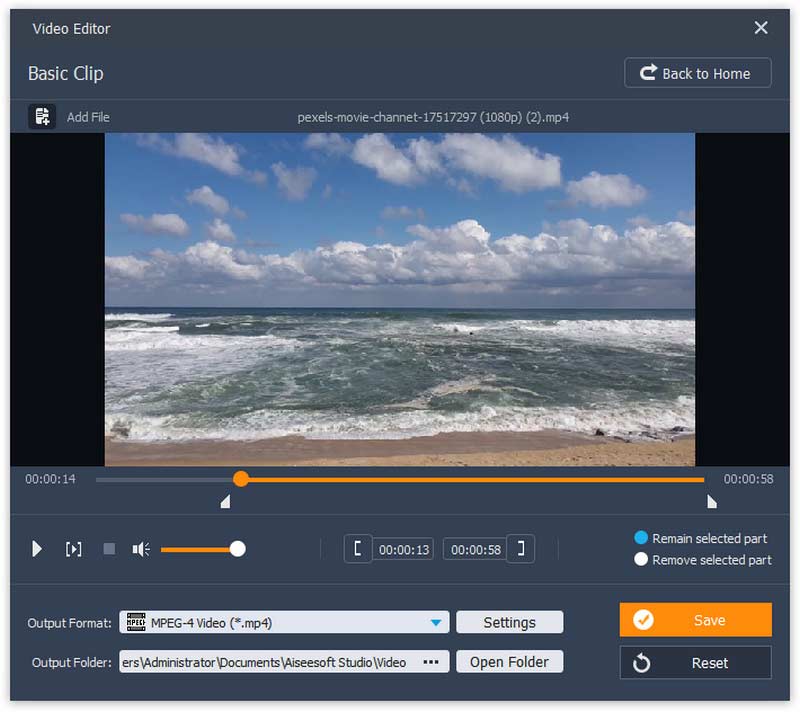 Step 3 Use Advanced Clip to cut YouTube video(s)
In this advanced video cutting feature, you can not only slide the bar to cut the video for YouTube, but also set the starting time, ending time or duration to make the video cutting. After editing, you can save all video clips or merge these video segments into one single video for YouTube based on your need.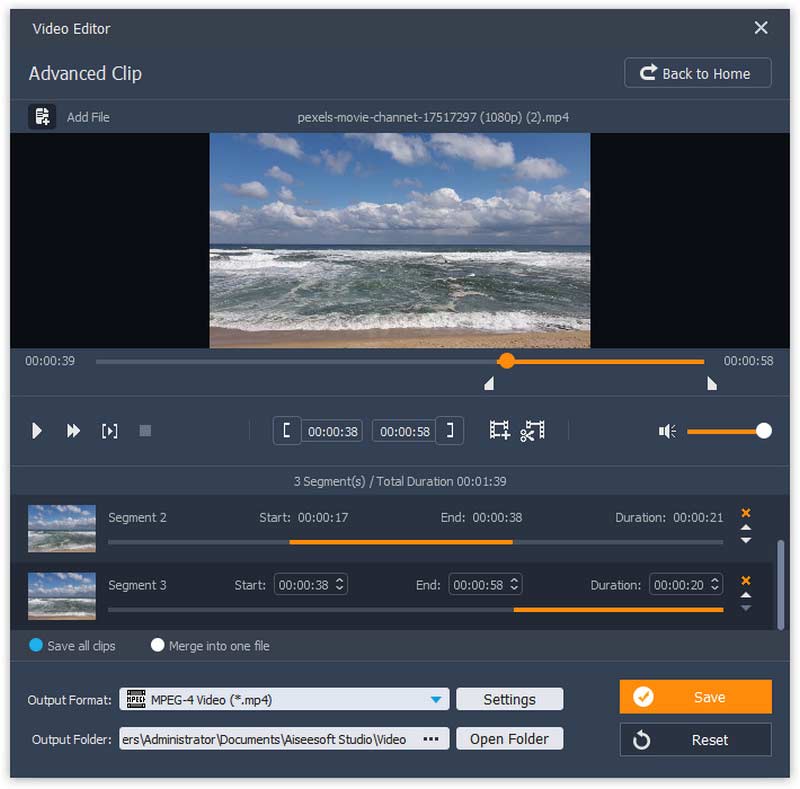 Step 4 Save and export the video clip
When you finish to cut the video for YouTube, hit "Profile" box to choose a YouTube compatible format such as FLV, etc. Click the "Save" button to finally cut and save the video for YouTube.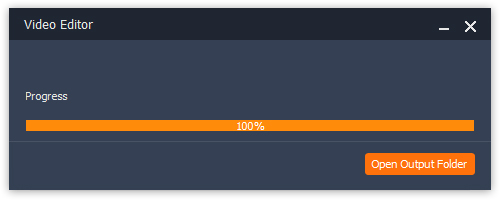 Watch the video below to learn more about how to free cut YouTube videos: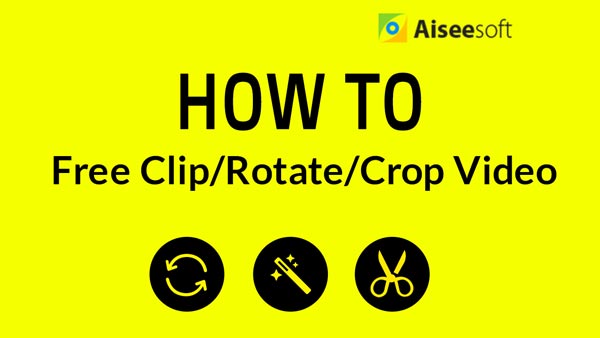 Part 2. How to download and cut YouTube videos (Professional way)
Want to download some preferred YouTube videos and cut them into clips? Then Video Converter Ultimate is highly recommended. This video tool offers downloading and cut features for you to personalize video files with ease.
Step 1 Click "Download" button
Free download and install Video Converter Ultimate. Click the "Download" button to begin downloading.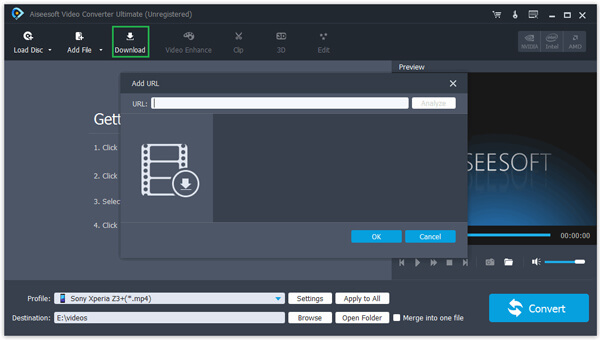 Step 2 Download YouTube video
Copy the YouTube video link and Video Converter Ultimate will automatically paste the link when you return the software. Click "Analyze" button and this software will show you some available video resolutions. Choose what you want, and click the "OK" button. This program will quickly start to download YouTube video.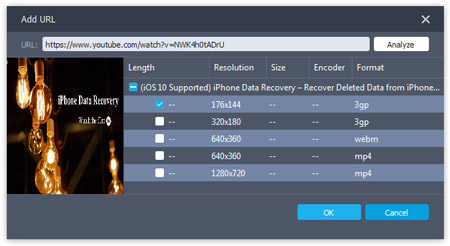 Step 3 Cut YouTube video
After downloading, choose the YouTube video file, and click the "Clip" button. Here, you are able to slide the bar to cut YouTube videos or set the "Start" and "End" time to cut YouTube video. After that, click "Save" to save the settings.
Step 4 Export the cut YouTube video
Choose the output format from the "Custom Profile" and finally click the "Convert All" button to export the cut YouTube video.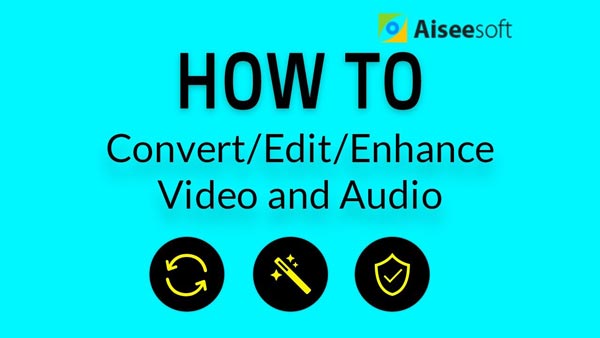 Watch the video to learn more about Video Converter Ultimate.
Part 3. How to cut a video on YouTube with YouTube Video Editor
Have you ever experienced problems cutting your video on YouTube after uploading? If yes, YouTube Video Editor is the solution to that. It is a built-in editor that will give you the best tools for video cutting with ease.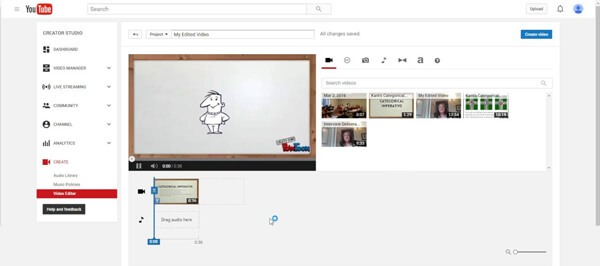 Step 1 Create project- your first step will be creating a new project and this will be accessed from the "project" dropdown menu. Lookout for thumbnails of all the videos you have uploaded to YouTube on the right side.
Step 2 Drag the video that you want to cut down to the editing window and it will be the same way you will do with a desktop editor.
Step 3 You will see the "quick fixes" screen pop up and then go through the video to activate the scissors. Clicking on the scissors will automatically come up with a cut but be sure to select the ideal sections of the video to cut.
Step 4 From the timeline, you will be able to view the cut videos. The other alternative for trimming your video is by using the borders appearing in blue colors on both ends of the video.
You may feel YouTube Video Editor much more convenient, however, this video editing tool is not that best for editing. Additionally, YouTube Video Editor has gone away in September, 2017. In that case, either Free Video Editor or Video Converter Ultimate is recommended.
In this article, we mainly show you how to cut YouTube videos with Free Video Editor, Video Converter Ultimate as well as YouTube Video Editor. If you have any better idea on how to cut YouTube videos, welcome to tell us.