Delete YouTube Account or YouTube Channel Permanently
There are several factors that let a user want to learn about how to delete YouTube account. First of all, cyber security is not a fresh topic, but it is always hot in this digital word. Compared to the text posted on Facebook, YouTube videos could expose a lot of personal information, like home address, school location, and more. And social bully is another important reason.
There are always some people, who hide behind the screen, like to use words to hurt others. Sometimes, deleting YouTube account seems to the only way to stay away from these bad guys. Actually, social media is harmful to human health. According to the psychological research, social media is able to increase people's anxiety. When you have a YouTube account, for example, you have to spend a lot of time to post content, increase followers and reply comments. Once the number of followers decreases, you will feel upset and anxiety. So, it may be a good idea to follow our guides to delete YouTube account.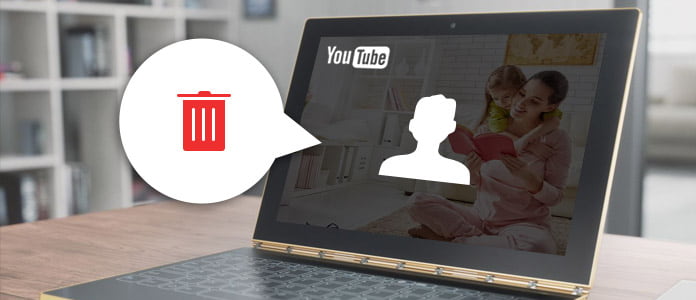 Part 1. How to delete YouTube account permanently
Before we show you how to delete YouTube account, there is something important to understand. YouTube account is different with YouTube channel. You can build several channels in one YouTube account. If you delete the YouTube account, all channels in the account will be deleted permanently. If you only want to remove a YouTube channel, you can find the detailed guide in the second part. Another important thing is that Google does not allow you or others to use your username for another YouTube account in the future. So, you'd better think out before deleting your account. If you are ready, let's start doing it.
Method 1: Delete YouTube account on YouTube
Step 1 Enter youtube.comin address bar of your browser and log into the YouTube account you want to delete permanently.
Step 2 Click on your profile icon at upper right corner of the screen to open the YouTube menu and then press the "Settings" icon to open the "Account Settings" page.
Step 3 Locate to left sidebar and click the "Manage Account" option to go to the manage account page.
Step 4 >When you are taken into the manage account page, click on the "Close Account" button on the right panel.
Step 5 Then write down your reason for deleting account or leave it default.
Step 6 Once click on the "Close Account" button again. You will get the message that notices the YouTube account has been deleted.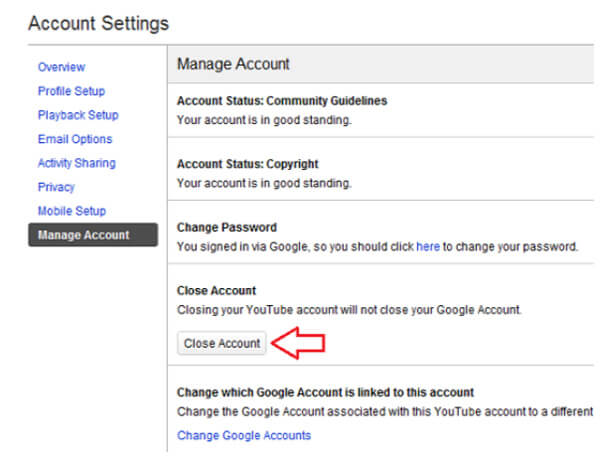 Method 2: Delete YouTube account in Google account
Step 1 Visit google.com/account in any browser and sign in the YouTube account that you tend to close.
Step 2 Go to "Data tools" tab on the top ribbon of Google account dashboard page. And then press the link said "Delete Google+ profile and features".
Tip: A YouTube account is usually linked with a Google+. In other words, deleting the Google+ account will close the corresponding YouTube account. That not will impact other Google services, like Gmail or Google Photos.
Step 3 When confirmation page prompts, make sure to tick the checkbox in front of "Required" option.
Step 4 Finally, click on the "Remove selected services" button to complete the process.
Note: After you deleted the YouTube account, YouTube will log you out of the account automatically. And you cannot log in the deleted YouTube account, post video content or interact with the followers anymore. But the video contents that were posted in the deleted account and were reposted by others will not be completely deleted.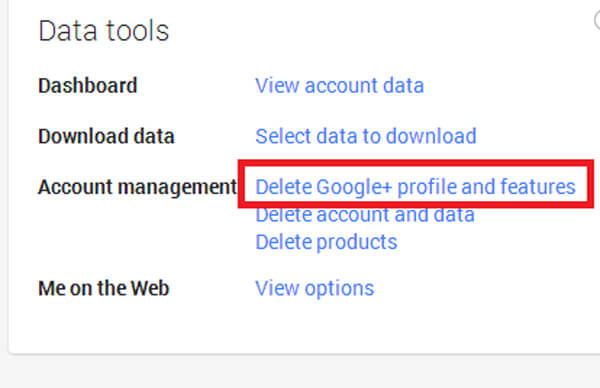 Part 2. How to delete YouTube channel
Some people set up many channels within one YouTube account. After a while, some channels attract more followers, but others do not. Or you want to keep the video sharing in certain channels safe in some cases. At this time, you may want to delete several unattractive YouTube channel but not to delete YouTube account. There are two ways to make a YouTube channel disappeared.
Method 1: Delete YouTube channel permanently
Step 1 Log in your account on YouTube and unfold your "YouTube" menu in the top right corner of the home page. Choose "Settings" icon to go to the account settings page.
Step 2 Select "Overview" tab on the left sidebar if it does not open automatically. Locate to the YouTube channel name you want to close forever and click "Advanced" link under the name.
Step 3 On the menu list, find out "Delete channel" section and click on the "Delete channel" button.
Step 4 Re-enter your YouTube password to go to the channel delete page. Then open the option of "I want to permanently delete my content", select the content you want to erase on the list and click on "Delete my content" button to confirm it.
Tip: It will take a while to update the status, so you are still able to find out the thumbnail of the videos in the YouTube channel after it was deleted. If you want to delete more than one YouTube channel, repeat the steps above on other channels.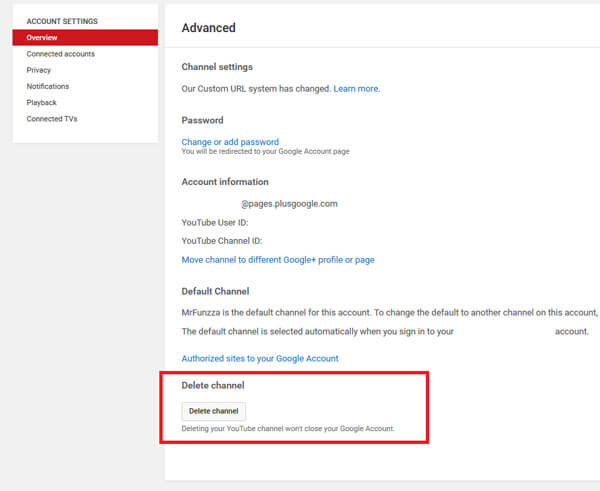 Method 2: Hide YouTube channel temporarily
Step 1 Follow the step 1 to step 3 in the method above to open the account deletion page.
Step 2 If it prompts, re-enter your YouTube password to confirm you are the host of the YouTube account.
Step 3 Unfold the option of "I want to hide my content". Then you can see the list similar to delete my content. Also, check each box in front of the content you want to hide on the list.
Step 4 In the end, you can click on the "Hide my channel" button to finish the process.
Note: Hiding YouTube channel is not to delete it but only make the channel private. Whenever you want to let it back, you can re-enable the hided YouTube channel.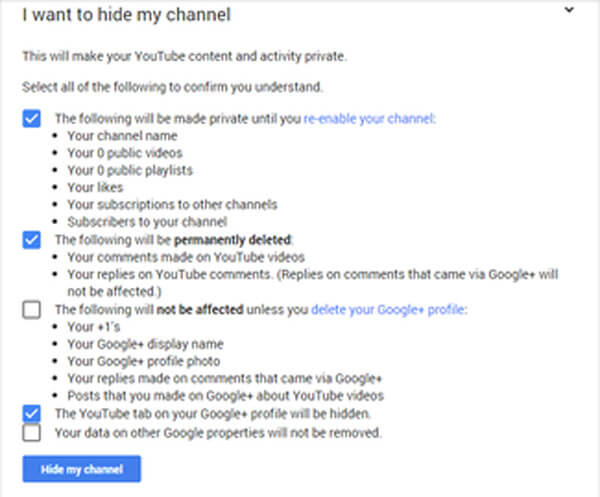 Conclusion
Based on the tutorial above, you may understand how to delete YouTube account thoroughly. When you no longer use your YouTube account or are bothered by the videos you have posted on the account, you can get rid of such situations easily by deleting it. There are at least two ways to delete a YouTube account, on YouTube or in Google Account. You can decide to close your YouTube account using any solution based on your conditions and following our guides. On the other hand, if you want to keep your YouTube videos safe, deleing or hiding YouTube channel is another option. The key difference between YouTube account deletion and channel deletion is that former will remove all content related to the account, but latter will only delete the content in certain YouTube channel. And if you want to get back your YouTube video some time, you should try hiding channel.