Two Ways to Download/Save Beautiful Audio from Tumblr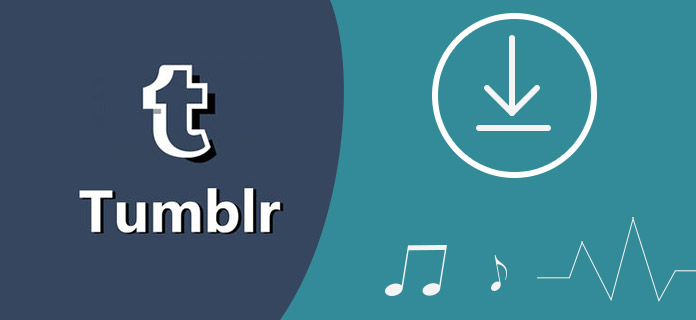 Summary: Tumblr as the popular microblogging and social networking website, has posted by users many multimedia files. When you are fond of the audio file posted by someone, how do you save or download the audio from Tumblr? This post focuses two ways of saving and downloading Tumblr audio.
What is Tumblr? Tumblr is a microblogging and social networking website, which lets you post multimedia and other content to a short-form blog, similar to Google+ or Facebook. As of April 1, 2017, Tumblr hosts over 341.8 million blogs. One of the most attractive feature you can find is the various audio file on Tumblr. You can find sex and posh audio, or beautiful and deep voice on this platform. If you are interested in all of them, just save or download the audio file from this platform. However, Tumblr lets you share the audio post, but does not allow you to download the audio file from its site directly.
No worries. Take the two ways as below to download or save audio from Tumblr.
How to download audio from Tumblr with Chrome plug-in –TumTaster
TumTasteris the Chrome addon, which enables you to download audio from Tumblr.
Step 1Search and install this addon on Chrome, and add the extension to your Chrome browser. Then you can see the image

on your Chrome extension on the right side.
Step 2Go to find the audio on Tumblr, and play it. Then a hit of "Click to download" will pop up, you just right click it and select "Save link as" to download the Tumblr audio to your computer in MP3.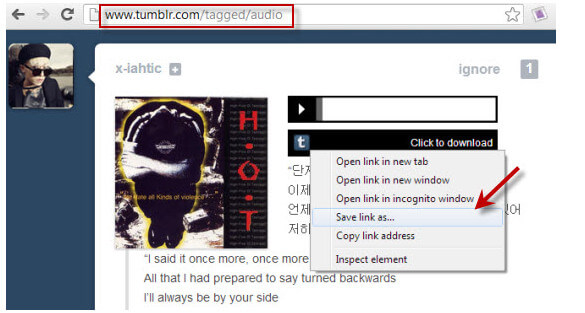 How to save all Tumblr audio in MP3/WMA/M4A/AAC with Audio Recorder
Apart from downloading audio from Tumblr, you could also use a audio recording tool to help you save any music or audio file from Tumblr. And more advantageous is that recording audio will let you save the wanted part, not an entire song. And the speed is faster than downloading with internet.
What you need: Audio Recorder
Download this software to your computer, install and launch it. Select "Audio Recorder".
Step 1 Open Tumblr site, and find the audio that you want to save. Play it to check if it is the audio you do really want to save.
Step 2 Make Audio Recorder settings.
Step 3 Play the audio file on Tumblr, and click "REC" on Audio Recorder to start to record this Tumblr audio.
Step 4 Click the stop button to stop the audio recording, and then you can playback the audio recording and save it to your computer disc.

Tips of Step 2:
➤ Since you only want to save the audio from your computer system, so you need to turn on System audio, and turn off Microphone device.
➤ You can select the audio format firstly, otherwise, the Tumblr audio recording will be saved as MP3. Here click the menu button > "Preferences" > "Settings" to choose format for saving file from MP3/WMA/AAC/M4A.
What other feature you cannot miss about Audio Recorder:
Notes:
1. Apart from Tumblr audio, you could also save audio file from YouTube, Spotify, SoundCloud, Pandora, etc.
2. Not only audio from computer system, you could also record audio file from your microphone, where you can easily save the online fonference, Skype chatting conversations, and more.
3. For your gameplay, you could also use this software to record the whole game process for sharing.
4. For videos, this program can also fully meet your demands to save any movies or episode for playback on your computer.