Tutorial about Listening to YouTube on Computers and Smartphones
It is well known that YouTube is the most popular video platform. However, a lot of music enthusiasts prefer to access it as well. It makes sense when you considering that there is a huge collection of music videos on YouTube. But the problem is that people cannot listen to YouTube. Google does not design a "listen to" mode for YouTube at all. So, you have to open the video every time when you want to listen to music. That uses more resource on digital devices, especially on mobile handsets. Therefore, we will show you several easy ways to listen to YouTube without videos on Windows, Mac and mobile phones.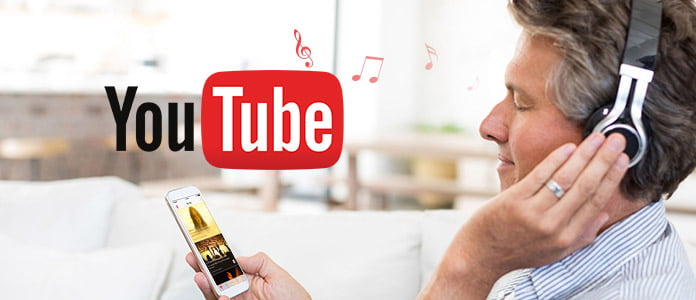 Listen to YouTube
1. Listen to YouTube by Video Converter Ultimate
Aiseesoft Video Convert Ultimate is one of the best YouTube video converters on market. Its key features include:
1. Convert YouTube video to music file in high sound quality.
2. Download YouTube video to hard drives and save as audio formats.
3. Extract audios from DVDs and videos.
4. Support a wider range of audio and video formats.
5. Compatible with both Windows PCs and Mac computers.
In short, it is the easiest way to listen to YouTube on your computer.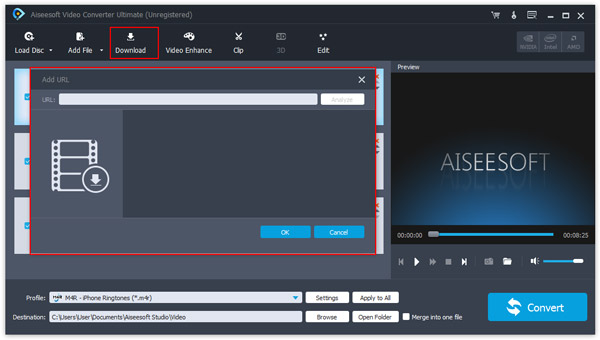 How to listen to YouTube with Video Converter Ultimate
Step 1 Install the YouTube downloader to PC
Install Video Converter Ultimate to your PC. If you use Mac OS X, there is a Mac version. Launch the program and open the YouTube downloader window by clicking the "Download" button on top ribbon.
Step 2 Load the YouTube video you want to listen to
Visit the YouTube video to listen to in your browser and copy the URL in address bar. Turn to the program and paste the URL into the field. Press the "Analyze" button to detect the video files in the URL.
Step 3 Download audio from the YouTube video
Select a video file available on the result list and click on "OK" button to download the YouTube video.
Tip: If you want to get better quality, you should choose the best resolution on the list.
Step 4 Save the YouTube video in audio formats
Wait for the video download to complete and back to home interface. Click the "Settings" button at bottom area to open the "Profile Setting" dialog. Here you can set output format as MP3 or your favorite audio format. Customize other parameters as you wish and click on "Convert" button, then the music will be saved to your PC.
2. Listen to YouTube by Free Video Converter
Though freeware has some limitations, such as less output formats and custom options, it is a good starting point. Free Video Converter from Aiseesoft is the easiest way to listen to YouTube. Its main features include:
1. It has the capacity to download YouTube videos to hard drives.
2. After downloading, you can encode videos to audio files within the program.
3. The built-in video editor offers several basic video editing tools.
4. It also could rip videos from DVDs.
5. Free Video Converter is able to transcode videos and audios for enjoying on portable devices.
No matter having a Windows PC or a Mac computer, you can try listening to YouTube with Free Video Converter.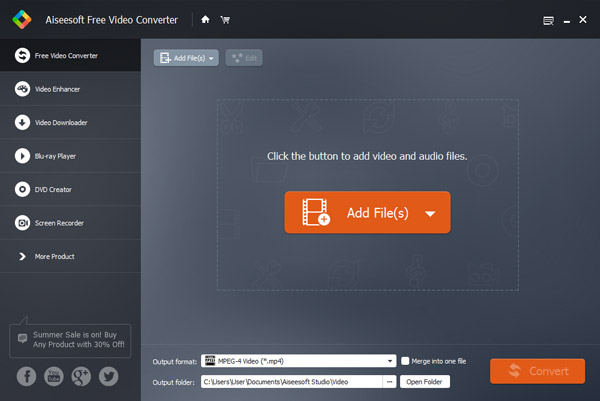 How to enjoy YouTube music for free
Step 1 Prepare for listening to YouTube
Download and install the latest version of Free Video Converter to your computer. Launch the program and click the "Video Downloader" tab on left sidebar to the video downloading interface.
Tip: You may need to get the "Video Downloader" from the "More Products" option.
Step 2 Download the YouTube video in one click
Put the address of the YouTube video you'd like to listen to in the URL field and hit the "Analyze" button to detect the available resolutions. Then on the result dialog, you can select a resolution and press "OK" to download it.
Step 3 Convert YouTube video to audio
After downloading, you will be taken to the home interface. Unfold the "Output format" menu and choose MP3, drop a path in "Output folder" to store the result and click on "Convert" to complete it.
3. Listen to YouTube on mobile phone
Recently, Google and Apple cleaned their app stores. Many popular tools were not available in Play Store or App Store. That makes listening to YouTube on mobile phone more difficult. The good news is that there are several APKs having such ability, like FireTube.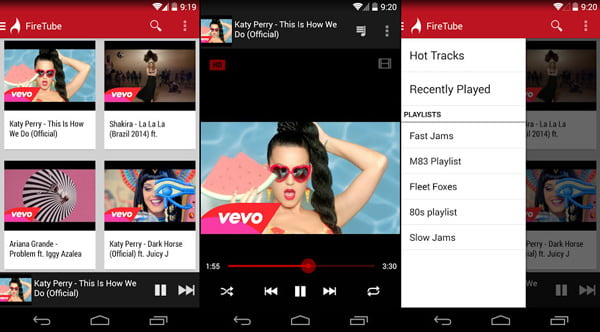 How to listen to YouTube on Android phone
Step 1 Download the FireTube APK on your Android handset. To install the APK file, you have to permit unknown sources on your phone. Go to Settings > Security and move the Unknown sources slider to turn it on. After downloaded, run the APK file and follow the onscreen guides to install it on your phone.
Tip: FireTube does not ask to access root, so it works well on both unrooted and rooted Android phone.
Step 2 Start FireTube app from your home screen. You may feel familiar with the interface of FireTube, because it is similar to YouTube. You can search for your favorite videos and watch them within this app. By default, this app will play videos, but it allows you to set preferences.
Step 3 Open the Settings screen in FireTube, find out the Always Video Mode option on the list and uncheck the box next to it. Then the app will turn off the video mode.
Step 4 Back to the home interface and you will discover that YouTube videos turn to audios with thumbnail images. At this time, you can listen to YouTube on your phone, even in the background.
Conclusion
Maybe one day Google will release a new feature that allows you to listen to YouTube in the form of music key or something like that. You will finally have the option to switch the video service in an audio mode for background playback or multi-task. That sounds exciting, but it has not become reality. The solutions we shared in this post are real and feasible. FireTube is able to play YouTube videos in audio-only mode. But we suggest you to download the APK in a trustable site. Plus, this app still needs internet connection to listen to YouTube. On the other hand, if you are looking for a simple way to get music from YouTube video with high quality, we will recommend Aiseesoft Video Converter Ultimate. Of course, you can start with Free Video Converter, though it does not provide as many custom options as Video Converter Ultimate.