Tutorial to Make a Regular YouTube Account or YouTube Brand Account
Creating a YouTube account is free, quick and painless. However, how to make a YouTube account is another story. YouTube, which is the most popular video network around the world, boasts over a billion users. That means almost one out of three internet users access YouTube regularly.
Every day people watch hundreds of millions of footages on YouTube which generating oceans of views. To many small businesses, YouTube is the best platform to reach audiences across ages. Even if you are an ordinary people, YouTube is a perfect place to display your personality, happiness or sadness moments. And vloggers prefer to post tutorials on YouTube to engage with potential audiences all over the world. Even celebrities regularly interact with fans on YouTube. No matter what the purpose, you need to make a YouTube account as the starting point. Therefore, we will show you how to make a YouTube account in detail below.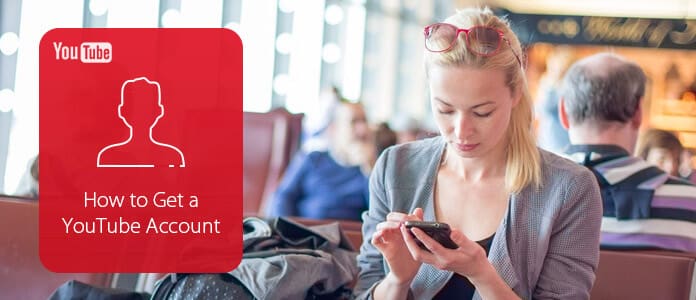 Part 1. How to make a YouTube personal account
To make a YouTube personal account, you need to prepare an active mobile phone number. Google allows people to access all services with one account. That means that you can log in YouTube, Gmail, Google+, Google Photos and Google Drive once you make a YouTube account.
Method one: Make a new YouTube account
Step 1 Create a new YouTube account
Access youtube.com on your browser and open the YouTube home page. Click on the Sign in button on upper right corner and then press Create an account on the sign-in page.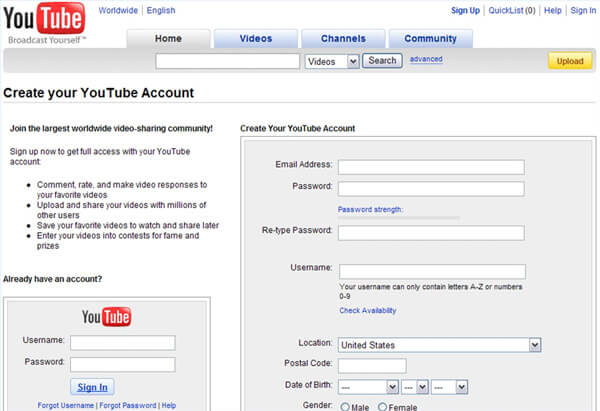 Step 2 Fill out the form and verification
When go into the registration page, fill out each option on the form and click on I Accept to continue. Then drop your phone number in the field and follow the onscreen instructions to verify you are not a robot.
Step 3 Start decorating your YouTube channel
After registered, you will be taken into the new YouTube account. But that is not the end of making a YouTube account. You need to create profile and design your own YouTube channel.
Note: When you create a new YouTube account, you are building a Google+ and a Gmail account as well. If you do not want a Google+ account or separate YouTube content from other Google services, you have to adjust setting in the Google+ tab at the top of your YouTube page.
Method 2: Make a YouTube account with Gmail username and password
Step 1 Log in the new YouTube account with Gmail account
Press the Sign in button on the upper-right corner of YouTube home page and log in your Gmail account and password to create a new YouTube account.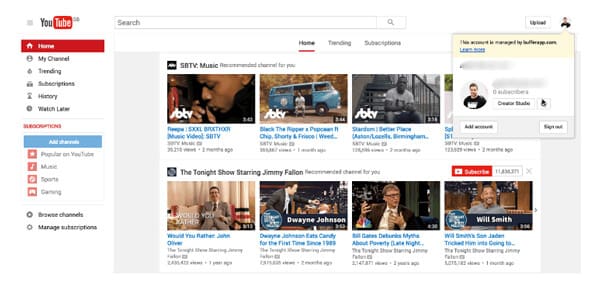 Tip: Make sure that you didn't use the Gmail account to create YouTube account before.
Step 2 Customize YouTube profile settings
Then your profile information will sync from Gmail to YouTube, including profile icon, name, and other information. To reset YouTube profile, click on your profile icon at upper right corner and then press the Settings icon.
Step 3 Create your YouTube channel
Press Create a channel link on Settings page, then drop your name and click on Create channel to continue. Now, you have to decide your channel name and channel category, like Product or Brand, Company Institution or Organization, Arts, Entertainment or Sports, and Other. Once press Done, your new YouTube channel is here.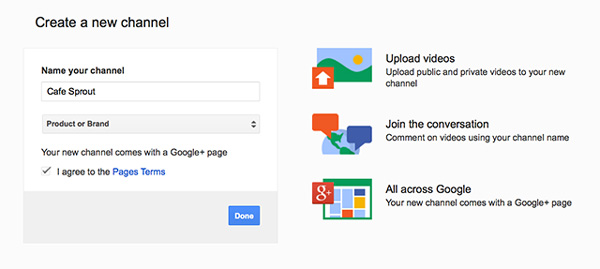 Part 2. How to make a YouTube brand account
Now, Google allows small businesses to market products and brads on YouTube for free. That is rather attractive as internet advertising is increasingly expensive. But what is the difference between regular account and brand account? Generally speaking, regular YouTube account is open to public. You cannot decide who view your content or redirect visitors based on location. On the other hand, brand account can do so and lets brands segment their audiences based on specific requirements.
Method 1: Create a new brand account
There are many online photo editors and a few have integrated YouTube channel art templates, like Canva.
Step 1 Register a new YouTube account
Go to sign in page from YouTube home page, click on Create an account and follow the on-screen instructions to fill out registration form.
Step 2 Make a YouTube brand account
Log in the new YouTube account and visit the channel list. Press Create a channel to start a new YouTube channel. Name your new YouTube business account with the brand name and choose a channel category from the drop-down list.
Step 3 Add managers to your YouTube brand account
Open the YouTube channel settings page and click Add or remove managers under the Managers area. Press the MANGE PERMISSIONS button and the hit the Invite new users icon at the upper right corner. Then you can add managers by inputting the email address. Also, you can set the role of the user from the menu below the email address, like Owner, Manager and Communications manager. Once click on INVITE, it is done.
Method 2: Make a YouTube brand account from current Google+ page
Some businesses already have Google+ page. This method is the most efficient way to create a YouTube brand account.
Step 1 Log in the Google+ page for your brand and go to YouTube. Locate to upper right corner and unfold the drop-down menu.
Step 2 Once click the Google+ page you want to make as YouTube brand channel, the pop-up dialog will appear. YouTube will show you a quick tutorial. Click on OK to start posting content.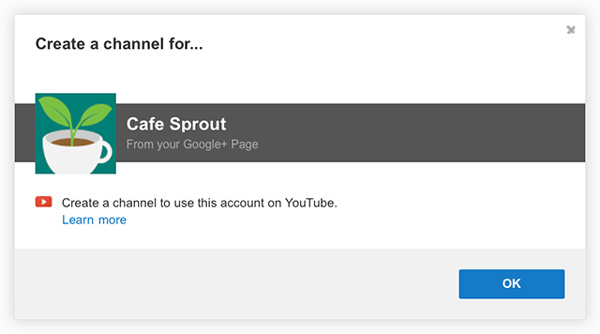 Step 3 Then you can log in your YouTube brand account with the Google+ account and add manager and redesign the brand account.
Note: YouTube offers a powerful analytics toolkit to help brands look at audience demographics, playback locations, traffic sources, devices watched from and audience retention. You can get it in the channel section.
Conclusion
In this tutorial, we have discussed how to make a YouTube account under different conditions. As the use of YouTube for personal and businesses continue to grow, it is essential to establish a presence on the site. No matter what purpose, you can learn various methods to create and setup a YouTube account with or without Google account. More importantly, we have shared the necessary knowledge about YouTube brand account. Anyway, when you need to make a regular account or a YouTube brand account, you can follow our guides and get what you want. If you have better idea or any questions, please leave a message below this article. We will contact you as soon as possible.