Tutorial to Make a YouTube Channel Art on Windows, Mac and online
Today, YouTube is responsible for more than quarter of the time consumed on the internet and more than half of the traffic. Millions of YouTube videos are uploaded, viewed and downloaded every day all over the world. It is well known that YouTube channel art is the header on your YouTube channel. The problem is that you need to use one picture to do three jobs successfully: to seen on TVs, in browsers and on mobile devices differently. This can be a big headache. In this tutorial, we will show you how to make a YouTube channel art and let it perfect for three jobs at the same time.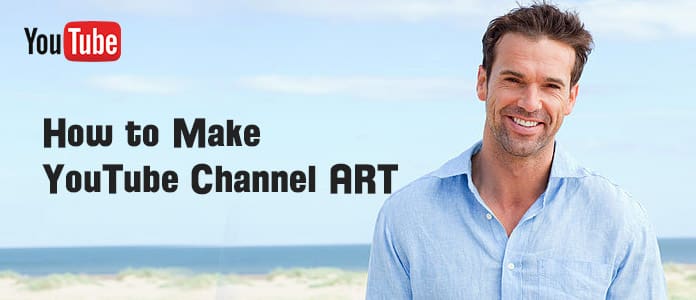 Make a YouTube Channel Art
YouTube channel art requirements
YouTube adjusts the channel art display according to the devices automatically. You might discover that the YouTube channel art you see on TV screen, computer or smartphone is different in dimensions. So the starting point to learn how to make a YouTube channel art should be the optimal size of the image you want to use. The recommended size of the background picture is 2560 x 1440 pixels. That would display your channel art fully on TV screen.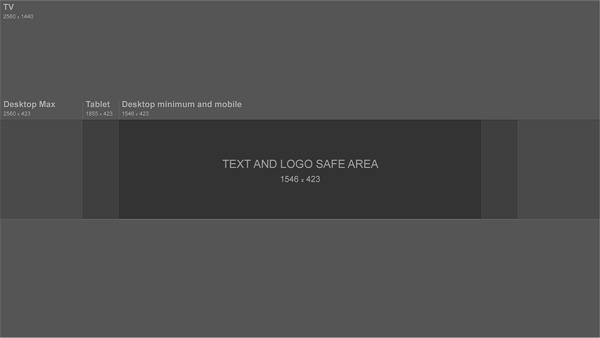 On the other hand, you may want to show your logo or personalized signature on you YouTube channel art and make sure it can be seen on any device under different situations. As you can see, the text and log save area is a 1546 x 423 pixels rectangle in the middle of the background.
Another challenge is that your YouTube channel icon will appear on the upper left corner of the channel art. That would block a part of the YouTube channel art. If there is a logo or something crucial, you have to make sure that the icon will not obscure it.
And here are some tips to make a YouTube channel art look good across all platforms.
1. Choose a background image with high quality and resize it according to the recommended size. YouTube supports to upload a channel art image no more than 2MB.
2. Put important information in the box to be no larger than 1546 x 423 pixels, like logo, signature, or anything crucial.
3. If you want to add other things in the YouTube channel art as well, you should be aware that they may not be accessible on YouTube or on mobile.
4. Download the template and use it to make a YouTube channel art. That could make sure your every design is in the correct position.
Ways to make YouTube channel art
To solve the problem of how to make a YouTube channel art, you will need a channel art designer. In this part, we will show you multiple ways to design YouTube channel art on Windows and Mac.
How to make YouTube channel art online
There are many online photo editors and a few have integrated YouTube channel art templates, like Canva.
Step 1 Open Canva in your browsers and log in your account. If you do not have, you can register an account with your email for free.
Step 2 Press the green "Create a design" button and then find out "YouTube Channel Art" on right panel. When go into the channel art designer, you can pick up your favorite template from the "Layouts" list.
Tip: Not all templates are free of charge.
Step 3 Click on the "Uploads" button on left sidebar to import your background picture and logo. Then use your picture to replace the background on the template and customize other elements as you wish. Finally, you can upload the new channel art to your YouTube account.
Canva needs to sign in when making a YouTube channel art, but will not add watermark on the result. And it does not support to upload the result to YouTube directly; instead, you can use the URL to import the channel art to your YouTube account.
How to make YouTube channel art in Photoshop
If you have any version of Photoshop on your computer, you can use it to get rid the problem of how to make a YouTube channel art directly.
Step 1 Start Photoshop and create a new picture in 2560 x 1440 px. Download our YouTube channel art template, then open it Photoshop and keep it semitransparent in the top layer.
Step 2 Import the background picture and crop or resize it according to the template. Then design the YouTube banner area with logo, watermark or signature.
Step 3 If the design and creativity are satisfied, you can export the channel art in JPEG or PNG.
Tip: Make sure the result is less than 2MB.
The benefit of Photoshop is to provide extensive photo editing tools to fulfill your ideas.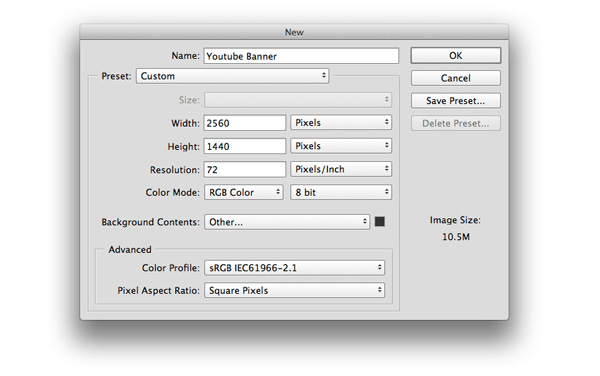 Download YouTube videos with VCU
Tons of footages are uploaded to YouTube every minute, but not all YouTube videos are downloadable. Due to copyrights and other reasons, you are not allowed to download YouTube videos. But you may have a big desire to save some of your favorite clips for later viewing. So after understanding how to make a YouTube channel art, let's talk about the easiest way to download YouTube videos.
Aiseesoft Video Converter Ultimate is the easy-to-use YouTube downloader you are looking for. Its key features include:
1. Grab online videos from YouTube for playback offline.
2. Convert YouTube videos to the formats supported by computers and mobile phones.
3. Edit YouTube videos or add external subtitle.
4. Extract audios from YouTube videos.
5. Lossless YouTube video download and conversion.
6. Support all video and audio formats, including HD and 4k UHD videos.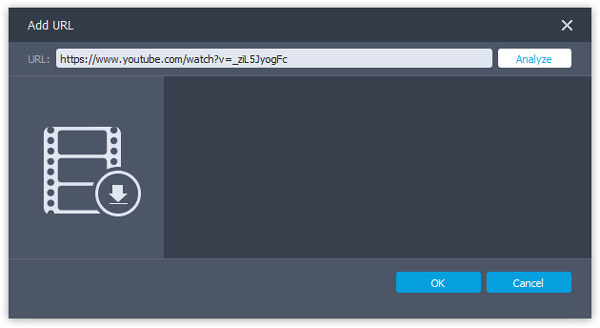 How to download YouTube videos with VCU
Step 1 When you discover a YouTube video you want to play offline, copy the video address and open the YouTube downloader on your computer.
Step 2 Click the Download button on top ribbon to open the video downloader window. The video address will paste in the URL field automatically.
Step 3 Press Analyze button to recognize the YouTube video in the address. Then choose a resolution from the result list and press OK to start downloading.
Note: When it is done, you can go to the built-in video editor to enhance or adjust the video.
Conclusion
In this tutorial, we have talked about how to make a YouTube channel art. Of course, creativity and wonderful ideas is crucial when making a YouTube channel art. But more importantly, you should make sure your creativity and design are displayed as you wish. Google designs the YouTube channel art to show in different way on different platforms. TV screen, for example, will display the complete channel art in 2560 x 1440px while it will be cropped in YouTube website and app. Fortunately, you can follow our tips and even use our template to make a YouTube channel art that looks good on any platforms. On the other hand, if you are newbie or beginners, online channel art designers, such as Canva, are helpful. In the end, Aiseesoft Video Converter Ultimate is able to help you download YouTube videos with no quality loss.