How to Record TV Shows Without a DVR Or Cable
DVRs allow you to watch cable and satellite TV shows according to your schedule. But nowadays, we mainly watch live TV on a computer or mobile device though network. You should know that, most recordings of live TV or streaming content is done by a DVR service or cloud. Do you know how to record TV shows without a DVR?
In fact, it's quite easy to record live TV on computer as long as you have a good screen recorder. There are a large number of live TV recording tools offered on the internet that can help you capture any TV shows. Here in this post, we will introduce you with 2 great live TV recorders to record TV shows without a DVR or cable.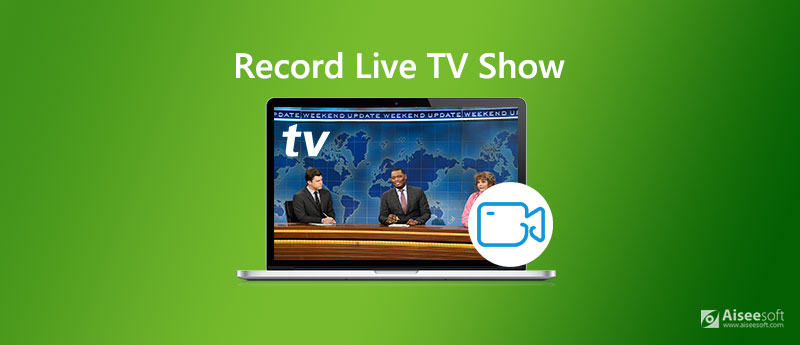 Part 1. Free Online Way to Record TV Shows Without a DVR
When you have the need to record live TV, you can first turn to the free online video recorder. Here at the first part, we like to recommend an easy-to-use online screen recording tool, Free Online Screen Recorder. It has the capability to capture any video and audio on your computer with high quality. The following guide will show you how to record TV shows with it.
Step 1.
Open your browser and go to the official site of this online TV shows recorder.

Step 2.
Click the big
Start Recording
button to install a small-size launcher for the live TV recording. After that, you can click the recording button again and choose to open the launcher.
Step 3.
You can see a recording window appears on the screen. You can choose the recording area, select the audio recording source and more. During this step, you can open the TV show you want to record, and then adjust the recording area based on it. You are allowed to capture 1080p and 720p HD videos smoothly.

Step 4.
Play the TV show you want to record and click the
REC button to start recording it. You are given the full control of the live TV recording. You can freely pause or stop the recording according to your need.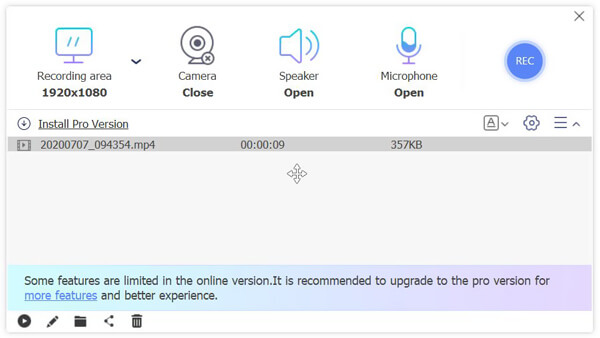 After recording, you can play or edit the captured TV show. The recording file will be saved in MP4 format by default. If you prefer the other output format, you can go to Settings window to change it. Get more online screen recorders here.
Part 2. Professional Way to Record TV Shows Without a DVR
To record TV shows without a DVR, you can also rely on some professional video recorder. Screen Recorder is an all-featured video/audio recording tool which can record any live TV shows with its original image and sound quality. It enables you to capture high resolution video even up to 4K. Just free download it and take the following guide to record live TV.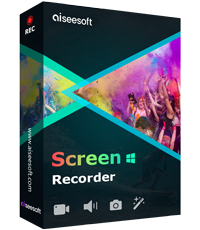 Downloads
Record any live TV shows with high image and sound quality.
Capture high-quality 4K video with full screen, specific window or custom region.
Record online video/music/meeting, webcam, live streaming video, gameplay, and more.
Edit the recorded file and save recording in MP4, MOV, AVI, MP3, AAC, M4A, etc.
Advanced Blue-light real-time HD video encoding and accelerate technology.
Step 1.
Double click the download button above and the follow the on-screen instructions to free install and run this powerful live TV recording software on your computer. It offers both Windows and Mac versions. That means you can easily capture any videos whether you are suing a PC or Mac computer.
Step 2.
Considering that you want to record TV shows without a DVR, here you can choose the
Video Recorder
feature. It also provides the audio recording and screenshot functions.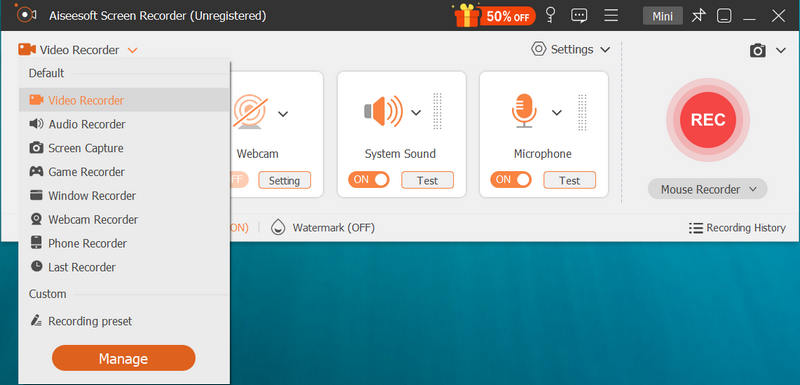 Step 3.
Before the final live TV recording, you can adjust the recording area and choose the audio source. Here you can turn on
System Sound
and turn off
Microphone
to make sure you can capture TV show without any background noise.

The captured TV show will be automatically saved as an MP4 file. If you want to output recording file in another format like MOV, FLV, or AVI, you can go to Preferences window.
Step 4.
After all these operations, you can play the live TV or TV show and then click
REC
button to start the recording process. When you want to stop the recording, just simply click on the
Stop
button.
Step 5.
When the TV show recording process is over, you will be guided to preview and edit window. You can preview the captured TV show and edit it. If you are satisfied with the result, you can click
Save
button to save it on your computer.
Part 3. FAQs of Recording Live TV
Question 1. What is DVR?
DVR (Digital Video Recorder) is an electronic device that can capture video in a digital format to a disk drive, USB flash drive, memory card, SSD or other storage devices. DVR is like a dedicated computer, its sole responsibility is to record, store and play back digital media available from the service providers. Most cable and satellite TV set-top boxes include DVR capability.
Question 2. What is difference between DVR and NVR?
DVR refers to Digital Video Recorder, and NVR stands for Network Video Recorder. DVRs are used with analog cameras, and most NVRs are used with IP cameras. A DVR based system is a wired security system, and NVR systems can be a wired or wireless system.
Question 3. Is there a TV with built in recorder?
If you want to directly record TV shows on a TV, you can buy a TV with a built-in recorder. LG 32LT75 is a widescreen HD Ready LCD TV which carries a built In 160GB digital freeview recorder.
After reading this post, you can learn 2 simple ways to record live TV. When you have the need to record TV shows without a DVR, you can pick either method to capture the TV shows you like. Leave us a message if you still have any questions about how to TV shows without a DVR.

Leave your comment and join our discussion