How to Download or Save Videos from Facebook
to PC/Mac & Android/iPhone
Summary: How to save a video from Facebook? Is there any Facebook video downloader to download Facebook videos? This post shows you effective ways to save videos from Facebook. Whether you want to download Facebook video to PC/Mac or portable iPhone/iPad/iPod and Android device, you can find suitable solutions here.
"How do I save someone else's video they have uploaded to my computer? My sister uploaded a video from her phone to her Facebook, now how do I save that video from her Facebook to my computer? As I need to upload it to a website. Please someone help me, it must be possible." – Morgan Park
"How can I download a FB video to my computer by Google Chrome? I cannot able to download the video files from FB. Give me a solution." – Abdulla A Ambatt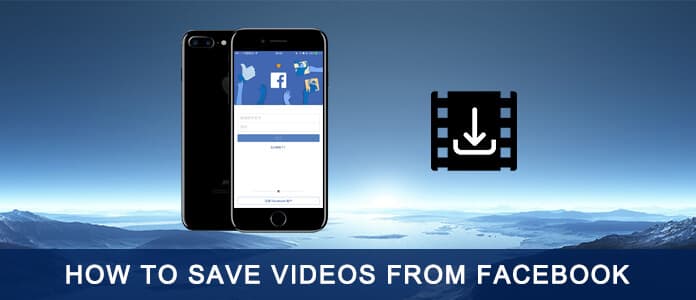 If you have visited Facebook Help Community, you would find a lot of questions as above. As the largest video hosting and streaming sties on the Internet, Facebook hasn't come out with any option to help you watch videos offline, which could be really troublesome sometime. So in this article, we are going to show you the easiest method to save videos from Facebook on computer without using any software. If you want to download videos from Facebook to iPhone/Android, you could also find perfect Facebook videos downloader here.
Best Facebook Video Downloader
When you want to download online videos from Facebook, YouTube, Twitter, Vimeo, DailyMotion and more, you should never miss the professional online video downloader, Video Converter Ultimate. It has the capability to save videos from Facebook with ease. Moreover, as you can see from its name, it can work as a powerful video converter to convert any saved Facebook to your preferred output format. Just free download it and have a try.
Facebook Video Downloader
For Mac
Aiseesoft Video Converter Ultimate is the professional online video downloading and converting software which can help you save videos from Facebook with ease.
Download online videos from Facebook, Twitter, YouTube, Vimeo, DailyMotion, etc.
Powerful editing features like crop/clip/rotate video, merge several clips into one new video, adjust output video effects, enhance video quality, add personal watermark and more.
Support normal 2D video to 3D movie converting.
Convert saved Twitter video to any popular video/audio format you want.
Part 1. How to save videos from Facebook to computer/Mac
If you want to save videos from Facebook to your computer, you should pay more attention to this part. This part will tell two simple solutions to get the Facebook videos saved on your PC/Mac.
Professional Facebook video downloader to download videos from Facebook
Downloading Facebook videos without any software is quick enough, but you can save Facebook videos as its original video formats. With this professional Facebook Video Downloader, you could not only save a video off Facebook easily, but also convert it to other video formats according to your need. Here we recommend you a perfect one, the instruction is as below.
Step 1 Login your Facebook account and find the video you want to download. Open the Facebook video and copy the site address.
Step 2 Launch the Facebook video downloading software on your computer.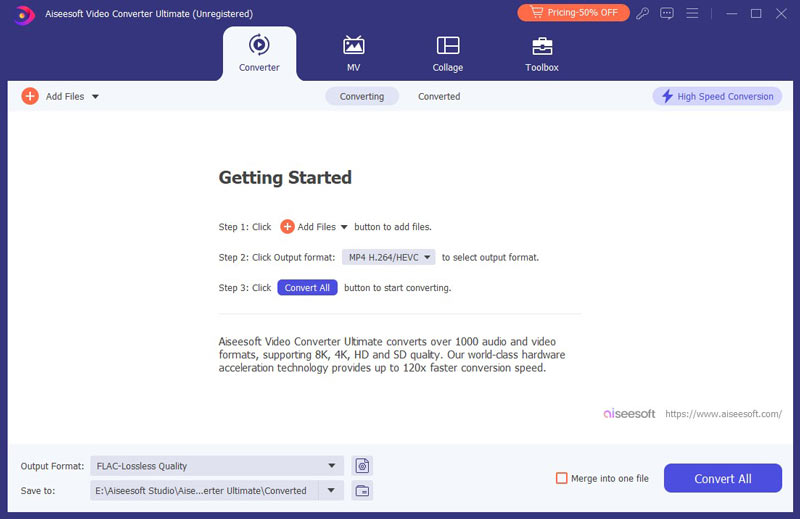 Step 3 Click "Paste URL", the URL of the video will be automatically pasted to the URL box.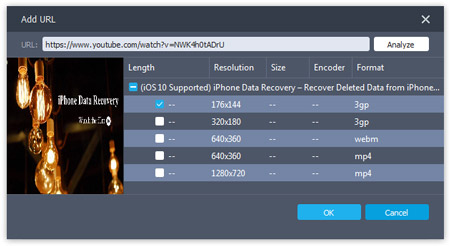 Step 4 Tab "Analyze" to analyze Facebook video. It will provide all kinds of resolutions for you to download. Select the preferred one and then click "OK".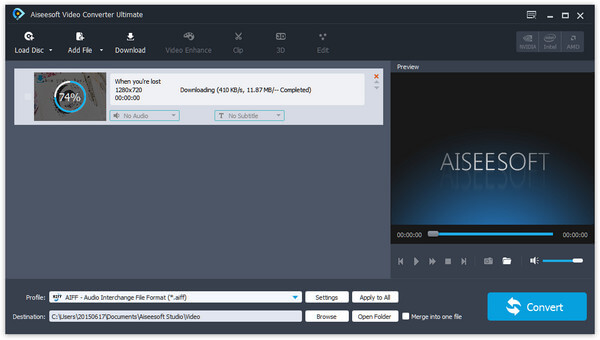 Within a few seconds, you can get the video from Facebook downloaded on your computer. More than that, you can also choose to convert the downloaded Facebook video to other video formats directly. Just click "Automatically Convert to" and select the audio format you preferred before downloading. Then you can download videos from Facebook to other video formats as you like.
The easiest way to save videos on Facebook
By default, Facebook is using Adobe Flash on most systems to serve its contents. There is no automatic fallback to HTML5 video or an option to switch to the new standard instead. While you could use a Facebook video download extensions to save video in its original form from Facebook, there is an even easier option to save FB videos without using any software. All you have to do is the following: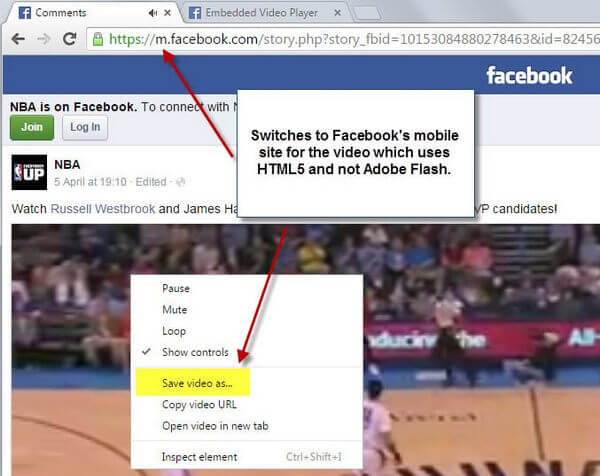 Step 1 Play the Facebook video you want to download.
Step 2 Replace the "WWW" part of the URL with "m" and press Enter.
Step 3 Right-click on the video and select the "Save Video As" option displayed in the context menu.
Step 4 Select a location on your hard drive you want to save the video to.
Part 2. How to download videos from Facebook to iPhone/Android
Watching online videos on smart phones are getting popular these days. But like we have discussed above, you can save a Facebook to a list, but would still need an internet connection to buffer the videos. So how to save and watch FB videos on iPhone/Android? Continue to read.
Downloading Facebook videos on iOS devices
We have talked how to download videos from YouTube on iPhone before. Similarly, you can use a great application to help you download videos from Facebook to iPhone/iPad/iPod.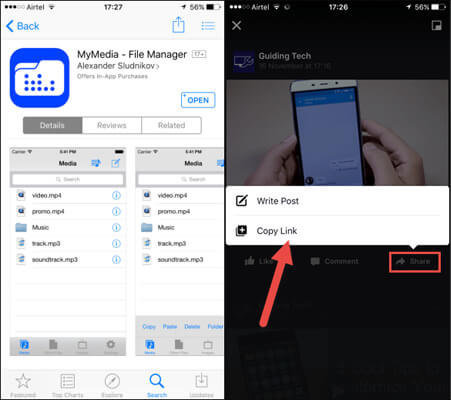 Step 1 Download an app called MyMedia from the App Store.
Step 2 Open Facebook app and look for the video you would like to download. After playing the video, tap on the "Share" option to copy the direct URL of video.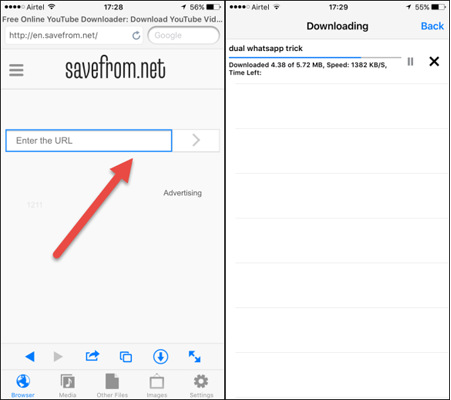 Step 3 Open MyMedia app and go to the built-in browser. Here, open up a website called savefrom.net and paste the video URL link copied from Facebook app to decode the video link.
Step 4 You'll find the option to download the Facebook video. Give the file a name and start the download. Once the download is finished, you will be able to see the file in the Media tab of the app.
Downloading Videos from Facebook on Android
Like downloading FB videos on iPhone, as long as you find a good Facebook videos downloader app, things would become very easy. Here I recommend you a good method to download Facebook videos in Android mobile. Follow the steps: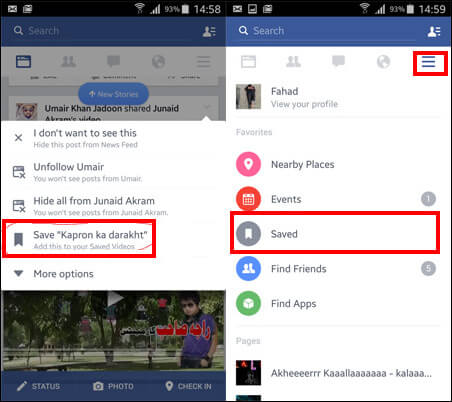 Step 1 Download ES Explorer on your Android.
Step 2 Open Facebook app and look for the video you would like to download. After playing the video, tap on option box in the right side and choose "Save Video".
Step 3 Once you click video option, the video will be immediately saved in your Facebook profile logs. To get it downloaded in Android phone, go back to the newsfeed normal timeline and tap the three bars options tab above the video and click "Saved" tab from the options pane.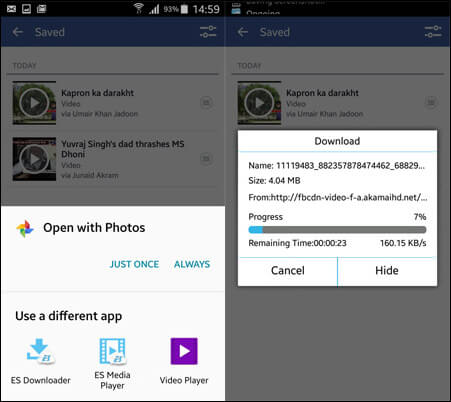 Step 4 Here, you will see the saved video(s). Click on the saved video and you will see different options about how would you want your video played.
Step 5 In order to get download Facebook videos Android, tap the 'ES Downloader' option. Then the Facebook video will start downloading in your phone.
In this article, we have maily discussed how to save videos from Facebook on computer/Mac and iPhone/Android. If you have more simple methods to download a video from Facebook, be free to leave your comments down below.