Slow Down YouTube Videos - How to Play YouTube Video in Slow Motion
Summary: Are you looking for the best way to slow down a YouTube video? This post shows you three solutions to slow down YouTube videos. Whether you want to play YouTube video in slow motion, or change the playback speed of a downloaded YouTube video, you can find right method here.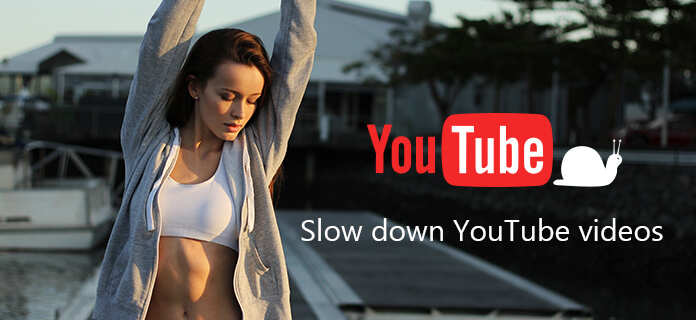 It's very valuable to change the playback speed on YouTube, whenever you want to check what's going on in a tutorial in slow motion, or just speed up to quickly finish a video. The good news is that now this feature has finally made its way to YouTube. You can directly slow down a video playing speed on YouTube. Also, you can handily slow down YouTube videos on iOS and Android apps.
Now we get to the point, how to slow down YouTube videos? What about the downloaded YouTube files? How to play downloaded YouTube videos in slow motion?
This article shows you three kinds of ways to make YouTube slow motion. You can choose to use YouTube Video Editor to slow down your YouTube videos, which is a built-in video editor offered by YouTube. iMovie is a good choice for you to slow down videos for YouTube. In addition, you can rely on some online tools to play YouTube videos in slow speed.
Part 1. How to slow down a video on YouTube
YouTube enables you to directly set the playback speed on its platform. This part will show you how to do slow down a video on YouTube step by step.
Step 1 Navigate to YouTube site on your browser or open YouTube app on your portable iPhone/iPad/iPod or Android device. Find the video you want to play in slow motion.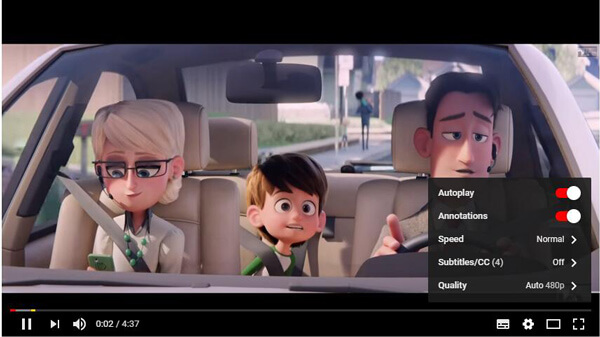 Step 2 Click on the "Settings" icon and then click "Speed". Three slow motion options are listed here, you can slow down a YouTube video according to your need.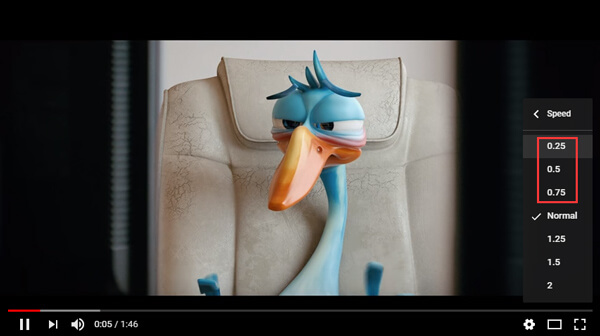 Part 2. How to slow down YouTube videos with YouTube Video Editor
YouTube Video Editor is very convenient if you want to slow down YouTube videos, as it offers slow motion option for you to add and adjust the video playback. Besides slow motion, this video editor has many other editing tools like adding text or music to video, etc. Go to https://www.youtube.com/editor.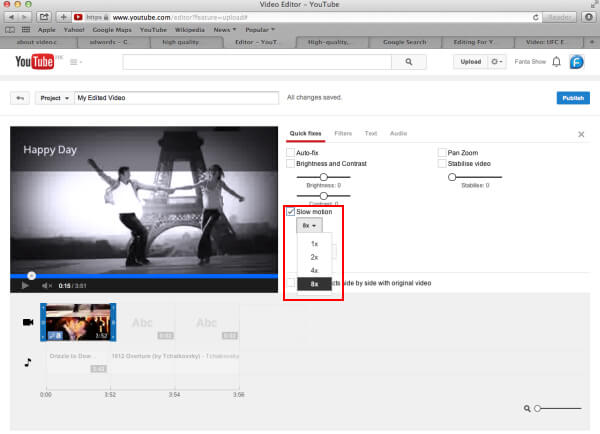 Step 1Add video to create a project
Create a new project and add video clips to edit. To add videos, drag and drop them into the timeline.
Step 2Choose Slow motion
Highlight the video file that you want to edit and "quick fixes" window will pop up quickly. There are sliders visible for you to edit the video. To slow down YouTube video, you need the "Slow motion" option. Enable it and choose the speed where you want to slow down the video.
Step 3Export the video in slow motion
Finally click the "publish" button to save all changes for slowing down the video on YouTube.
Part 3. Slow down YouTube videos with iMovie
Step 1Add your movie project
Actually, you can use iMovie to slow down YouTube videos. You need to first add video to iMovie.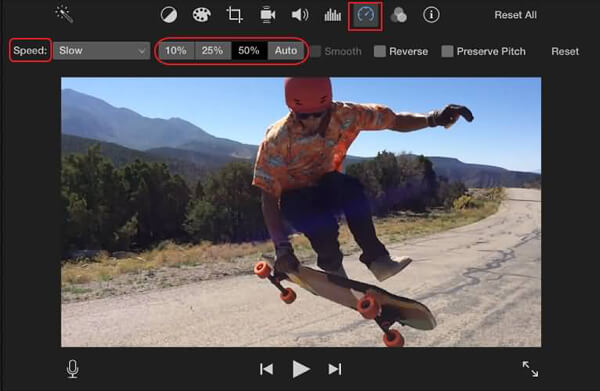 Step 2Start making slow motion videos
Place the cursor on the video file and there should be a small gear appearing. Click on "Clip adjustments". When the "clip adjustments" icon shows, you will see several other features and locate the speed slider. Once you have seen the slider, move it to the left slowed down the video clip. You can monitor that from the box on the right flank of the slider and it's shown in percentage. The percentage indicates how much of the video you have slowed.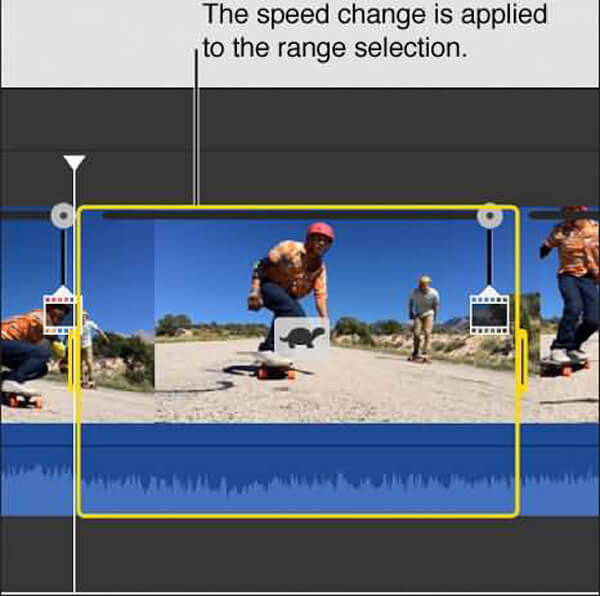 Step 3Finish and save your edited project
When you finishe to slow down video for YouTube, click on the "Done" button and all the settings made will be saved. One point you should know that slowing down video will increase the video length.
Aiseesoft Video Converter Ultimate
For Mac
Download YouTube videos and online videos from popular sites like Facebook, Twitter, Instagram, DailyMotion, Vimeo, TED, Yahoo, Vevo, etc.
Powerful YouTube editing features. Rotate/clip/merge/crop video, adjust output video effects, and add personal image or text watermark.
Download and convert YouTube to MP4, MOV, AVI, MKV, MP3, FLAC, and other video/audio formats you need.
Support 1080p HD/4K UHD video downloads and conversion from YouTube.
Enhance video quality and add more video/audio effects, including 3D.
Add new subtitle/audio track to YouTube and remove original audio track.
Support any popular format, Windows/Mac version and iOS/Android device.
For more information about Video Converter Ultimate, you can watch the video:
Part 4. How to slow down YouTube playback speed online
In fact, there are many slow motions apps on the internet can help you slow down YouTube videos. YouTube offers three slower options (0.25, 0.5, 0.75) for you to choose from. If you want to slow motion a YouTube video in other playing speeds, you can first try online slow down apps.
YoutubeSlow
http://www.youtubeslow.com/
Youtubeslow is a very popular site which can help you make YouTube slow motion. It utilizes some additional slow motion methods, which can bring you better results. Youtubeslow offers Advanced mode and Easy mode to slow motion YouTube videos.
How to slow motion a YouTube video
Step 1Open YouTube and find the video you want to watch in slower speed. Copy its video address.
Step 2Go to the Youtubeslow site and paste the URL.
Step 3Click "SLOW IT" button and then click "SLOW MOTION" to play this video in slow speed.

youloop
https://www.youloop.io/
youloop.io can help you easily slow down the videos of your favorite musician/dancer/artist to learn and progress. It allows you to play YouTube video in half speed.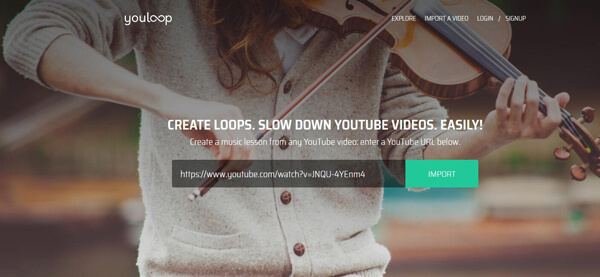 Steps to make YouTube in slow motion
Step 1Locate the YouTube video and copy its URL.
Step 2Enter the youloop site and paste the URL to input box.
Step 3Click "IMPORT" and then "SLOW DOWN" icon to slow motion the YouTube video.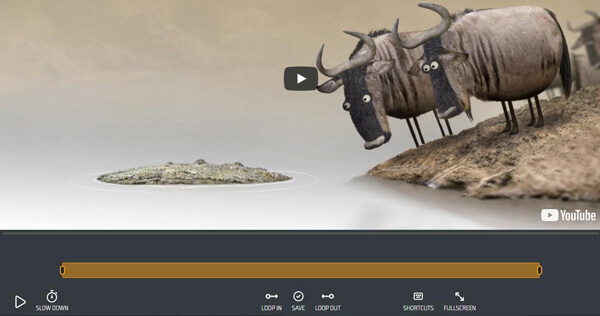 We mainly talked about how to slow down YouTube videos in this post. We show you three different ways to play a YouTube video in slow motion. Hope you can easily watch YouTube videos in a suitable speed after reading this post. If you still have any question, you can leave us a message.