Apple Music's Big Changes in iOS 10
Not long ago, Apple has unveiled iOS 10, the next-generation system for iOS devices at WWDC. Tim Cook, Apple CEO, described iOS 10 as the "biggest release ever" for iOS users. A vast majority of iOS applications have been largely updated, including Messages, Siri, Photos, Maps, News, Apple Pay and more.
Although Apple Music has not been around for too long, it has been giving a lot attention, and the pay subscribers have already been up to 13 million. In this upgrade, Apple Music is set to receive a major design overhaul, the interface and features would all make big differences. Apple execs said the updated app was meant to give people "greater clarity and simplicity to every aspect of the experience."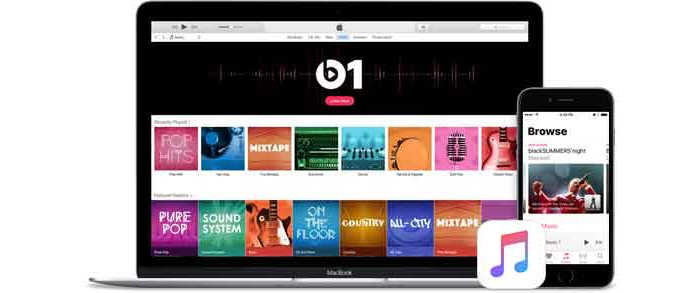 Black and White UI
Dispense with highly colorful user interface and translucency of the current iteration, the new Apple Music will adopt simpler design with only white-and-black texts and backgrounds, making it more intuitive and emphasized on text. The album art will also get as big as possible to avoid a dull black and white look, as they describe it, "huge album artwork". Besides, Apple wants to make better use of its new in-house font, San Francisco, with large bold menu titles and tabs. Additionally, the new interface will also make use of 3D Touch shortcut previews.
Integrated lyrics
The next big change being that, Apple Music is going to add song lyrics. Apple is currently working with song labels to integrate lyrics into Apple Music. Lyrics can be accessed by scrolling up from the album art when the song is playing.
Reorganized tabs
Apple makes some revamps on the tabs, which directly improves the using experience.
Along with a bolder look, Apple music app features the following tabs: "Library", "For You", "Browse", "Radio" and "Search".
The first one, "Library" tab is renamed from "My music", which makes more sense now. It contains all the songs downloaded apple music and previously owned ones. The list of categories makes them more organized, and it gives you the ability to edit the list to your liking. iOS 10 Apple Music ditches the "New" tab, with a confusing mix of top charts, new artists, featured albums, etc and replace it with "Browse", which offers better organization of content. "Connect" is gone, but you can still find the social networking service in "For You", which includes a better mix of music and new daily playlists now. The one Apple Music feature that isn't changing: Radio. Beats 1 still anchors the section. "Search", the new tab makes it much easier to locate the music you want.
FoneTrans
For Mac
Aiseesoft FoneTrans is the professional iPhone sync tool to transfer data between iOS devices, move data from iPhone to Mac/iTunes, and sync data from Mac to iPhone.
Sync iPhone photos, music, playlist, etc. to iTunes directly.
Get contacts, calendar, photos, etc. from iPhone to computer (Windows and Mac).
Transfer data from computer to iPhone.
Compatible with iPhone, iPad and iPod with iOS.