Top 5 Best Amazon Cloud Player Alternatives You Can Try
As Amazon has fired the "Cloud wars" and provided services for cloud music player and cloud storage system, listening to music from a cloud-based media player is quite popular now. Amazon Cloud Player lets many music fans to store and stream their tunes from all over the world. You are able to enjoy Cloud Player service with 250 songs for free. Want to know more about Amazon Cloud Player? Want to know how to use Amazon Cloud Player?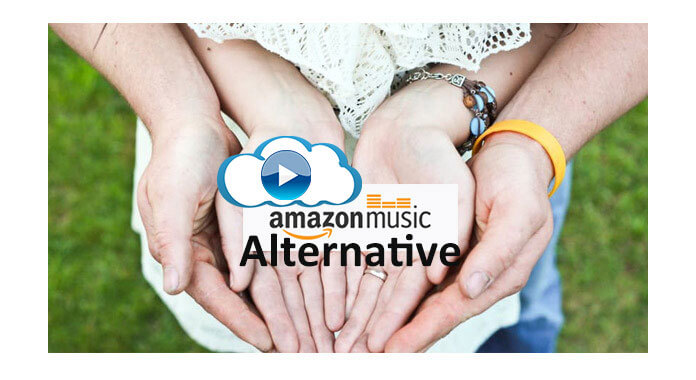 Following Amazon's move, Google and Apple also promote their cloud music services. Besides them, there are also other less popular cloud music services for you to choose from. Want to find a great alternative to Amazon Cloud Player, check the recommendations below.
Part 1: Amazon Cloud Player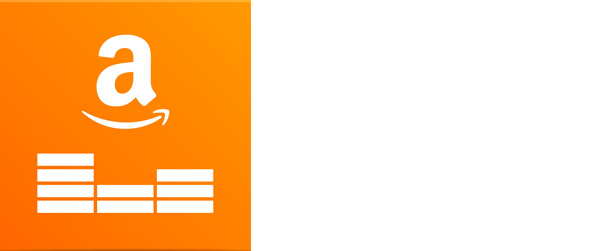 Amazon Cloud Player is a full-blown music player for desktop Web browsers. It can easily recognizes album art, has shuffle and repeat options and lets you create music playlists. Amazon Cloud Player is also an online music locker service which enables you to store digital music files. Along with the music files you purchase from the Amazon MP3 store, you can also upload digital audios that you have accumulated in other ways: digital music services; ripped audio CDs; recorded Internet streams; downloads from free and legal sources, and more.
Once your music is in the Amazon cloud, you can stream it from your PC/Mac and other supported devices. The advantage of storing your digital music in a remote location using cloud storage like the Amazon Cloud Player is that, it gives you a disaster recovery option should you need to use it in the case of unexpected situations.
Part 2: How to use Amazon Cloud Player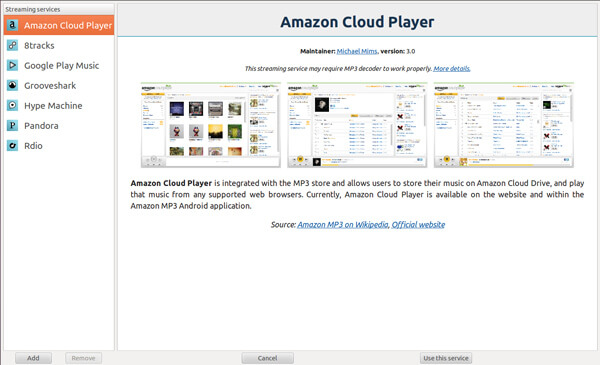 Step 1 Launch Cloud Player
Navigate to the Amazon MP3 site and click "Launch Player". Sign in your Amazon account with the e-mail address and password.
Step 2 Install Amazon MP3 Uploader
After you sign in your Amazon account, you'll see the contents of the music folder on your Cloud Drive (Amazon's name for its online storage space). Here you can check Songs, Albums, Artists, Genres, Deleted Items, Latest Purchases, Latest Playlists, and Create New Playlist. You will be prompted to download Amazon's MP3 Uploader. Install and open it.
Step 3 Upload music to Amazon Cloud Player
The MP3 Uploader will analyze your iTunes library and eventually detail the number of songs and playlists it found that aren't on your Cloud Drive. Compatible music includes unprotected MP3 and AAC files. Amazon Cloud Player doesn't support WAV, AIFF, Apple Lossless, FLAC, or OGG formats. Click the plus button to select your audio files. Click "Start Upload" button to uplaod music to Amazon Cloud Player.
Step 4 Enjoy music on Amazon Cloud Player
Find the right music playlist and then click "Play All" to listen to the songs with Amazon Cloud Player.
Part 3: Great Amazon Cloud Player alternatives you may want to know
If you are not satisfied with the Amazon Cloud Player, you can check the following part to find the suitable Amazon Cloud Player alternative.
Amazon Cloud Player alternative - Google Play Music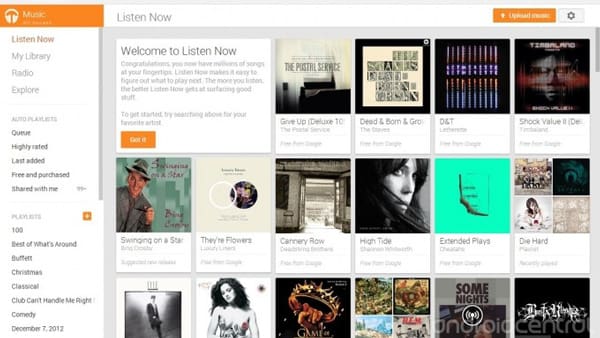 Google Play Music allows you to store songs from 20,000 up to 50,000. And you know what? It's totally free. These music can be streamed on the Web, from your iOS or Android device. However, it provides no desktop-based program. Aside from the obvious benefit of getting more storage space for free, Google Play Music also matches music at a higher quality, supporting the largest file size, 300MB.
Amazon Cloud Player alternative - iTunes Match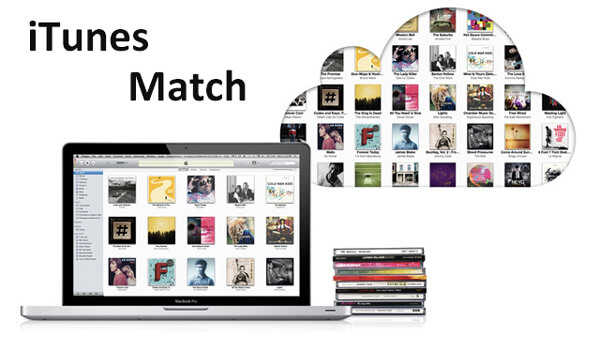 Apple's iTunes Match service is another better choice. The big advantage to using iTunes Match is the Apple's massive catalog, which is able to house over 43 million songs. One point users complain is that iTunes Match has now web-based player. It only supports streaming through iTunes on your computer or on iOS devices like iPhone, iPad, iPod, Apple TV. iTunes Match service also doesn't support WMA, OGG and FLAC songs. You have to convert those music files to MP3, WAV, AAC or AIFF to let them be matched.
Amazon Cloud Player alternative - SoundCloud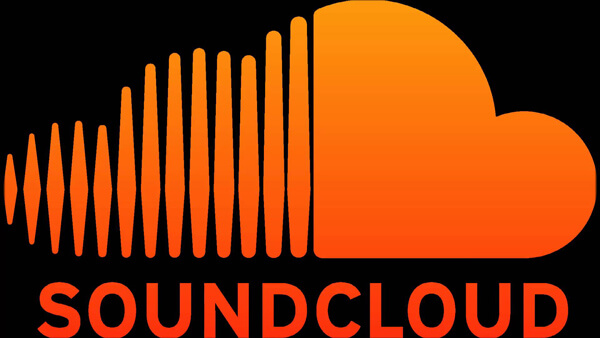 SoundCloud enables you to upload, record, promote, and share your originally-created sounds. Highly supporting AIFF, WAVE, FLAC, OGG, MP2, MP3 and AAC, SoundCloud is available to users with its official iPhone and Android apps. It attracts more than 175 million unique monthly listeners, and a new user needs to register in its profile for free listening. You are able to download music from SoundCloud. Only individual tracks can be downloaded, and playlists as a whole are not available.
Amazon Cloud Player alternative - TunesBag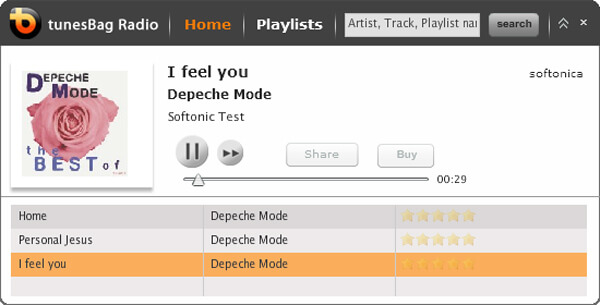 TunesBag is one music collection service. You are able to upload your music files and get access to them from anywhere. TunesBag enables you to upload and access your music from web browser, Adobe Air-powered desktop app, a Facebook app or portable iOS or Android device. You can upload songs with up to 1GB size for free. You can enjoy 10GB of storage for $4 a month and up to 200GB of storage for $15 a month.
Amazon Cloud Player alternative - ZumoCast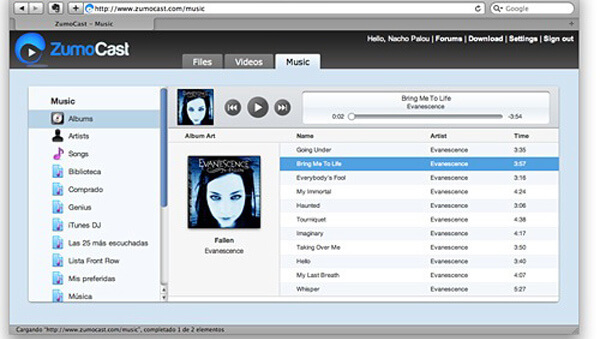 Want to upload selective music to the cloud and want access to your music collection? You can try ZumoCast, the service can turn your computer into a personal cloud. ZumoCast performance depends on the Internet network. ZumoCast lets you access to your media collection.
Part 4: The best way to get Amazon Cloud Player music
Want to get cloud music but have no idea where to download? Many cloud players have no service to download. What should you do? Alternatively, why not record cloud music? Cloud Music Recorder is one full-featured video/audio recording software for Windows, which enables you to get cloud songs without any quality loss.
Step 1 Launch Cloud Music Recorder on your Windows PC. Click "Audio Recorder" option.

Step 2 Choose to record sound from system audio or microphone according to your need. Here we choose record cloud Music from system audio.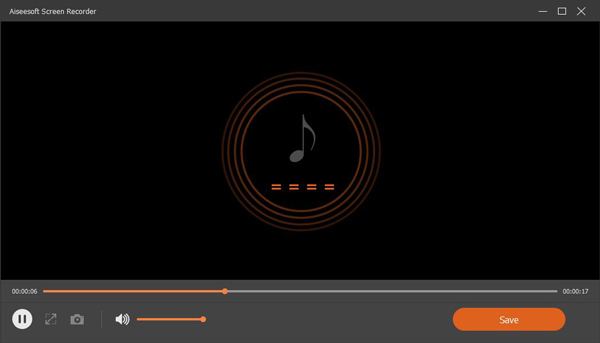 Step 3 Play your cloud music. Click "REC" button to record audio. Click "Stop" button and then save the recording.
In this article, we mainly talk about Amazon Cloud Player. We give you a simple introduction of Amazon Cloud Player. What's more, we show you how to use Amazon Cloud Player. Also, we recommend you 5 alternatives to Amazon Cloud Player. Which cloud-based media player do you prefer? If you have any better commendation, welcome to tell us.