Top 5 Animation Video Maker for YouTube to Make You Own Animated Videos
Video production is probably the most important part for a YouTube video, it gives the first impression to the viewers, and determines whether they will continue watching the video. There are quite many ways to make a great intro video, a self-made cartoon or an animated video is one of the options.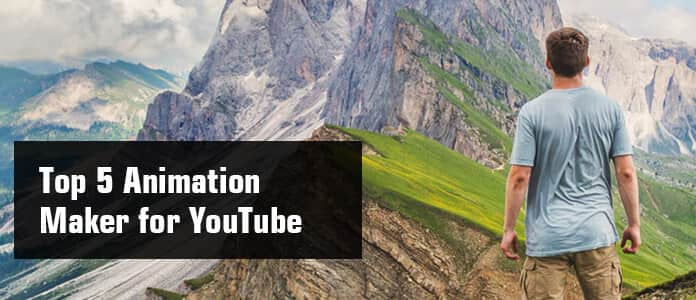 Animations allow us to express ourselves through sound and vision, with the only limitation being our imagination. They are professional, fun, engaging, insightful, sophisticated, and widely embraced by web designers, marketers and students. In the following article, we would like to recommend you 5 best and free animation maker for YouTube, which could help you make great animated YouTube videos.
Part 1. Top 5 best animation maker for YouTube
#1. Animation maker for YouTube - GoAnimate
GoAnimate is a fun and easy animated maker for YouTube that lets you create animated videos effectively and efficiently. GoAnimate works widely around business, schools, individuals, etc. Apart from the standardized built-in themes or backgrounds, props and characters, you can actually customize, explore and turn your ideas into a highly personalized animation. There are plenty of character actions, wardrobe changes and hairstyles to select from, all just within a click of the mouse.
#2. Animation maker for YouTube - Animaker
With a list of handful of features, Animaker is another great online animated maker to free make animated video for YouTube. Better and Shocking easier than other animation video making software, Animaker provides 5 popular video styles, which can be worked in collaboration and created 120 different types of animated videos. You can make Animaker to make animated videos around business, educations, story-telling, presentation or more.
#3. Animation maker for YouTube video - Powtown
Powtown is a free and awesome video animation maker for YouTube. It lets create animated videos in the form of business presentations, explainers and slideshows. Many professional looking templates are designed, scripted and ready for you with simple "drag and drop", you can fast create high quality animated videos in minutes.
#4. Animation maker for YouTube - Wideo
Wideo can also be considered as the best YouTube video animation maker, but mainly for your business. It prepared the best marketing video templates for you, and you can simply create Marketing, Promo and Explainer videos in minutes. It also provides with many tools to edit text, add sounds or upload images to render your own style.
#5. Animation maker for YouTube - Moovly
Moovly is an animation video maker for YouTube that is entirely cloud-based and offers a full-featured free trial. There's no need to download any software. The sleek user-interface makes it very easy to use. Select objects, add animation, edit it and you're done. The library on this animation maker for YouTube includes hundreds of thousands of high-quality videos, images & sounds, you will find everything you need in Moovly Studio.
Part 2. How to make animated video for YouTube?
After learning about 5 best animation maker for YouTube, how to make an animated YouTube video specially? In the following article, I'll take GoAnimate as an example, and show you how to make animated video with animation maker for YouTube.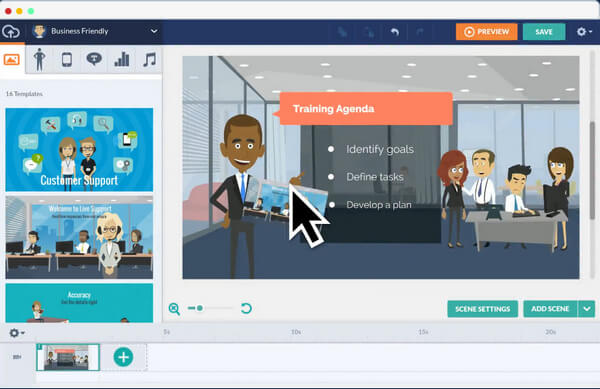 1. Sign in and click the orange Make video button.
2. Select a pre-loaded theme:

Business-friendly

,

Whiteboard Animation

or

Business as Visual

.
3. Go to the video maker and bring your cartoon plot into life. Choose characters, props, background, music, etc.
4. Add extra scenes and set duration for each of them.
5. Once you're ready, click

Save

, pick up

Save and close

and you'll get to the video export options.
6. Choose what you want to do with the video: download as MP4, post on YouTube, share in social media, etc.
Free YouTube video editor you may want to know:
Free Video Editor
Aiseesoft Video Editor is the best free video editing software. It enables you to trim YouTube video effortlessly, along with multiple templates and effects to make a perfect video.
Make animated videos with optional modes to get what you like.
Multiple templates and effects are provided for free.
Clip and join video or audio files.
With this free animation maker for YouTube, you can handily make your own YouTube animation videos. It provides many frequently-used video/audio editing functions like rotate/crop/clip video, merge two and more video segments into one new file, and more.
In this article, we have main showed you 5 best free online animation maker for YouTube, still have more questions to animation video maker? Feel free to leave your comments down below. Also, if you don't feel like a online animation maker, we would also like to recommend you the best YouTube animation maker app for PC or Mac.