Billy Music Player: How to Add Music to Tumblr
If you are a Tumblr fan and have done your research, you would have noticed that even though Tumblr is one of the most popular micro blogging systems, it doesn't provide you a built-in music player. However, you are allowed to add a Tumblr music player using a widget on the Internet.
Out of all the small music players for Tumblr, Billy Music Player is probably one of the best. Billy – Tumblr Audio Player is a small music player you can add music to your blog. It works not only on Tumblr, but also on Livejournal, WordPress, etc. Billy Music player has a fresh interface, which enables you to create a playlist and add music player to Tumblr within simple clicks.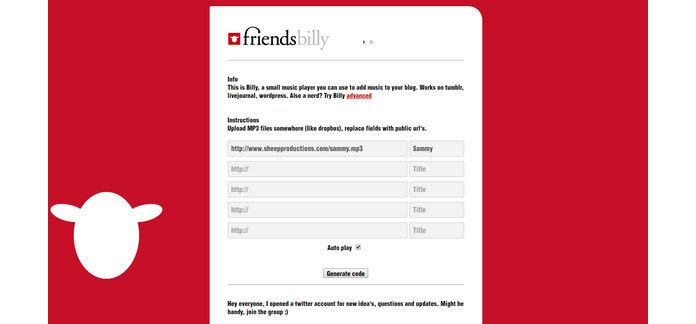 In the following, I'll give you the instruction on how to add Billy music player to Tumblr, and introduce some Tumblr music player alternatives that work as well as Billy music player.
Part 1: How to add Billy music player in Tumblr
Section 1. Upload a song file (MP3)
Before you use Billy music player, upload MP3 files somewhere like Dropbox, and replace fields with public URL. If you intend to upload songs to Dropbox, you can follow steps below: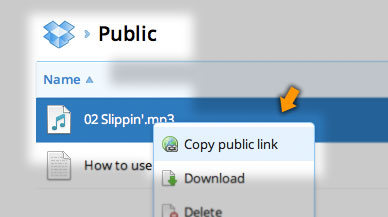 1. Sign up for a free Dropbox account. This is where you'll store your songs.
2. Click the "Upload" icon at the top right corner.
3. Upload the song file that you already have.
4. Move the file to the "Public" folder.
5. Right-click the song file and choose "Copy Public lick" to get the MP3 URL.
Section 2. Add Billy Music Player to your Tumblr
Once you're done uploading the songs to Dropbox and copied all the mp3 URLs, you are now ready to add the Billy Music Player to your Tumblr page.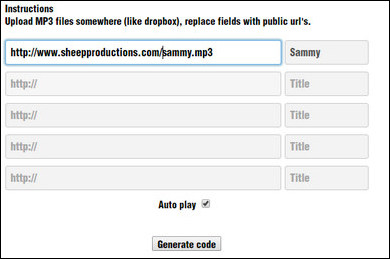 1. Go to Billy Music Player site.
2. Paste the public MP3 URLs you copied from Dropbox. (You can add up to five URLs.) .Then click "Generate code".
3. Copy the entire music player code.
4. Paste it to the description section of your Tumblr theme.
5. Hit save and check to see if it works. Now you should have a beautiful Billy music player on your Tumblr post.
Part 2: More Tumblr music player like Billy Music Player
Apart from Billy Music Player, there are also other Tumblr music players that works greatly, or even better than Billy audio player for Tumblr. In the following, I'll introduce you two more small music player for Tumblr, SCM Music Player and WikPlayer.
WikPlayer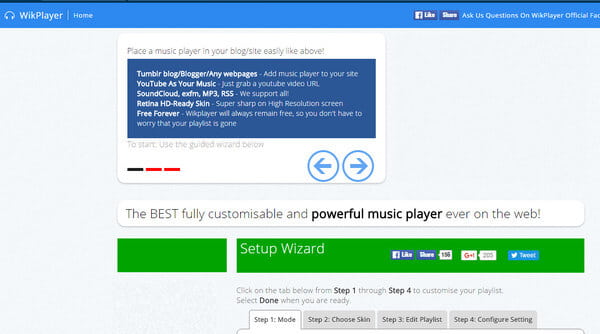 WikPlayer (https://www.wikplayer.com/) is one of the best Billy Music Player alternative. It enables you to choose your favorite mp3 music player skin for Tumblr blog. You can import old playlist and possible to create new playlist for your mp3 songs. The process and setup to add WikPlayer to Tumblr is as simple as Billy Music Player.
Have you known more about Tumblr? More interesting function is that you can make a Tumblr slideshow on this website.
SCM Music Player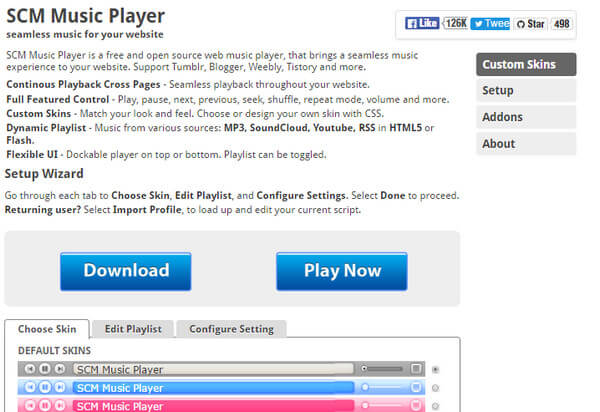 SCM Music Player (http://scmplayer.net/) is a free and open source web music player better than Billy Music Player for Tumblr. It supports Tumblr, Blogger, Weebly, Tistory and more. As the most popular web music player, SCM Music player provides many advanced functions including continues playback cross pages, full features control, custom Tumblr music skins and themes, etc.
In this article, we have mainly introduced Billy music player and how to add Billy audio player to Tumblr. Two more Billy Music Player alternatives are also provided to give you better experience for Tumblr music. Still have more questions? Feel free to leave your comments below.