Five Pop Howard Stern Shows & Two Ways to Download
If you have ever watched Howard Stern Show, you may be not strange of the host - Howard Stern. The Howard Stern Show is an American talk show which is hosted by Howard Stern. In 1979, this show was developed by Howard Stern at WCCC in Hartfort. This show is widely recognized by people from 1986 to 2015. In 1980, he constantly made headway as a morning personality at WWWW in Detroit. In 1982, he hosted a popular afternoon show at WNBC in New York because of his success in Washington. In New York City, this show become the high-rated morning program during 1994 and 2001. Since then, Howard Stern has been commonly broadcast by several popular website like YouTube.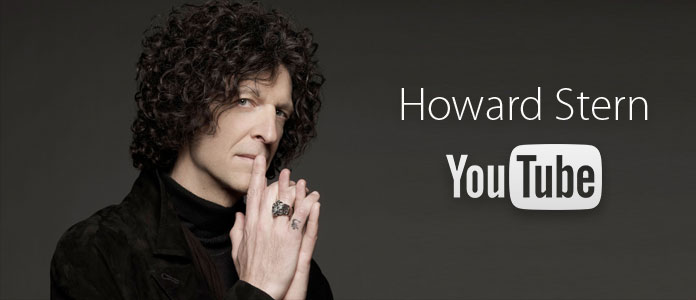 You can read this article to realize more information about Howard Stern Show. In this article, we will recommend 5 pop Howard Stern shows to you and recommend two ways to help you download these videos.
Part 1: 5 pop Howard Stern shows
1. Liam Gallagher Performs "Wonderwall" Live
Liam Gallagher singsing "Wonderwall" at the scene of Howard Stern Show. If you are a fan of Liam Gallagher, this video may be meet your needs of realizing more about them. This video is also one of a pop Howard Stern Shows in this year.
2. The story of Robert Pattinson Got Expelled From School
In this video, Robert mainly talks about the story in his childhood. He tells Howard Stern how he was expelled from school for stealing dirty magazines. If you are interested in the reason why he steal the dirty magazines, you can watch this video.
3. New Kids on the Block "You Got It (The Right Stuff)"
New Kids on the Block visited the Howard Stern Show studio and performed their new arrangement of "You Got It (The Right Stuff)" for Howard. Many people express their feelings after watching this video. Maybe you will also be interested in their songs.
4. Chris Stapleton "Broken Halos"
Chris Stapleton performs the country music"Broken Halos" on the Howard Stern Show at the scene. Maybe you do not know more about country music, this video will make you have some realizations of this kind of music.
5. Jimmy Iovine Hid Stevie Nicks From Tom Petty in His Basement
In this video, you can see that Jimmy explains the ways of how he kept his relationship with Stevie Nicks as a secret from Tom Petty while producing both of their records.
Part 2: Easiest way to download Howard Stern Shows
Method 1: Download Howard Stern YouTube with YouTube Video Downloader
Aiseesoft Video Converter Ultimate
For Mac
The best YouTube video downloader which can help you download and convert YouTube TV videos with great quality.
Download online video or audio in any format with easy clicks, including YouTube TV Shows.
Convert video/audio to any popular video formats.
Advanced video/audio editing functions.
Step 1 Download YouTube Video Downloader
Install YouTube Video Downloader on your computer, and then open and launch it for use later.
Step 2 Import the URL
After downloading it on your computer, you are able to copy the link of the video you want to download. And then, get back to the downloader, click "Download" to import the link of the the video you just copied.
Step 3 Analyze the video
Click "Analyze" to start analyze the video to see if the program can support this video. You can also select the resolution of the video according to your own needs.
Step 4 Start to download the video
Click "OK" to start to download the video. Just wait a few minutes, and then you will finish downloading the video on your computer.
Method 2: Record Howard Stern YouTube with Screen Recorder
If the video you want to download cannot be supported by Video Downloader, you can use Screen Recorder to record the whole video with high quality. You can follow the detailed steps of Screen Recorder to learn how to record the Howard Stern show.
Step 1 Install Screen Recorder
Download Screen Recorder on your PC/Mac, and then you can open and launch it. After launching it, click "Screen Recorder".
Step 2 Select recording area
After launching the program, you are able to select the recording area. You can select full screen or customize screen according to your needs.
Step 3 Start to record Howard Stern show
When you finish setting the recording area, you can click "REC", and then you just play the video normally. When the video was over, click "stop" to save the video on your video.
We mainly talk about Howard Stern and Howard Stern Show on YouTube. You must be eager to find ways to download your favorite YouTube videos for later viewing. Considering that, you show you two simly methods to get the job done. If you still have any question, you can leave us a message.