Top 10 Video Game Streaming Sites
According to reports, the global eSports market is predicted to exceed $1.6 billion in 2018, partly because of rapid growth of live game streaming sites. We have identified the best sites to watch video games and this post will list the top 10.

Live Game Streaming Sites
Part 1: Top 10 game streaming sites
There are oceans of streaming platforms available on internet but here are the top 10 game streaming sites for live events.
Top 1: Twitch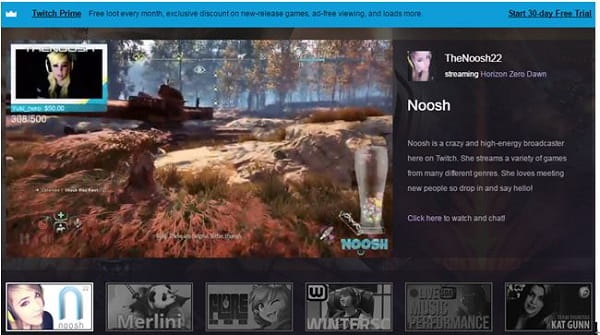 Twitch is absolutely the most popular site for live game streaming for both broadcasters and audiences. You can find the largest eSports events, live streaming stars and other special events on Twitch.
Do not miss: How to download Twich videos.
Top 2: YouTube Live Gaming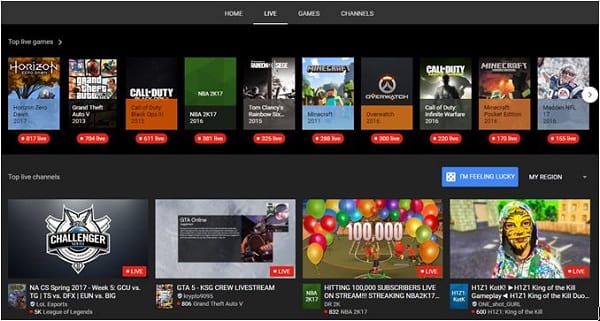 YouTube's Live Gaming volume is another first port of call for eSports beginners or casual game fans. Audiences can find their favorite players, teams or events and follow it online.
Learn here to start YouTube live streaming.
Top 3: Dailymotion Games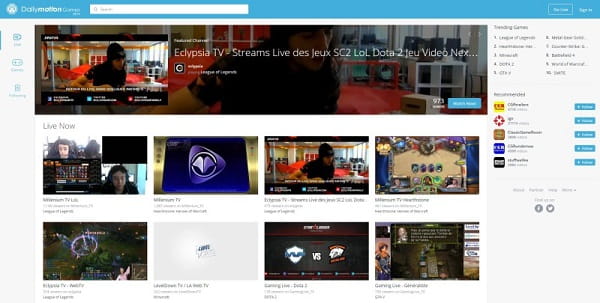 The Dailymotion Games is the affiliate of Dailymotion. Though it is just getting started, you can find video game content live streamed by both popular gamers and eSports events.
Top 4: Smashcast.tv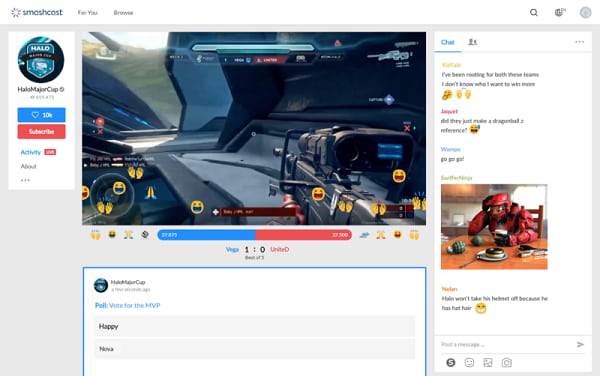 Smashcast.tv is a super-fast site for live game streaming dedicated to gamers. Audiences are allowed to interact with each other using bullet hell.
Top 5: Teamliquid.net
Team Liquid is not only a place to enjoy video game events online, but also an eSports community for organizations, gamers, fans and audiences.
Top 6: Beam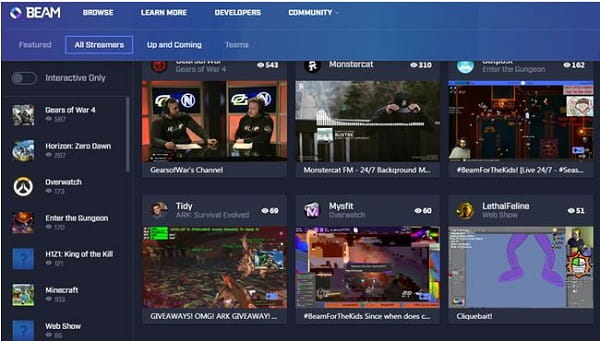 Many video game fans prefer to view live events on Beam, partly because the awesome audiovisual experiences. It supports video streaming with 4K abilities at frame rate of 60fps.
Top 7: HitBox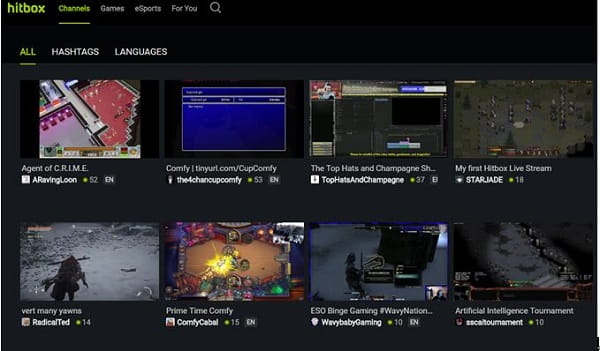 Similar to other game streaming sites, HitBox offers a wide range of videos and streams. The biggest difference is that the contents are organized by private, public and adults only.
Top 8: Azubu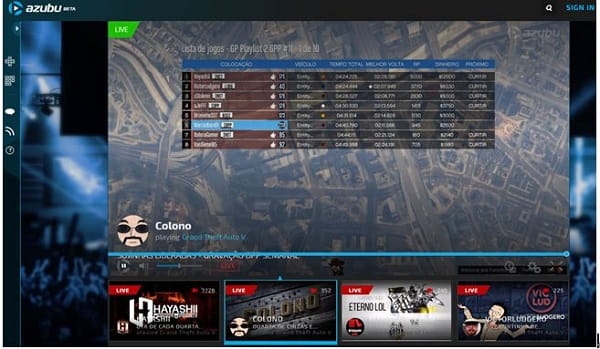 Oceans of video game streaming can be found on Azubu with high quality. Fans can follow their favorite games, streamers and game players on the site.
Top 9: Bigo Live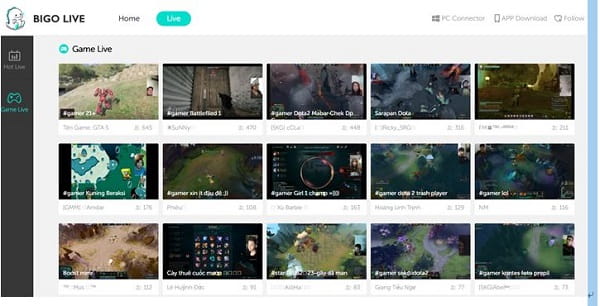 Compared to other streaming platforms, Bigo Live is more likely to be described as a social network to share video game contents with others or follow your favorite games.
Top 10: Afreeca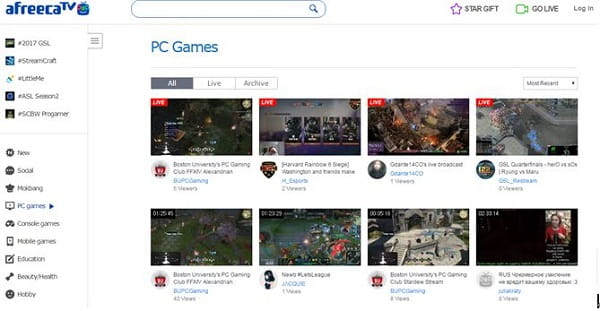 Afreeca attracts lots of professional gamers and streamers, so you can discover your favorite game streaming. Moreover, the intuitive interface and well managed contents make it a good starting point for viewers.
For more streaming sites, please visit: Best video streaming sites.
Part 2: How to stream game videos to online sites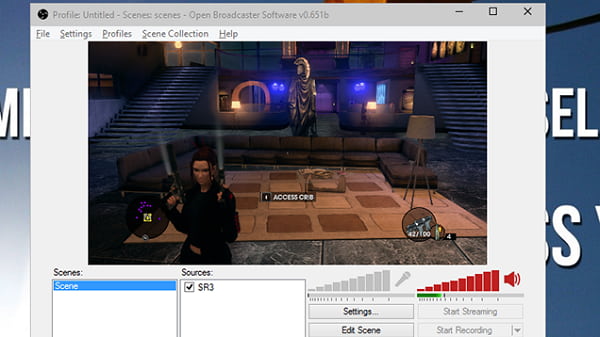 We use streaming on Twitch with OBS to show you how to stream videos online.
Step 1 Make sure that you have a Twitch account or you can create a new one right now.
Step 2 Open OBS and click the Settings button at bottom of the interface.
Step 3 Go to the Broadcast Settings tab, select Twitch from the Streaming services menu, and enter the key you got from your Twitch account into the Play Path/Stream Key box.
Step 4 Now, you can start playing your game on PC and it will stream on Twitch in real time.
Part 3: How to make game video for live streaming
If you want to make game videos for live streaming on websites, we recommend Aiseesoft Screen Recorder since it has many advantages.
Record everything happens on your desktop in a single click.
Use mouse effects in your game videos to attract attentions.
Add text, doodle and other elements on the video while recording.
Take snapshots at any time when making game videos.
Control the process with hotkeys that you customized.
All in all, it is the best way to produce game videos or audio files with high quality.
How to make game video for live streaming online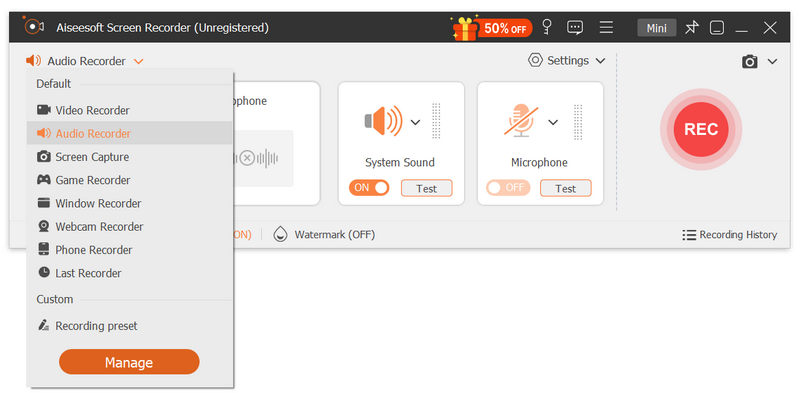 Step 1 Install Screen Recorder on your PC and there is another version for Mac. Launch it and select Video Recorder to open the Game Recorder window.
Step 2 There are four sections:
Display is used to record the images on your desktop.
Webcam is able to capture the images in front of your webcam.
System Sound will record the game sound.
Microphone will capture your voice.
You can to enable or disable them based on your needs. Click the Settings icon at upper right corner, and then you can find output, shortcuts and other custom options on the Preferences dialog.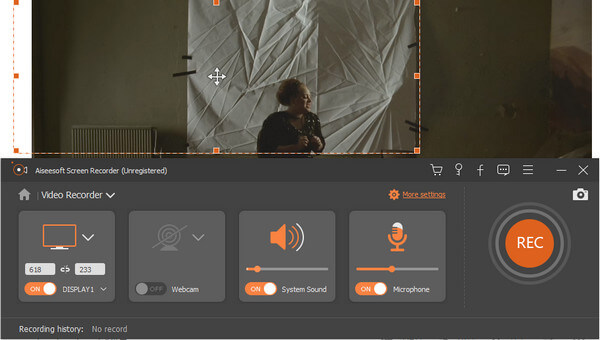 Step 3 After setup, click on the REC button and then start playing your game. Screen Recorder will work automatically. When it is done, hit the stop icon to save the recording for streaming.
Conclusion
Congratulations! Now, you might grasp everything you should know to stream video games online. First of all, you can make game videos with Aiseesoft Screen Recorder and then use OBS to stream the content to Twitch. If you want to learn more place to stream your contents, you can find top 10 video game streaming sites above too. We hope that our suggestions and guides are helpful to you. If you have better ideas or recommendations, please write them down below this post.