Find the Most Subscribed YouTuber and Check Most Subscribed YouTube Channels
Summary: Want to know the most subscribed YouTube channels? This post lists top 10 most subscribed YouTubers. You can subscribe them and find some interesting videos.
Do you know who has the most subs on YouTube?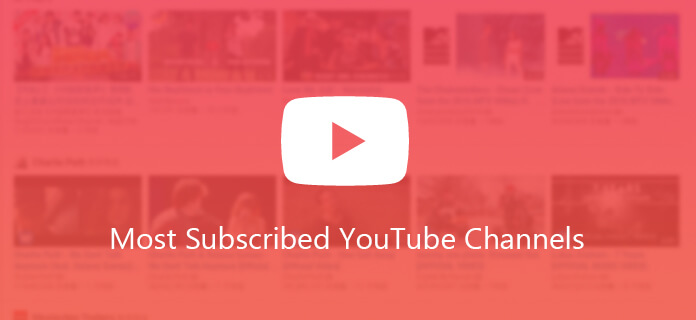 YouTube is the most popular streaming video site in the world now and more and more people would love to subscribe some interesting channels for study or entertainment. As more and more channels have set up every day, sometimes it would be difficult to find the best channels out of millions of YouTube channels. Here we would like to introduce you the most viewed YouTube channels before or now, especially in 2016 to 2018, they may be famous, fun or popular. You may find your cup of tea from those to most subscribed YouTube channels.
Best YouTube Video Downloader
In case you want to download YouTube videos and look for the best YouTube downloader, here we first show you a great YouTube video downloader. It is the professional YouTube video downloading software which can help you download online videos from YouTube, Vimeo, DailyMotion, TED, and more. You can download 4K UHD/1080 p HD and regular SD video from YouTube with ease. Just free download it and have a try.
Aiseesoft Video Converter Ultimate
For Mac
Aiseesoft Video Converter Ultimate is the powerful YouTube video downloading, editing and converting software which can help you easily download all types of videos from YouTube.
Download YouTube videos and online videos from popular sites like Facebook, Twitter, Instagram, DailyMotion, Vimeo, TED, Yahoo, Vevo, etc.
Download and convert YouTube to MP4, MOV, AVI, MKV, MP3, FLAC, and other video/audio formats you need.
Powerful YouTube editing features. Rotate/clip/merge/crop video, adjust output video effects, and add personal image or text watermark.
Enhance video quality and add more video/audio effects, including 3D.
Add new subtitle/audio track to YouTube and remove original audio track.
Support any popular format, Windows/Mac version and iOS/Android device.
Part 1. Top 10 most historical subscribed YouTube channels
No. 1 PewDiePie
PewDiePie has been started from Apr 29, 2010 and now has more than 50 million subscribers and over 10 billion views in total. This channel is established by Felix Arvid Ulf Kjellberg, who is a Swedish web-based comedian and video producer. His channel is known for his Let's Play commentaries and vlogs. Early in 2013, PewDiePie has become the second most subscribed YouTube user and reached 10 million subscribers. In January 2017, this channel began to be criticized by his non-gaming videos and suffered for network drop. However, it is still worth watching for the game videos. Check one of the most viewed videos below.
No. 2 HolaSoyGerman
HolaSoyGerman YouTube channel is established on Sep. 8, 2011 with over 30 million subscribers and 3 billion views now and most subscribed in the Spanish language. This channel is owned by Germán Alejandro Garmendia Aranis who is a Chilean YouTuber, comedian, musician, signer and writer. He has another YouTube channel named JuegaGerman. He has produced a variety of songs together with his band which are all available on YouTube. HolaSoyGerman has been the second most subscribed channel on YouTube after PewDiePie. Here you can check one of the most popular uploads named Los Hermanos in Spanish language.
No. 3 JustinBieberVEVO
JustinBieberVEVO YouTube Channel has more than 27 million subscribers and 14 billion views with joined date on Sep. 25, 2009. This channel is Justin Bieber's VEVO account. Justin Bieber is not only a Canadian pop musician, actor and singer-songwriter but also a famous YouTuber. His channel has lots of music contents including audio only videos, music videos, lyrics videos and live performances. This channel is the 3rd most subscribed and 3rd most viewed YouTube Channel, the most subscribed YouTube channel from Canada and the most subscribed VEVO channel on YouTube. Check the most popular video uploads below.
No. 4 YouTube Spotlight
YouTube Spotlight is YouTube's official channel hosted on its own website and has more than 25 million subscribers and 1 billion views. This channel will show you what's new and trending around the world from music to culture to internet phenomena. It uploads videos including YouTube Comedy Week, YouTube Music Awards, YouTube Nation and annual installments of YouTube Rewind. The channel is ranked as the 4th top subscribed channel, behind PewDiePie, HolySoyGerman and JustinBieberVEVO. Watch the YouTube Rewind in 2016 to celebrate videos, people, music and moves that made 2016.
No. 5 Rihanna VEVO
RihannaVEVO is started on May 11, 2009 with 24 million subscribers and 10 billion views. Like JustinBieberVEVO channel, it is Rihanna's VEVO account containing all Rihanna's music contents. The following music video named Where Have You Been has been viewed more than 250 million times and driven the most traffic.
No. 6 elrubiusOMG
elrubiusOMG YouTube channel is owned by YouTuber Rubén Doblas Gundersen who is a Spanish YouTube personality whose channel primarily consists of gameplays and vlogs. The channel is started on Dec. 19, 2011 with 23 million subscribers and 5 billion views. This top YouTuber gained many subscribers when he posted a gameplay of The Elder Scrolls V: Skyrim. Additionally, El Rubius has made appearances in the 2015 and 2016 editions of YouTube Rewind. Check one of the best videos on the channel below.
No. 7 Smosh
Smosh is an American web-based sketch comedy duo consisting of Ian Andrew Hecox and Daniel Anthony Padilla. The Smosh YouTube channel began on Nov. 19, 2005 with 22 million subscribers and 6 billion views and videos are uploaded every Friday, Monday and every other Tuesday. This channel is posted skits and other videos starring Noah Grossman, Ian Hecox, Keith Leak II, Courtney Miller, Anthony Padilla, Olivia Sui, and Shayne Topp. The following is one of the most views gameplay video.
No. 8 OneDirection VEVO
OneDirectionVEVO YouTube channel is started on Dec. 4, 2010 with 21 million subscribers and 7 billion views. It is English-Irish pop boy band based in London composed of Niall Horan, Liam Payne, Harry Styles, Louis Tomlinson, and previously, Zayn Malik until his departure from the band on 25 March 2015. OneDirection is very popular and rank top YouTuber through its YouTube channel. Check one of their famous music video below.
No. 9 TaylorSwift VEVO
TaylorSwiftVEVO YouTube channel has been found on May 11, 2009 with 21 million subscribers and 10 billion views. Taylor Alison Swift is an American singer-songwriter and one of the most popular contemporary female recording artists. Taylor's songs are almost narrative songs about her personal life, which has received much media attention. Check her music video I don't Wanna Live Forever below. This song is also original soundtrack of Fifty Shades Darker.
No. 10 KatyPerry VEVO
KatyPerryVEVO YouTube Channel is Katy Perry's VEVO account and has more than 21 million subscribers and 10 billion views. This channel started on Dec. 12, 2009. Katy Perry is an American singer and songwriter. Watch one of her featuring music and visuals from "PRISM" below.
Part 2. List of most popular YouTube channels (more)
| YouTube Channel | Network | Language | Subscribers (millions) | Channel Type |
| --- | --- | --- | --- | --- |
| EminemVEVO | Vevo | English | 21 | Music |
| VanossGaming | N/A | English | 20 | Games |
| Fernanfloo | BroadbandTV | Spanish | 20 | Games |
| Nigahiga | N/A | English | 19 | Entertainment |
| TheEllenShow | Time Warner | English | 19 | Entertainment |
| JuegaGerman | Machinima | Spanish | 17 | Games |
| whinderssonnunes | Fullscreen | Portuguese | 17 | Comedy |
| Yuya | N/A | Spanish | 17 | Howto |
| VEGETTA777 | Maker Studios | Spanish | 17 | Games |
| JennaMarbles | N/A | English | 16 | Comedy |
| Markiplier | Maker Studios | English | 16 | Games |
| Spinnin' Records | Spinnin' Records | English | 16 | Music |
| T-Series | T-Series | Hindi | 16 | Music |
| Dude Perfect | N/A | English | 15 | Sports |
| KSI | StyleHaul | English | 15 | Entertainment |
| ArianaGrandeVevo | Vevo | English | 15 | Music |
| Skrillex | N/A | English | 15 | Music |
| FBE | Fullscreen | English | 15 | Entertainment |
| jacksepticeye | Maker Studios | English | 15 | Games |
| WWE | WWE | English | 15 | Entertainment |
Part 3. How to download or record most subscribed YouTube channels
After seeing these most subscribed YouTube channels, you may find some YouTube videos are really funny or important. If you ever want to download some of them?
Download most subscribed YouTube channels
Choose the first recommended Video Converter Ultimate to easily download and convert those top viewed videos to your computer or devices. Just download the program and click the Free Download button to add YouTube URL for downloading. Choose the output format to save the downloaded the popular videos on your computer.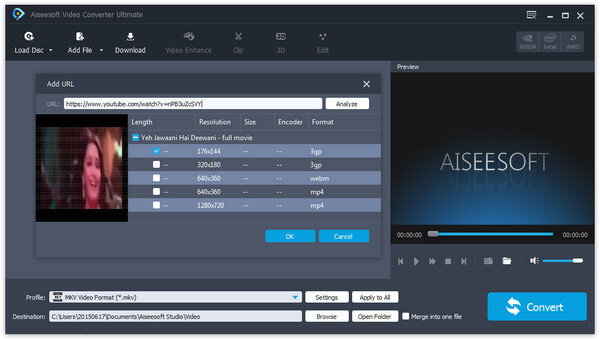 Just paste the video address and analyze it, you can easily download YouTube video to your computer. After analyzing, you can get various downloading options, you can choose different video resolution, size and output format according to your need.
Record the most subscribed YouTube channels
For some YouTube videos, you may have downloading problem, you can use Screen Recorder to record the YouTube screen. Simply choose the capture screen size and system audio or microphone audio, and then click REC button to start screencasting and save it to your computer in MP4 or WMV format with high quality.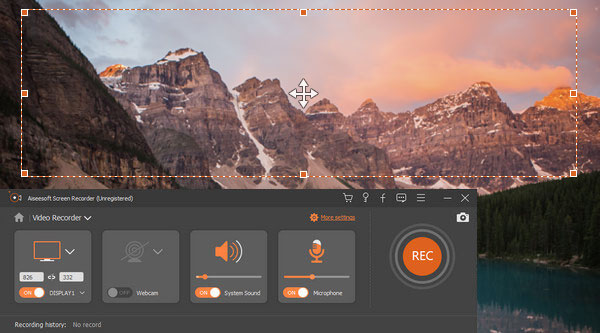 You can check the video below to record the top subscribed YouTubers:
When you want to download top youtube channels on your computer, you can try either one of the YouTube video downloaders.
We mainly talk about the most subscribed YouTube channels in this page. We show you top 10 YouTube channels. If you want to know who has the most subscribers on YouTube, you can check them one by one. If you have any suggestion, you can leave us a message.