Best Offline Music Apps without WiFi/Internet
Most people like to listen to music as songs can relax them with great vibes. As music is what you love, you may want to listen to music while traveling, walking out, even working. It would be more fun when you listen to songs with offline music apps without WiFi or internet. You know that old songs that you downloaded will take up much storage, and people would like to listen new songs. And offline music apps will be of great help. As they are able to stream music offline and let you play cache music. And in this article, we will show you some offline music without WiFi, which let you stream music without internet.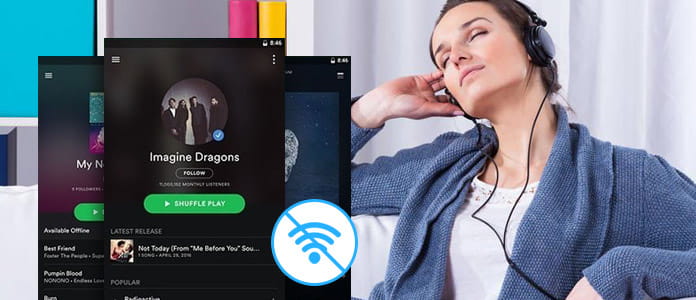 Part 1. Top 5 music apps without Wi-Fi
SoundCloud
soundcloud.com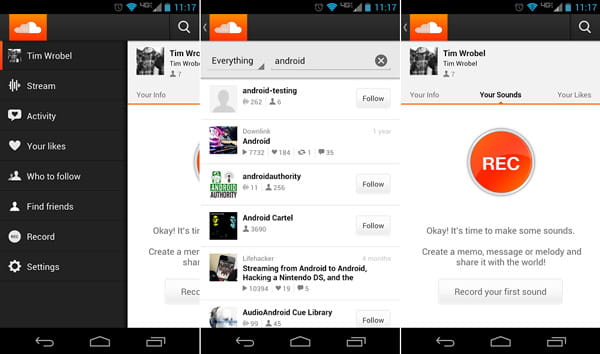 Definitely, SoundCloud is one of the best music streaming apps and it lets you to stream millions of music work. You just need to sign into SoundCloud, search and listen to your favorite songs. You can personalize your own music list. Also, you can upload your own songs to SoundCloud and share them with others. As one of best music app without WiFi, SoundCloud is able to let you enjoy music offline, as long as you use the easy solution to download/convert SoundCloud music.
Spotify
www.spotify.com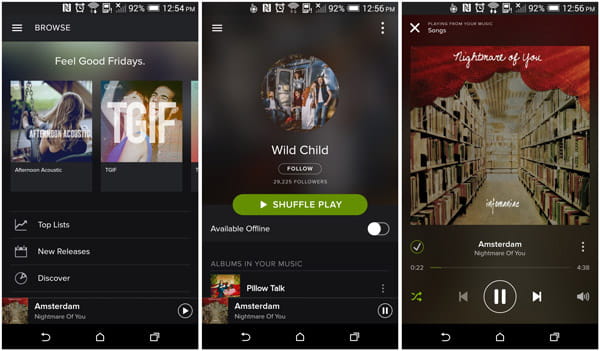 As one of well-known music streaming apps, Spotify is available for various platforms. You can download Spotify on computers, iOS devices or Android mobile phones. Powerfully, Spotify supports BBC's playlist services, so that you can stream about 20 millions tracks for every day. In addition you are able to expect more privacy than other similar music streaming applications. Free to download Spotify on computer but you need to pay to download Spotifly app on mobile platforms for $12.99 per month to enjoy the services that this music app without internet offers.
iHeartRadio
https://www.iheart.com/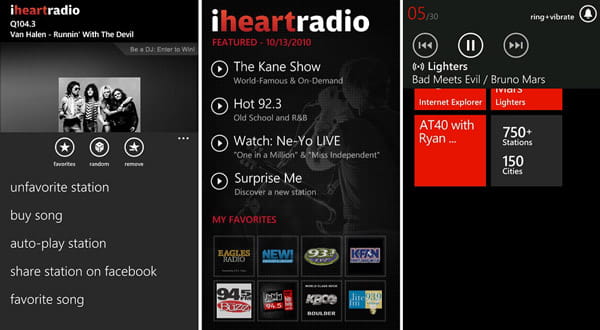 iHeartRadio is one of the most popular music stream apps. You can download and install iHeartRadio on various major platforms. Powerful as it is, iHeartRadio enables you to access more than 800 US hosted radio stations. You can also personalize your own station with own genre, bands, artists or music types. iHeatRadio claims that users are allowed to access more than 18 million songs from multiple artists or from streaming stations.
Pandora
https://www.pandora.com/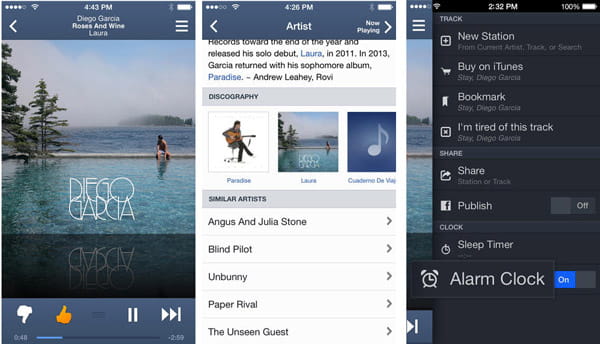 When it refers to best offline music app without WiFi or internet, you may think of Pandora. Pandora is able to let you get access to new trending music stations in which you can listen to music offline when you walk out or go to work. Pandora app features lots of new features were one among is the alarm clock. It will wake you up with your favourite music. Just like other music apps, it will also let you create a radio station with similar music.
TIDAL
http://tidal.com/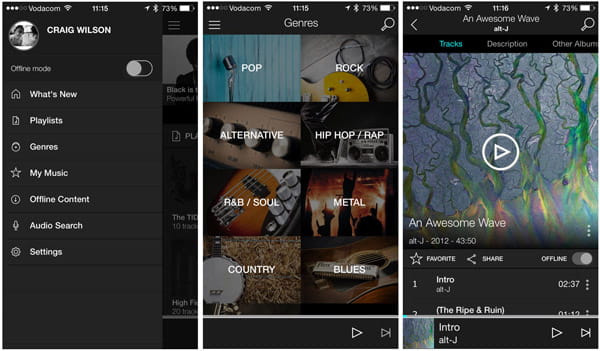 Another music app without WiFi is TIDAL, which is available for both iOS and Android users. With TIDAL, you are able to search and enjoy multiple high-quality music or high-definition videos on your iPhone or Andorid phone. TIDAL also allows you to play offline songs whenever it is convenient for you. You are also able to build your own music collection based on artists, albums, playlists or tracks for your reference.
Part 2. Other music apps without WiFi/internet
| No. | Screenshot | Music Apps without WiFi | Download |
| --- | --- | --- | --- |
| 1 | | Google Play Music | |
| 2 | | Slack Radio | |
| 3 | | Deezer | |
| 4 | | Saavn | |
| 6 | | Microsoft Groove | |
Part 3. Bonus Tips: How to easily download/get music
In case you want to download or get music on computer, and here we will simply recommend you two ways for music downloading.
Download music with Video Converter Ultimate
As one of the most professional online music/video downloading software, Video Converter Ultimate enables you to get music from YouTube and other sites. Just download this great useful program on your Windows or Mac computer.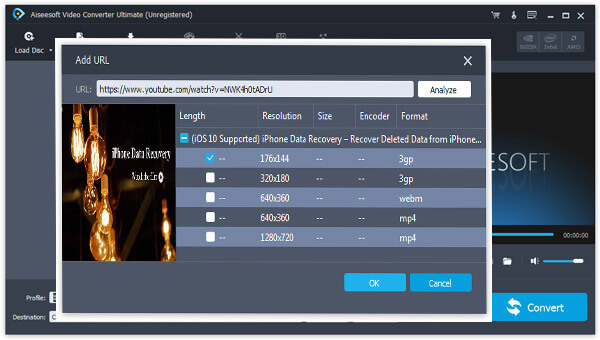 Get/Record music with Screen Recorder
In case you feel it difficult to download music or want to download non-copyright music, you can choose to use Screen Recorder for getting songs. Download and install Screen Recorder on your computer.
Launch Screen Recorder and choose "Audio Recorder" option.
Go to the website and get ready to play music. Before that, click the "REC" button in the application. Play the music now.
When the playback is over, click the "Stop" button and save the audio recording.

For more detailed steps of downloading videos/audios, you can watch the video below: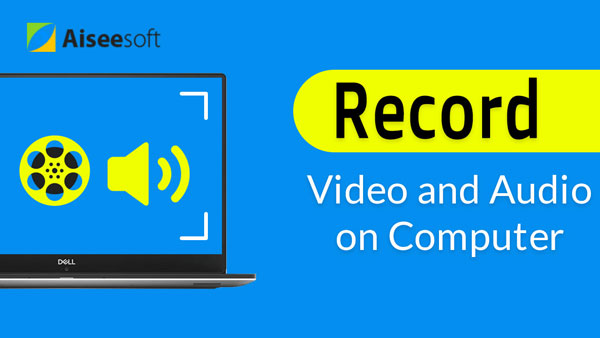 Conclusion: In this article, we mainly introduce you with music apps without WiFi. These music applications enables you to play and enjoy songs without internet connection. If you have any other music apps without WiFi/internet, you can leave your comments below.