Top 10 Best Spotify Alternatives You Can Try
People love listening to music. And there is no lack of new way to distribute and share music from the artist and the audience. And Spotify web play is such a music service for you to stream music on your computer and portable iPhone or Android phone. Maybe Spotify is most well-known streaming music service though, however, it is definitely not the best one. Want to find one Spotify Alternative for streaming your favorite music? In this article, 10 best alternatives to Spotify web player are listed for you. Find a Spotify replacement that is worth trying.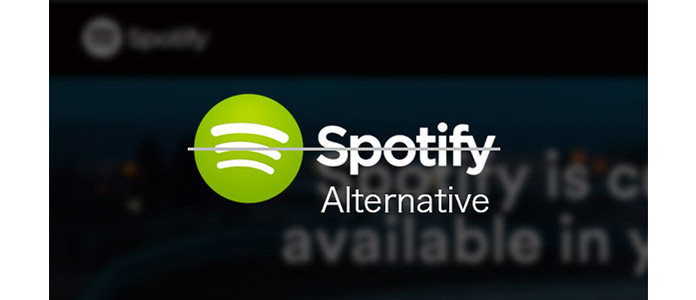 Spotify Alternative
Part 1. Why you may need find a Spotify alternative
In this part, we will tell you why you may need one alternative to Spotify, though Spotify may be the most popular streaming web service. In the next part, we will show you several fabulous Spotify replacements, some of which are not that known, but they do much better than Spotify in some point.
Advantages of Spotify:
◆ Free service for you to discover and enjoy music.
◆ Be available on computers, smartphones, tablets, TVs, PlayStations, etc.
◆ Let you manage music collection.
◆ Check out your friend's music preferences and so on.
Disadvantages of Spotify:
◆ Not allow you to enjoy your music offline.
◆ No option for you to download or purchase songs you've listened on Spotify.
Part 2. 10 best music store or web service alternatives to Spotify
10 best alternatives to Spotify web player are introduced here. Some of them are music stores, and some of them are web services. Keep reading and find one suitable Spotify replacement.
iTunes Music Store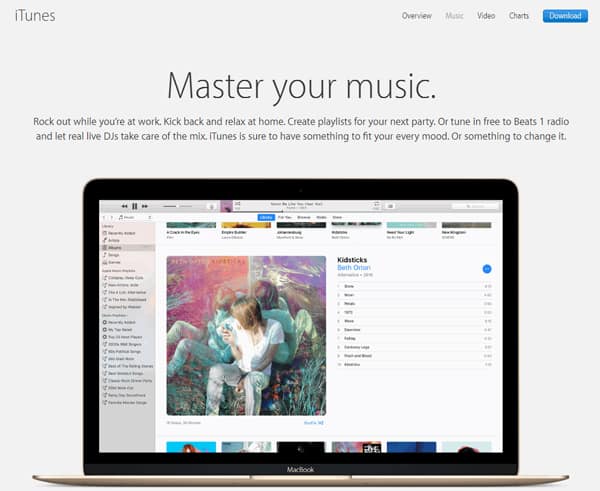 Providing more than 43 million music, iTunes Music Store developed by Apple has become the world's largest music vendor. You are able to enjoy streaming songs or radios, purchase the preferred albums or songs here. Besides, you are enabled to upgrade to iTunes Match to collect all your songs stored in iCloud. This feature will find and match your preferred song type according your music collection style.
Amazon Music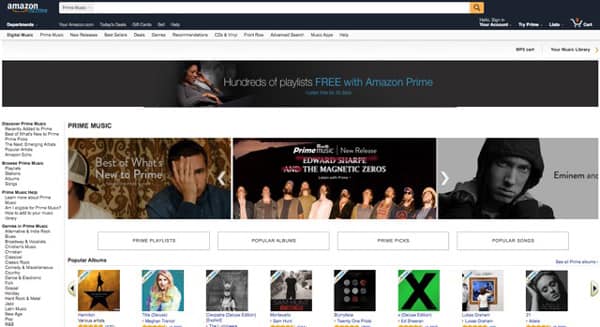 Amazon Music is the pioneer to provide DRM-free streaming music. Besides offering music service on the store, Amazon Music lets you access, download and upload the digital songs in the cloud from Amazon Cloud Player application. Less than iTunes Music Store, Amazon allows you to access over 30 million music file in the Amazon Music library. What's more, it can offer Amazon Prime Music, the subscribed streaming service, which including the excellent streaming videos, product shipping, digital book borrowing and so on.
Google Play Music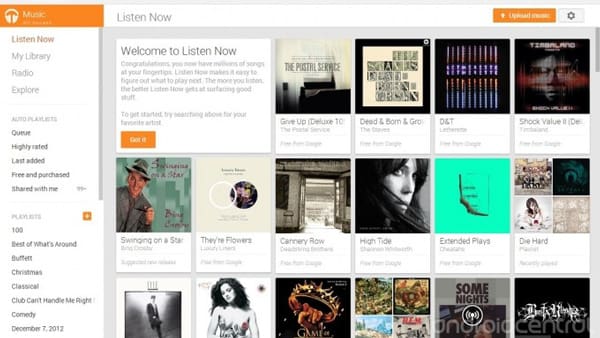 Similar to iTunes Match, Google Play Music has the capability to let you upload to 50,000 music that you collected even to the online music locker in the cloud, so that you are able to get access to all of your music collection from any device. You'll have the free song storage service, but you need to subscribe monthly the streaming service for from Google Play Music with about 10 dollars. Google Play Music allows you to access, stream or purchase more 30 million music tracks.
Apple Music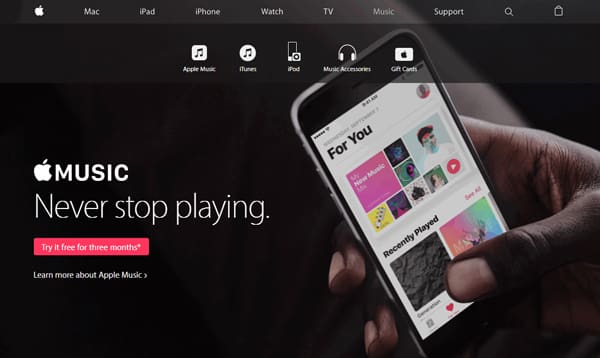 You are able to use Apple Music for subscription-based song consuming. As Apple Music has the same music content as iTunes Music Store, you are able to get access to the iTunes Music Store as long as you have the subscription of Apple Music. When you turn on Apple Music from iOS device, you are offered deep integration with any other device. Also, you can get access to streaming iTunes Radio from Beast 1 live radio, broadcast worldwide 24/7 from New York, Los Angeles and London.
Pandora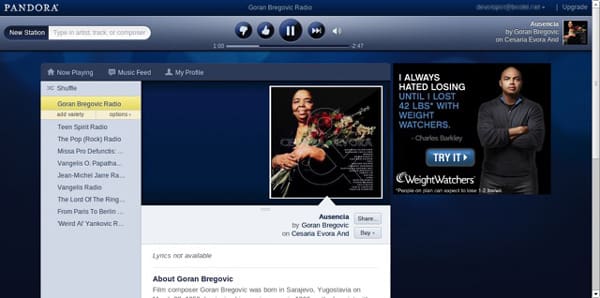 Pandora is one popular online streaming radio web service, which including many a themed stations. You are also able to make your personalized playlists. Skip songs you don't like. Pandora Radio provides one music library full of about more than 1 million music. As long as you subscribe it for $4 monthly, you can get one clean and non-ad Pandora Radio. In Pandora, you are allowed to enjoy the radio through your mobile Pandora application. Pandora is available on a variety of web browsers or portable device, though it has no desktop-based software.
Deezer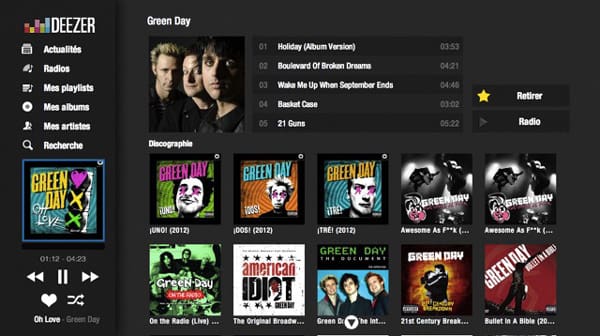 Deezer is another great streaming music site, which has collected millions of music. You are able to enjoy these songs via many devices or platform. Deezer is not free, but it can offer great streaming features as long as you get its paid membership level, including better sound quality up to 320 kbp/s. Deezer is a great alternative to Spotify, which can be available in over 100 countries all over the world.
Rdio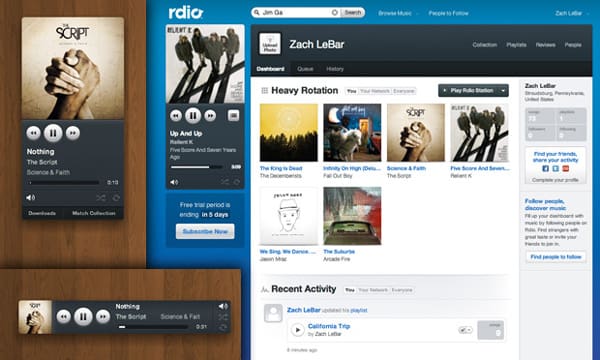 Rdio is another greatest alternative to Spotify, which is able to let you not only access the personalized streaming content, but also listen to themed radio stations for live streaming radios. When you enter Rdio page, you will be attractive and clean interface. It is an indeed easy-to-use streaming service. Different with Spotify and other streaming online tools, Rido provides free but limited streaming service. If you pay for more features with $4.99 a month, you are able to access online and offline streaming mode.
Stereomood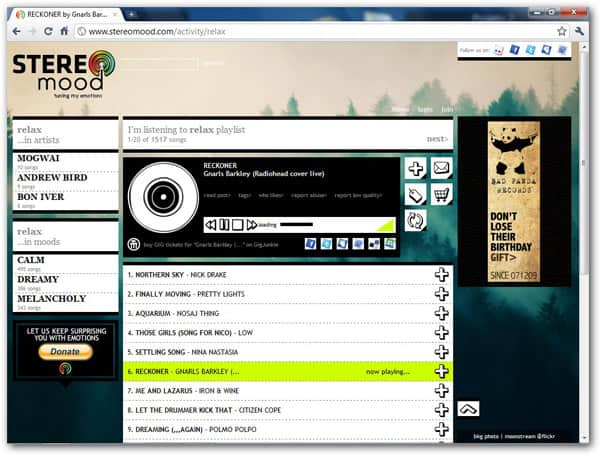 Stereomood shows a little different with other streaming music providers. Stereomood recommend songs according to your mood. If you express you are in a bad mood, you'll then get a playlist of sad songs Stereomood suggests. As Stereomood offers pre-set playlists, it is not for customization, compared with other streaming sites. But you can always find the song that fits your current mood. The program will remember and track the moods everytime when you enter. Stereomood's iOS app can be linked to iTunes, which will let you purchase the music you like on iTunes. It is a clean and non-ad streaming music service.
Gaana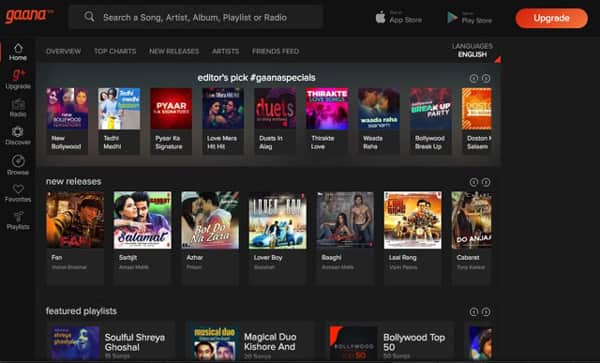 Gaana can be regarded as the first Indian music station. It offers also offers International music tracks. Users from all over the world can easily get access to the Indian catalog. However, the International songs collection from Gaana is only available Gaana users in India. Gaana users can create their own playlists to the public so that other Gaana users can see what they like to listen to. It is possible to favorite others' playlist as well. The service supports aboout twenty one languages, including Hindi, English, and other Indian regional languages.
Tidal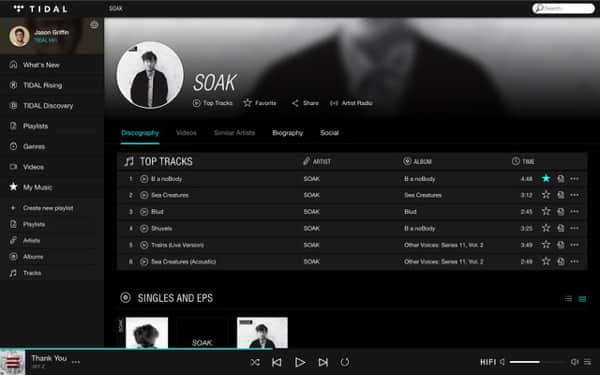 As a subscription-based music streaming service, Tidal has millions of lossless audios and high definition music videos. The service is well-known as it offers users with various available highest quality of music files as well as give royalties to music artists, compared with other streaming music service. Nowadays, Tidal provides more than 40 million music tracks and 130,000 music videos in the library. Tidal has more than 3 million subscribers.
Besides these alternatives referred above, there are other Spotify alternatives, including Last.fm, Saavn.com, We7, Grooveshark, mflow and so on.
Part 3. The best way to get streaming music from Spotify
You've learned that Spotify doesn't allow you to download free music. Then how can you get the streaming music or listen to Spotify offline? Alternatively, why not record Spotify music? Spotify Music Recorder is one full-featured video/audio recording software for Windows, which enables you to record Spotify streaming audios without any quality loss.
Step 1Launch Spotify Music Recorder on your Windows PC. Click "Audio Recorder".

Step 2Choose to record sound from system audio or microphone according to your need. Here we choose record Spotify from system audio.

Step 3Play your Spotify music. Click "REC" button to record audio. Click "Stop" button and then save Spotify recording.
In this article, we mainly introduce 10 best Spotify alternatives and show you how to download music from Spotify. Have you found one suitable Spotify replacement for streaming music? If you have any better recommendation, welcome to tell us.
You can learn the steps from the video below: