[Updated] Top 10 iTunes Movie Rentals & Film Downloads
Lying on your sofa with nothing to do? Wondering if you should watch a movie, but, "Nah," you think, "might take too much effort finding a good movie." Hah, don't worry about that anymore. As you know, with the rising of online movie streaming and rental services, watching movies has become easier and cheaper than ever. iTunes store, Netflix, Redbox, Amazon...there are a lot of places you can find movies to rent on the internet. Of course, iTunes store is still one of the most popular and utility ones. In this article, we've collected top 10 rental movies on iTunes store, hope you can find something you like. What's more, if you want to keep rental movies and watch it in the future, you can also find a method in the post.

Part 1. Top 10 iTunes best movie rentals
| | Top Movies | Title | Genre | Rental Price | About |
| --- | --- | --- | --- | --- | --- |
| 1 | | Moana | Kids & Family | $19.99 | From Walt Disney Animation Studios comes Moana, an epic adventure about a spirited teen who sets sail on a daring mission to prove herself a master wayfinder and fulfill her ancestors' unfinished quest. |
| 2 | | Jackie | Drama | $14.99 | OSCAR® Winner Natalie Portman leads an acclaimed cast in this powerfully stirring drama as First Lady Jacqueline Kennedy. |
| 3 | | Doctor Strange | Action & Adventure | $19.99 | From Marvel comes Doctor Strange, the story of world-famous neurosurgeon Dr. Stephen Strange, whose life changes forever after a horrific car accident robs him of the use of his hands. |
| 4 | | Arrival | Drama | $14.99 | When mysterious spacecraft touch down across the globe, an elite team - led by expert translator Louise Banks (Academy Award® nominee Amy Adams) – races against time to decipher their intent. |
| 5 | | Hacksaw Ridge | Action & Adventure | $14.99 | HACKSAW RIDGE is the extraordinary true story of Desmond Doss [Andrew Garfield] who, in Okinawa during the bloodiest battle of WWII, saved 75 men without firing or carrying a gun. |
| 6 | | Moonlight | Drama | $14.99 | A timeless story of human connection and self-discovery, MOONLIGHT chronicles the life of a young black man from childhood to adulthood as he struggles to find his place in the world while growing up in a rough neighborhood of Miami. |
| 7 | | Allied | Drama | $14.99 | From the director of Forrest Gump and Cast Away comes the year's most seductive thriller. |
| 8 | | The Edge of Seventeen | Comedy | $9.99 | In the vein of classic coming-of-age films like Sixteen Candles and The Breakfast Club, The Edge of Seventeen is a poignant and hilarious look at what it's like to be a teenager today. |
| 9 | | Manchester By the Sea | Drama | $14.99 | Casey Affleck heads a powerhouse cast in this acclaimed and deeply moving film from award-winning writer-director Kenneth Lonergan. |
| 10 | | The Accountant | Drama | $19.99 | Christian Wolff (Ben Affleck) is a math savant with more affinity for numbers than people. Behind the cover of a small-town CPA office, he works as a freelance accountant for some of the world's most dangerous criminal organizations. |
Part 2. How to keep iTunes rental movies forever
Even though iTunes Movie Rental provides very good and convenient service, there are still a few restrictions you need to understand:
1. iTunes Rentals can only play on Apple devices.
2. You only have 24 hours for watching iTunes rentals.
3. iTunes rental movie can only exist on one device at one time.
4. iTunes 10 or later is need if you want to rent movie on your computer.
Due to these restrictions, it's very hard to save an iTunes rental movie to watch in the future, but there are still some ways. You can find one method on the Internet suggesting to remove DRM protection from iTunes rentals, which is one cause for the restrictions. That is a effective way but may take you quite lot efforts to find a DRM removal as well as learn the whole process.
Instead of freeing yourself from the iTunes rentals restrictions, there is one way that's simpler for you to keep iTunes rented movies forever. That is to record your iTunes rented movie. Movie recorders are easy to use, and you can complete the recording process during the watching, there is no need to spend extra time.
Of course, it is important to find a perfect movie recorder first. Aiseesoft Screen Recorder enables you to record rented iTunes movies handily. Here is the step-by-step tutorial.
How to record iTunes rental movies
Step 1Download Aiseesoft Screen Recorder
Free Download, install and run this video recording tool on your computer.
Step 2Choose Screen Recorder
There are two options on the main interface, Screen Recorder and Audio Recorder, since we want to record iTunes movies, choose Screen Recorder.

Step 3Select Recording Inputs and Recording Area
There are two recording inputs: System Audio and Stereo Audio, recording iTunes rentals only needs System Audio. As for recording area, Screen Records provides you also two modes: Full screen as well as Custom. You can set as you like.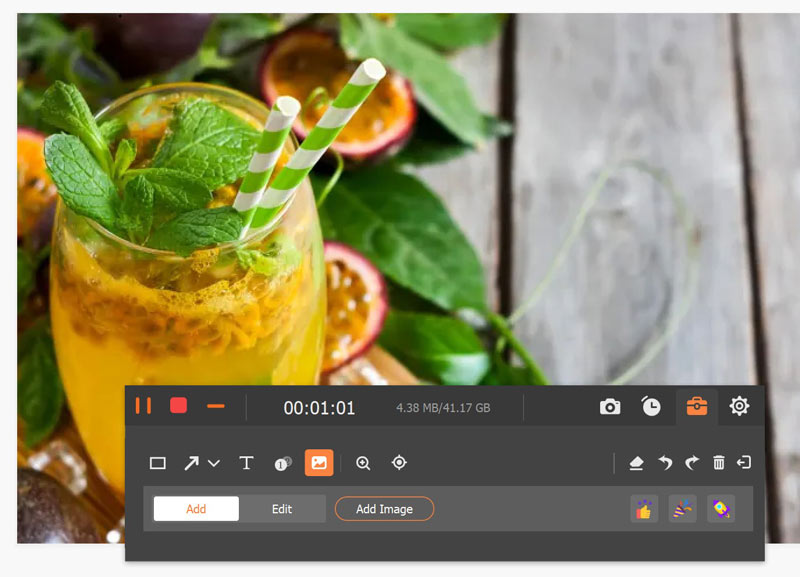 Step 4Click REC
After all the settings, click REC, then you can watch your iTunes movies now!

Step 5Save your iTunes movie
TAfter the movie, click the red spot to stop, then click Save from Options. Now you have saved rented iTunes movies on your PC successfully.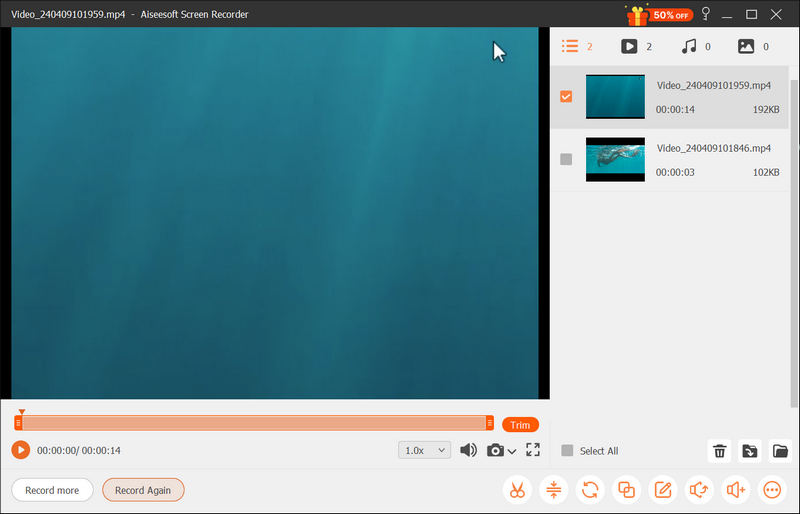 Not iTunes movie rentals, you could also find the top iTunes songs here.
You can learn the steps from the video below: