Vocaroo and Online/Desktop Voice Recorder Alternatives to Record Audio
Compared with reading words, people prefer listening, that is why audio recording is such a great way to deliver messages, and it can be used in many ways, including making voice memos, recoding voice diaries, or ripping music from a YouTube clip, etc. To record audio, it is necessary for you to find a reputable audio recorder.
Out of all the online audio recorders, Vocaroo is a top rated one. This article aims to give you a primary review about Vocaroo online voice recorder, and introduce to you some online/desktop voice recorder alternatives you can use to record audio.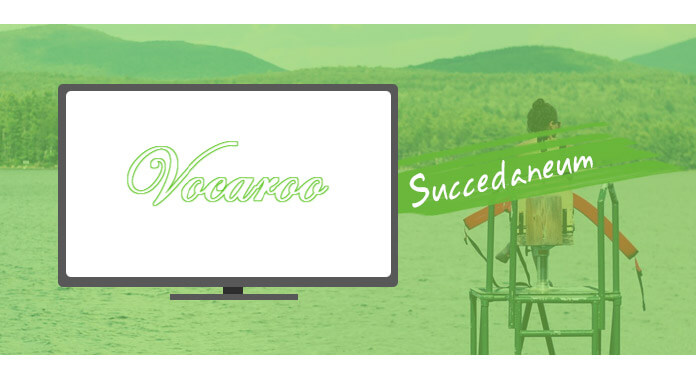 Part 1. What is Vocaroo
Vocaroo (http://vocaroo.com/) is an online voice recorder that allows users to create voice recording. It is free and doesn't require a login or any software downloads. With this online voice recorder, you are able to record, send, download voice messages or share voice message through YouTube, Facebook, etc. Instructors can also use Vocaroo to embed their own voice messages into a course website or have students use the app to create recordings for assignments, projects, or tests.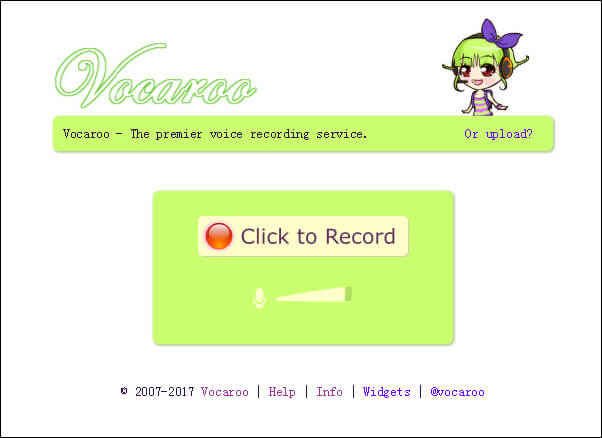 Key Features:

1. Totally free online voice recorder, no need for any downloads.
2. Widely used for sending voice message and making personalize recording.
3. Three ways to get your recording: embed it, send it to your email or download it directly to your computer to MP3, OGG, WAV, and FLAC file format.
4. Fresh and friendly UI, easy to use, and quick to catch up.
Part 2. How to use Vocaroo to record audio?
As we said, Vocaroo online voice record is very easy to use, follow the simple steps below to learn how to use Vocaroo to record audio online.
Step 1 Open Vocaroo website: http://vocaroo.com and you should see the display above.
Step 2 Hit "Click to Record" button to record your voice. Note that the first time you click the record button, Vocaroo will ask for your permission to use your microphone. You must give the program access to your microphone in order for the program to work.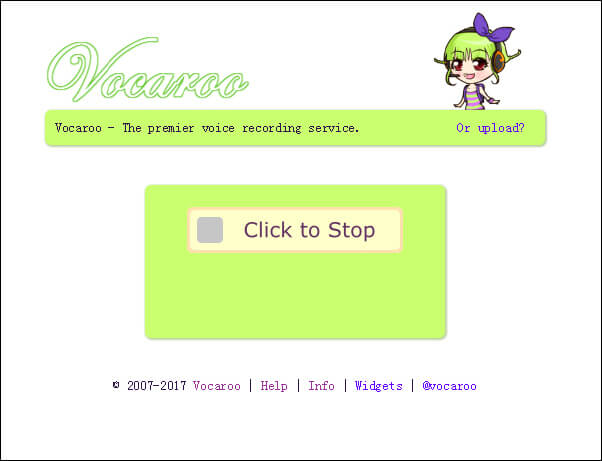 Step 3 After you finished recording, click the Stop button. Vocaroo will give you the option to "Retry" or "Listen".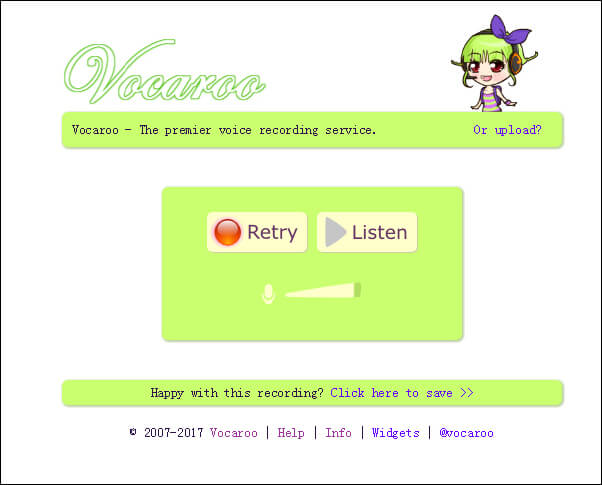 Step 4 If you are satisfied with it, you could click the link below to save your recording. Here you'll be provided with several options: You can copy the embed code to insert into a website or email to yourself, or share it through various social media options including Twitter, Facebook, Google +, etc. You also have the option to save it as MP3, OGG, WAV, FLAC audio formats directly to your computer.
Part 3. More audio record options better than Vocaroo
Even though Vocaroo works fine, there are still some drawbacks that need to be filled in this online voice recorder. For instance, Vocaroo can only record microphone sound, and don't have the ability to edit audio files. On account of this, we would like to provide you more alternatives to Vocaroo, including online/desktop voice recorder. Hope you can find the one you like.
3 online voice recorder alternatives
Best desktop audio recorder – Aiseesoft Screen Recorder
Most online recorders, including Vocaroo, are limited by the network speed, and they can be very unsteady sometimes. If you want to get the professional audio recording experience, we recommend you the best desktop audio recorder.
In this article, we mainly gave you a brief introduction about Vocaroo and how to use Vocaroo to record audio. If you perfer other audio recorders, we also provided you better options including online voice recorder and desktop voice recorder. Still have more questions about Vocaroo? Feel free to leave your comments down below.