A Wonderful Educational Tool – YouTube for Schools
YouTube is a famous video website that you can share and enjoy many different kinds of online videos, including some educational materials. And as you know, educational videos and audios can help teachers a lot and play more and more important part in class.

Due to the command of teachers and schools, there is a new tool called YouTube to Schools created. In what follows, we will introduce what is YouTube for Schools in detailed for you.
Part 1: What is YouTube for Schools
Actually, there are many good educational videos on YouTube. Some of teachers want to use these good videos in class while they afraid that students will be distracted by other popular videos. Because of the demand from teachers and schools all over the country, there is a new tool has been created. YouTube for Schools is a new tool which is launched by YouTube to help teachers and students to learn much better. It is one of the best education portals that can help manage education materials, videos and audios on all kinds of subjects. Meanwhile, it can filter out the potentially offensive or distracting contents, which may affect teachers and students.
There are more than 400 playlists that are sorted by grade level and different subject, including Science, English, Math, Social and more. This site also acts as a network setting which allows schools to only access to education materials on YouTube. What's more, the setting also cancels the comments and related video recommendations functions. And YouTube is trying to make YouTube for Schools become an open conversation. Teachers have the power to suggest new playlist and comments to help further using of YouTube in the classroom.
In order to balance the content and create better educational materials, YouTube for Schools is working with many famous teachers and more than 600 organizations, such as the Smithsonian and TED. And then select and curate the available and suitable content. Besides these functions and features, YouTube for Schools like most products of YouTube, it is free for teachers and students to use. And the most important thing is that YouTube for Schools is working hard to be a better educational tool.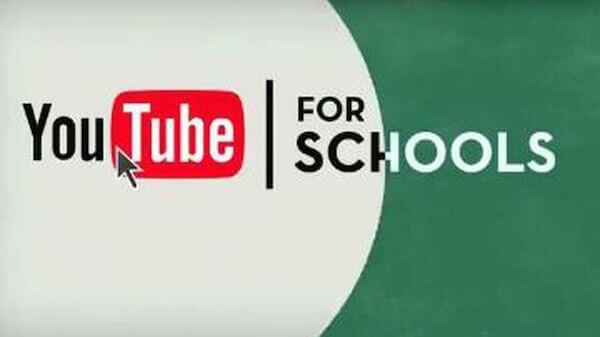 Part 2: The Best Video Converter
If you find some wonderful educational videos in YouTube for Schools and you want to save it on your own devices, you need a useful tool to help you. Here we recommend the best converter and downloader for you. Aiseesoft Video Converter Ultimate is a great program that you can use to convert your videos to other formats, download online videos, or edit your videos.
Convert your homemade DVD and all kinds of videos, including 4K videos, to GIF or other video and audio formats you like.
Download online videos in fast speed and excellent video quality. You can download online videos to your computer or other mobile devices.
Download HD and 4K online videos from many famous video websites so that you can enjoy your favorite videos anytime and anywhere as you like.
Moreover, you can enhance the video quality, brightness and remove video noise, as well as rotate and flip the video freely.
It also supports you add external audio track or multi-audio and subtitle to your video. To download this wonderful program, just go to the official website to download it. You can also free download to try this software first.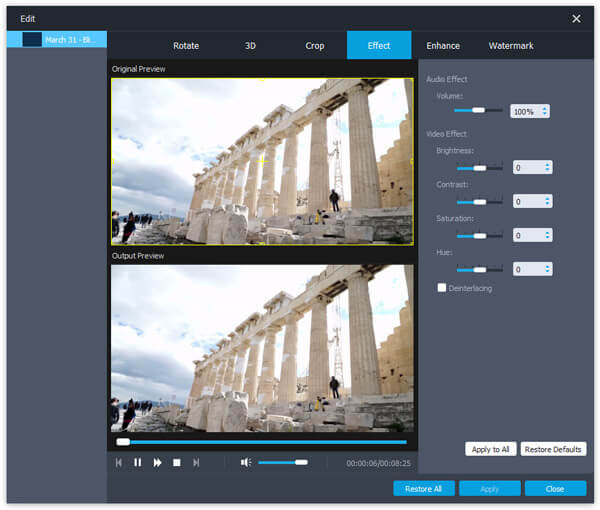 Part 3: 2 Wonderful YouTube Channels
#Teachers
Just like the name called, it is a special channel of teachers in YouTube website. Teachers in there can share and learn others teaching experience, as well as learn some new knowledge. When you open this website with your browser, you can see there are 7 options in navigation bar. For example, when you are in HOME page, you can see some videos and playlists it recommended to you. you can find your interesting videos in here or in VIDEOS option. If you want to search some playlist or channel, just click on them and do what you want to. If you are clear about what you want to find, you can search the video with the keyword. If you like this channel and want to access it easily next time, just subscribe it. It really is a wonderful channel for teachers to communicate and learn from each other.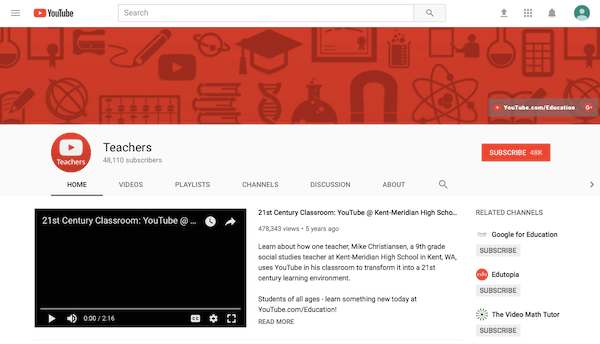 #Education
It is one of the online courses you can get some knowledge just like YouTube for Schools. When you are in the home page of this channel, you can see some Featured Videos recommended to you. There also have many different part you can choose, including Business, Languages, Primary & Secondary Education, Education, University, Social Sciences, Medicine, History and so on. You can choose the part you are interested in and find the videos in it. You can click on "Videos" button to watch some popular videos. If you like this channel and want to access it easily, you can click "SUBSCRIBE" to subscribe it. In a word, you can learn something helpful in this perfect channel.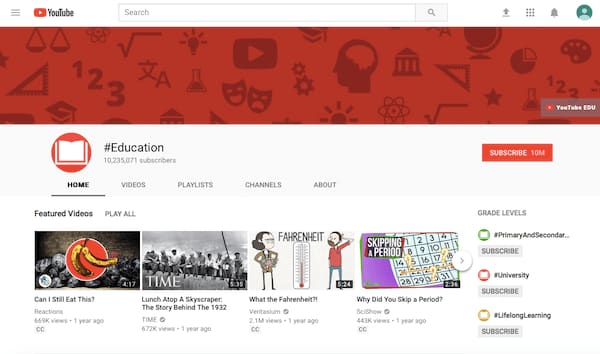 Part 4: The Best Screen Recording Software
If you want to record a video as an educational video and upload it to YouTube for Schools, you need a good screen recording software to help you do this thing. Screen Recorder is the best screen capture software we strongly recommend to you. With this professional software, you can record any video or audio with high quality in simple steps.
It can be said the easiest way to get the recorded almost all screen videos you want, such as online videos, games, podcast, webinars, lectures, presentations, webcam videos and so on.
If you want to record screen audio only, it enables you to record various music, radio or online audio instead of downloading them.
What's more, you can take screenshot for recording screen when you preview the recorded video.
Start and stop the capturing with the shortcut button only using your keyboard easily to get the desired results.
It supports you set the output format, video quality and frame rate before you start recording. It can be the best assistant when you want to record videos or audios.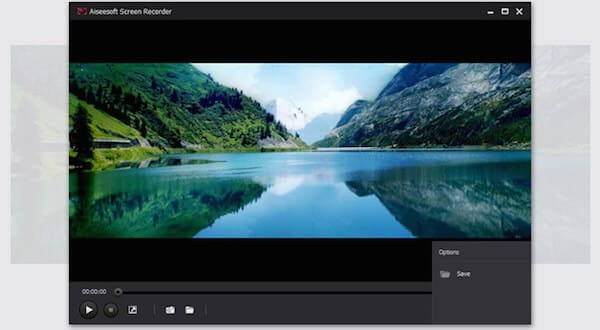 Conclusion
In this article, we introduce in detail what is YouTube for Schools for you. You can learn this wonderful tool clearly after reading this article. We also introduce two useful channels in YouTube to you. Both of them are helpful to education. If you want to download or converter some videos from YouTube for Schools, or record videos to upload to it, the two software we recommend to you can do lots help for you. Hope you can get something helpful in this article.