Top 6 YouTube Poop Videos & Two Ways to Download
YouTube Poop is usually abbreviated as YTP, which is a type of video collection created from the pre-existing media sources. YouTube Poop videos are often uploaded to the popular video website - YouTube to share with many people. And YouTube Poop can also be uploaded on other video sharing websites, such as Vidme, Newgrounds, or Dailymotion. If you want to save some of your favorite YouTube poop videos on your computer, maybe you can read this article. At first, we will recommend top 6 interesting YouTube poop videos, and in the second part, we will introduce two ways to help you download your favorite YouTube poop videos.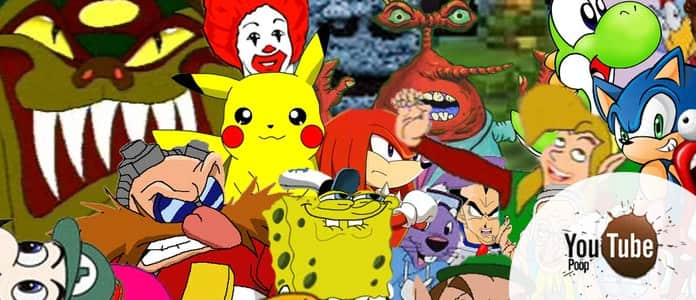 YouTube Poop
Part 1. Recommendations of top 6 YouTube poop videos
1. Spingeville
This is a Spingebill YouTube Poop. The publisher started on this YTP in early 2014, and finally got around to finishing it. Many of his viewers will recognize that this is the completed work of the "Preview" he uploaded. The primary reason of uploading this YouTube poop is that lack of sandy in the episode.
2. The fourth presidential debate
It is a speech of Hilary and Trump that they are competing for the president of United States. It is a selection of the whole speech, so this YouTube poop is only about three minutes. And the language of this video is French.
3. Spingebill and Skodwarde get Robophobia
This YouTube poop talks about Spingebill and his pet snail. He watches a horror film before sleeping. So after he falling asleep, he always has horrible nightmares during the whole night. When he get to work in daytime, there are a series of terrible things that happened.
4. Squidward and the Canned Bread Epidemic
It is the story about Spongebob and his friends. But this YouTube poop is edited, and there are some head portrait that appear on the head of Squidward and his friends.
5. Hot
The YouTube poop is only about two minutes. The girl and her grandmother living beside the sea. There are many coconut trees, so they often pick coconut from these threes. But one day her grandmother will be dead, the girl is going to live by herself.
6. Cold
It is the video clips of the YouTube poop. The publisher clip those interesting fragments and then merge these fragments in this video. So you can see there are many funny moments that can make you laugh during the whole progress you watching this video.
Part 2. Download YouTube poop videos with YouTube Video Downloader
Aiseesoft YouTube Video Downloader is a professional video downloader which can help you download many YouTube poop videos from YouTube or other popular video websites like Yahoo, Vimeo, Dailymotion, etc. In addition, this program can convert the YouTube poop video or any popular video to nearly 300 formats, such as MP3, WAV, AAC, AIFF, WMA, AVI, FLV, MKV, MOV, MP4, M4A, M4R, etc. Moreover, YouTube Video Downloader can allow you to edit the YouTube poop or other videos like rotate/crop/clip video, enhance video quality, adjust video effect, add watermark to video, etc.
Video Converter Ultimate
For Mac
Download online video or audio in any format easily, including YouTube old movies.
Convert video/audio to any popular video formats.
Advanced video/audio editing functions.
Step 1 Install YouTube Video Downloader
Click above downloading button to download YouTube Video Downloader and install it on your computer..
Step 2 Enter the URL of YouTube poop video
You need to go to the website of the YouTube poop to copy the link , and then get back to the program, click "Download" button and then enter the link.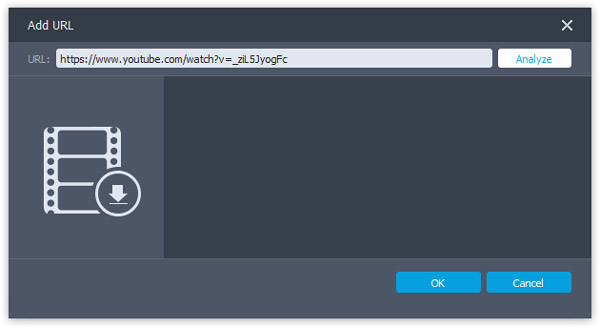 Step 3 Analyze the YouTube poop video
Click "Analyze" to start analyzing the YouTube poop video. And you can also select the resolution according to your need.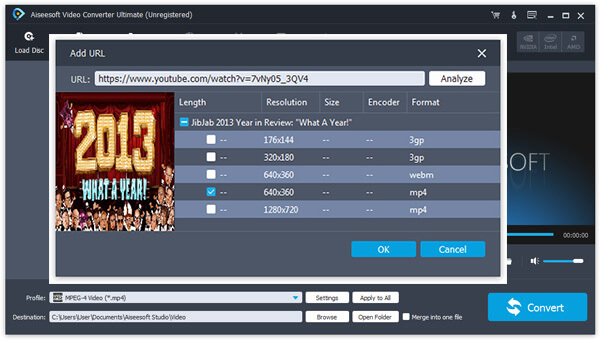 Step 4 Start to download the YouTube poop video
After finishing all the settings, you can click "OK" to start downloading the YouTube poop video.
Watch the video below to learn how to use this program:
Part 3. Save YouTube poop with Screen Recorder
Apart from YouTube Video Downloader, you can also choose Screen Recorder to record your favorite YouTube poop on your computer. If the YouTube poop can not be downloaded by YouTube Video Downloader, Screen Recorder may be another good choice. Screen Recorder is a professional video/audio recorder, and the quality of the recorded video is usually great. You can follow the detailed steps below to learn how to use this program.
Step 1 Install Screen Recorder
Click above downloading button to install Screen Recorder on your computer, and launch it by double clicks. Then click "Screen Recorder".

Step 2 Select the recording area
You can select the recording area according to your own needs. You are able to customize the recording area or select full screen.

Step 3 Start to record the YouTube poop
After setting the recording area, click "REC" to start record the YouTube poop. And then you can play the video as normal.
Below video will show you how to use Screen Recorder:
This article mainly shows you something about YouTube poop. In the first part, we list top 6 YouTube poop videos, and you may find your favorite YouTube poop videos among the 6 videos we recommend. In the second part, we introduce a useful video downloader tool - YouTube Video Downloader, and this program can help you download any popular video you like. And in the third part, we introduce another way to record YouTube poop. You can use Screen Recorder to record the whole YouTube poop video with high quality.