Everything You Need to Know about YouTube Red
Google has announced YouTube Red, a new service that will allow you to access its content ADs-free and offline on a subscription basis. It is a paid streaming subscription service exclusively for YouTube in the United States, Australia, Mexico, New Zealand and South Korea. If you are eager to watch videos without YouTube ads, then this service can do you a great favor. Meanwhile, apart from YouTube Red, you can find more alternatives from this article. Just learn more detailed information from the article.

YouTube Red
Part 1. What is YouTube Red
YouTube Red is a monthly subscription service that removes the ads from YouTube videos and allows you to download them for offline watching. YouTube describes it as "the ultimate YouTube experience". It provides advertising-free streaming of all videos hosted by YouTube, offline play and background playback of videos on mobile devices, and access to advertising-free music streaming through Google Play Music. With the same Google account, any equipment can use YouTube Red subscription service. That means you can enjoy the benefits on a PC, laptop, phone or tablet, and using the upcoming YouTube Gaming, YouTube Music and YouTube Kids apps.
The service was originally launched in November 2014 as Music Key, offering only ad-free streaming of music and music videos from participating labels on YouTube and Google Play Music. The service was then revised and re-launched as YouTube Red on October 31, 2015, expanding its scope to offer ad-free access to all YouTube videos, as opposed to just music.
In addition to ad-free streaming media video, YouTube Red has also been involved in the main network and YouTube celebrities to offer "YouTube Red Originals", movies and shows exclusive only to YouTube Red members. Access to this content is included with a YouTube Red subscription, but individual episodes and movies can be purchased through YouTube or Google Play Movies & TV in certain countries where subscriptions are not yet available.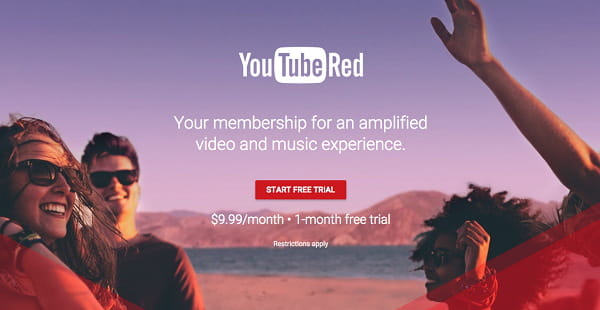 Part 2. Why Should You Use YouTube Red
Someone may ask: "YouTube is already free; why should I pay $9.99 per month for YouTube Red?" After you read the following reasons for why you should use YouTube Red, you will happily pay for it without complaint.
1. YouTube is so much better without the ads.
YouTube Red is just like a super-channel that provides an amazingly wide variety of content on your schedule and offers you incredibly well targeted recommendation. Most importantly, YouTube Red allows you to watch all the YouTube content you want, without ever seeing a single YouTube ad. This means no ads across all YouTube app, including the ones for your Smart TV, set-top box and smartphone. And without ads, YouTube sings with the strength of the greatest choir ever. You click on videos and they start. No pauses, no interruptions. Just the videos you want.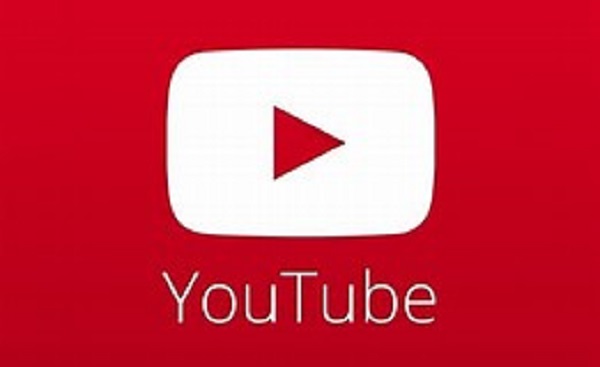 2. It allows you to save videos for offline viewing.
Saving for offline is the best way for you to watch videos when you don't have an unlimited data plan or use a commute that sends you on paths without cell reception. With YouTube Red, you get a download icon below every video that you can tap to save the clip for later. You can also save the video versions of your favorite podcasts at home so you won't be limited to audio versions.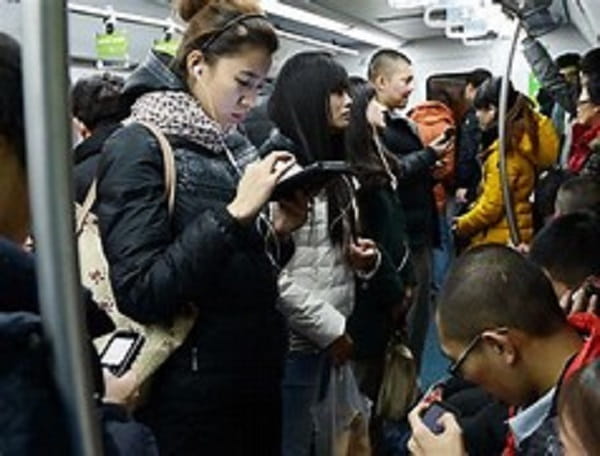 3. It allows you to get Google Play Music for free too.
You can also get YouTube Red through your existing subscription to Google Play Music (also $9.99 per month), which is the least-buzzed-about Spotify competitor.
The Google Play Music library offers just as many songs as Spotify, and it includes a cloud locker service, so you can access your treasures anywhere, with up to 50,000 uploads.
4. You can flip between apps without worry.
When you are using only your smartphone, the odds always favor a notification popping up on your device that pulls you into your email, your Twitter mentions or your texts. Without YouTube Red, videos stop playing whenever you switch into a different app.
5. It's the exclusive home for popular YouTuber original content.
PewDiePie, Lilly Singh and Rooster Teeth and more artists produce original content that is exclusive to the paid tier of YouTube, which means you're not getting all of the laughs, surprises and action from these creators as possible. But if you subscribe to YouTube Red, you will have access to getting all of these!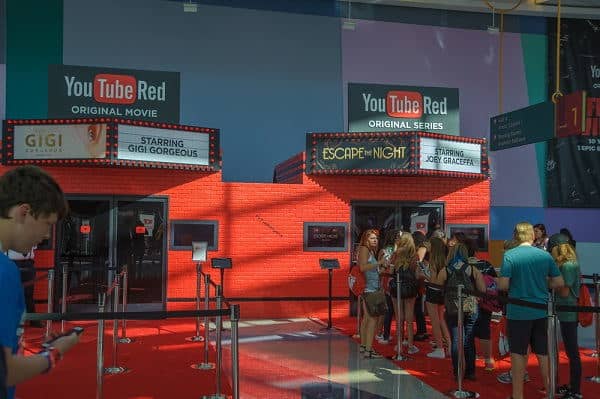 Part 3. How to Download YouTube Videos without YouTube Red
YouTube Red is such a good streaming service. But you should pay the subscription charge monthly, otherwise you cannot get the service. Except that, if you are out of its service area, you cannot enjoy such services at all, either. What should you do if you want to enjoy all the music files without subscribing YouTube Red? In this case, YouTube Red Alternatives should be the best alternative for you.
How to Download YouTube via Aiseesoft Video Converter Ultimate?
Aiseesoft Video Converter Ultimate is a great YouTube Red alternative, which can not only fast download YouTube videos, but also convert the videos to the formats you like. Thus, you are able to search videos from YouTube and other sites freely, play online videos smoothly, and download videos promptly. In order to download YouTube videos for offline enjoyment, you can download Aiseesoft Video Converter Ultimate at first. And here comes the guide in detail as YouTube Red Alternative. Just read the steps carefully.
Step 1 Launch Aiseesoft Video Converter Ultimate
Click the download button above to download and install the powerful YouTube video downloader. Then start it on your PC/Mac.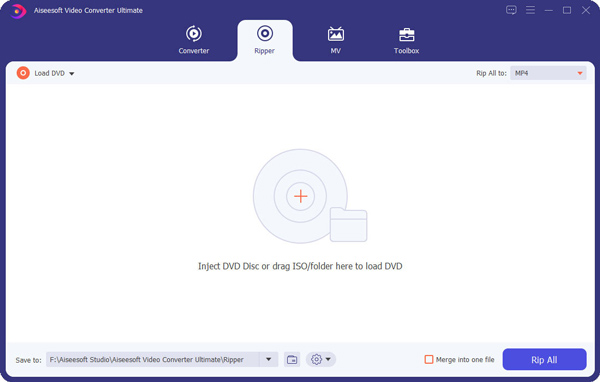 Step 2 Paste the URL of YouTube
Open YouTube, find the YouTube video you want to download, and copy its video address. Go back to the YouTube video downloader tool, and click "Download" at the top. The URL of YouTube will be automatically pasted into the URL box.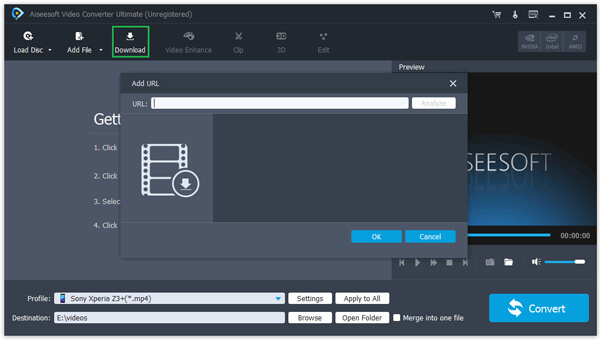 Step 3 Download YouTube Videos
Click "Analyze" to view the YouTube video, and then select the suitable resolution you like to download. Click "OK" to start to download YouTube video to MP4/MOV/AVI/MP3 or iPhone/iPad/Android based on your need.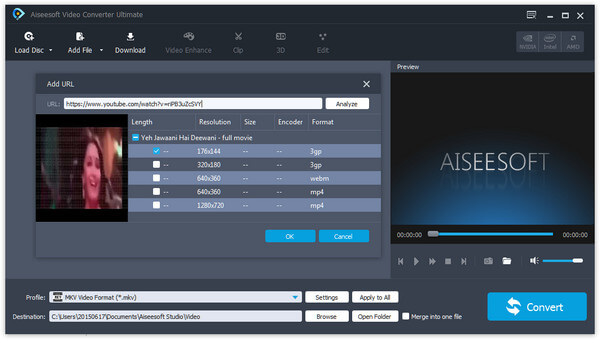 Conclusion
When you need to remove YouTube ads, subscribe YouTube Red should be a nice solution. Just find what is YouTube Red and the reason you should use the service. If you want to find an alternative method, you can try Aiseesoft Video Converter Ultimate, which is able to download YouTube offline without any Advertisement.