YouTube Rewind: How to Download Top Tending Videos
YouTube rewind mainly collects the videos in the past years. You can find many classic videos in YouTube rewind like the top trending video of 2016. When you get into the YouTube rewind, you can see the top 5 trending videos of 2016 - Adele Carpool Karaoke, Pen-Pineapple-Apple-Pen, What's inside a Rattlesnake Rattle, Grace VanderWaal, Water Bottle Flip Edition. Most time you can watch the videos on YouTube, but sometimes when you want to watch these videos on your devices/laptop, you may need to download the video first.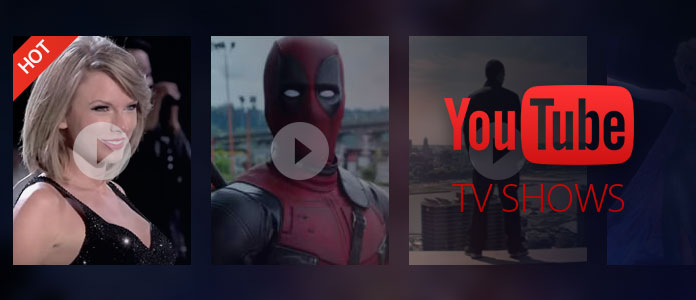 Part 1: Recommendations of trending videos in 2015/2014/2013
1. YouTube Rewind: Now Watch Me 2015
This is a musical video which mainly look back the dances in the past years from 1925 to 2015. In this movie, you can see many people who come from different places dance and sing together. YouTube Rewind 2015 mainly celebrate the videos, music, people and music that made in 2015.
2. Silento - Watch Me
Silento - Watch Me is a dancing video in which the main performer is a little girls. There are two places which are their mainly performance venue. When they are dancing in the street, many people people watch their performance beside them.
3. Wiz Khalifa - See You Again
Have you ever heard the song "See You Again"? I believe that most people are not strange of this song, because it is a very popular song around the world. This is the video of this song. The song matches the scene may recall some of your memories.
4. YouTube Rewind: Turn Down for 2014
YouTube rewind 2014 mainly celebrate the memes, moments and people that made 2014. The technique of expression is very novel, because there are many scene you cannot image before. If you are interested of this video, please watch below video.
5. YouTube Rewind: What Does 2013 Say?
What dose 2013 say? The video was made to celebrate the things in 2013. In this video, they invited some YouTubers to star in a mashup of popular moments this year. When watching this video, you are able to review the important things in 2013.
Part 2: Two ways to download YouTube rewind videos
Method 1: Download YouTube rewind videos with YouTube Video Downloader
Aiseesoft YouTube Video Downloader is a professional video downloader which can help you download YouTube rewind videos with high quality and fast speed. With this video downloader, you can not only download YouTube rewind videos, but also convert the downloaded video to any popular format as you like.
Step 1 Download YouTube Video Downloader
You can click above downloading button to install YouTube Video Downloader on your computer, and then open and launch it for use later.
Step 2 Enter the URL
After installing the downloader, you can get into the website of the video you want to download, copying the link of the video. And then, get back to the program, click "Download" to import the link of the the video you just copied.
Step 3 Analyze the video
When you enter the link of the video, click "Analyze" to start analyze the video to see if the program can support this video. You can also select the resolution of the downloading video as you like.
Step 4 Start to download the video
Click "OK" to start to download the video on your computer. You just need to wait a few minutes, and then you will finish downloading the video on your computer.
Method 2: Save YouTube rewind videos with Screen Recorder
Although YouTube Video Downloader can support many videos, there are still some videos cannot be supported. So if you cannot download the video with video downloader, maybe you can use screen recorder to record the whole video with high quality.
Aiseesoft Screen Recorder
The best video recording tool to record streaming audio and video on Windows computer.
Record streaming video, online video, microphone voice freely.
Record all kinds of video calls with high quality.
Advanced settings for video recording.
Step 1 Download and install Screen Recorder
After downloading Screen Recorder on your computer, open and launch it with double clicks and then click "Screen Recorder".
Step 2 Select recording area
You are able to customize the recording area, and you can choose the full screen or custom the recording area according to your own needs.
Step 3 Start to record the video
After selecting record area, you can click "REC" to start record the video. Just play the YouTube rewind video normally. When the video was over, click "Stop" to finish the recording. Finally, click "Save" to download the this video on your computer.
In this article, we mainly talk about YouTube rewind. We introduce you with 5 great YouTube rewind videos. In addition, two YouTube video downloading ways are provided to help you save the videos you like. If you have any better ideas, you can leave us a message.