2019 Top 10 YouTube Slideshow Makers (Free & Paid)
Watching YouTube videos may be one of our daily fun. And many people also would like to make some videos/slideshows and upload to YouTube by themselves. Some time ago, we can edit video or make photo slideshows in YouTube directly. But since YouTube retired the 2 functions in September 2017, we have to recourse to external software to make YouTube slideshows and get them uploaded. It's obvious that there are various YouTube slideshow makers in the market. As long as you Google "YouTube slideshow maker" online, you can easily find so many recommendations. But which is the best one for you? This review will tell you the answer.

Part 1. Best Free YouTube Slideshow Maker
1. Aiseesoft Slideshow Maker
Aiseesoft Slideshow Maker is the best free YouTube slideshow maker with powerful functions. You can add both local and online videos, photos, music to you slideshow. There are various themes available for you to choose such as Fashion, Happy, Sport, Travel, Business, Festival, Wedding, and Old Times. There are also simple editing functions available. You are able to preview the slideshow before saving it.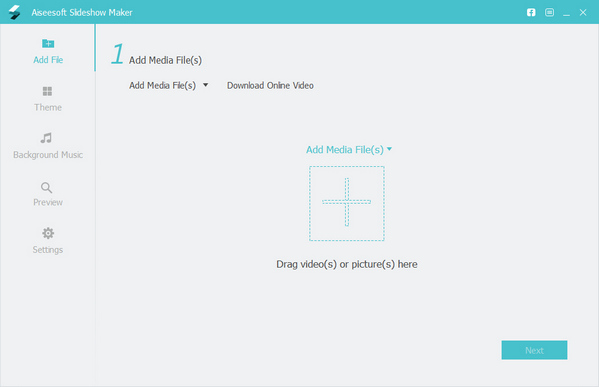 Pros:
1. This YouTube slideshow creator is totally free and easy-to-use.
2. Support all video formats(MTS, M2TS, TS, TRP, TP, MPG, MEPG2, VOB, DAT, MP4, M4V, RM, RMVB, WMV, ASF, DVR-MS, AVI, 3GP, 3G2, FLV, NSV, SWF, F4V, MPV, MOD, TOD, QT, MOV, DIF, DV, MJPG, MJPEG and WEBM)
3. This YouTube slideshow maker enables you to download online video from YouTube, Metacafe, Vimeo, Yahoo, CBS, Facebook, TED, youku, etc. directly. You just need to click the "Download Online Video" button to enter URL and download any video online.
4. Support almost all image formats including BMP, JPG, JPEG, PNG, TIF, TIFF, ICO, DIB, JFIF, EMF and GIF.
5. There are various themes available for you. You can choose a suitable one according to your video style.
6. Various output video formats such as MP4, AVI, ASF, MOV, MKV, WMV, VOB, M4V, etc. are available. What's more, the video resolution could be adjusted high to 1080 HD, which ensures the high quality of your slideshow.
Con:
Since it's a completely free YouTube slideshow maker, its editing function is not so powerful. But all the functions available can meet with most users' demand more than enough.
Here's the video about making slideshows for you. Have a look!
2. Freemake Video Converter
If you need to make a slideshow with pictures and music fast, Freemake Video Converter is a user-friendly tool for novices. You can easily make a video collage from your photos and music in a couple of steps. With this YouTube slideshow maker, you are able to watch the ready slideshow with effects on your smartphone, tablet, TV, or you can also upload it to YouTube or other online sites. All popular image and audio formats are supported by this Freemake Video Converter.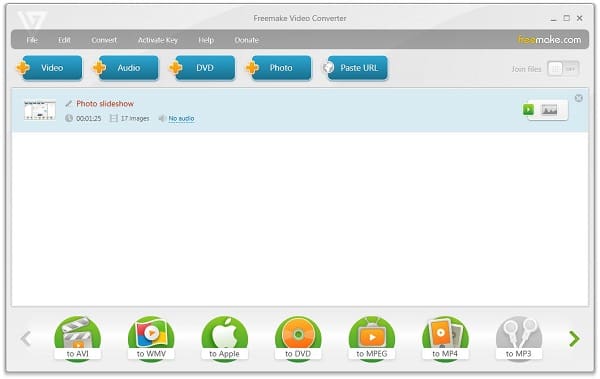 Pros:
1. Absolutely free and no need to sign up.
2. Various output formats available.
3. The ready slideshows can be transferred to DVDs directly.
4. You are allowed to upload slideshows to YouTube with this YouTube slideshow creator.
Cons:
1. Cannot support Mac version.
2. You have no access to ready templates.
3. It only offers one effect, no editing functions available.
Part 2. Best YouTube Slideshow Creators – Desktop Software
Windows version
1. Aiseesoft Slideshow Creator
Aiseesoft Slideshow Creator is the upgraded version of Aiseesoft Slideshow Maker. Since it's a paid version, its functions are more powerful than the free version. There are more effects available, such as Themes, Text, Transitions, Filters and Elements. You can choose the most suitable one according to your video style. What's more, you are allowed to customize your own video with its various editing features. You can not only edit your photos, but also videos with this amazing YouTube slideshow editor.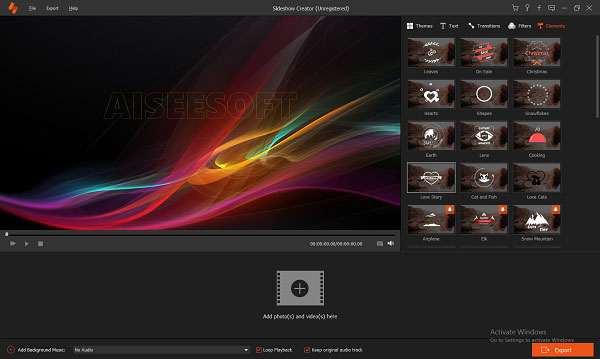 Pros:
1. It supports all popular video formats.
2. Powerful photo and video editing functions(Up to 14 kinds of editing features).
3. You are also able to set special effects for your slideshow and enjoy real-time preview to change the appropriate effects timely.
4. Plenty of output formats are available. You can choose the proper format according to the device on which you plan to watch the slideshow.
In a word, on the basis of keeping all the functions of free Aiseesoft Slideshow Maker, Aiseesoft Slideshow Creator has more online effects and the most powerful editing functions. All the features you need to make a customized slideshow can be found in this amazing YouTube slideshow creator.
Con:
Free to use part of effects, but if you want to experience the complete functions, you need to purchase it.
2. MAGIX Photostory Deluxe
MAGIX Photostory Deluxe offers all the basic slideshow features necessary to make a beautiful slideshow. The biggest highlight of this YouTube slideshow maker is its super abundant effects. With over 300 transition effects and more than 370 backgrounds and filters, Photostory Deluxe offers everything you need to create a truly unique slideshow.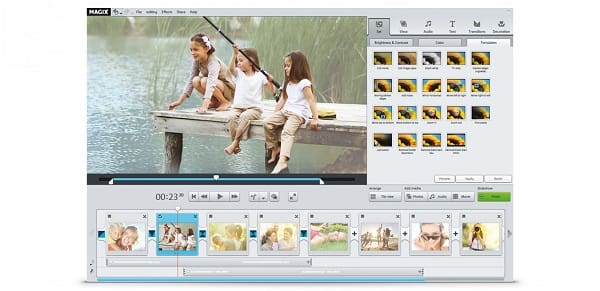 Pros:
1. Voice recordings and music tracks can be played at the same time.
2. It should be the only YouTube slideshow with the most effects.
3. Advanced photo editing tools are available.
Cons:
1. It's not compatible with Mac.
2. The high price of this slideshow maker may be daunting to most users.
3. If you need phone support when you meet with difficulty in using this software, you will be charged extra money.
Mac version
1. PhotoStage Slideshow Software
PhotoStage Slideshow Software enables you to easily combine pictures, video clips, music and narration and make them into a multimedia slideshow. You can burn the slideshow to DVD, share it online or save for other portable devices with this YouTube slideshow maker.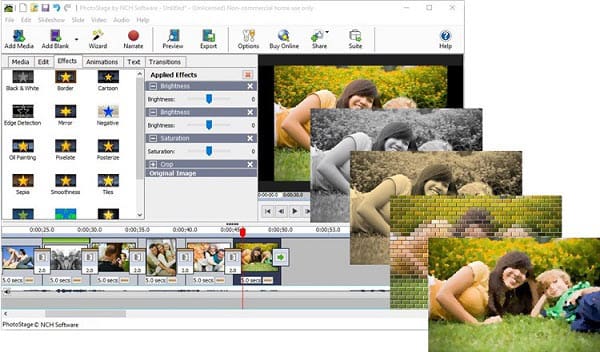 Pros:
1. Easy to use. You are allowed to drag and drop images conveniently to arrange the slides.
2. It contains most of the basic tools a best photo slideshow creator should have, such as timing controls that allow you to choose how long each slide is displayed.
3. It offers a variety of input and output options as well as editing tools for images and music.
4. You are able to burn the slideshow to DVD or upload it to YouTube or other online sites easily.
Cons:
1. This photo slideshow creator doesn't support text animations. So you cannot use it to create animated, dynamic text captions and slideshow backgrounds. If you just want to make a simple slideshow without other functions, this would be a great choice.
2. This slideshow creator is a little old, so it may take seconds to process your operations, but they'll turn out to be well once they've been applied.
3. You need to buy technical support plans to access email support.
2. iMovie
iMovie is video editing software which is especially designed for Mac and iOS users. With it, you can enjoy your videos like never before. If you are a Mac user, you should be very familiar with this software. Even if you don't use Macs, you've at least heard of it more or less. Professional editor may turn their nose up at iMovie, it's still a good free choice for most Mac users who have the need to make YouTube slideshows.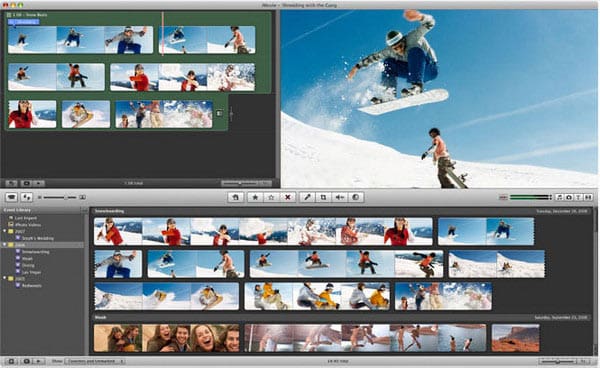 Pros:
1. iMovie is friendly to every Mac user. Even if you have none experience on editing video, you still can use this YouTube slideshow creator without problem.
2. Basic editing functions available, such as video/audio enhancement, noise reduction, color balance, cropping, equalizer, stabilization, etc.
3. It allows you to share the slideshow to YouTube, facebook, email iMovie Theater or other options.
Cons:
1. iMovie only supports exporting files in .MOV format. It would be inconvenient for you to share your slideshows or watch them in different devices.
2. All the editing functions and effects are the most basic, if you have high requirement on your slideshow, iMovie may not be the best choice.
Part 3. Best Slideshow Makers - For Android
1. PIXGRAM – Music Photo Slideshow
Pixgram is one of the best slideshow maker apps with which you can easily customize your video and photo slideshow with music. It is equipped with impressive background effects and editing tools.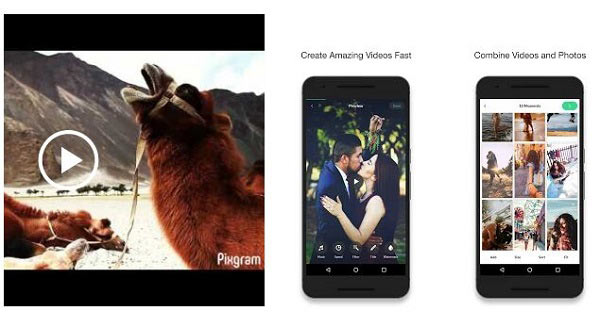 Pros:
1. You can add you favorite photos, videos and music to this slideshow creator easily. What's more, Pixgram can discover kinds of online music.
2. Available for free.
3. Various effects available.
Con:
Only basic editing feature are offered.
2. Photo Slideshow Maker
The magic of a picture is that you can freeze a memorable moment in time. What if you can make a slideshow with several photos along with your favorite music? With this Photo Slideshow Maker, you can watch your favorite pictures drop one by one with stunning animation. This photo slideshow creator offers numerous of photo effects, filters, and frames, so you can create great clips from your photo gallery.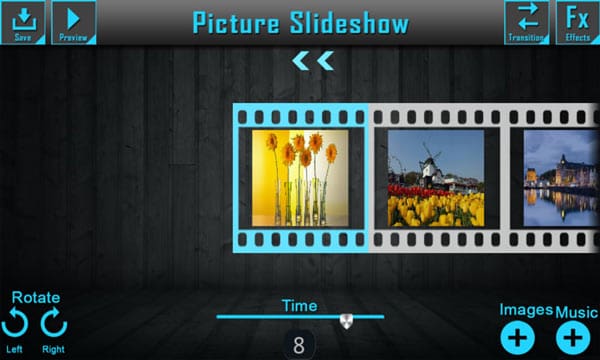 Pros:
1. This photo slideshow maker is the fastest and smallest app for making slideshows on Android phone.
2. You are able to add photos from different folders.
3. Option to add a soundtrack from your music library available.
4. Easily to edit photos effects.
Cons:
1. It's inconvenient to share the slideshow after it's made.
2. The picture quality cannot be ensured because of level chosen.
3. Only basic editing tool available.
Part 4. Best Slideshow Maker APPs - for iOS [iPhone & iPad]
1. PicPlayPost
PicPlayPost enables you to customize your photos with certain aspect ratios, sizes and frame colors etc. The advanced filters and frames are its outstanding features, so that highly interactive and eye catching slideshows can be made with it.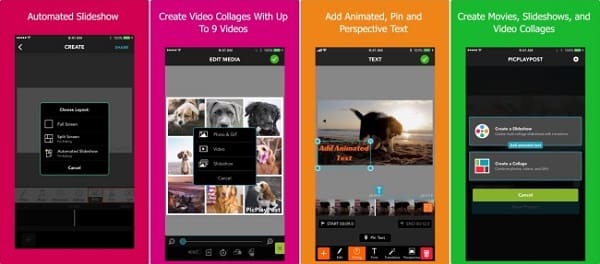 Pros:
1. It offers both photo and video integration facility.
2. Sequential as well as simultaneous playback are allowed along with plenty of unique features.
Con:
There is no iCloud support for saving or transferring projects between devices. So it's inconvenient to share your sideshows.
2. PicFlow
PicFlow allows you to combines photos and music into a slideshow quickly and easily. Once the photos are imported, you can tap and drag them into their proper order. It also enables you to dictate the timing of each photo you upload.
Pros:
1. You are allowed to add music from iPod by using this YouTube slideshow maker.
2. Editing features and various effects such as transitions are available.
3. Easy to set the timing of each uploaded photo.
4. You can export the ready slideshow to camera roll or share on Facebook or Instagram at your will.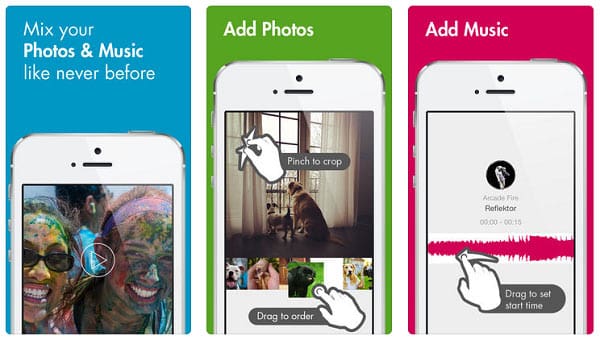 Cons:
1. There will be a watermark and ships with a default cross-fade transition in the free version. If you want to remove the watermark or use other transitions, you need to purchase those features in app store to unlock them.
2. Video codec limited to 30FPS
There are many good choices of YouTube slideshow makers for you. If you want to pick a totally free one, Aiseesoft Slideshow Maker can be a good option. If you want to buy a professional and powerful YouTube slideshow maker, Aiseesoft Slideshow Creator and MAGIX Photostory Deluxe can be the top choices. While the price of MAGIX Photostory Deluxe is a little high, it deserves a consideration to decide which to buy. You are recommended to try both of them before making a decision. There will be more and better photo slideshow app for Android and iOS systems coming to life, if you have better choices, please feel free to leave a comment below.