How to Tag Properly on YouTube
As we all know, YouTube is not merely a platform for watching videos but also a website for uploading, downloading and sharing them. However, how can we receive more number of views after we upload our videos? And how can we get more videos that fit our tastes? There is no doubt that we should make proper YouTube tags, which may vary from contents to types.
YouTube is not so powerful to read all the content of every video, therefore, putting YouTube tags helps it classify these videos and even organizes them in video suggestions or keyword search results. These YouTube tags generators are going to help you have a better grasp of putting YouTube tags.

YouTube Tags
Part 1. Best 5 YouTube Tag Generators
It's crucial to put proper YouTube tags on your videos so as to attract more views even be in higher ranking. However, for every YouTube publisher, it must be a time-consuming and tedious task when it comes to make YouTube tags. Because you need to sort out those tags, which are relevant to your videos. But under the help of some useful YouTube tags generator, you will find it much easier to tag for YouTube videos. Not all the YouTube tags generators are beneficial, so here is a list of 5 reliable YouTube tags generators for recommendation. They are all available on the Internet. Follow one by one the respective introductions for 5 generators given below and find the one that suits you best.
1. Keyword Keg
Keyword Keg, one of the most widely used YouTube tags generators among Youtubers, offers a wide range of high-quality searched keywords. Keyword Keg offers long tail keywords to tag your videos and shows its excellency and convenience while analyzing all these keywords according to their relevance, trends, and so on.
Main features:
1. Provide users with vital data: such as CPC SEO difficulty, the number of searches per month, etc. Users can resort to these important data and make full use of them while making YouTube tags;
2. Sign up for better user experience: you can only see at most 5 results which is relevant to your input keyword;
3. Straightforward interface design makes easy search a reality;
4. Charge for $8 per month.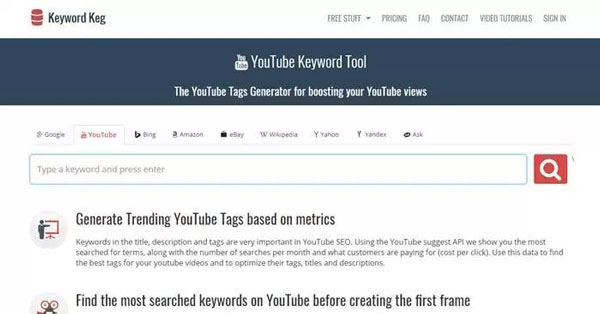 2. Rapid Tags
Craving for a handy YouTube tags generator? Rapid Tags can be one of the best choice for you with its fast speed, convenient operation and brief UI design. Compared with most of the YouTube tag generators, Rapid Tags not only just provides a variety of rough keywords for you to choose, but also offers you tags that is exact and useful enough.
Main features:
1. User-friendly: help you initiate a search based on language filters;
2. Succinct interface: the essence part of Rapid Tags, making YouTube tags is designed on the middle of the page. You can easily find the column and there is even not need to sign up for further operations;
3. Clear format: you can get exactly what you want by using Rapid Tags - the exactly identical format for YouTube tags, as same as those appear in YouTube tags section;
4. Rapid operation: with just a few clicks you can simply copy these YouTube tags to paste them under you videos.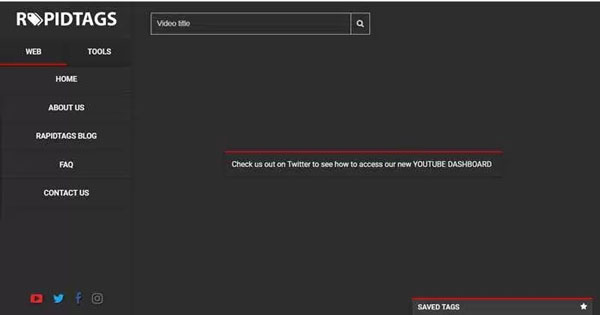 3. Keyword Tool
Next, we would like to introduce an impressive YouTube tags tool, Keyword Tool. As its name indicates, this is a well-designed generator for Keyword research. You can search out hundreds of keywords via Keyword Tool within seconds.
Main features:
1. Definitely easy to use;
2. It's free for charge and any sign-up;
3. Fully utilize YouTube Auto-suggest option;
4. Rapid searching speed: any keyword search can be easily done all in seconds;
5. Provide the selection for a variety of countries and languages for more detailed and exact YouTube tags.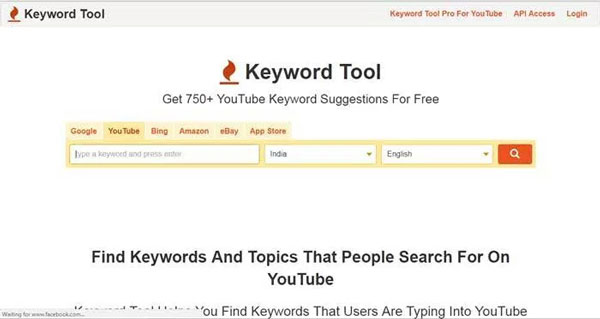 4. Content Forest
Content Forest is a keyword generator that would never let you down in generating YouTube tags. With neat interface, convenient operations, wide ranges of search results, Content Forest enjoys a great popularity among Youtubers, bloggers and Internet merchants.
This website offers a search filter and you can set the options as you like. You can even set your wanted keyword type, such as top 5s, how to or A-Z all types of keywords and so on.
Main features:
1. Excellent search options;
2. Much more specific results: It shows very detailed results, and most of them are most widely used keywords.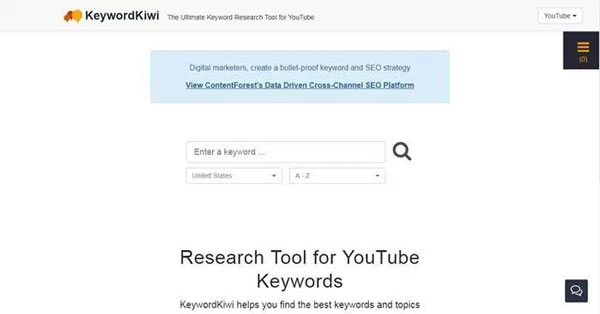 5. Better Way to Web
Better Way to Web is the last one we want to recommend as an amazing YouTube tags generator available on the Internet. You can check detailed and relevant tags by searching specific keywords or using URLs. It can even enable you to see the tags used by other competitors in just few clicks.
Rely on this marvelous tool, you can not only optimize YouTube tags with putting the most relevant and detailed tags, but also know what tags other competitor used which helps you make full use of YouTube tags.
Main features:
1. Few clicks to check your competitors' tags;
2. Optimize YouTube tags by getting the best results;
3. Very fast response.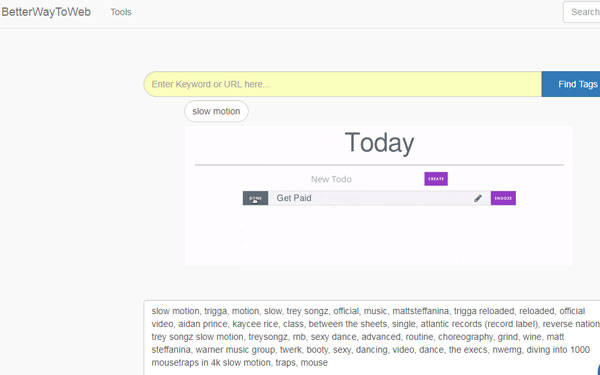 6. Video Converter Ultimate
What should we do if we want to download some YouTube videos that their YouTube tags interest us? Video Converter Ultimate is one of the best choice for you to download any videos on YouTube. Featured with neat interface, fast response, colorful functions, easy operations, Video Converter Ultimate finds its position in the best video converters and enjoy a house whole name.
Main features:
1. Simple clicks to enhance the quality of your videos;
2. Help stabilize vague or shaking videos;
3. DIY an external subtitle for the videos as you like;
4. Various tracks is well-supported: external audio track, multi-audio track, etc. are all available;
5. Simply download online videos with high quality remaining.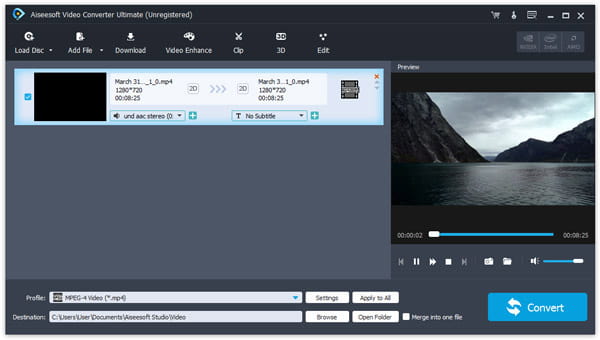 Part 2. How to Tag Properly on YouTube
1. Locate your audience
First of all, the most important thing you need to know is what audience your videos want to attract? Then with the obvious answers in mind, list relevant tag types you need and then do the search of YouTube tags.
2. Do research and analyze competitors
You can choose a reliable YouTube tags generating tool available online from above 5. Use some key tags that can describe the core of your video, and use the tool to generate more. Meanwhile, don't forget to check your competitors' tags, learn from them and upgrade your own YouTube tags.
3. Make specific tags
If you upload a video about game, don't just tag it "game". Instead, you should make your YouTube tags specific by using more specific keywords, which are proper for the content of your video. It is worth mentioning that YouTube will provide you with a long list of suggested words and phrases when you are typing words. Make full use of this wonderful function to help specify the tags.
4. Experiment and optimize YouTube tags
After all the steps above are done, all you need to do is to test the difference and relationship between videos and tags. You can vary the tags' by its length, types and amounts. Keep abreast with the latest trend to make your tags more attractive. Once you find an interesting way of making YouTube tags, do not be afraid of adopting them. Moreover, if you have difficulty in tagging, try to optimize your tags instead of being frustrated.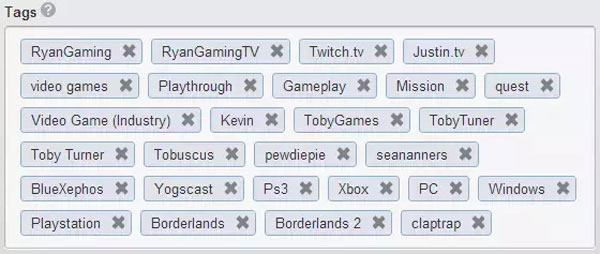 Conclusion
When you want to attract your audience, you have to take advantage of YouTube tags. The article also lists multiple tag makers and the proper ways to post the tags for YouTube. If you have any query about the topic, you can feel free to inform more detailed information in the article.