How to Record Your Favorite YouTube Videos without Quality Loss
When we talk about video stream, YouTube is the most popular platform around the world no matter among adults or young people. It makes sense when considering the huge collection of the video contents. However, more and more YouTube videos do not provide the download option. Everyone who wants to watch videos must have good internet connectivity. That is why this article tells you how to record YouTube videos, helping you to view any YouTube videos offline.
Part 1: Best Way to Record YouTube Videos
When recording YouTube videos on PC, the output quality is the biggest concern. So, you need a powerful video recorder, such as Aiseesoft Screen Recorder, to perform the task.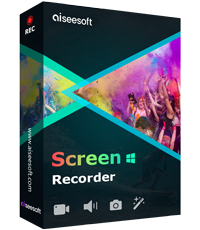 Downloads
Aiseesoft Screen Recorder – Best YouTube Video Recorder
Record any video on YouTube, Vimeo, Netflix, etc.
Optimize video and audio quality automatically.
Support multiple recording sources, like webcam and microphone.
Take schedules and capture YouTube live stream spontaneously.
In short, it is the best choice to record YouTube videos on PC and Mac for watching offline.
How to Record a YouTube Video on PC
Step 1: Install YouTube recorder
The best YouTube video recorder offers two versions, one for Windows 10/8/7 and the other for Mac OS X. Launch the video recorder after you install it on your PC. Choose
Video Recorder
option to go to the main interface. If you want to record YouTube videos in audio file, select
Audio Recorder
instead.

Step 2: interface
There are four sections in the main interface,
Display
,
Webcam
,
System Sound
and
Microphone
, that help you to perform various tasks. To record a YouTube video, turn on
Display
and
System Sound
while disable
Webcam
and
Microphone
. Then set the recording region in the
Display
section based on the video. Play the desired video in the web browser and click the
REC
button to begin recording it.
Tip: If you want to record YouTube live stream automatically, click Take Schedule and set the options based on the event.

Step 3: Preview and download YouTube video
Wait for the video to finish and click the
Stop
button. Then you will be presented the preview window. Check the video with the built-in media player and hit the
Save
button to export the YouTube video recording to your hard drive. The
Clip
tool in the preview window helps you to remove unwanted frames.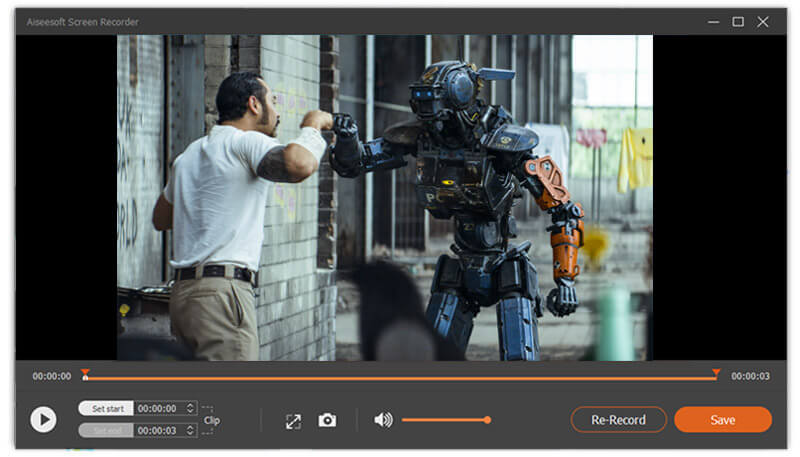 Note: Advanced users can click the Settings button with a gear icon in the main interface to open the Preferences dialog. Here you can change output format, destination, set hotkeys and other options.
Part 2: How to Record YouTube Video Online
Sometimes, you just want to record a YouTube video occasionally. The most convenient way is an online video recorder app. The problem is that most web apps have some limit, like length, quality, etc. Aiseesoft Free Online Screen Recorder can meet your need.
Aiseesoft Free Online Screen Recorder – Best YouTube Video Recorder Online
Record YouTube videos without installing anything.
Totally free to use.
No watermark or length limit.
Record video with high quality.
How to Record a YouTube Video Online
Step 1:
When you discover a YouTube video that you want to record in your browser, create a new tab and visit https://www.aiseesoft.com/free-online-screen-recorder/. Press the
Start Recording
button and follow the onscreen instructions to download the launcher.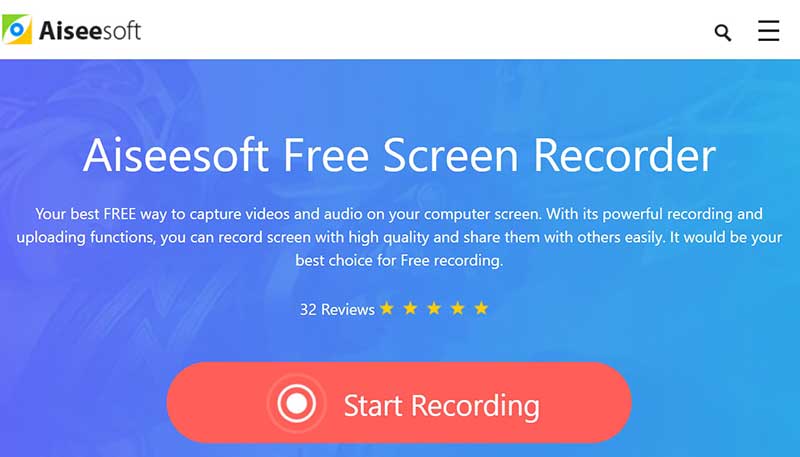 Step 2:
Expand the
Recording area
option and select the recording area according to the YouTube video. Enable
Speaker
and adjust the volume until you are satisfied. Keep
Camera
and
Microphone
disabled. Next, click the
Settings
button to open the
Settings
dialog. Click the
Folder
icon and set the
Location of output files
. You can also change the video format, quality and other options on the popup dialog.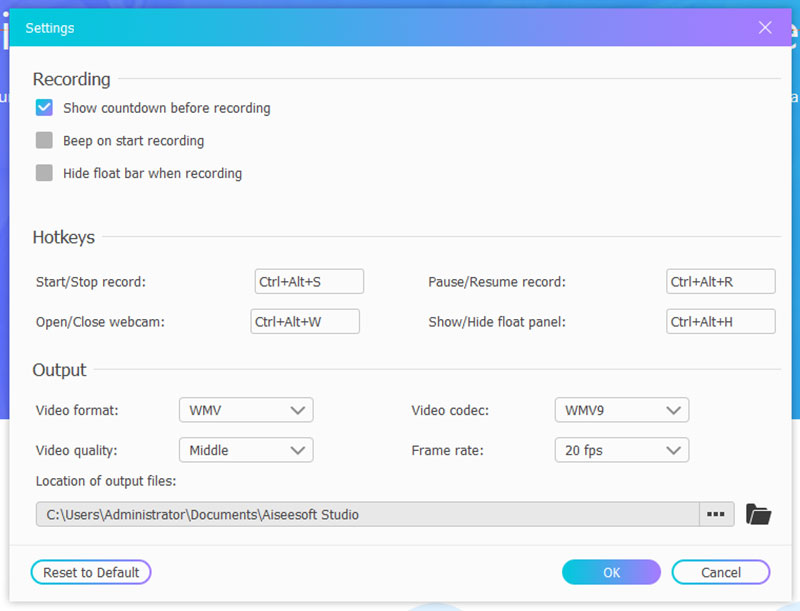 Step 3:
Play the YouTube video and hit the
REC
button to initiate it. Whenever you want to stop recording, click the
Stop
button. The YouTube video recording will be saved to your computer immediately.

Apart from recording YouTube videos, you can use this screen recording tool to capture Facebook videos, save online courses, and more.
Part 3: How to Record YouTube Video on iPhone/Android
Today, people increasingly prefer to do everything on mobile devices including watch videos. However, is it possible to record YouTube video clips on iPhone or Android phone? The answer is yes and we use iPhone as the example to show you the workflow.
Step 1:
Go to the
Settings
app from your home screen, press
Control Center
and
More Controls
on iOS 15 or up. For iOS 14 or earlier, tap
Customize Controls
in
Control Center
.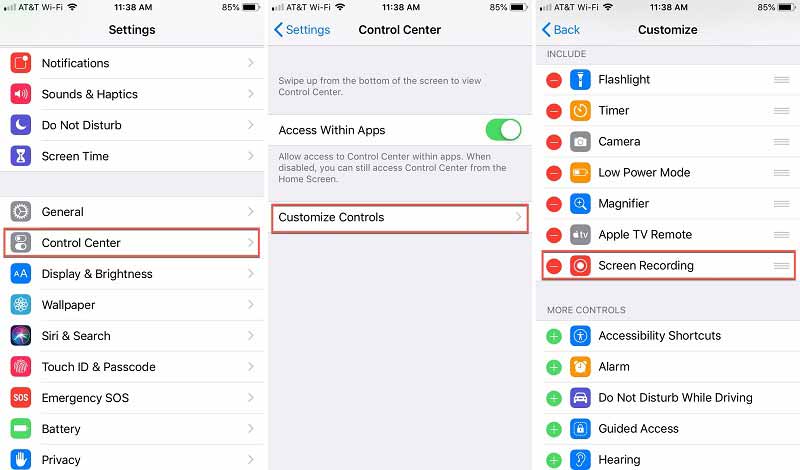 Step 2:
Press the icon next to
Screen Recording
option to activate it in Control Center.
Step 3:
Swipe upward from the bottom of any screen to enter the Control Center. On iPhone X or later, swipe down from the upper right side of your screen.
Step 4:
Deep press the
Screen Recording
icon and you will see the option. Tap
Microphone
if you want to record YouTube video with audio.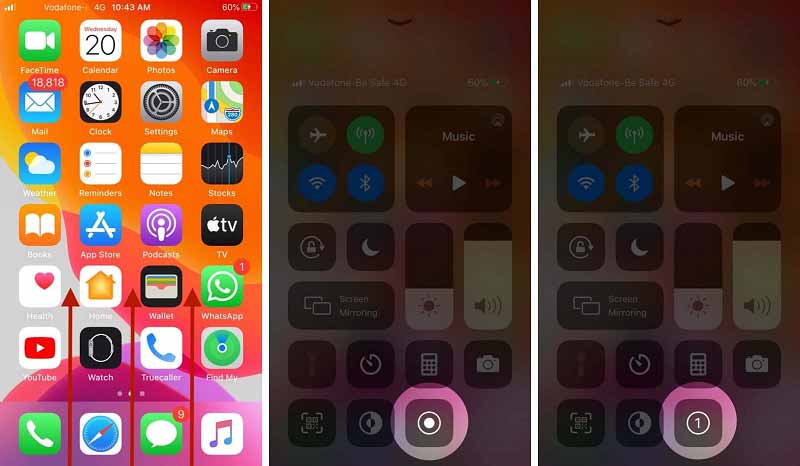 Step 5:
Press
Start Recording
and the countdown will begin. Quickly go back to your home screen, open YouTube app, find and play the desired video. After countdown, it will begin recording YouTube video.
Step 6:
When YouTube video recording is done, go to your Control Center, tap
Screen Recording
icon, and press
Stop
. Alternatively, you can also tap the red status bar at the top of your screen and press
Stop
. Then the YouTube video recording will be saved to your Photos app.
Note: Some smartphones running Android 10 have the similar screen recording feature. Other devices have to use a third-party screen recorder app to record YouTube video, such as AZ Screen Recorder.
Part 4: FAQs about YouTube Video Recording
Is it illegal to record YouTube videos?
Officially, it is not legal to recode the videos on YouTube that do not provide the download option since the contents are protected by copyright. However, if you just want to watch the videos on your machine but not use it for commercial purpose, it is okay.
What program do YouTubers use to record?
There are a lot of video recorder programs on market, some of them are free to use and others are professional. According to our research, YouTubers prefer to use the open-source recorders, like OBS Studio. However, some of them also use professional software in order to produce the best output quality.
How can I safely download videos from YouTube?
There are two situations when downloading videos from YouTube. Firstly, some YouTube videos provide the download option, which is the safe way to get them. For videos without the download option, you can try YouTube recorder software or online video recorder app. They can help you safely download videos from YouTube as well.
Conclusion
This post has shared three ways to record videos from YouTube on computer, online and mobile devices. For mobile-first, the built-in screen recording feature and third-party screen recorder apps are easy way to save desired videos from YouTube. However, we suggest you to do the job with a computer since you can get the best output quality. Aiseesoft Screen Recorder is a powerful YouTube video recorder that can meet all your need. It also allows you to record BlueJeans meetings, save audio/calls on Discord, and more. If you have more questions related to YouTube videos, please feel free to leave a message below.

Leave your comment and join our discussion