How to Remove DRM from iTunes M4V Movies on Windows or Mac
"I have lots of movie purchases from iTunes with DRM. I want to get DRM removal from iTunes, and share the video on my new Samsung Galaxy S7. Is therse any way to help me do that?"
When you use iTunes store to purchase music and videos, one word you often meet is DRM.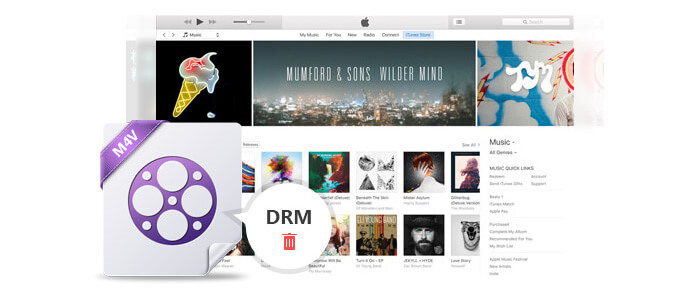 What is DRM video in iTunes
Digital rights management (DRM) is used to restrict usage of proprietary hardware and copyrighted works. In other words, it is referred to as technical protection measures, copy prevention, or copy control.
Apple allows iTunes to play MP4, MOV and M4V file. But only M4V file that is a kind of container format developed and used by Apple in its iTunes Store, is protected copyright by Apple's FairPlay DRM copy protection. That means, you could only play movies, TV show episodes and music videos encoded with M4V and purchased or rented from iTunes Store on QuickTime or iTunes. However, if you want to play DRM M4V movies on other devices or M4V player, then Apple say no.
Why remove iTunes DRM movies
As mentioned above, it is a pity if you want to share the DRM M4V files with your friends, who do not have any Apple's device. Also if you rent a video from iTunes Store, but the emergency disables you to watch the rented video within 24 hours, you will have to waste your money on an unseen movie. Though sometimes, you may download free movies from iTunes, but it only provides you a small part of such films. At this point, you may wonder how to remove DRM from iTunes for free videos on other players. Keep reading to get to know how to remove iTunes DRM video.
How to remove iTunes movie with DRM? On Windows or Mac
Remove DRM from M4V and convert M4V to MP4/WMV on Windows 10/8/7/Vista/XP
If you ask what is the cheapest and most useful way to remove copyright movies or videos for free watching not commercial use, the best answer is recording. Screen Recorder is the easy but quick way to record any screen on your computer. What you need is to get your iTunes movies, and download this software to your Windows computer.
If you want to remove DRM from iTunes music, this software will do you a great favor.
Step 1 Install Screen Recorder
You are required to install this software and double click it to launch it after successful installation. Kindly note that this DRM removal application is compatible with Windows 10/8/7/Vista/XP now.
Step 2 Play M4V DRM file
Select recording area, and turn on system audio and turn off microphone audio to avoid noise around. Play your rented or purchased M4V file with iTunes or QuickTime Player to adjust to the starting time that you want to record.
Step 3 Record M4V DRM movie
After you prepare all the things, click the red "REC" button to start to record M4V movie with DRM. Then you can preview and save your M4V recordings to MP4/WMV to your computer.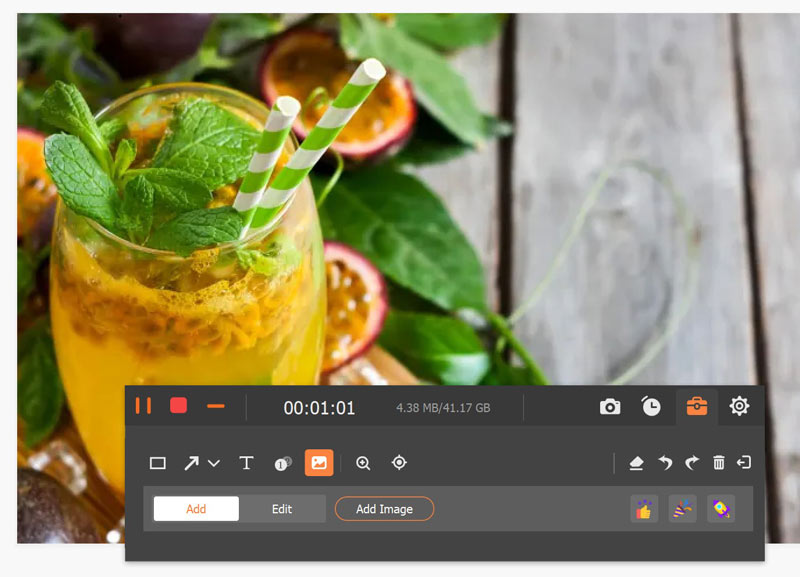 You can learn the steps from the video below: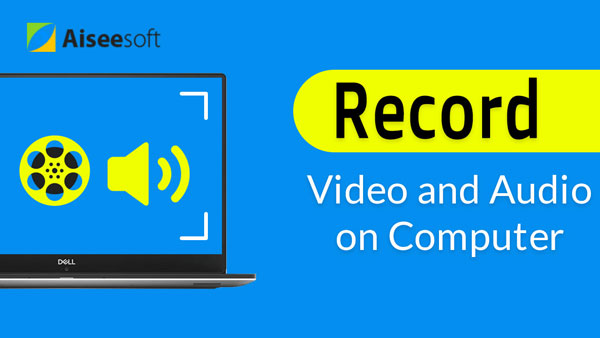 Three steps are enough to free iTunes movies with removal of DRM. But still some points you should pay attention,
1. If you want to save M4V to MP4/AVI, you need to get settings before you record M4V file.
2. Not only iTunes DRM videos, other videos and audio from Facebook, Omegle, Netflix, Pandora, SoundCloud, and more can be also available with this best online screen recorder.
Remove DRM from iTunes movies on Mac
The above magic to get DRM removal on Windows is easy to realize. Here if you want to get iTunes DRM removal on Mac, you could make it with a third-party iTunes DRM removal tool, MacX Video Converter Pro. It lets you get rid of DRM protection by recording M4V file on Mac, also, convert the recorded video to HTC, Samsung Galaxy, Kindle Fire, PSP, etc.
Step 1 Download this iTunes M4V DRM removal software to your Mac, click "Screen Recorder" to enter its interface.
Step 2 Customize the capture area, add sound effect and choose the target folder to save your recordings. Hit "Record" button to start to record, the saved recording will be saved as MOV.
Step 3 If you want to convert MOV file to other formats, you need to add the recorded video to the list for converting to convert MOV to MP4 on Mac for watching on Samsung, or change MOV to AVI for uploading to YouTube.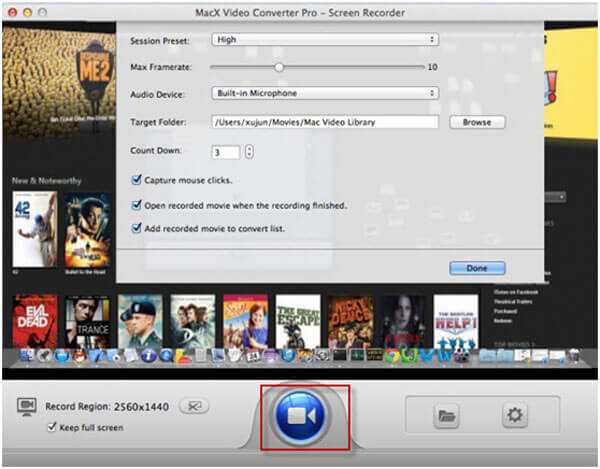 Part 4. FAQs of removing DRM from iTunes M4V Movies
Is it illegal to remove DRM from iTunes?
If you have purchased the music or video, it is legal to remove the DRM from iTunes for non-commercial purpose. It is supported to remove DRM in Authorized DRM media files, including WMV, M4V and Digital Copy movies, and convert the DRM videos and audio to different devices and players.
Can Handbrake remove DRM from iTunes movies?
No. Handbrake doesn't support removing DRM from the protected iTunes M4V files. If you have downloaded the video from iTunes, you should find other converters like Video Converter Ultimate to convert the DRM protected iTunes movies to MP4.
Is there a free DRM removal tool?
Yes. There are free DRM removal tools like Requiem, M4VGear, as well as myFairTunes. Then you can remove DRM protection from iTunes music.
By now, two methods to help you remove DRM protection video from iTunes M4V file have been shared here. You can try it by yourself.