How to Fix Amazon Prime Video Error Code 1060
Are you facing the situation that you can't setup Prime Video and get the Amazon error code 1060?
Many users reported that the Amazon Prime video not playing, the screen went blank for a while and then returned to an error code 1060. In fact, Amazon error code 1060 is one kind of common issue which mainly caused by low bandwidth.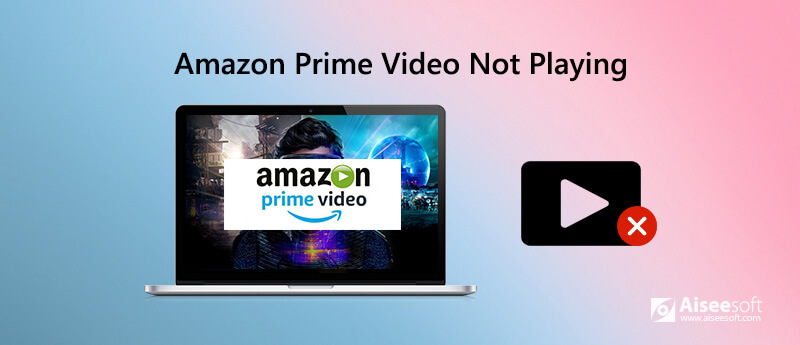 If you are an Amazon Prime member, you can easily access massive TV series, movies, and other videos. However, sometimes a few issues related to Amazon Prime Video like the error code 1060 may occur on your computer or mobile device. Here in this post, we will share some effective ways to help you fix the Amazon Prime video not playing, Amazon error code 1060 with ease.
Part 1. How to Fix Amazon Error Code 1060
As it mentioned above, the Amazon error code 1060 is quite common when there is network inconsistency or the bandwidth is too low. So when you get some Amazon instant video streaming problems, you should check the internet connection first.
Solution 1
You should know that, rebooting is the one-for-all solution to deal with various issues. Rebooting will also easily restart the network connection. When you are prompted the Amazon error code 1060, you can perform a simple reboot on your computer, iPhone, iPad or Android device. You can take the regular way to restart your device and then back to the Amazon Prime Video to check if the problem is solved.
Solution 2
If the Amazon Prime video not playing issue is still there after rebooting, you can try resetting the network. Just disable the network connection of your device, and then re-connect it. After that, you can open a YouTube video to check if you are having a good network connection.
Solution 3
Amazon error code 1060 is mainly caused by insufficient bandwidth. So you can try resetting the router or modem to fix the issue. You can use a small pointy object to press the reset button of your router. The reset button is usually designed at the back of the router. Press on it for 10 seconds to reset the router completely.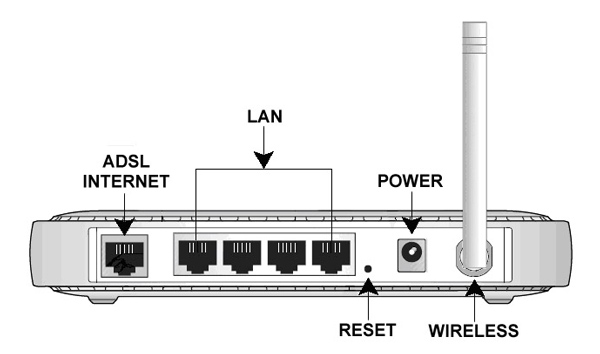 Solution 4
If your router offers multiple available wireless channels, you can also switch to a less used channel for the Amazon Prime video. Then you can check if the Amazon error code 1060 issue is fixed.
Solution 5
When you face the Amazon Prime video not playing problem, you can check the network speed on your connection manually. Amazon Prime video requires a minimum speed of 900 kbps for streaming content. You should make sure you have enough bandwidth. Here you can also adjust the video playing quality to fix the error code 1060.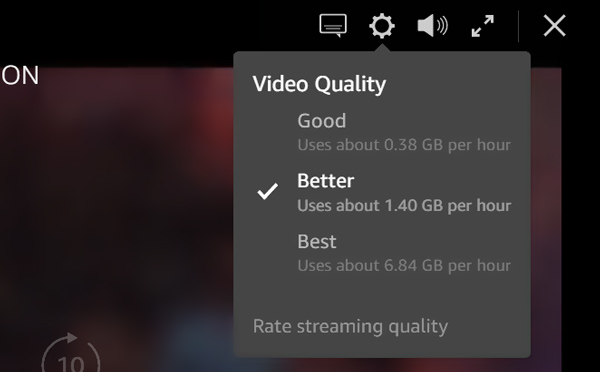 Solution 6
When you are using Prime Video app and get the error code 1060, you can choose to clear the app data or update the Prime Video app to solve the Amazon Prime Video not playing problem.
Best Amazon Prime Video recorder you may like to know:
If you want to download Amazon Prime videos for offline watching, you can rely on the powerful video audio recording software, Aiseesoft Screen Recorder.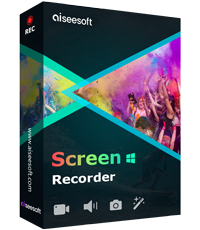 Downloads
Screen Recorder - Best Amazon Prime Video Recorder
Record 4K/HD Amazon Prime videos with original image and sound quality.
Record any video, audio, gameplay and other activities on Windows PC and Mac.
Capture computer screen with full screen, active window or custom region.
Output recording file to any popular video/audio format like MP4, MOV, FLV, MP3, etc.
Advanced Blue-light real-time HD video encoding and accelerate technology.
Part 2. FAQs of The Amazon Prime Video Not Playing
Question 1. Why does my Amazon Prime video keep stopping?
Various reasons will cause the Amazon Prime video keeps stopping issue, such as the bad network connection and insufficient bandwidth. You can try restarting your TV or computer to solve the problem. Also, you can update the Amazon Prime video app or system to get rid of this problem.
Question 2. What does insufficient bandwidth mean on my TV?
When you get the message prompting insufficient bandwidth, which means your internet connection isn't fast enough. When the bandwidth is too low, the running program may buffer.
Question 3. How can I test my bandwidth?
Many bandwidth testing apps and online services offered on the internet that can help you test your bandwidth. But you should know that, they may not give you an accurate bandwidth number. You can try the popular bandwidth testing tools like Speedtest or DSLReports.
Question 4. How do I clear my Amazon Prime cache?
When you have the need to clear your Amazon Prime cache, you can go to the Applications and then choose the Manage Installed Applications option. Here you can locate the Amazon Prime app and then click Clear cache to confirm the operation.
Face the Amazon error code 1060 and don't know what to do? As you can learn from above, this error code 1060 issue is mainly due to the insufficient bandwidth. After reading this post, you can get 6 simple ways to fix the Amazon Prime video not playing issue. If you still have any questions about the Amazon Prime video playing, don't hesitate to contact us or leave us a message.

Leave your comment and join our discussion