How to Fix iCloud Family Sharing Not Working
iCloud Family Sharing not working and get a message saying "Redownload Unavailable with This Apple ID"? Or Family Sharing can't share Apple Music, movies or other purchases?
Family Sharing provides a convenient and money saving solution to share iTunes, Apple Books, App Store purchases, and Apple Music Family Subscription, and more with other family members. This service was introduced in 2014 with iOS 8 and Mac OS X Yosemite.
However, many iOS and Mac OS users face some issues while the usage of Family Sharing. This post will show you some simple ways to help you fix various iCloud Family Sharing not working issues.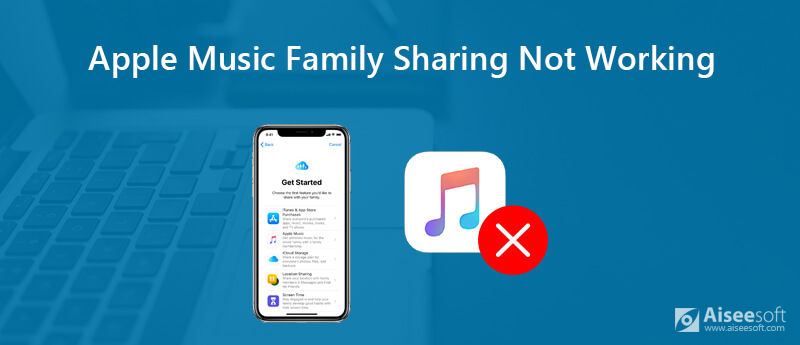 Part 1. Restart iPhone or Mac to Fix iCloud Family Sharing Not Working
Family Sharing allows up to 6 family members to share purchases from App Store, iTunes, iBooks, and Apple Music subscription and so on. Before you start fixing the iCloud Family Sharing not working issue, you need to ensure you enable it on your device first. You can open "Settings" apps and then tap "iCloud" > "Family" to make sure "Share My Purchases" is On.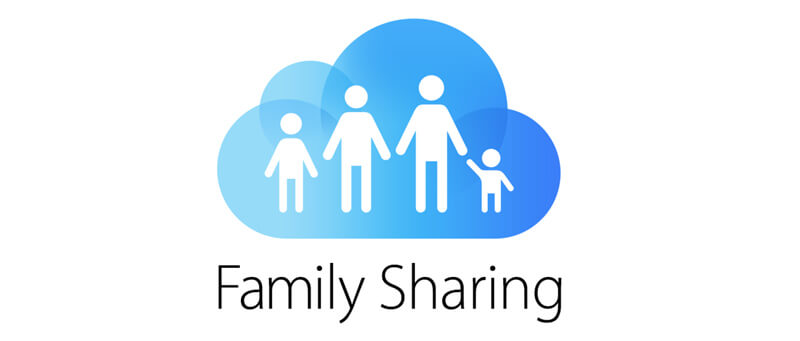 When the iCloud Family Sharing is not working properly, you can try restarting your iOS device like iPhone, iPad, iPod or Mac to fix the issue. You have to admit that, restarting is one simple and effective method to handle various problems. You can take the regular way to restart your iOS device or Mac, and then check if the issue is fixed.
Part 2. Check Family Sharing Settings to Fix Family Sharing Not Working
Every family members in the Family Sharing circle can use the same iCloud account for sharing. If you want to use iCloud Family Sharing on iOS device, it should run iOS 11 or a higher version. Now you can take the following steps to ensure that you do the right settings.
Start Family Sharing on iOS device
Step 1.
Unlock your iOS device and go to "Settings" app. Then tap your "Apple account" on the top.
Step 2.
Scroll down to locate the "Set Up Family Sharing" option and tap on it.
Step 3.
When you enter the "Family Sharing" interface, tap "Get Started" button.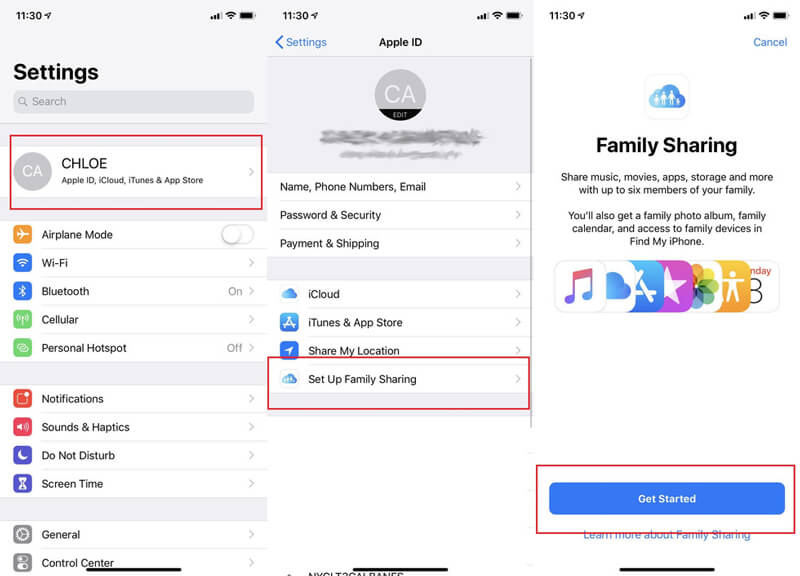 Step 4.
Select Apple Music, iCloud Storage, Purchases and more you want to share. Tap "iCloud Storage" and then tap "Continue".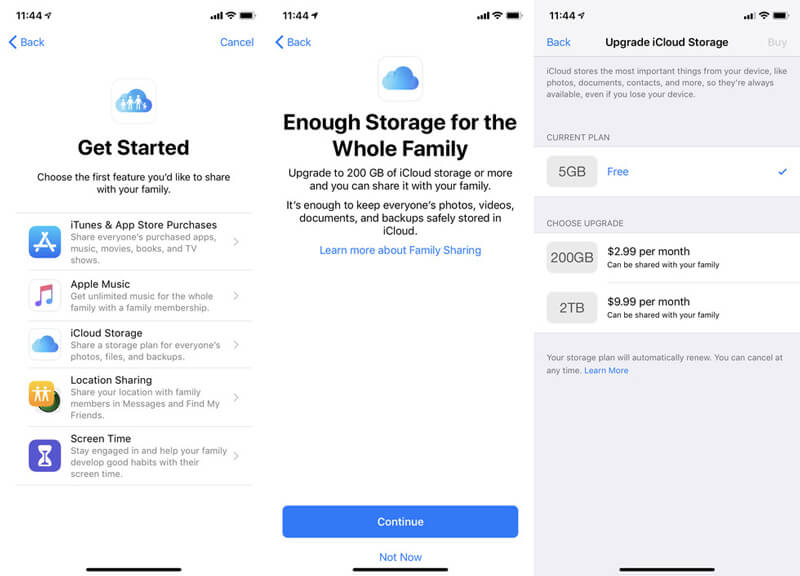 Sign up for Apple Music's family plan
Many users complained about the iCloud Family Sharing not working with Apple Music. So here in this part, we will show you how to sign up for Apple Music.
Step 1.
Open the "Music app" on your iOS device and then tap "For You".
Step 2.
Tap the "Account" icon in the top-right corner.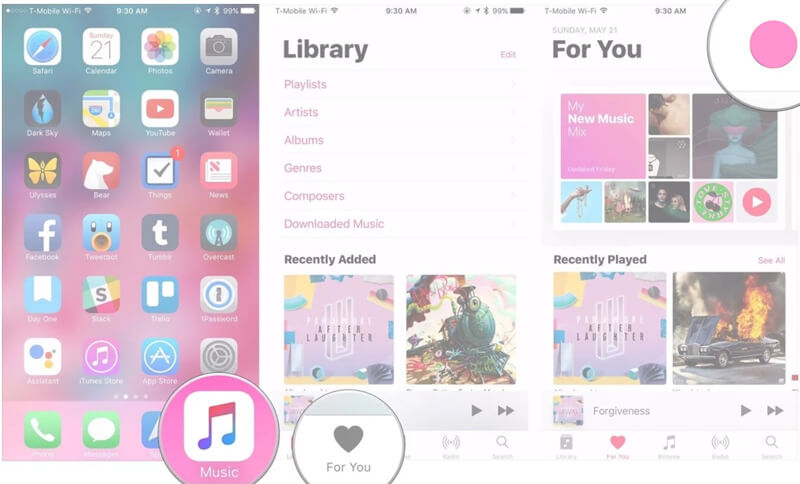 Step 3.
Tap "Upgrade to Family Plan" > "Upgrade" to choose and confirm a plan.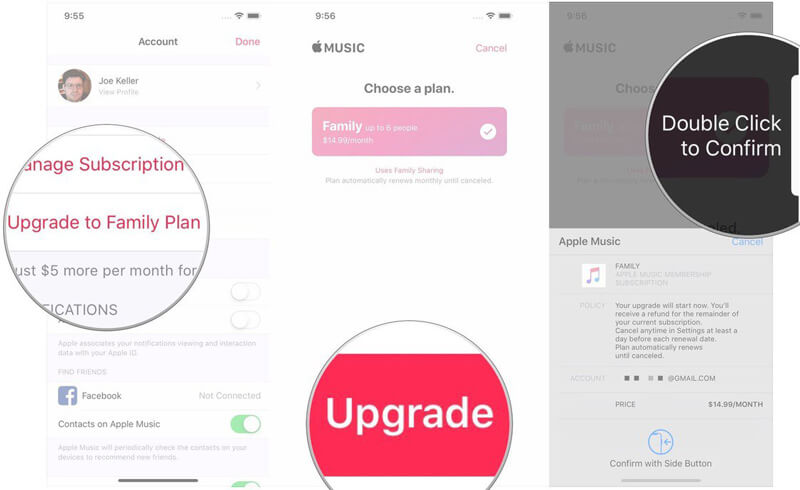 Step 4.
Open "Settings" app on your family member's device.
Step 5.
Tap Music > Join Apple Music, here you need to sign in the Apple ID of your family member.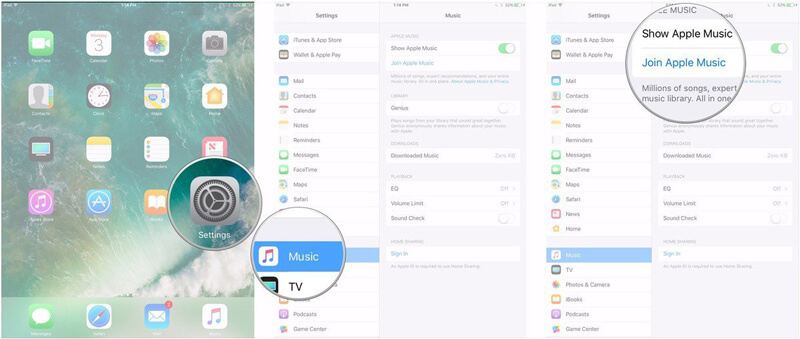 Step 6.
Finally, tap "Start Using Apple Music" button to sign up for Apple Music's family plan.
Part 3. Sign Out and Re-sign In Apple ID to Fix iCloud Family Sharing Not Working
When you face the situation that iCloud Family Sharing not working, you can try signing out and then signing in to fix it. First, you should ensure that you are using the same Apple ID in the iTunes Store and Family Sharing. You can open "Settings" app and tap "iCloud" > "Family" > "Your Name" to verify that.
To sign out your Apple ID, you can go to Settings app and then tap iTunes & App Store and then choose your Apple ID. Then you can Open App Store and install one app. You will be prompted that you should sign in your Apple account. Here you can re-sign in your Apple ID.
Part 4. Better Way to Share Data with Other Family Members
iCloud Family Sharing offers a good way to share app purchases, photos, videos, etc. With other family members. But it also bring some issues. Here we here we introduce you with a great iOS data transfer, FoneTrans to take you back to the traditional sharing solution. It is able to transfer all types of data like pictures, videos, songs, contacts, messages, etc. between iPhone/iPad/iPod and PC/Mac.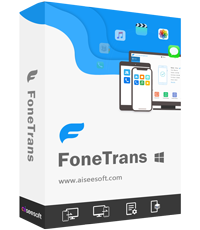 Downloads
FoneTrans - Best iOS Data Transfer/Manager
Transfer any iOS data like photos, music, contacts, videos, messages, and more.
Share all types of iOS data from one iOS device to the other.
Transfer various iOS files from your iPhone/iPad/iPod to Mac and Windows PC.
Create iPhone ringtones with any music you have and directly transfer them to iOS device.
Manage all types of iOS files like delete, rename, de-duplicate and more.
Compatible with iPhone XS/XR/X/8/7/6 with the latest iOS 12 version.
Step 1.
Click the download button above and follow the on-screen instructions to quickly install and launch FoneTrans on your computer. Connect both iOS devices with USB cables.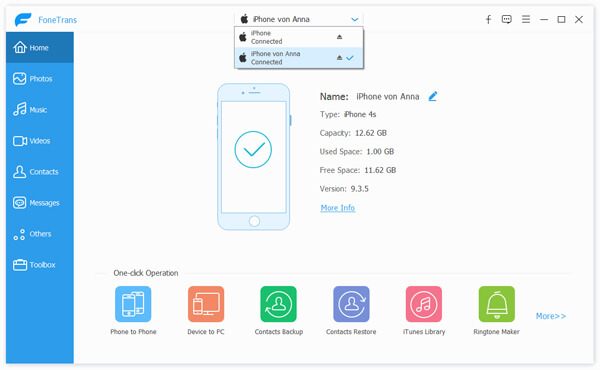 Step 2.
After you enter the main interface, all frequently-used data types like Photos, Music, Videos, Contacts, etc. are listed on the left panel. Choose the data type you want to share with your family member and check details on the right.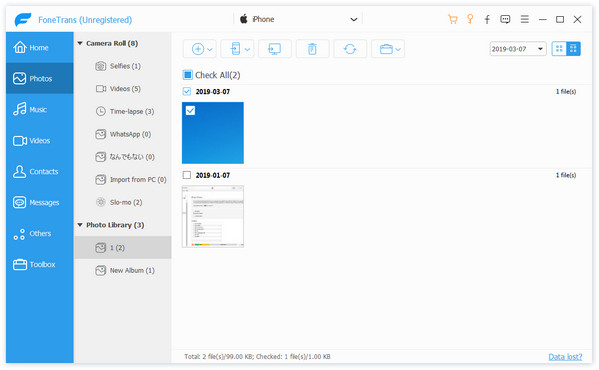 Step 3.
Choose files you want to share and then click the "iOS device" icon. It will directly copy all selected data to the other device. If you want to transfer data to computer for a backup, here you can click the "Computer" icon.
You may need: How to convert Apple Music to MP3.
We have talked about how to fix iCloud Family Sharing not working issue in this post. We tell 4 effective solutions to help you get the problem solved. If you have any better method, you can share it in the comment with other readers.