How to Fix YouTube Black Screen on Firefox/Chrome/Safari/IE
As one of the most popular video-sharing website, YouTube attracts lots of users to watch and upload videos every day. No matter you want to listen to hot music, or watch fantastic movies/TV shows, YouTube can always be your first choice. However, you may also encounter all kinds of YouTube playback errors during the daily using.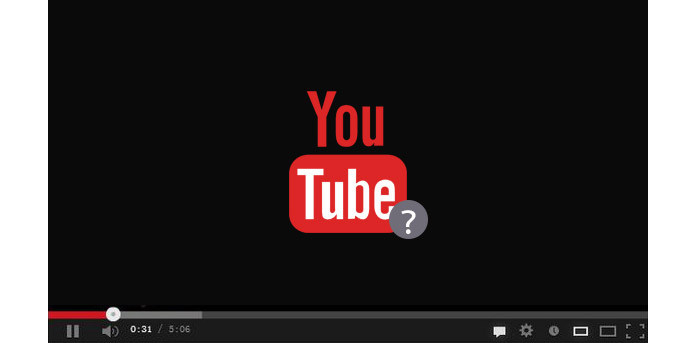 If you ever met the situation when YouTube displays a black screen and doesn't work? YouTube black screen may due to various reasons. Some people say that YouTube black screen is caused by flash player problem. But sometimes, even you install the latest flash player version, you still get a black screen on YouTube. So in this article, we will show you the reasons why YouTube screen turns black and effective ways to fix YouTube black screen issue.
Why YouTube shows black screen
Before you start to fix the YouTube black screen problem, you should first figure out the potential causes of YouTube black screen. Then you can solve it with the corresponding method.
1. Poor network connection
When at a bad internet connect, you may easily fail to open a new web page, let alone load a complete online YouTube video. So when you see the error message of "An error occurred, please try again later!" on the screen, you should check and make sure you have a smooth network connection. After that, you can refresh the web page to YouTube black screen.
2. JavaScript
JavaScript is a necessary part for browser to let any feature work well. So when YouTube video turns black, you can check the JavaScript and make sure it is running well on website.
3. Adobe Flash Player
Adobe Flash Player is an important tool used by your Firefox/Chrome/Safari/IE browser, which enables you to have a good YouTube watching experience. So you should check it when YouTube videos show black screen.
4. Cache and Cookies
Cache and cookies could be another possible cause to YouTube black screen issue. If lots cache and cookies are accumulated on your website, when you play favorite movies or TV shows on YouTube, you are more likely to encounter YouTube black screen problem.
5. Other common reasons
Sometimes, YouTube black screen appears due to its internal bug. If you do not log into your YouTube account, you can sign in the account to check if there is still black screen on YouTube. What's more, the illegal or unhealthy videos are forbidden by YouTube. So if the video you are watching contains illegal or unhealthy contents, you need to close the web page to solve the YouTube black screen.
Or, you can check YouTube messagse to see if the problem is caused by YouTube itself.
Ways to fix YouTube black screen
From the article above, you have already known several common reasons why YouTube displays a black screen on Firefox/Chrome/Safari/IE. So we will show you how to deal with the problem of JavaScript, Adobe flash player, cache and cookies.
1. Turn JavaScript on
You should first play the video in a different browser, or upgrade your browser to the latest version to check the browser.
The issue that YouTube black screen maybe due to JavaScript disabled. Here we take Chrome and Safari as examples to tell you how to fix it.
Chrome:
1. Open a new Chrome browser window.
2. Type "chrome://settings/content" into the address bar and click "Enter".
3. Mark "Allow all sites to run JavaScript (recommended)" in the pop-up window.
4. Click "Done" to save the setting.
Safari:
1. In the "Edit" drop-down menu at the top of the window, select "Preferences..."
2. Select the "Security" icon on the top list of the window.
3. Check the "Enable JavaScript" checkbox.
4. Close the window to save your changes.
2. Update Adobe Flash player
Since some videos on YouTube are streamed through Adobe Flash Player, you need to make sure you have the latest version of it, which will ensure the best viewing experience.
Uninstall the existing Adobe Flash Player, and then download and install the latest version on your computer.
Turn JavaScript of your browser on.
3. Clear cache and cookies
Chrome: Click the "Customize and control Google Chrome" icon

> Settings > Show Advanced Settings... > Clear Browsing Data > Empty the Cache/Delete Cookies;
Firefox: Click Firefox Menu > History > Clear Recent History > Details > Cache > Clear Now;
Safari (for Mac OS X): Click Safari Menu > Empty Cache > Empty;
IE: Click Gear icon > Safety > Delete Browsing History > Temporary Internet Files/ Preserve Favorites Website Data > Delete.
Professional software to fix YouTube black screen
Still worry about your beloved YouTube video suddenly turning black and not be playable on Firefox/Chrome/Safari/IE browser? How about downloading YouTube videos for further watching. Here we sincerely recommend you a professional YouTube Downloader to help you download online YouTube videos. First, you can free download and install it on your computer.
Step 1Launch YouTube Downloader
Open this excellent YouTube video downloading software on your PC/Mac.
Step 2Paste URL
Open the YouTube web page you want to download, and copy its site address. Back to the YouTube downloading software, click "Paste Url". The video address will be automatically pasted to the URL box.
Step 3Analyze YouTube video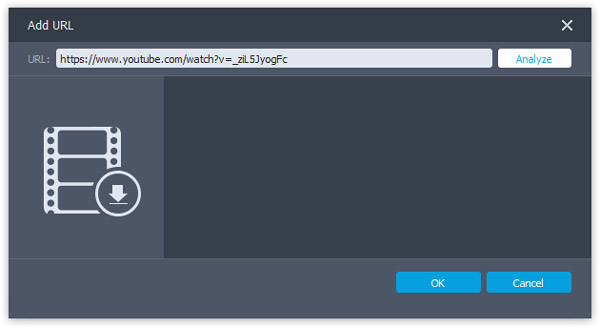 Click "Analyze" to analyze the YouTube video and it will provide several resolutions for you to choose from.
Step 4Download YouTube video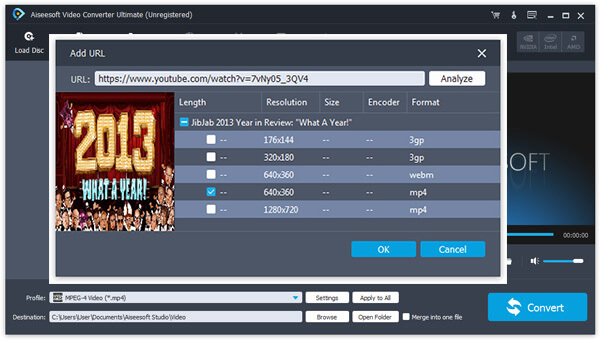 Choose the suitable resolution and then tab "OK".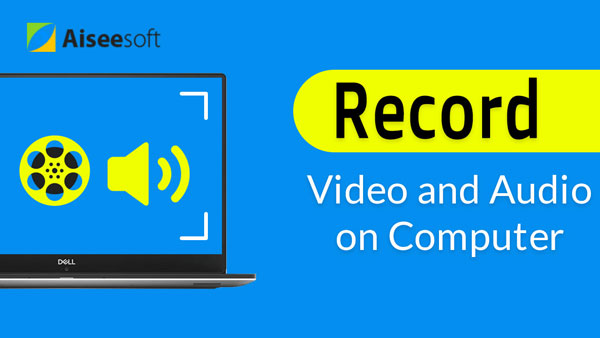 With the adoption of new acceleration technology, it guarantees you a super-fast downloading speed. Within just a few minutes, you can download the favorite YouTube video to your computer. This YouTube Video Downloader also enables you to convert the downloaded YouTube video to your preferred video format.
The YouTube black screen problem encountered by lots of people has come up with a number of solutions. From this article, you can know the reasons why YouTube videos turn black and specific method to fix YouTube black screen. If you are facing the problem, hope you can read our post to solve black screen on YouTube accordingly.