Simple Ways to Fix YouTube Videos Not Loading
One of the most annoying problems reported or complained by most of the YouTube users is YouTube videos not loading. Just imagine how frustrating it would be when you click a video but it is just not playing anyhow. Especially, if this situation happens when you are going to show something interesting or important to your relatives or friends, things can become extremely embarrassed.
Therefore, in this guide, we will show you in details the reasons why YouTube videos not loading, how YouTube works, and how to fix this issue. And rely on these methods we believe you can easily get rid of this kind of annoying problem for good.

YouTube Videos Not Loading
Part 1. Why YouTube videos not loading
YouTube, generally, has became one of the most popular website for sharing, watching videos. Tens of thousands of people use it nearly everyday. However, did you ever wondered that why YouTube videos not loading, playing, or starting on smart phones (such as Android, iPhone 6S/7/8 Plus/ X), Windows or Mac?
The reasons are complicated because the video itself, settings, or browsers may go wrong in some degree. Meanwhile, cookies and cache can be one of the possible reasons for being responsible for YouTube videos not loading and other time-consuming and irritating problems. Because there will be no room for your videos if the storage is already filled with cookies and cache.
This part just gives you a general framework of the reasons of YouTube videos not loading, the more specific reasons will be presented together with different solutions in Part 3.
Part 2. How YouTube videos work
If you really want to have a good grasp of various YouTube playing problems, including YouTube videos not loading, it is important to know how YouTube videos work. To learn more about how YouTube videos work, here is a detailed picture that you can resort to.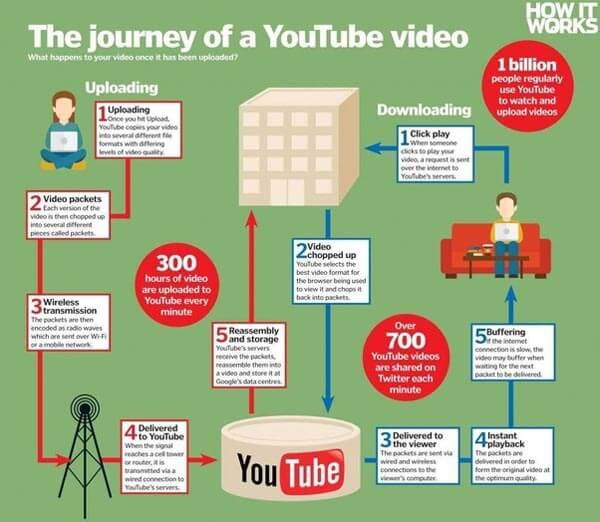 YouTube adopt HTML5 Video Player to the video playback of playing all the videos. However, sometimes there may be something wrong and be obstacle when you are surfing on YouTube, such as unavailable Internet connection, invalid browser plugins or browser wrong settings, outdated Adobe Flash Player, Cookies and Cache, etc.
Thus, to protect or regain the stable connection, what you need to do is to get rid of these obstacles to ensure the quality of both downloaded and online videos.
Now you know the general roots of YouTube videos not loading, let's just move on to the specific solutions below.
Part 3. Fix YouTube videos not loading problem
1. Update Outdated Browser
As we know, old browsers are not equipped with the ability of fully utilizing the fast speed and higher security that has been constantly upgraded and updated. If your browser is outdated, no matter what smart device you are using, YouTube videos not loading problem certainly can't be properly fixed.
You can use Google Chrome, Firefox or some other browses to find the link of upgrade or simply go to software market to upgrade to the latest version.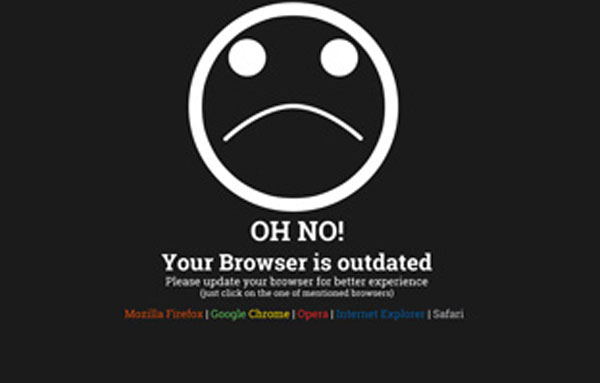 2. Refresh Browser Page
One reason could be that there is something wrong with your browser page. To tackle with the problem of "YouTube video not loading".
All you need to do is just clicking the refresh button at the upper space of your browser to refresh the browser page.

3. Install and Update Adobe Flash Player
Another reason for YouTube videos not loading is probably you haven't installed or upgraded Adobe Flash Player to the up to date version. There is no doubt that the latest version of Adobe Flash Player not only fixes YouTube videos not loading like a piece of cake, but also brings you excellent YouTube viewing experience.
To solve this, allow Adobe Flash Player plug-in to be installed to YouTube and update it to the newest version by following the instruction step by step.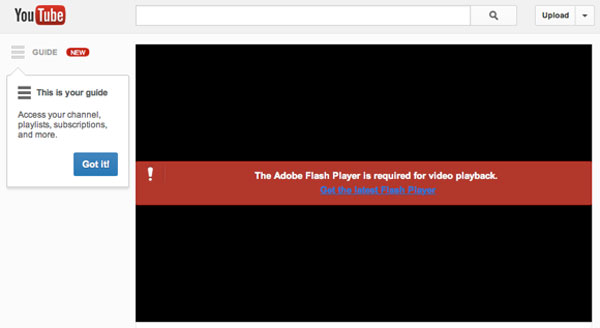 4. Change Over-estimated Video Quality
Of course all of us prefer viewing high-quality videos, and YouTube enable us to adjust the quality of the video from Auto, 240P, 720P and so on. According to your own Internet connection condition and speed, you can choose any quality you like to receive a better viewing experience. However, if sometimes the quality you choose is higher than its former quality when it recorded or uploaded, YouTube videos are not loading.
So in this case, you'd better have to adjust the quality of the video. That means you should go to "Settings" in the corner of the player to choose the quality you like, but try to choose lower quality to check if it works on YouTube videos not loading.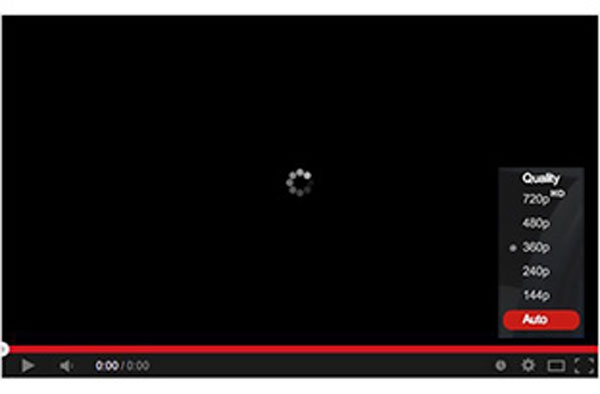 5. Cache and Cookies
Too much cache and cookies are very likely to cause many YouTube issues, such as YouTube videos not loading. If this is the one to blame, you need to clear them without hesitation. Here provides methods applied to Chrome, Safari, Firefox, and IE. Chrome: Go to "Chrome Menu" > "Settings" > "Show Advanced Settings" > "Clear Browsing Data" > "Empty the Cache/Delete Cookies";
Safari (specially for Mac OS X): "Enter Safari Menu" > "Empty Cache" > "Empty";
Firefox: Tap on "Firefox Menu" > "History" > "Clear Recent History" > "Details" > "Cache" > "Clear Now";
IE: Click "Gear icon" > "Safety" > "Delete Browsing History" > "Temporary Internet Files/ Preserve Favorites Website Data" > "Delete".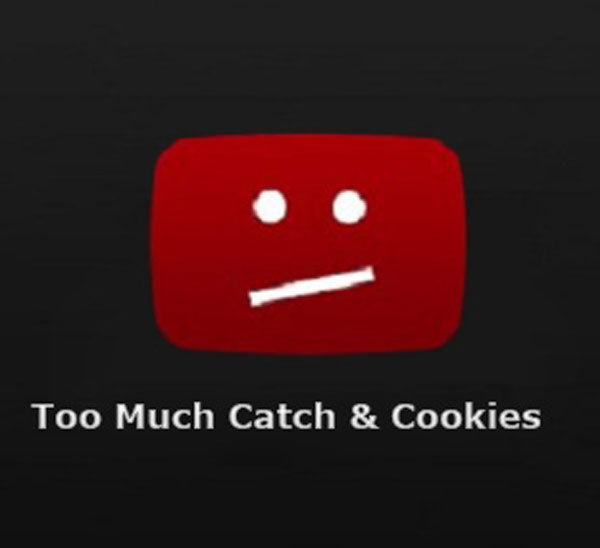 Part 4. Download YouTube videos
All the methods of YouTube videos not loading mentioned above still have limitations. If you want to avoid the frequent occurrence of YouTube videos not loading and other YouTube issues for good, we suggest you to download YouTube video to your personal computer or other devices.
It is a must to utilize a profession and reliable free YouTube video downloader. Aiseesoft Video Converter Ultimate is definitely worth your trust. You can use this software to download YouTube videos at very fast speed, and its high quality is well ensured at the same time. What's more, the program enables you to lessen the vague and shaking videos with very simple operations. Better still, it can help you rotate, edit, and even add subtitles if you feel like to do so.
Step 1 Download and install
Go to any reliable software markets or find a link to download this software. Once the download is done, double click the icon and follow the instructions to install. Then the software will run automatically.
Step 2 Paste URL of YouTube video
Tap on "Download" button that locates between "Add File" and "Video Enhance". You can easily find it on the interface. Then you need to copy the URL of your wanted YouTube video in the pop-up window.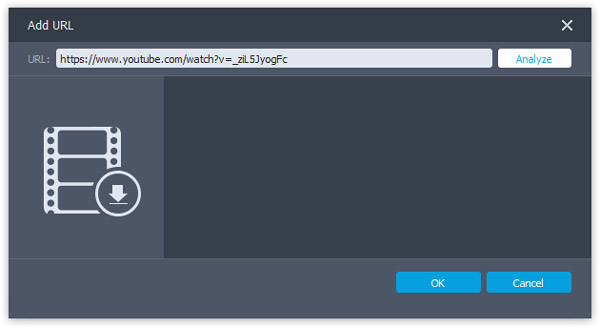 Step 3 Download YouTube videos
Finally, you can click "Analyze" to check if the image is the one you want. If it is, now what you should do is just tap on "OK" to download the YouTube online video. Fortunately, in this way, you can enjoy YouTube videos freely without being afraid of YouTube videos not loading problem happens again.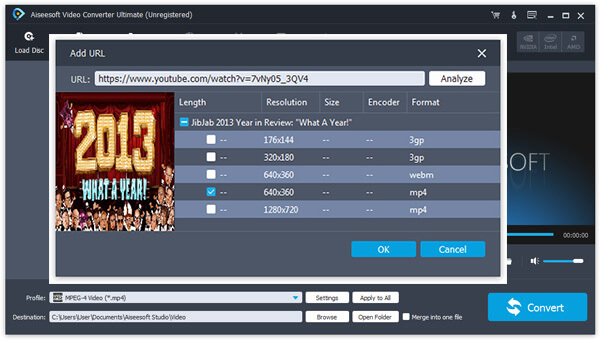 Conclusion
When YouTube videos are not loading, you can find the multiple reasons and solutions from the article. What is more, you can also download the YouTube videos to your computer offline to avoid the issues.