What is Spotify?
To make clear of Spotify to MP3, the first thing you should understand is the definition of Spotify. To be simple, Spotify is a streaming service with providing the powerful functions. It allows many of you to search & discover music you'll love and create playlists of your favorite music.
Since launched from 2008, Spotify has changed the way people listen to music from then on and becomes more and more popular as it allows you to play music from cloud.
Want to know how many people are listening music from Spotify? According to the professional statistics, Spotify has 600 million active users, and 20% of whom have paid its service. It is a large group of paying customers and the whole quantity is 34 times of Pandora.

How to listen to music from Spotify?
You have 3 ways to listen to the music from Spotify.
1. On phone: You can download the app to your iPhone or Android phone. There is no free version when you use this app on your phone.
2. On computer: You can both download the Spotify app and browse the web version to listen to music.
When you enter the official website of Spotify, you can choose DOWNLOAD SPOTIFY or Go To WEB PLAYER from left part of its home page.
The interface of Spotify app: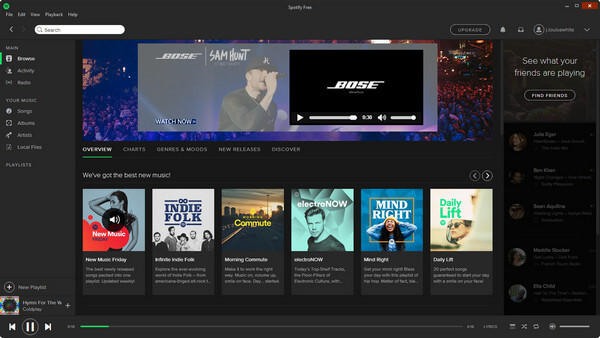 The interface of Soptify web player: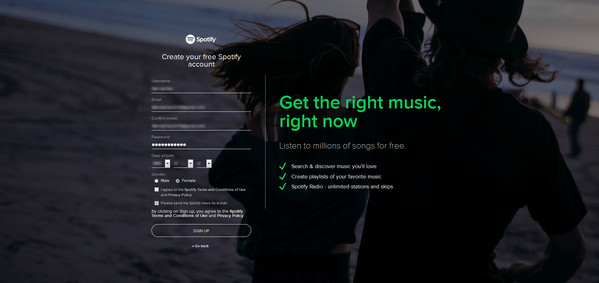 No matter which way you choose to listen to Spotify music, you should sign in first. You can log in Spotify with your Facebook or the active email address you have.
How to get the free MP3 from Spotify?
There are many ways to access Spotify and enjoy online music from Spotify. However, every time there is no WI-Fi connection, you are unable to play Spotify music. For example, when you out of home, office, when you are running, climbing, or wandering on the street, the downloaded music becomes necessary. In addition, many people may have the need to create a CD or transfer Spotify to iTunes. So another question is, how to download Spotify music for playing on portable music player? How to save Spotify music to MP3 format?
Keep reading you will find the answer.
How to download Spotify music?
The first solution: Spoty-mp3.com
Spoty-mp3 is an online service which helps music lovers to convert Spotify music to MP3. In the past, people like to download Spotify music from spoty-mp3.com. With only several steps, you can get the Spotify music with MP3 format.
1. Enter the website and paste the URL of Spotify music to the blank space in the middle.
2. Click the orange search button to analyze the Spotify music URL.
3. After analyzing, there will be a list of songs with download function for each song.
4. Click Download and you will get the spotify music with fast speed.
Attention: This website is not available now for its server problem. Once it works, you are able to use this way to download Spotify music as MP3 format.
The second solution: Spotify VK Downloader
Spotify VK Downloader is an extension for Chrome, and you are able to save Spotify music as MP3 format.
1. Choose "More Tools" from the menu button on the very up-right corner of Chrome toolbar. Click "extensions" and insert "spotify VK downloader" You will be asked to confirm adding Spotify VK Downloader, click add to confirm.
2. You should have or create a login account to use in vk.com. (PS: VK is the largest European social network with more than a 100 million active users.)
3. Log in Spotify webpage with your Spotify account. You will find all music are here as a list. (Note: you need to scroll the chosen music to the end for making sure that the music can be downloaded completely.)
4. Use Spotify VK Downloader button on Chrome browser to choose the songs which you want to download and click "Download".
5. When the Spotify music is downloaded, you will get a pop-up window to show you the status of the downloaded music. There are three different colors represent different status: Blue – Searching, Green – Found and Grey – Not Found.
We provide 2 ways above to download Spotify music. However, both the two ways have disadvantages. The first way does not work at this moment and the second way has a little complicated and not stable enough to download. So we will share you another to save Spotify music to MP3 format – Record.
How to record Spotify music and save as MP3 format?
As download music is not as convenient as you thought, you can try to record the Spotify music with Audio Recorder. Download and install the professional Spotify music Recorder on your computer.
1. Log in Spotify web Player with account. Play the music which you want to record.
2. Launch this third party recording software, and turn on system audio as well as turn down microphone. It is unnecessary if you only need to get the audio from Spotify.
3. Click REC on the interface of audio recorder as well as click Play button on Spotify webplayer.
4. The recorded Spotify music will save on your computer with WMV format.
If you want to convert the recorded Spotify file to MP3 format and enjoy a high quality of audio, you may need to download another Audio Converter to help you do that.
1. Add the downloaded Spotify music to the audio converter. You are allowed to batch add files to this converter.
2. Choose MP3 format from the profile. Or there are many other lossless audio formats for your information.
3. Click Convert to convert the downloaded Spotify files to MP3 format.
Up to now, the way to record spotify music is the most secure and stable way. Then you can use a USB cable to transfer Spotify music to your portable music player for listening all the time.