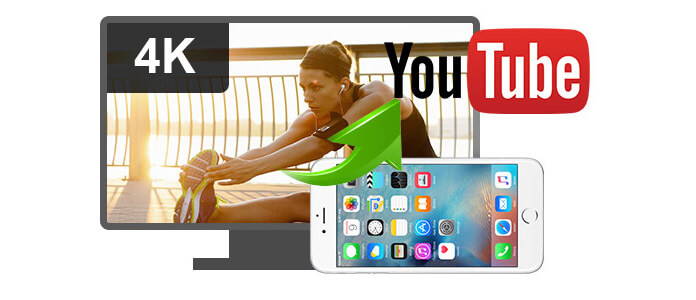 Accustomed with the super-high definition, crisp image quality and vivid color reproduction, you may have fallen in love with your 4K camcorder. Besides, with Apple supporting 4K video recording since iPhone 6s, more and more people have the material as well as desire to upload 4K videos on the video sites like YouTube and Facebook.
However, uploading 4K videos to YouTube is not that easy. After countless failure, you may wonder, why on earth can't my 4K videos be uploaded to YouTube?
To begin with, you need to figure out what 4K YouTube video settings are. In fact, there are three basic factors that will decide whether your uploading is going to be successful or not: video file formats, size, and frame rate. YouTube now accepts 8 video formats to be uploaded, including MOV, MP4, AVI, WMV, FLV, 3GP, MPEGPS and WebM, supports 8K and 4K resolutions and file size of 2GB. Videos should not be longer than 15 minutes.
Now most 4K videos are XAVC (.MXF) or XAVC S (.MP4) videos which are not supported by YouTube, therefore, if you want to upload it to YouTube, firstly you need to convert it to supported formats.
In the following parts, I am going to introduce to you how to carry out the converting exactly.
Part 1. Upload 4k video from computer to YouTube
In order to convert 4K video to other formats on your PC, we need to seek help to video converting software.
Step 1Download, install and launch Aiseesoft Total Video Converter on your computer.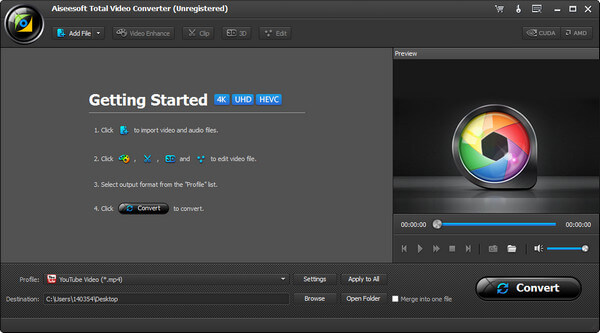 Step 2On the main interface of the program, click Add File on the toolbar above, and load the source video to it. (If your video is in your camcorder or external storage card, transfer it to your computer first.)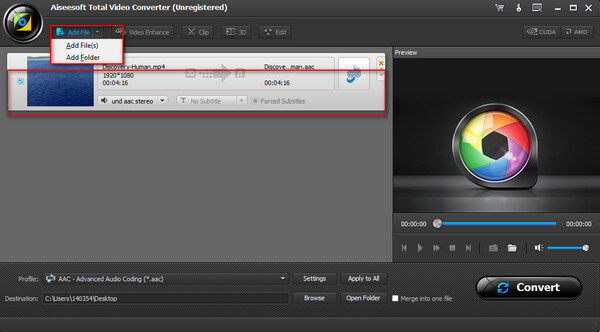 Step 3Click the drop-down list of Profile, choose Streaming Video, you can see all kinds of video formats that apply to popular video sites like YouTube, Facebook and Vimeo.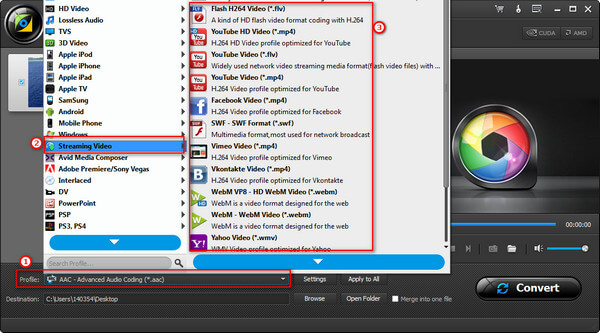 Step 4If the video size is too large, click Settings besides Profile. Set the Parameters to adjust the video size. You could also choose options on the toolbar, give your video some editing as you like.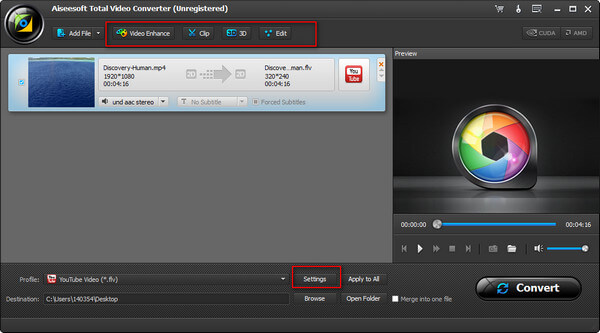 Step 5Tap the Convert button to start the conversion.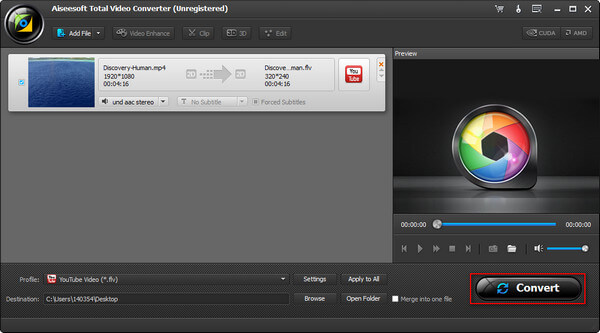 Part 2. Upload recorded 4k videos from iPhone X/8/7 to YouTube
Generally, sharing a video on iPhone requires just a tap on the sharing icon and another tap on the YouTube icon, but that doesn't fully apply to 4K video. For whatever reason, iOS YouTube up loader allows you to upload 720p and 1080p videos to YouTube perfectly, but if you try to upload a 4K video directly by sharing icon, it automatically drops down the quality to standard definition.
Therefore, to upload recorded 4K video in your iPhone X/8/7 with perfect quality, you could transfer 4K video to your computer and then upload it from your PC to YouTube.
If you want to upload video to Facebook, you coudl also make it in this post of How to uplaod video to Facebook.