Unlock Your AT&T iPhone Permanently in Official Way
If you bought the new iPhone from AT&T, then it is definitely that your iPhone has locked to AT&T network, nor other carrier or T-Mobile SIM can work. In our daily life, it seems not very important to get AT&T iPhone lock status, but for International travel, unlocking AT&T iPhone counts a lot. Wanna to get AT&T iPhone unlock for overseas travels, or prefer to change a new carrier domestically? Read carefully and get AT&T unlock iPhone in easy way.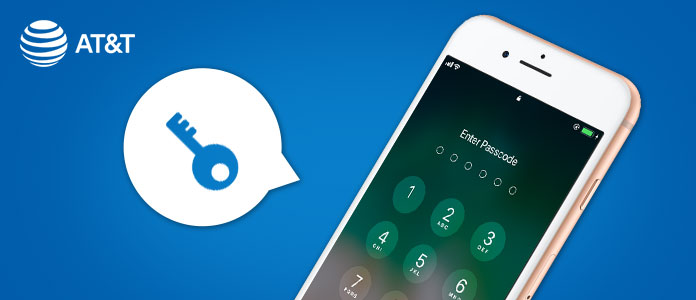 Unlock Your AT&T iPhone
Part 1: Check Whether Your iPhone Is Eligible to Request AT&T iPhone unlock
Before unlocking AT&T iPhone, there are some requirements you need to obey or check. Only you meet all following AT&T iPhone unlock eligibility check can you succeed finally.
The iPhone must be locked to AT&T wireless network.
No lost or stolen neither request before, nor fraudulent or illegal activities either.
Make sure all your earlier termination fees are paid in full, as well as completed AT&T service commitments and installments.
The mobile phone is active with AT&T customer's account only.
If you have upgraded recently, then additional 14-day buyer's remorse period is essential.
If your iPhone was activated with the service commitment or installment plan, then your AT&T account must be active for at least 60 days, under no past due or unpaid balance.
After AT&T iPhone unlock check minimum has passed, then you can move to part 2 for AT&T iPhone unlock request application.
Part 2: Unlock Your iPhone on AT&T Status for An Unlock Code
The normal AT&T iPhone unlock request will be responded within two business days. And it is easy to apply for AT&T device unlock service unlock. Just follow my steps.
Step 1 Apply for AT&T iPhone unlock service.
Locate att.com/deviceunlock page, to read and agree the eligibility iPhone unlock requirements about AT&T carrier. Complete and submit the AT&T iPhone device unlock form.
Step 2 Request for unlock your iPhone with an AT&T unlock number.
There will be the confirmation email contained your unlock request number and the receipt link available within 24 hours. Confirm your unlock request of AT&T locked iPhone.
Step 3 Get the unlock code to remove AT&T lock from iPhone.
Wait for two business days, and if it has been approved, you will receive both AT&T iPhone unlock code and instruction, to follow the iPhone AT&T unlock guide to unlock.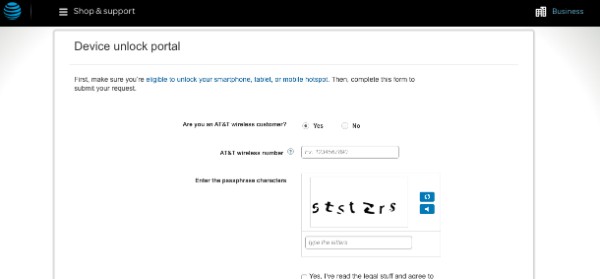 Till now, your iPhone has been AT&T lock removed, after you receive the unlock request email to approve it, you are able to remove the AT&T SIM card directly, to change the new carrier card and restart for daily usage.
Part 3: AT&T Alternative iPhone Unlocker – Official Factory Unlock for AT&T iPhone
As a matter of fact, not every iPhone AT&T unlock request will pass. What if you are just unlucky to fail to request for iPhone AT&T removal? Does it mean your iPhone has to be stuck into AT&T all the way? Fortunately, you get OfficialiPhoneUnlock.com, which can set free AT&T locked iPhone permanently, without jailbreak or other hacking damages.
What can the AT&T iPhone Unlocker Do for You
Official iPhone Unlock service aims to unlock ATT USA iPhone by a factory IMEI unlock, to make your iPhone to be SIM-free permanently. All baseband and firmwares are supported. Moreover, all iPhone types are included as well, like latest iOS 11. Thus, your new bought AT&T iPhone 7 and beyond iOS versions can be AT&T lock removal in Official iPhone Unlock site.
Service and Guarantees of Unlocking AT&T iPhone Devices
iPhone AT&T unlock service charges you from £19.99, and the typical timeframe of unlocking iPhone will be in 5 or 6 days. Because it is the official iPhone unlock service, thus, your iPhone will stay safe, with iTunes upgrade and warranty remains. Nothing will change expect for AT&T carrier.
How to Unlock AT&T iPhone
Step 1 Choose your iPhone model and enter the IMEI. ATT USA.
Step 2 Purchase iPhone AT&T unlock contract.
You will see the unlock price and timeframe displayed for ATT USA iPhone unlock. Enter the email address to receive notifications and complete the credit card details.
Step 3 Carry out iPhone unlock process with iTunes.
Official iPhone Unlock will send your emails of every process how your AT&T iPhone unlock. When you receive the final email announcing you that your iPhone AT&T lock has been removed, just connect your iPhone with computer, the iTunes will display the message to tell you that your iPhone is now unlocked.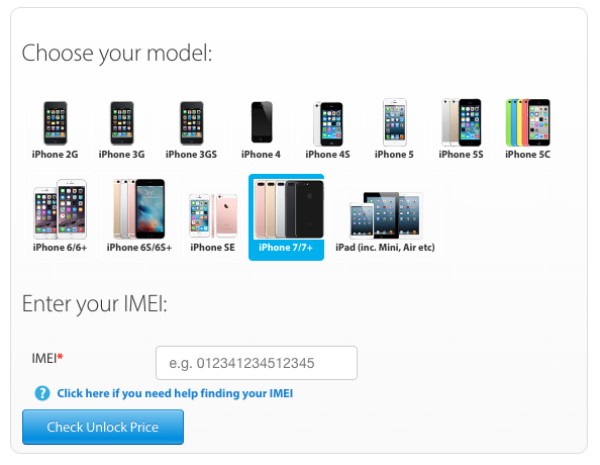 Part 4: Tips for Unlocked iPhone – Something You Can Do After AT&T Unlock
Now your iPhone has got rid of AT&T, it is time to welcome the new carrier. Or in another word, change a SIM-free card and enjoy yourself.
• Power off your iPhone, for safeguards actually.
• Remove existing SIM card from your iPhone, and change a new (Non-AT&T) one into the SIM card slot.
• Restart your iPhone, and follow the on-screen instruction to complete the setup process.
That's the final period of AT&T iPhone unlock process, to change fixed AT&T iPhone into SIM-free devices. With the AT&T iPhone unlock free service and professional AT&T restriction remove support, your iPhone will be unlocked permanently.
There are also additional choices for you to do Dominican Republic America Movil iPhone unlock tasks too. And the premise is similar, prepare your IMEI and that's all.
Bottom Line
There is no carrier, which can tie itself with your mobile phone together all the time. Thus, removing AT&T iPhone lock is the unavoidable fashion, to enlarger people's free space of iPhone controlling. If you have similar needs of iPhone unlock of certain service, you can turn to Official iPhone Unlock site for help, to remove annoying iPhone restriction permanently.