15 Best Music Downloading Apps or Software for iPhone/iPod/iPad
Whether you are happy or sad, music can always be your best company. Every time you listen to your favorite songs, you can quickly get great pleasure. Along with the development of smart phone, you may frequently enjoy music on iPhone or Android phone. Just a music app on your device, can help you easily play MP3 audio files. Here in this post, we will show you 15 best music downloaders for iPhone. You can try some free music apps for iPhone after reading.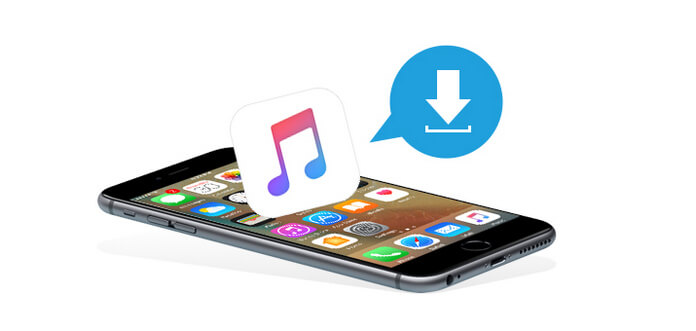 Best Music downloaders for iPhone
No.1 SoundCloud
SoundCloud is a huge and frequently-used music database that you can access many amazing albums and tracks from famous artists. You can also find when you download music form SoundCloud that it provides chances as well for those music producers who want a promotion.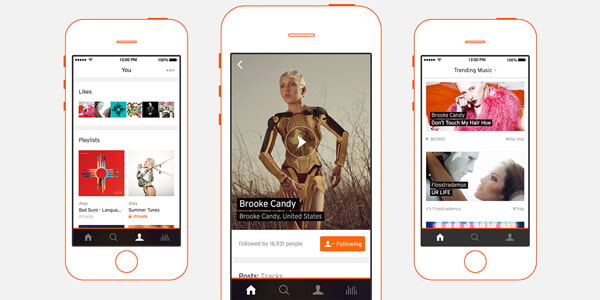 No.2 Spotify Music
Spotify Music enables users to access various music with any limitation. There are lots of new artists and songs you can see when donwloading music from Spotify. Besides, you are allowed to create and customize your own playlist as you like.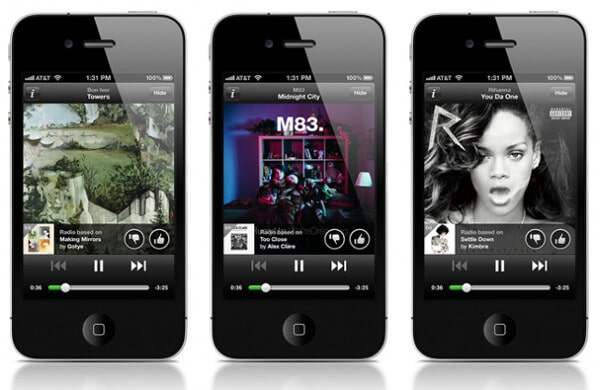 No.3 Google Play Music
Google Play Music enables users to download and play their favorite songs. However, the free version only allows for streaming music. You need to pay $1.99 per month for a subscription, and then you are allowed to download music onto your iPhone and play them offline.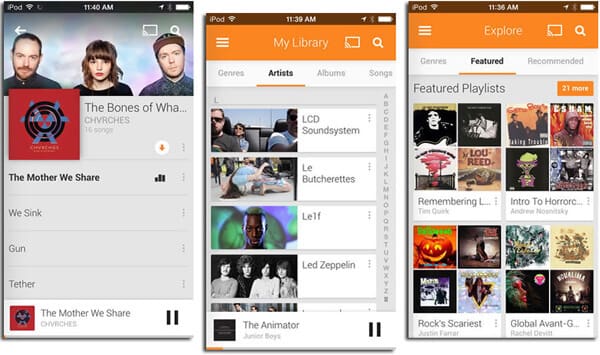 No.4 Free MP3Box
As a streaming music app for iPhone, Free MP3Box is a best choice for you to download numbers of music on the basis of YouTube search. Besides, you can also free listen to live music with this music downloader.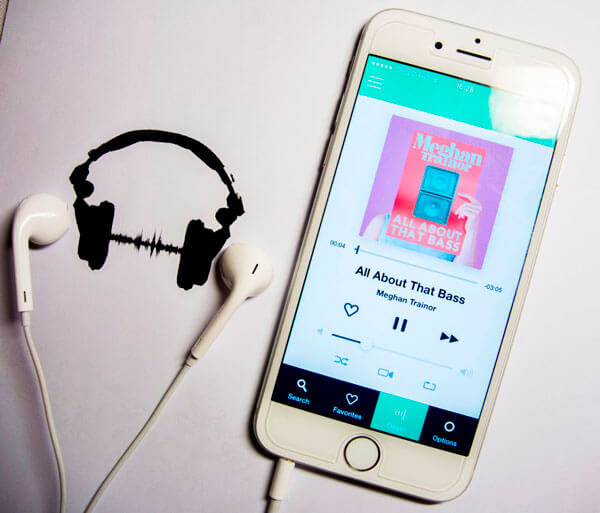 No.5 The Music+
The Music + is one of the most popular music downloaders which can help you download MP3 music for free. This easy-to-use application is very compatible with iOS devices. Besides, it also has recording and playing features with great quality.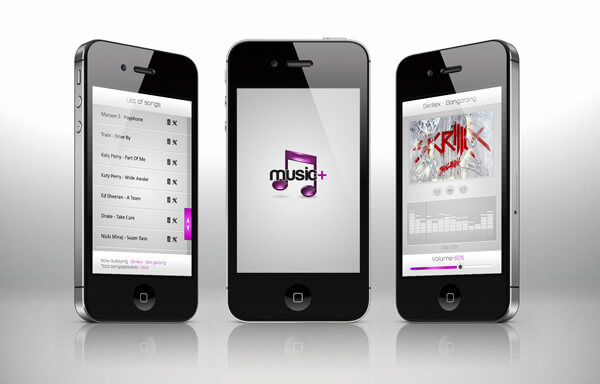 No.6 Groove
Groove by Microsoft also provides service for iPhone. For $9.99 each month, then you are able to enjoy and download more than 40 million high-quality songs and albums without any hassle. It offers 30-day trial for you before subscription.
No.7 Freegal Music
Freegal Music is also a popular free music downloading app for iOS users, which provides over 7 million songs for you to download songs for iPhone. With this app, you can find various songs and artists throughout the world.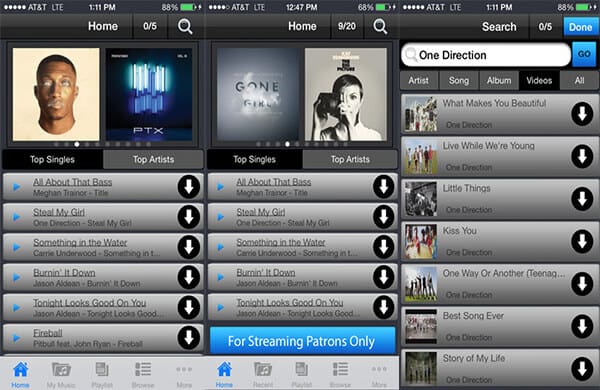 No.8 Tidal
Similar to Spotify, Tidal can let you access to various high-quality audio tracks. With its excellent music sharing feature and offline listening function, you can handily save your favorite songs to your iPhone or share them with friends. However, the app cost $19.99 per month.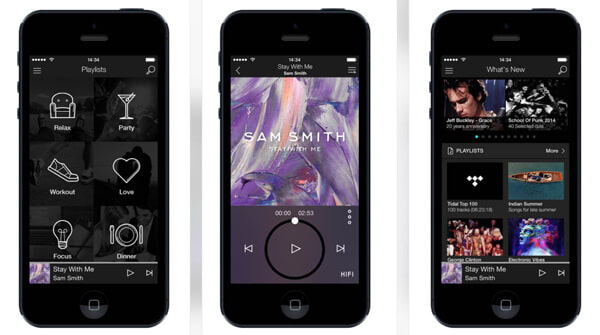 No.9 Deezer Music
Deezer Music is a great application which enables you to download offline songs onto your iPhone. Deezer has the capability for you to download music from its music library, however, for $6 per month.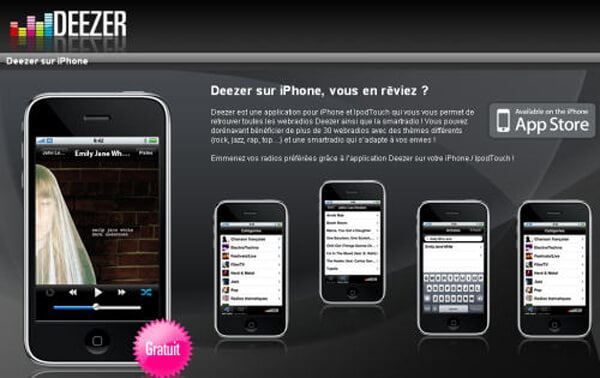 No.10 MediaCloud Plus
MediaCloud Plus is a useful music tool for you to access audio tracks downloaded on Dropbox Google Drive, SoundClouder and many other websites. Besides, the app allows you to enjoy and download these songs.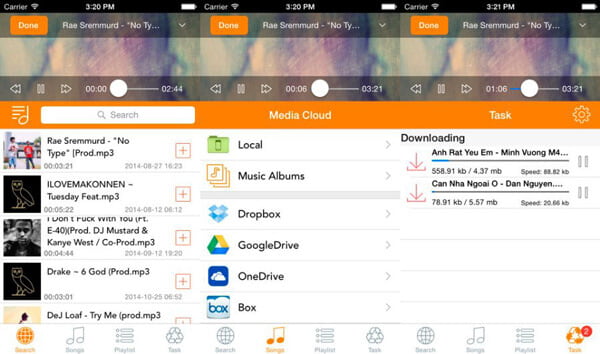 No.11 iDownloader
Not only a iPhone music downloader, iDownloader> also has a web browser that enables users to download players, videos, photo viewers. You are able to manage and share music with this app.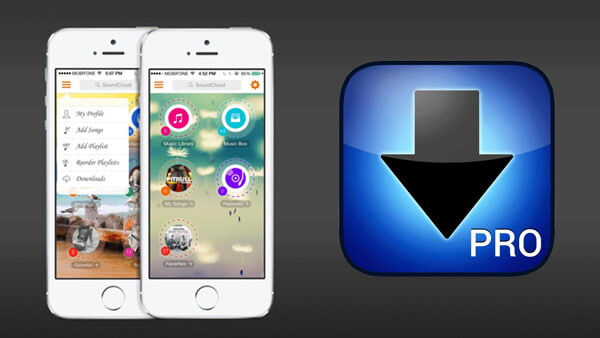 No.12 Total Downloader Free
Total Downloader Freeis a great music app for iPhone to download videos and songs. What's more, it also can help you convert video to audio and create your customized ringtone.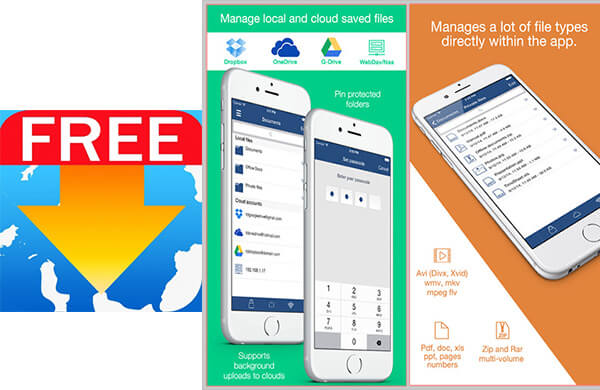 No.13 Video Download Pro
Though Video Downloader Pro is designed for YouTube video, it can also work as a music downloader from YouTube to music for iPhone. Its converting feature is also excellent.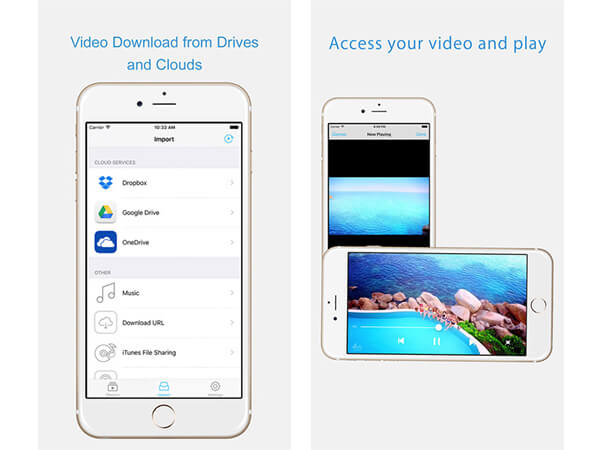 Part 2. Top professional Music downloaders for iPhone
Excellent music downloading program for iPhone
In this part, we will sincerely introduce you the professional and reputable Music Downloader. It enables you to download music from YouTube and other websites and convert these songs to iPhone supported audio formats. First, download and install the brilliant software to your computer.
Step 1Launch Music Downloader.
Step 2Click Download button, and paste the URL of YouTube track or other music website.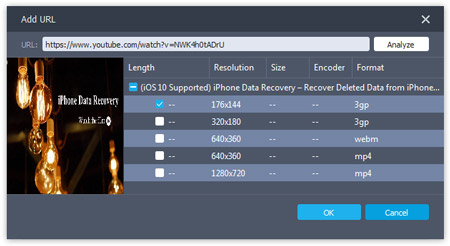 Step 3Click Analyze to analyze the link. Tab OK to download music.
Step 4Click Profile and choose a suitable audio format, like M4A, and hit Convert to save songs to your iPhone.
Powerful music recording software for iPhone
Besides downloading music, you can also choose to record songs and save them to iPhone. Screen Recorder is able to do that for you. First, you need to free download it to your computer.
Step 1Install and launch this music app on your PC and click "Audio Recorder".
Step 2Open the YouTube website and play your favorite song. Select to record music from system audio or microphone, and click "REC" button to record the song.

Step 3Tab "Stop" button the playback is done. You are allowed to save the audio in the format of iPhone supported format, like M4A, MP3 or AAC.
In this way, you are able to download any MP3 song played on your computer. Because it can help you record music from system audio, so you don't need worry about the song quality.
You can learn the steps from the video below: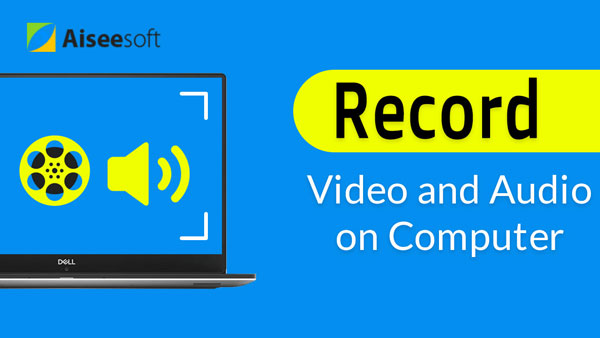 Music downloading sites for free download
Still like other video sites, you could also find some free songs downloading sites online. Check the sites like BeeMP3.
In this article, we mainly talk about 15 best music downloaders for you to save the favorite songs to iPhone. If you want to free download MP3, you can try some suggested music apps for iPhone above. Also, you can use the professional music downloaders to download various music files on your computer.