Stream Movies/TV Shows/Music from iTunes Library
iTunes streaming has become inscreasingly popular. Want to share your movies, TV show and music from iTunes Library to your family or your friends? Actually, you don't have to download and transfer these iTunes content one by one. iTunes is an excellent tool for you to stream iTunes content like music, movies and TV shows to your Apple devices like Mac, Apple TV, iPhone, iPad and so on. How can you share iTunes streaming videos or songs? In this article, we will show you how to stream iTunes content with the help of AirPlay and iTunes Home Sharing.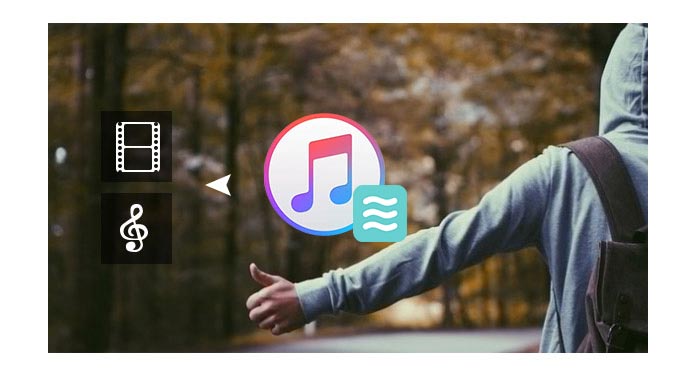 Part 1. Use AirPlay to stream content from iTunes
AirPlay is a proprietary protocol suite/stack, which enables wireless streaming between devices of videos, songs, images, device screens, etc. There are two types of AirPlay devices, those that send audiovisual content, and those that receive the content and render it on displays and speakers.
Stream from iTunes to another device
To stream iTunes content with AirPlay to your Apple TV, AirPlay-enabled accessory or AirPort Express, follow these steps:
Step 1Open iTunes on your computer. To the right of the volume slider in iTunes, click

. You'll see this icon only when an AirPlay-enabled device is shared on the same Wi-Fi network.
Step 2Choose the device that you want to stream iTunes content to.

What if you see no AirPlay icon in iTunes
You'll see to the right of the volume slider in iTunes when an AirPlay-enabled device is available. If you see no AirPlay icon, you need to: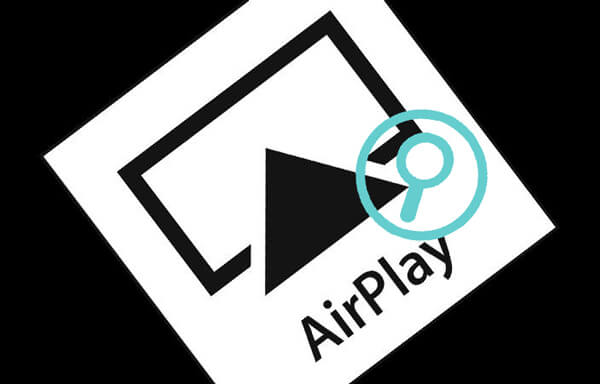 ➤ Check that you have the latest version of iTunes and Apple TV software.
➤ Connect your computer and your other device to the same Wi-Fi network.
➤ Restart iTunes or AirPlay-enabled devices.
➤ Some AirPlay devices have an on/off option for AirPlay. Check the option.
Part 2. Share iTunes streaming content with Home Sharing
Another neat feature of iTunes is the capability to stream iTunes songs or videos between devices using Home Sharing. iTunes Home Sharing lets you access any Apple devices connected in the same WiFi network.
How to set up iTunes Home sharing
Step 1Launch iTunes on your PC or Mac. In iTunes, Click "File" > "Home Sharing" > "Turn on Home Sharing".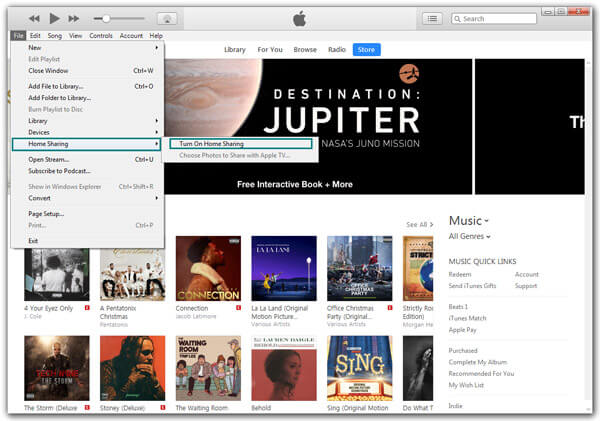 Step 2Sign into your Apple ID. Repeat these steps for other computer with iTunes.
Step 3Click "Edit" > "Preferences" > "Sharing". From the "Sharing" tab, choose to share with others the total iTunes library or the selected playlists. You can set a password for access to the iTunes library. From the window, you can clearly see the numbers of iTunes connection. Check the box of "Home Sharing computers and devices update play counts". Click "OK" button.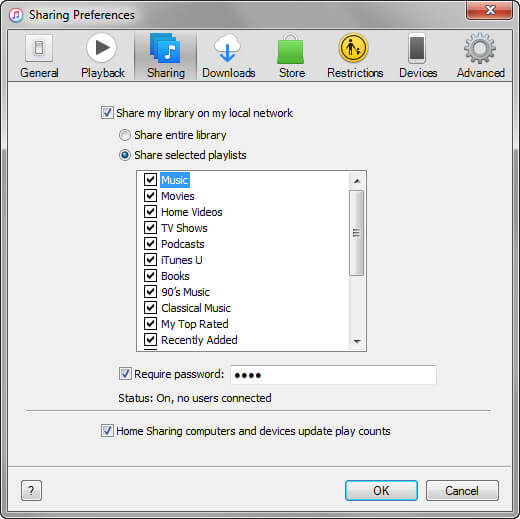 That's it. Home Sharing is now turned on for your PC. Remember, Home Sharing can work only when your iTunes is running on your PC or Mac. If you encounter any problem like iTunes Home Sharing not working, you may need to consider other solution.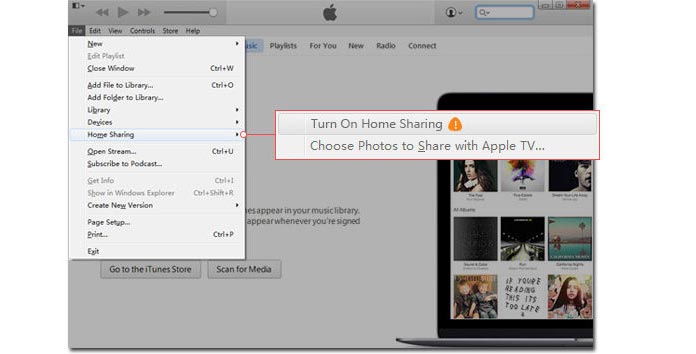 Part 3. Best solution get iTunes streaming videos and music
The movies I streamed from iTunes cannot play via Roku. Is there any way to help me solve this problem? - Jeff
When you stream iTunes movies you will find a unfamiliar word - DRM. Many devices cannot play movies from iTunes with DRM. Short for Digital rights management (DRM), DRM is applied for restriction of proprietary hardware and copyrighted works.
When you stream Movies or TV shows, you can find these videos are in M4V with DRM. In other word, you could only play movies, TV show or music videos encoded with M4V. That is why Jeff fails to play streamed iTunes content via Roku. To regularly play these iTunes streaming content on other device instead of iTunes or QuickTime Player, you need to remove DRM. There are many DRM removal software you can find and download from internet, including Requiem, myFairTunes, Calibre and so on.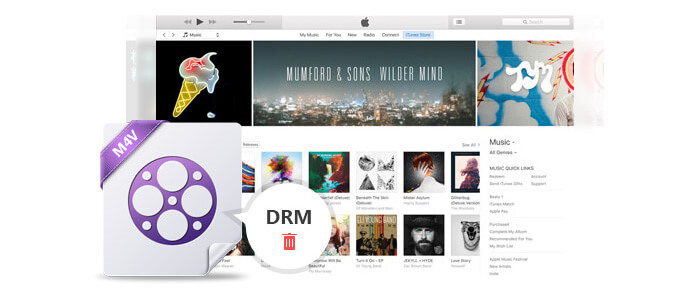 Is it complicated and time-consuming to remove DRM? For better iTunes streaming content playback, you can alternatively choose another efficient and flexible way - Record iTunes streaming content. And here, we would like to recommend you the best iTunes Streaming Recorder. This program is the easiest and quickest way to help you get iTunes streaming movies, TV shows or music. You are also able to convert iTunes content to your preferred video or audio format.
Step 1Install iTunes Streaming Recorder
Download and install iTunes Streaming Recorder on your Windows PC. Choose "Screen Recorder" or "Audio Recorder" according to your need. And here, we take recording iTunes movie as an example.

Step 2Play iTunes movie
Launch the latest iTunes and find your preferred movie or TV show with iTunes or QuickTime Player. Adjust the starting time for playback.
Step 3Record streamed iTunes movies/TV shows
Set the recording area, choose recording video from system audio. Play your iTunes video, and then click the red "Rec" button to record the video. When you finish that, save your recording to MP4 or WMV video. Besides accessing iTunes movies or TV shows, you can use this great tool to record iTunes streaming radio as well.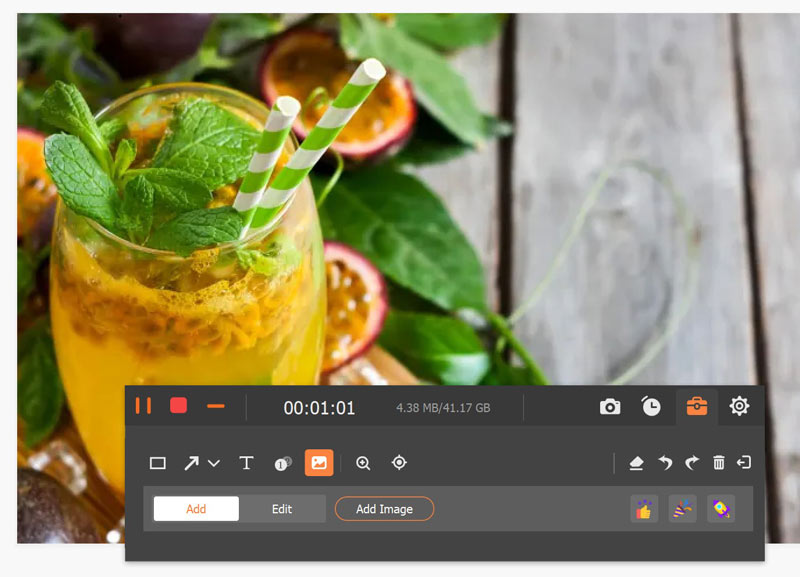 In this article, we mainly show you how to stream iTunes content like movies, TV shows and music through AirPlay and Home Sharing. We also introduce iTunes Streaming Recorder for you when you fail to play streamed iTunes video on Roku.
You can learn the steps from the video below: