Ringtone Maker from YouTube - How to Make Ringtones Using YouTube Music
Now almost people have smartphones. And you will feel it very enjoyable when you make your preferred or loved tunes as your own phone ringtone. Where will you get the ringtone from? Many mobile phones has their random ringtone files, however, you will find the ringtone offered are not satisfying. Many iPhone users would like to choose music from YouTube and transfer them to phones. But you know it is not a piece of cake as YouTube has no free download service for tunes. And it is easy to set a particular song to be an iPhone ringtone. Don't worry? In this article, we will provide several ways to let you know how to make YouTube songs be your iPhone ringtones.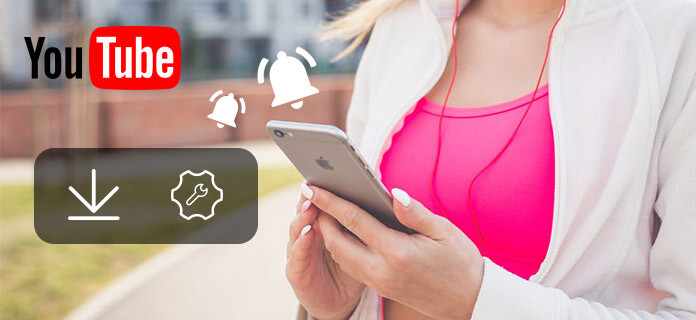 Part 1. iPhone Ringtone Maker - Make ringtones using Youtube music
If you have already have some songs on computer, and want to handily make iPhone ringtones, here is the quickest and easiest way to make a iPhone ringtone.
What you need is a reputable ringtone app. And iPhone Ringtone Maker is highly recommended. With the software, you can easily make ringtone from video or audio file without any hassle. iPhone Ringtone Maker should be the best software to make ringtone for iPhone from your preferred videos/songs and add it to iPhone 12/11/XS/XR/X/8/7/6/5/4 directly. Let's see how to make ringtones with iPhoen Ringtone Maker:
Main features of iPhone Ringtone Maker:
Make ringtones from media files like MP4, AVI, WMV, MKV, MOV, MP3, AAC, AC3, etc.
Manage iPhone ringtones from computer.
Transfer customized ringtones made from YouTube music to iPhone or iTunes or PC directly.
Support making ringtones in bulk.
How to make a ringtone using downloaded YouTube music
Step 1 Add your music or video file downloaded from YouTube
Download, install and launch iPhone Ringtone Maker on your computer. Click Add File button to import video or audio file(s) that you've already downloaded from YouTube.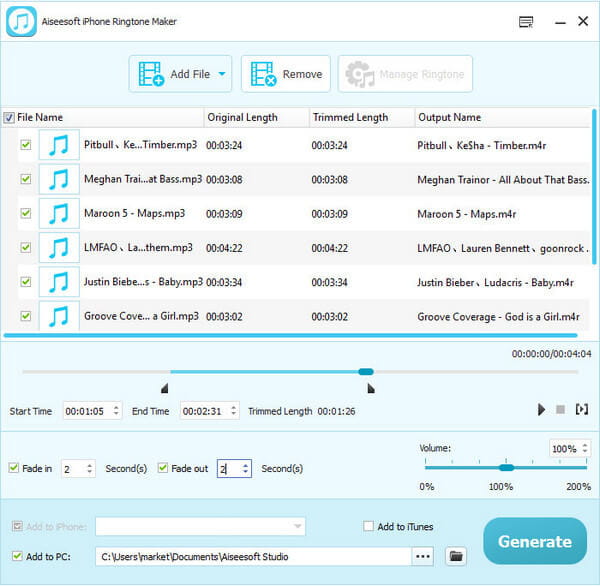 Step 2 Set ringtone leangth
Click every single file to start to edit every file. Here you could set the start/end time, volume, and fade in/out effect.
Step 3 Custom ringtone for iPhone
Here you will be give two options to deal with the customized ringtones, transfer ringtones directly to iPhone/iTunes, and save the ringtones to computer/iTunes.
If you want to transfer the customized ringtones to iPhone directly, just connect your iPhone to computer, tick Add to iPhone box and click Generate button to put the ringtones to iPhone.
If you only want to keep the ringtones on your computer, move on and do not need to connect iPhone.
Both options allow you to selectively add the ringtones to iTunes by ticking "Add to iTunes".
In addition, you are able to Manage Ringtone, so that you could rename or remove the ringtones from your iPhone. What's more, you will be enabled to transfer the ringtones form your iPhone to computer.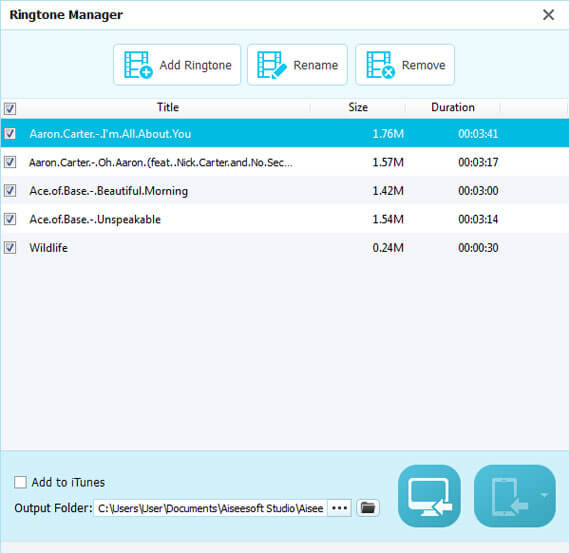 With this excellent iPhone Ringtone Maker, you can easily and conveniently make any music to be your iPhone ringtone, whether the tunes are downloaded from YouTube or other platforms. Just download for a try!
Part 2. Use iTunes to Make Downloaded YouTube Music as Ringtones
The second way to make downloaded YouTube music be your iPhone music is using iTunes. iTunes is the freeware that enables you to custom ringtones, but the method seems to be a little complicated. Please keep patient to follow the guide below.
Step 1 Import song to iTunes
Run iTunes on your computer, and import your YouTube songs to iTunes to make iPhone ringtones. Here you could drag them to iTunes song library or click "File" > "Add File to Library" to add tunes.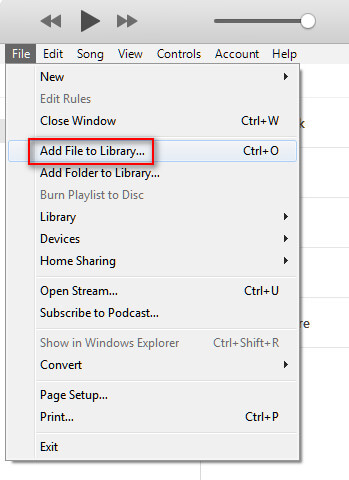 Step 2 Set AAC file
Click "Edit" > "Preferences" > "General" > "Import Settings" > "Import Using" to select "AAC Encoder".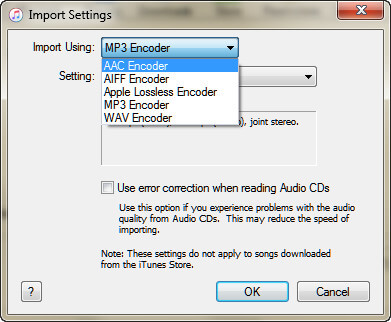 Step 3 Set ringtone length and volume
Choose one song from the library, right-click to select "Song Info" > "Options" to set the ringtone length, volume, etc. and click "OK" to save the changes you made just now.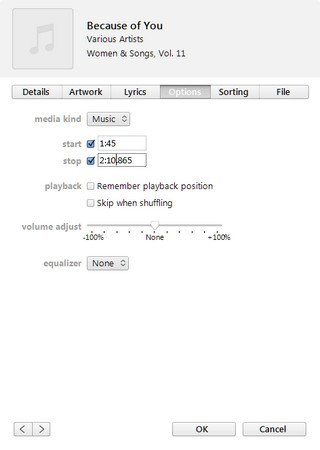 Step 4 Create AAC version
Still click the song > "File" > "Convert" > "Create AAC Version" and you will find another AAC version of the song with the set time you made just now below the original song. Also, you could still edit "Song Info" to rename or set the time for the ringtone.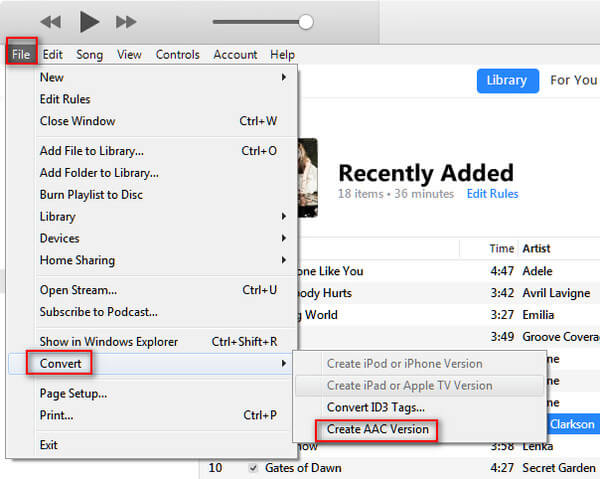 Note: Older purchased songs are encoded using a Protected AAC format that prevents them from being converted.
Step 5 Drag AAC ringtone out of iTunes and convert to M4R
Here you need to drag the converted AAC version song to another location on your computer, here, we will take drag AAC song (file extension is M4A) to desktop on your computer as the example. Then you need to change the extension of M4A to M4R manually on your desktop.
Step 6 Put ringtones to iPhone
Connect your iPhone to computer. Find and click your iPhone icon on iTunes > Click "Tones" under "On My Device", and drag the converted M4R ringtone to Tones list directly, and you will find your iPhone will sync the ringtone to your iPhone automatically.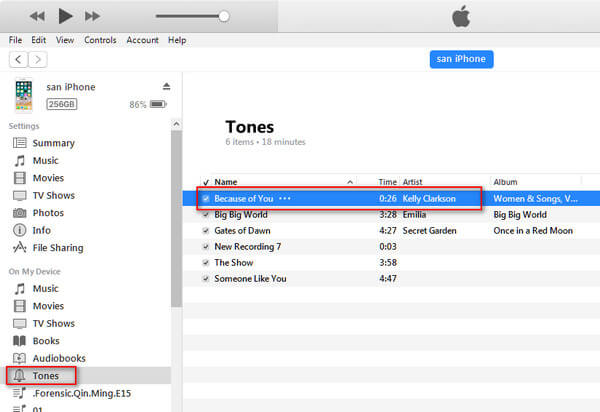 Then you could unplug your iPhone to check if the ringtones on your iPhone.
On your iPhone, go to "Settings" > "Sounds & Haptics" > "Ringtone" to see if they are there.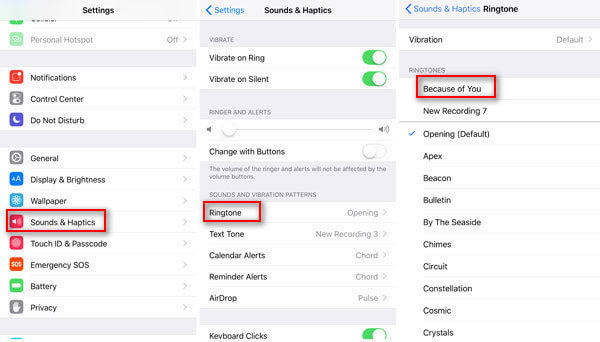 Online Ringtone Maker Sites - Create Ringtone from YouTube
You can create ringtones from YouTube with an online ringtone maker site. There are many online ringtone makers that support making ring tone from YouTube. Each of them offers an effective web application that can convert any audio file into a ringtone without hassle. In this part,we would like to list 3 online ringtone maker sites where you are able to create ringtone with YouTube music, like Audiko, Brinked as well as Video2Ringtone.
Audiko
Audiko is free website where you are able to download free ringtones for your iPhones or other mobile phones. The site is very easy to use and needs no registration or signup. The freeware has number of songs in the list which you can choose for your ring tones. However, you can also upload your own track and make it be your ringtone.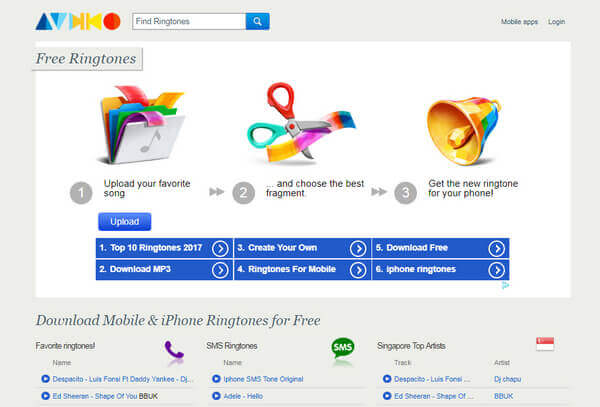 To create your own ringtone, upload your preferred song or paste the YouTube URL in the web application. Then this free app will need you to choose the fragment that you like for your ringtone, you can choose the favorite portion and download it for your phone ring tone.
Brinked
Brinked is another free website that enables you to create your own ringtone for your iPhone or other phone right from YouTube website or computer media files. The web app supports MP3, WAV and OGG formats. This free ringtone maker will allow you to upload your own track for ringtone purpose. With the free ringtone maker, you can create your own ringtone with ease. This freeware has its set of tools and lets you freely upload and edit your ringtone.
This free online ringtone maker is simple to use. You can upload your own song fro

m your media file or paste the YouTube URL to create phone ringtone.
Video2Ringtone
Video2Ringtone is another free Youtube ringtone maker in the recommended list, which is completely free to use and web based. You can use this web-based app from anywhere, and it can let you make ringtones from YouTube with no downloads and no signup. You can create your own ringtone in three simple steps. You need to choose videos from YouTube and than edit them for cutting the portion as the ringtone. The oneline ringtone maker application is very intuitive and you can use it for making your own preferred ring tone.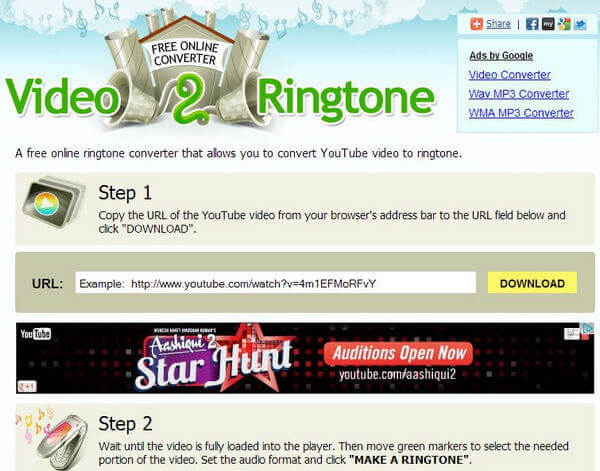 The freeware is a free online video to mp3 converter and it converts video format files to audio format conveniently. In addition, you can copy and paste the YouTube URL in the interface and than follow its simple guide to create ring tone for your iPhone.
Tip: Download or Record Music from YouTube for Ringtone Making
For people who want to download music from YouTube on computer, this part is very useful. We are going to show you how to download and convert music from YouTube directly and record YouTube music for ringtone purpose.
Free download music from YouTube with YouTube downloader
If you want to download audio from YouTube directly, you may need a third-party YouTube music downloader. Searching on the Internet, you may find some online YouTube downloaders that enable you to free download YouTube music directly, that the music you've downloaded are not very satisfying. Here we recommend a professional YouTube Music Downloader to help you download and convert tunes from YouTube on Windows/Mac PC handily for ringtone making.
Step 1 Download YouTube Music Downloader
Download and launch this YouTube Audio downloading software on your computer.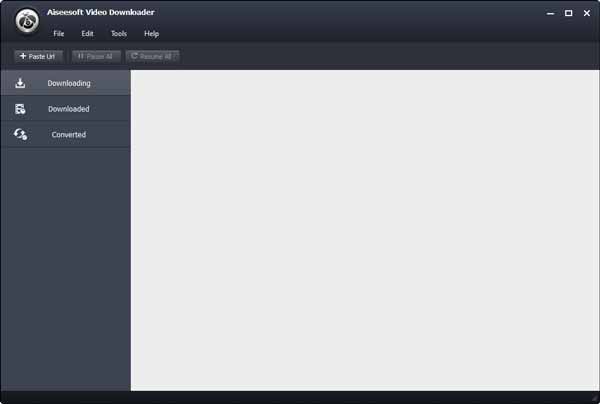 Step 2 Copy and paste URL of YouTube music video
Go to YouTube website and find your preferred music video. Copy the YouTube video link. Return to YouTube audio downloading program, and click Paste Url button. The music video address will be automatically pasted to URL box.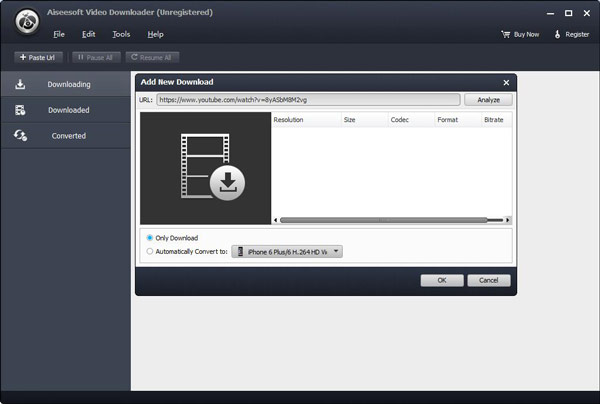 Step 3 Analyze YouTube music video
Click Analyze button, and then it will provide several resolutions for you to choose from.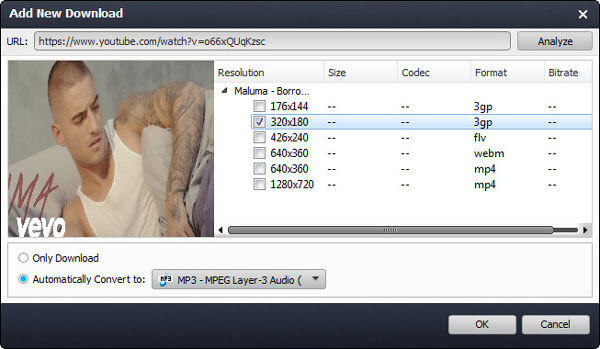 Step 4 Download YouTube music to computer
Click "Automatically Convert to" and select the audio format you preferred. Tap OK to download music from YouTube to M4R or other audio format on computer.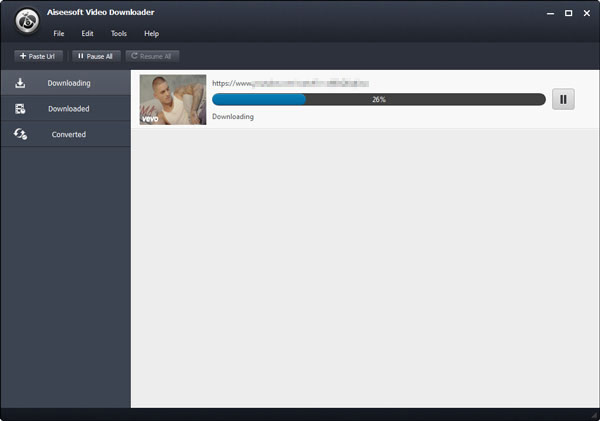 Record music from YouTube with YouTube audio recorder
Compared with downloading and converting YouTube video to audio for making ringtone, it sounds more convenient to just record YouTube music on computer. Here we provide an excellent YouTube Music Recorder.
Step 1 Install and open this YouTube audio recording program. Click "Audio Recorder" and enter the "Record Audio" window.

Step 2 Choose to record sound from system audio.

Step 3 Play YouTube video and click the "REC" button to start YouTube song recording.
Step 4 When you finish recording the YouTube music, click on the Stop button. Then you are able to pre-listening the recording and save it to your computer.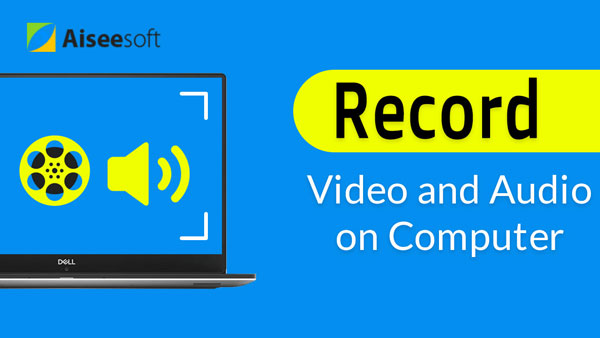 In this article, we mainly show you everything about ringtone maker from YouTube. At first, we show you how to make songs downloaded YouTube as your iPhone ringtone using iPhone Ringtone Maker as well as iTunes. Compared with iTunes, iPhone Ringtone Maker is more suitable for you. Then we also mention how to download YouTube music with the excellent YouTube Downloader and record YouTube tunes with the fabulous Screen Recorder. If you have any other good ideas about making ringtone from YouTube, welcome to tell us.