Benefit for Verifying YouTube Account
Many YouTube users reported that there is a limit when they post their videos. They must upload videos that are under 15 minutes in length and 2GB in size. To tackle with this problem you need to verify your YouTube account. This is just one of a variety of benefits bought by verifying YouTube account. This can also enable you the ability of live streaming, personalizing thumbnails for videos, and linking annotations to external websites.
If you want to verify YouTube account, make sure to have your smart phone beside you. Because you have to receive text messages or a voice call sent by YouTube. Thankfully, the process of verifying YouTube account usually can be easily done within just a few minutes. Now let's learn how to do it.

Verify YouTube Account
Part 1. How to Verify YouTube Account
Step 1 Go to Verification Page
Open any of your browser, and enter link to go to the YouTube verification page. You can find and click your YouTube settings. After that go to "Overview" > "View additional features" > "Status and features", you will find a "Verify" button next to your profile picture. If there is no such kind of button that means you have already verified YouTube account. Do remember to sign up to your YouTube account before verifying it.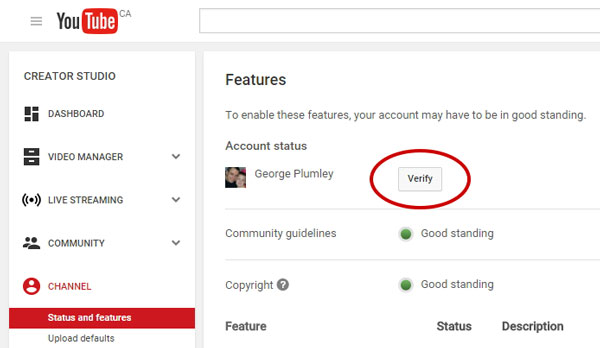 Step 2 Select Country and Verification Method
You can find a page to guide you verify YouTube account now. You can choose your country and the method of verification you want in this page. Your country should be already chosen for you, if not tap on the inverted triangle icon to select your country from a dropdown menu.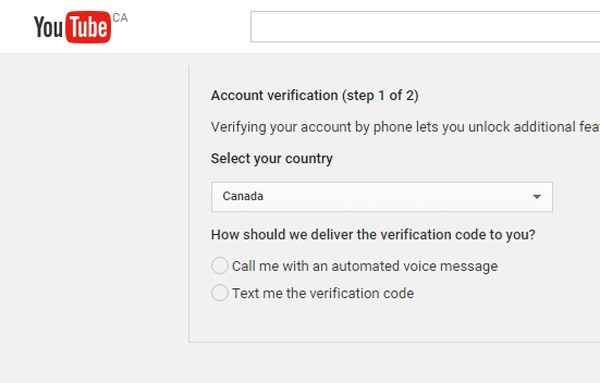 Now, you should choose methods of verifying YouTube account from verification by phone or verification by text. Both methods will send you a verification code. Click "Confirm" and enter the available phone number you use to accept the 6-digit code. Click "Submit".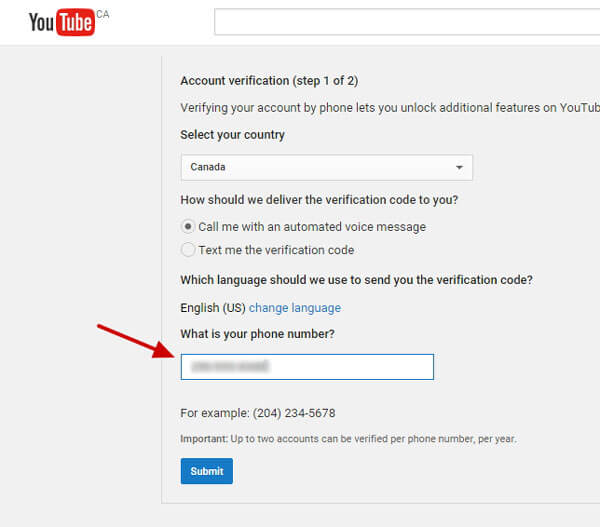 Step 3 Enter Verification Code
You will soon receive a verification code by text message or phone call (it depends on which method you choose to use). Now, just be patient and wait for a few minutes. If you do not receive the code after a longtime wait, you can require to receive a new code again when the countdown is over.
But what if you still fail in receiving the code, you should see if you violate any of the limit below
1. Verify more than 2 accounts with the same phone number within a year. Because one phone number can only verify 2 YouTube accounts at most per year. If you are in this situation, you will receive an error information. If there is no problem, you will get the verification code by automated phone call or text almost immediately. Once you get the code, enter it into the field and click "Submit".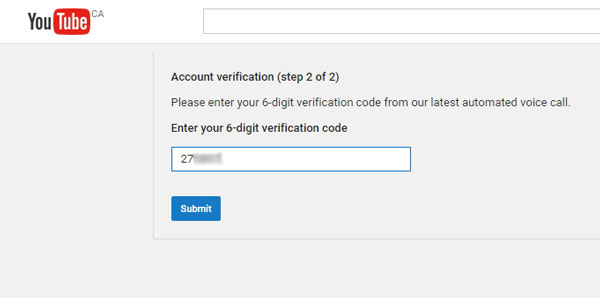 Step 4 Check Verification
If you have already verified your YouTube account, then there will be a text message telling you the great news.
After you enter the verification code and submit, the page will change into the overview screen of your YouTube account. You will find that the "Verify" button which used to be next to your profile picture, is now changed to "Verified".
Now, congratulations, you have already successfully verified the YouTube account.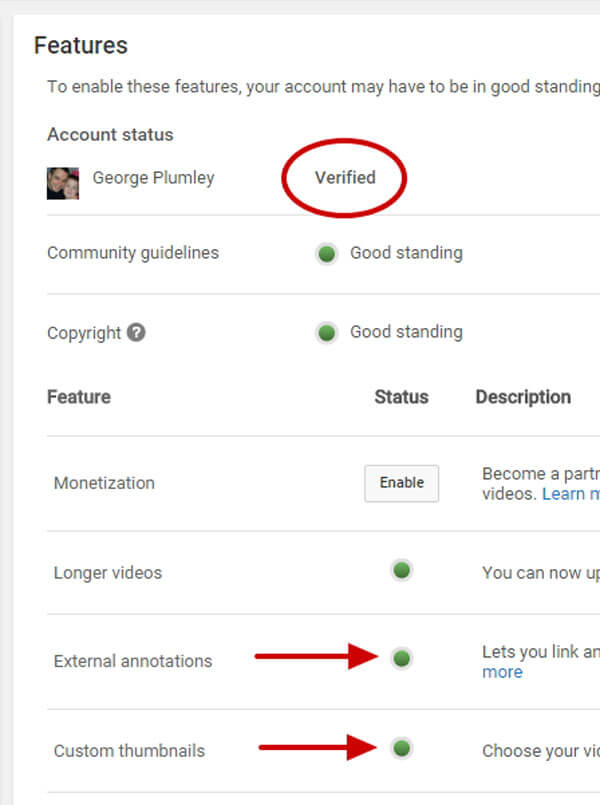 Step 5 Go to YouTube Features Page
After verifying your YouTube account, you can't wait to know what your new features are. Open your browser; go to the YouTube features page. You will soon see a page of "Status and Features" which "Verified" is notified under your profile picture.
There also presents many new features that are unavailable for you, such as custom thumbnails, external annotations and so on. Now, they are all enabled to use.
Actually, in order to make yourself a better Youtuber, to verify YouTube account is far from enough, you should also make full use of these privileges. So let's find out what these features are and how to use them properly.
Part 2. New Features for Verifying YouTube Account
Scroll down the screen to see a great deal of privileges that are all activated with green lights beside them.
Manage copyright and community guideline rating
Your "Copyright Status" and "Community Guideline Status" will be showed under the profile picture.
Then what is the sign for good ranking? That is a green status with a red little smiling face under it. This indicates the rating with no violation. Check the privileges under your ratings can enable you to better utilize these new features for different ranks.
If you violate the regulations for 3 times, you will get a warning of lowering your rating. It may lead to inaccessibility to some of YouTube account benefits, such as uploading videos in longer length etc.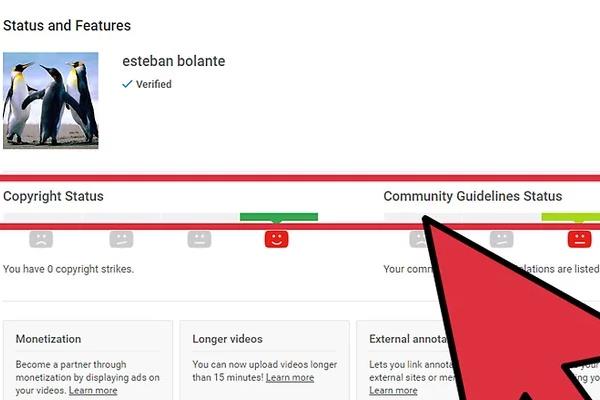 Live Streaming
Even if verifying YouTube account can enable you to the accessibility of live streaming, the more important is that you should know and learn how to master it.
Just click "Enable" button in the Live Streaming page to make "Live Steaming" enabled, then you can simply broadcast live on YouTube.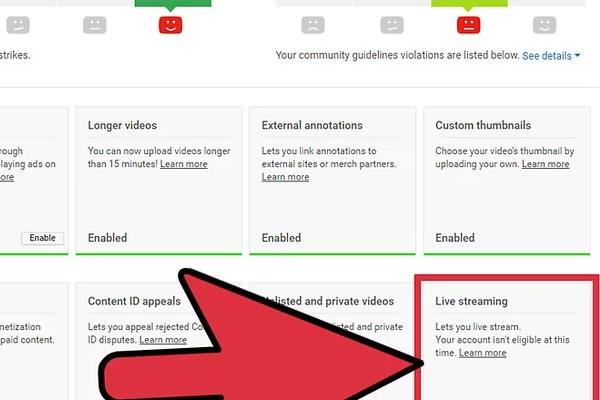 External Annotations
After verifying YouTube account, you can have the access to add annotations to your videos. This privilege is very helpful if you want to explain or stress something in your videos. Moreover, "External Annotations" can help you provide links which link to other websites rather than YouTube.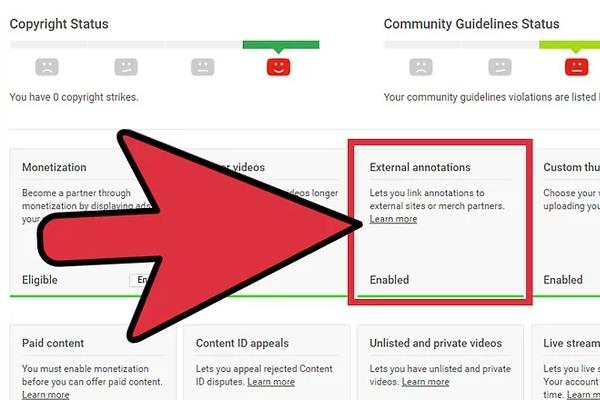 Custom Thumbnails
A video thumbnail is a brief image that helps visitors to preview the video.
Once you verify YouTube account, you can now feel at ease to personalize the thumbnails during the process of upload. Of course, you are also able to add them to your previous YouTube videos by going to "Video Manager" > "Edit" > "Custom Thumbnail".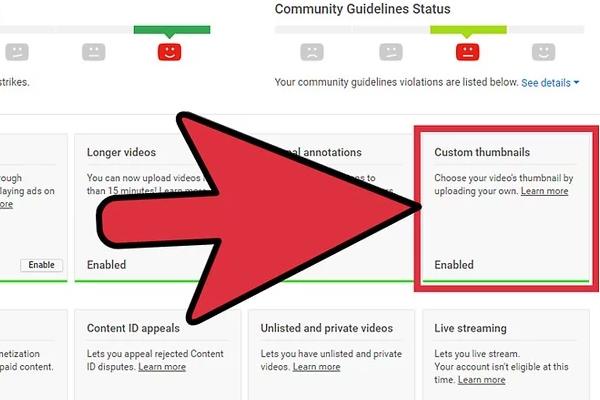 Conclusion
When you create a YouTube account, you should need to verify YouTube account to release more new features. Just find the method to verify the account and the new available features you can access from the article now.