How to Activate YouTube Account
As the most popular video sharing website, YouTube entitles users to browse a variety of videos everywhere without difficulty. It is even regarded as one of the best tools to help people keep abreast with the times. Just as many other websites, you need to activate YouTube account for better user experience. Moreover, as to those who like to view on YouTube at night with the lights off or want to watch videos in a less stimulating environment, here are some methods for you to activate YouTube dark mode. In this way you can achieve your carefree video-browsing time with your eyes feeling comfortable.
Besides, we also offer the steps that are definitely simple to operate for those who want to download some videos they like on YouTube. Now, we will show you all the methods on activating YouTube as this following process.

YouTube Activate
Part 1. How to activate and upgrade your YouTube account
As we know, Google Core Apps Suite does not include YouTube app. It means that you will see a pop-up page that requires you to agree the Google's terms of service if you have not accepted a Google app before. After that you need to make sure that you have an available Google account and you have got the YouTube app on your smart device. In order to upload extended length videos, you will need to verify your account by providing a valid telephone number. Ensure that you have the latest version of your browser. Since all mentioned above have been all set, now you can follow the steps below to activate YouTube account.
Step 1 Sign into Gmail account
In order to activate your YouTube account, firstly, you need to launch the YouTube app on any smart device you want. Go to the sign-in page (http://gmail.maine.edu), type respectively your MaineStreet username and password in the relative blank space, then you can sign into your Gmail account. Have more than one Gmail accounts? That's easy, please just choose the one you use or want to use with YouTube, and do the steps above as suggested.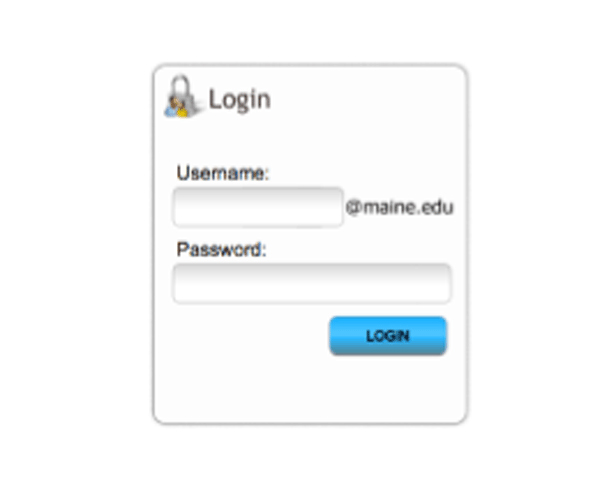 Step 2 Find and select YouTube for further operation
After you sign in, pay attention to the right area on the top of the interface, find and tap on the "Grid" icon besides the "Bell" icon. Soon you will see a variety of Apps appear in front of you, such as Maps, News, Photos, Blogger, and of course, YouTube. If you cannot find YouTube on the first page, don't worry, just click "More" to show other apps and choose "YouTube".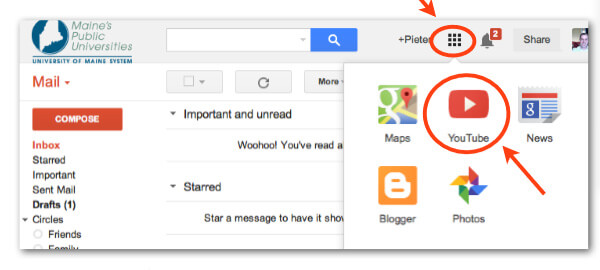 Step 3 Sign into YouTube
Now, you will then directly enter the YouTube's home page. Finally, all you need to do to activate YouTube account is just one simple click on the blue "Sign in" button on the upper right. That's it! You are now capable of browsing on YouTube on any of your smart device and feel free to get longer, clearer, more detailed and high-quality videos.
Step 4 Upgrade your YouTube account
Then you may wonder how to increase your YouTube account limits? Follow there steps to help you upgrade your YouTube account.
To begin with, you need to verify your account by providing your phone number and other information to YouTube. Just type your available phone number into the correct space, and then click "Submit". Later, YouTube will help you verify your number by calling or sending you a text with an immediate code. Put in the code YouTube provides and then click "Submit" to finalize the upgrade process.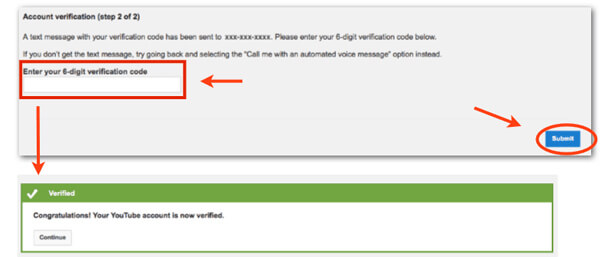 Part 2. How to activate YouTube dark mode
However, now, what can you do if you feel desirous of lowering the luminance of your screen in different cases? YouTube empowers its users to achieve this by a single function: Dark Mode. Once you have got the latest version, you can easily turn the Dark Mode on and off on YouTube with any of your smart devices. Of course, one thing you ought to know is that Dark Mode is only doable on web so far. Since there are so many ways of activating Dark Mode, here we mainly introduce the method of stimulating Dark Mode via the Chrome browser.
Step 1 Go to Chrome developer tools
First, you need to enter the Chrome developer tools. You can access to it by respectively holding together "Ctrl + Shift + I" on Windows, or "Option + Command + I" on Mac.
Step 2 Enter codes in console of Chrome
After that find and tap on the Console of Chrome, you will see a pop-up page appear immediately. Now, adhere the code, document.cookie="VISITOR_INFO1_LIVE=fPQ4jCL6EiE; path=/" into the console and press "Enter" to activate YouTube Dark Mode. You can also try another code, document.cookie="VISITOR_INFO1_LIVE=fPQ4jCL6EiE" if the former one doesn't work.
Step 3 Change Dark Mode after refreshed
Now, close developer tools page and refresh the whole browser page. After refreshed, you may find yourself be signed out of YouTube. Just sign in again. Then choose YouTube profile image, click "Dark Mode" which is in your sight clearly. And since you have already activated YouTube Dark Mode, the change will immediately show.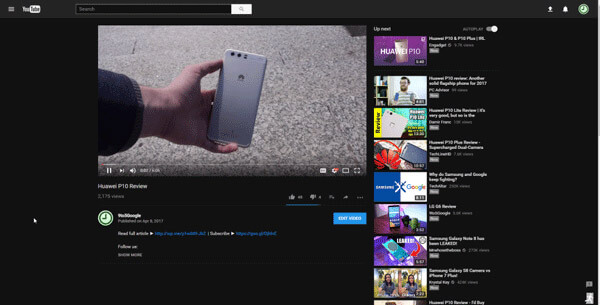 Part 3. How to download YouTube videos
Besides activating YouTube, there are still many of users who also want to know how to download YouTube videos they like. Undoubtedly, you can certainly resort to websites designed for downloading web videos. Today we recommend you an extraordinary YouTube video downloader, Aiseesoft Video Converter Ultimate, an exceptional software with a variety of excellent features which is not only satisfy your download demand, but also enables you to edit, enhance your videos without difficulty. Now, let's check how to download YouTube videos via Aiseesoft Video Converter Ultimate.
Step 1 Download and install
Download and install the latest version of Aiseesoft Video Converter Ultimate from the official website. After a simple operation process, the software will immediately and automatically launch when the installment is done.
Step 2 Paste URL
Locate "Download" between "Add File" and "Video Enhance" on the upper left space of the interface. Click "Download", and it will immediately bounce up a new page, which requires you to paste the URL of any online video you want. Now, you can just put the URL of the YouTube video you just copied in the column.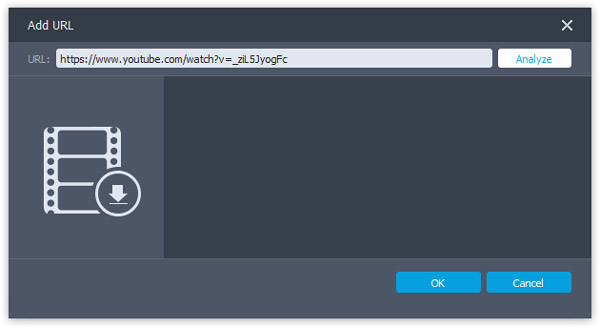 Step 3 Download YouTube videos
Click "Analyze" to verify your online video, it will shows the abstract image of the video on the left to help you see if the video is the one you desire. Finally, all you need to do is click "OK" to complete the download process simply.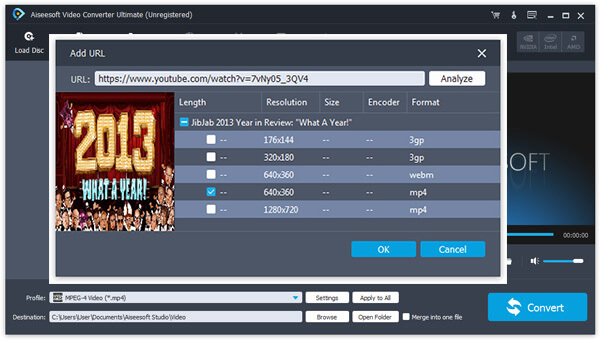 Conclusion
When you need to enjoy more service of YouTube, you have to activate YouTube account first. Just learn more methods about how to activate and upgrade YouTube account, or even the dark mode. You can also download the YouTube videos offline for any video players.