How to Repeat or Loop YouTube Videos
There are times that you want to watch some precious and cherished YouTube videos or music over and over again, such as your favorite music videos, family party or friend shows and so on. If you do not know how to loop YouTube videos on your device, you have come to the right place.

This passage will give you an all-round guide about playing YouTube videos on a loop. Actually it is a new feature of Google now, you can enjoy them without installing extra programs. When you need to find the best alternative solution, you can also get the answer from the article.
Part 1. How to loop YouTube
YouTube has added a video loop function recently. So you can usually rely on this simple and easy feature to loop YouTube videos. And here are the detailed steps.
YouTube loop for PC or Mac users:
Step 1 Find a YouTube video. Go to YouTube set in your browser, find and locate a YouTube video that you want to loop.
Step 2 Right click on the YouTube video. In order to access the loop option, just right-click on the YouTube video, and select "Loop" option on the drop-down list.
Step 3 When the video ends, you can find the YouTube will loop the video automatically. It should be a nice experience to enjoy music videos.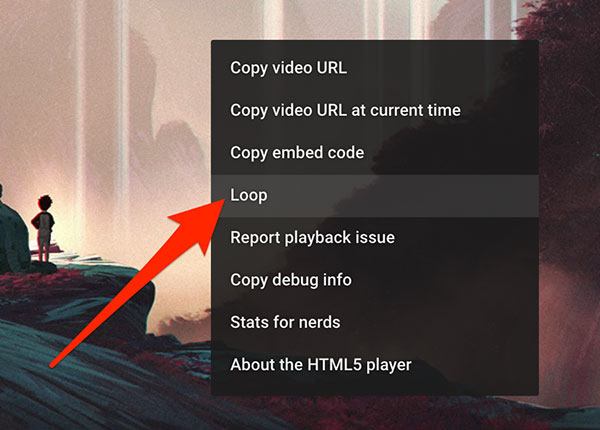 YouTube loop for Android users:
Step 1 Download ListenOnReapeat App on the Play Store. You have to use such a third-party app to loop YouTube videos, cause the YouTube app on mobile does not support loop.
Step 2 Search a YouTube video. After installing and launching the software, open it and tap Search option to search a YouTube video that you want to repeat.
Step 3 Watch the Looped video. Just tap on the selected video and watch it. This looped YouTube video will continue to repeat automatically until you close it.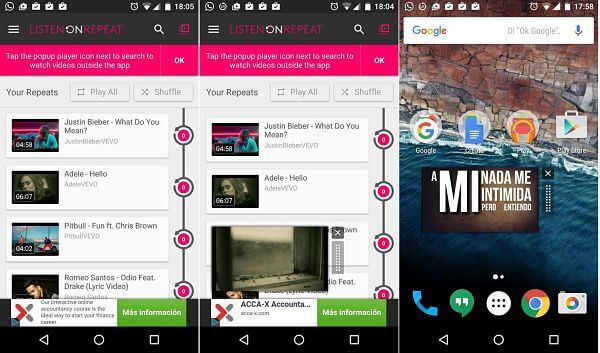 For iPhone/ iPad users:
Step 1 Download 4repeat app. Go to App Store and download 4repeat app on your device. The YouTube mobile app for iOS cannot loop YouTube, so you need to download another app.
Step 2 Find a YouTube video. Open this app after installation. Locate a desired YouTube video that you want to loop by tap on the search terms.
Step 3 Choose the loop option. At the top of the YouTube video, click on the repeat button and enter the number of times that you want to loop the YouTube video. Then you can play the looped video.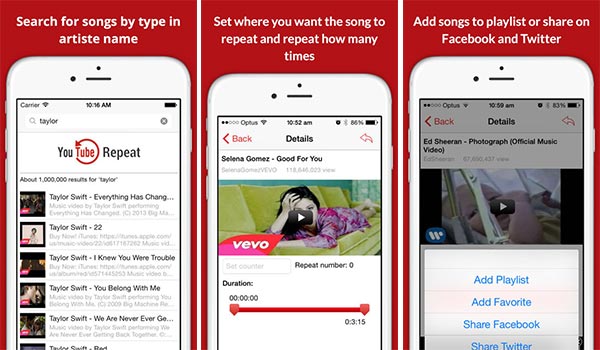 Part 2. Online YouTube loop tool to loop a YouTube video
Besides the common method to loop YouTube, you can also use YouTube Loop to help you solve problem. YouTube Loop is an online tool that can help you play YouTube videos automatically without any intervention after it reaches the end. And here we will recommend Loopvideos.com to you, which is one of the best and most convenient online YouTube loop tool.
Key Features:
Load limitless YouTube videos
Play all or parts of YouTube videos in an infinite loop
Control the loaded YouTube videos
Search for YouTube videos in a comfortable way
Then follow us to learn how to use online YouTube loop:
Step 1 Locate a YouTube video
Go to the YouTube website and find a video that you want to repeat it, and copy the YouTube video address. You can play it beforehand to check if it is your desired video.
Step 2 Enter the YouTube URL
In order to loop the YouTube video, search loopvideos.com in Google and open this official website, then paste the URL of the selected video into the black text field that instructs you to enter the link.
Step 3 Choose the loop time
After adding the YouTube video that you would like to loop, you can choose the looped time of the video. Just type the detailed second from the beginning to the end.
Step 4 Click Loop button
When all is set, hit on the Big button "Beginning Looping" to loop your selected YouTube video.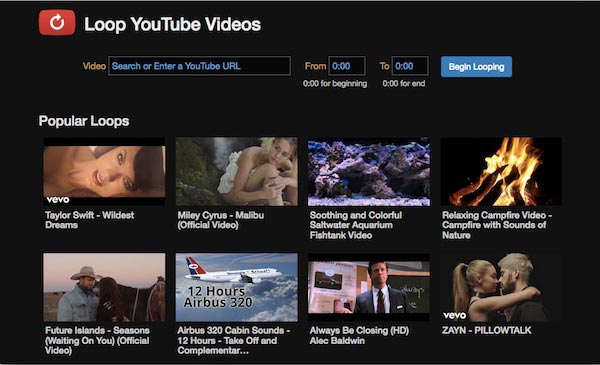 Part 3. Download YouTube videos for loop
When you need to loop a YouTube video on the go, it might not be convenience or economic to repeat videos online. Aiseesoft Video Converter Ultimate can help you create fun experience, offer multiple wonderful solutions for you to download, enhance, convert, edit YouTube videos for loop. Especially when you want to view YouTube videos repeatedly without Internet connection, Aiseesoft Video Converter Ultimate should be a good choice for you. Here are the step-by-step guides to use Video Converter Ultimate to loop YouTube:
Aiseesoft Video Converter Ultimate
For Mac
Download YouTube videos and online videos from popular sites like Facebook, Twitter, Instagram, DailyMotion, Vimeo, TED, Yahoo, Vevo, etc.
Powerful YouTube editing features. Rotate/clip/merge/crop video, adjust output video effects, and add personal image or text watermark.
Download and convert YouTube to MP4, MOV, AVI, MKV, MP3, FLAC, and other video/audio formats you need.
Enhance video quality and add more video/audio effects, including 3D.
Add new subtitle/audio track to YouTube and remove original audio track.
Support any popular format, Windows/Mac version and iOS/Android device.
Step 1 Install YouTube Downloader
Download Aiseesoft Video Converter Ultimate from the official website. After that you can install the program according to the process. Launch the program to add YouTube videos you want to loop.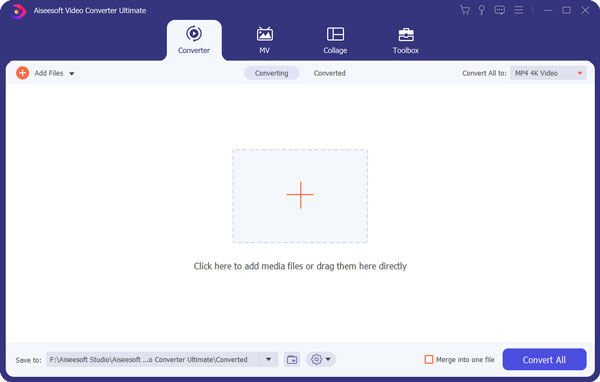 Step 2 Add URL of YouTube video
Once you copy the URL from YouTube, you can paste the URL to "Download" menu of the program. Click the "Analyze" button to analyze YouTube videos for loop, which will presents you several download solutions.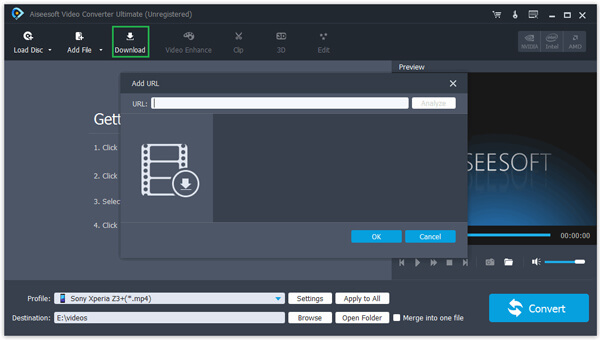 Step 3 Download YouTube for loop
Choose the resolution and video format, you can download the YouTube video for loop offline now. What is more, you can also convert YouTube video to other format in order to compatible with other devices.
When you just need to extract the audio files of the YouTube music video, you can also extract music files from video first. And then you can loop YouTube audio files for MP3 player or other devices. It should be the ultimate solution to enjoy YouTube files on the go.
Conclusion:
Above is all the content about how to loop the YouTube videos. If you want to watch a specific part of a YouTube video over and over again, or would like to hear a song that is so addicted to listen again and again, or want to watch a funny video for thousands of times, even just want to watch a video without advertisement, this passage can help solve it perfect! If you have any thoughts about YouTube loop, you can share them in the comments.